Primary election tracker: How early voting is going and how to participate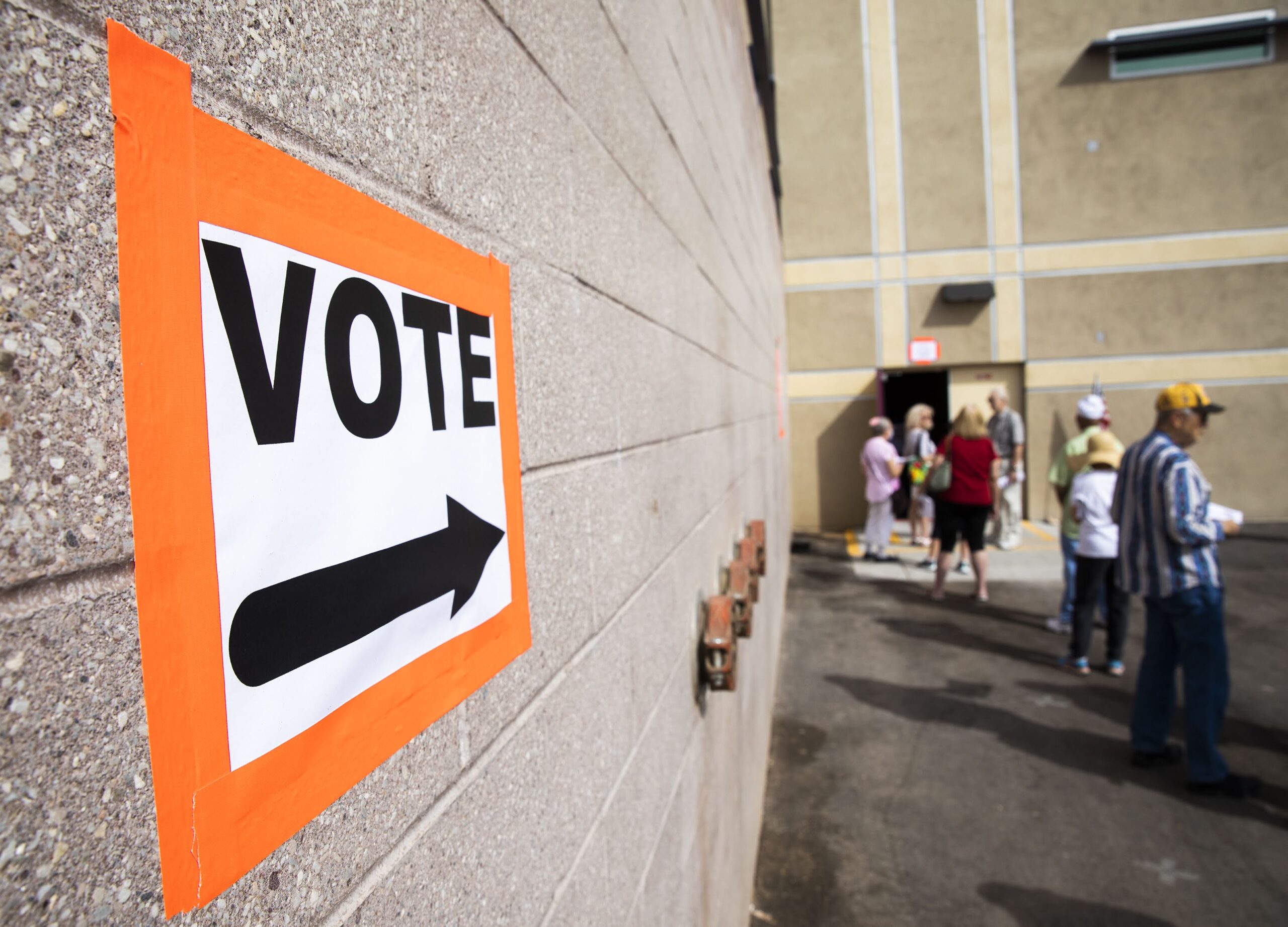 The Nevada Independent is compiling data and resources from Nevada's two-week early voting period for the 2022 primary here. Check back for updates.
Early voting turnout
A total of 40,159 ballots have been turned in from Clark and Washoe counties through June 1, since early voting began on May 28.
The initial turnout for Washoe County and Clark County on May 28 — the first day of early voting and a Saturday — came to a total of 14,975 ballots, including 9,485 coming from Washoe and 5,490 from Clark.
The following three days of early voting — which included Memorial Day and a Sunday — drew fewer ballots.
So far, Washoe County has reported 8,405 Democrats, 7,721 Republicans and 3,725 nonpartisans turned in ballots.
These numbers are updated daily at the Washoe County website and the Clark County website. The secretary of state's office has not yet reported statewide turnout figures that account for rural vote turnout.
Ballots turned in by party for Washoe County
Ballots from Clark and Washoe counties
Vote counting operations
After the 2020 election that brought conspiracy theories on the election process across the country and Nevada, especially concerns surrounding mail-in ballots, Clark County Registrar of Voters Joe Gloria said he has taken several steps to improve the process and address those concerns during the 2022 primary.
A distinct change in the Clark County Election Department was putting all the equipment needed in just one building instead of moving between two facilities, which made it a "challenge for us to make it transparent," Gloria said.
Now the only thing separating observers and election workers are large glass dividers that allow a view of every step the ballots go through in the process, from signature verification to tabulating the vote. Gloria did not say how many observers are allowed or would be able to fit, other than "quite a few," as the facility is over 100,000 square feet.
In April, Republican activists in Clark and Washoe counties filed lawsuits against state and county election officials, arguing that election observation in 2020 was inadequate and seeking greater opportunities for "meaningful voter observation" this year.
"We want people to come in and observe the process as long as they're not trying to disrupt the rhythm," he told the media during a tour of the facility in late May, just ahead of early voting. "We wanted to make this as open as we possibly could. Notice the windows all the way down."
A new piece of equipment called an extractor is meant to add privacy in the ballot counting process by "extracting" the name and party affiliation of the voter to prevent election workers from being tempted to be prejudiced when handling the ballot.
Gloria said the elections department also has new "mail ballot reading machines" which increased the speed of reading ballots by "almost 10 times."
While many have questioned the validity of the signature verification process, Gloria said there is nothing wrong with it and noted that several jurisdictions use it. The only concern is that the DMV does not record signatures at 200 dots per inch (dpi), an image quality measure. But when ballots come in, the elections department scans the voters' signatures, which saves them at that quality standard.
"We've put it through the tests, and it passed," Gloria said. "It's the same process, but we've streamlined our process so that we can handle a larger volume of envelopes that are coming back."
Meanwhile, Washoe County is continuing to show its ballot processing steps by offering a livestream of the count — a practice it first began during the 2018 primary election. According to the county's website, it "provides this as a public service to reinforce transparency and engagement in the election process."
The livestream shows people working on computers and counting ballots at foldable tables. Watch it here.
Election Protection Program reporting only small hangups
Representatives of the Election Protection Program that's trying to ensure voting rights are protected in Nevada say they have "noticed a few issues here and there," mainly from poll workers new to the job, in the first few days of early voting.
ACLU of Nevada Executive Director Athar Haseebullah said that program, which includes volunteer poll monitors and an Election Protection Hotline, has gone smoothly.
"If there's something that ends up being an issue the first day we can flag it so that that can be improved upon as we head towards the actual Election Day on June the 14th," Haseebullah said.
Hasseebullah said that the issues mainly arise from mistakes made by inexperienced poll workers. When that happens, the ACLU contacts the county's registrar of voters and gets the issue resolved as soon as possible. Resolving these issues the day they happen helps to ensure there are as few issues as possible on Election Day, he said.
Voting basics
As Nevadans prepare for early voting, there are some key details to know ahead of time.
First, if a Nevadan is not yet registered to vote but is over 18 years old, they can follow the instructions on the Nevada secretary of state's website here. Click the "new voter registration" option to get started, which allows for an easy online registration form. All that is needed is a driver's license number or ID card number. Those who are unable to provide this information will have to register in person at the county election office or through a mail form.
There are also options on that page for voters who are already registered voters to update, view or cancel their voter registration.
For those who prefer to register in person, there is also an option to file a mail-in registration form and drop it off at certain locations such as the Department of Motor Vehicles office, county clerk or registrar of voters' office, various social services agencies and certain college campuses. Information from a driver's license or ID card number or Social Security number is needed for mailed registration.
Early in-person voting is from May 28 until June 10. Election Day is on June 14.
For those unable to register to vote by Election Day, Nevada has an option to register and vote on the same day at a physical polling location by providing a valid Nevada driver's license or ID card.
Additionally, prospective voters seeking to take advantage of same-day registration need to provide proof of residence if it is not the same as the information shown on the driver's license or ID card. Some examples of this proof include a military identification card, a utility bill, a bank or credit union statement or a tribal identification card. Other valid credentials are listed on this information page.
Once this is done, a voter can cast their ballot. Those who were already registered to vote should receive a ballot in the mail. They are sent out at least 20 days prior to Election Day to active registered voters who have not proactively opted out.
Those who have not received a ballot can contact their county clerk. In Clark County, send an email to [email protected].
There are then two options once the voter receives the ballot. One is to vote the mailed ballot by filling it out and then signing the outside of the postage-paid return envelope that includes their name and address. (The envelope will already have the name and address printed; voters should make sure it is correct.) Once it is sealed, voters can drop off mail ballots in a dropbox at a specific voting location or in a mailbox before 5 p.m. on June 14.
Mail ballots — postmarked on Election Day — must be received by the election department by June 18, the fourth day after the election. If there are questions about a voter's signature, election officials will notify the person using the contact information provided in voter registration records. Anyone contacted has until 5 p.m. the sixth day after the election (June 20) to provide signature confirmation or an actual signature.
Nevadans can also vote in person.
If a person receives a ballot in the mail that is not theirs, they can follow the same procedure by surrendering the ballot at the polling site or by "returning to sender" in the mail.
Clark County mail drop-off early voting locations, as well as dates and times of operation, are listed on this page.
Just a few of the many locations are Arroyo Market Square, Galleria at Sunset, Desert Breeze Community Center, Meadows Mall, Heritage Park Senior Facility, Vons and Windmill Pkwy.
For further updates on locations and times, Nevadans can call (702) 455-VOTE (8683) or refer to this Clark County page.
More locations for residents in other counties are listed on the Nevada secretary of state's website.
On Election Day, June 14, polls will be open from 7 a.m. until 7 p.m. There will be more than 100 voting centers in Clark County that allow voters to find the most convenient location. An interactive map of the locations in this area is available here.
Voters can vote in person at these polling locations or drop off their mail ballot.
Voters who are submitting a mail ballot can register to check the status by entering their date of birth and name on this ballot tracking page. This will then send emails or text notifications of when your ballot has been printed and when it has been received.
Another important detail for voters to keep in mind as they head to the polls: Nevada has a closed primary system, meaning that the party that a voter is registered with is the one that they will vote for in partisan races.
For example, anyone who is registered as non-partisan will only be able to vote in non-partisan races such as for judges and school boards. Similarly, only registered Republicans will have a chance to choose between the 15 GOP governor hopefuls in the primary, because the governor's race is a partisan contest.
To check their political party, voters can refer to the sample ballots that were mailed or emailed to voters and include the same questions as those on the actual ballot. However, this sample ballot cannot be used instead of the official ballot. It is only to help show how the voting process works.
For more information, to verify political party registration or to make changes, voters can view My Voter File.
For further updates on early voting and the primary election, information sign up for The Indy's newsletters and be sure to check updates on the county's clerk's website.
Featured Videos
Comment Policy (updated 4/20/2021): Please keep your comments civil. We reserve the right to delete comments or ban users who engage in personal attacks, use an excess of profanity, make verifiably false statements or are otherwise nasty. Comments that contain links must be approved by admin.