Prolific on Facebook, online rooftop solar program called misleading by Clark County, NV Energy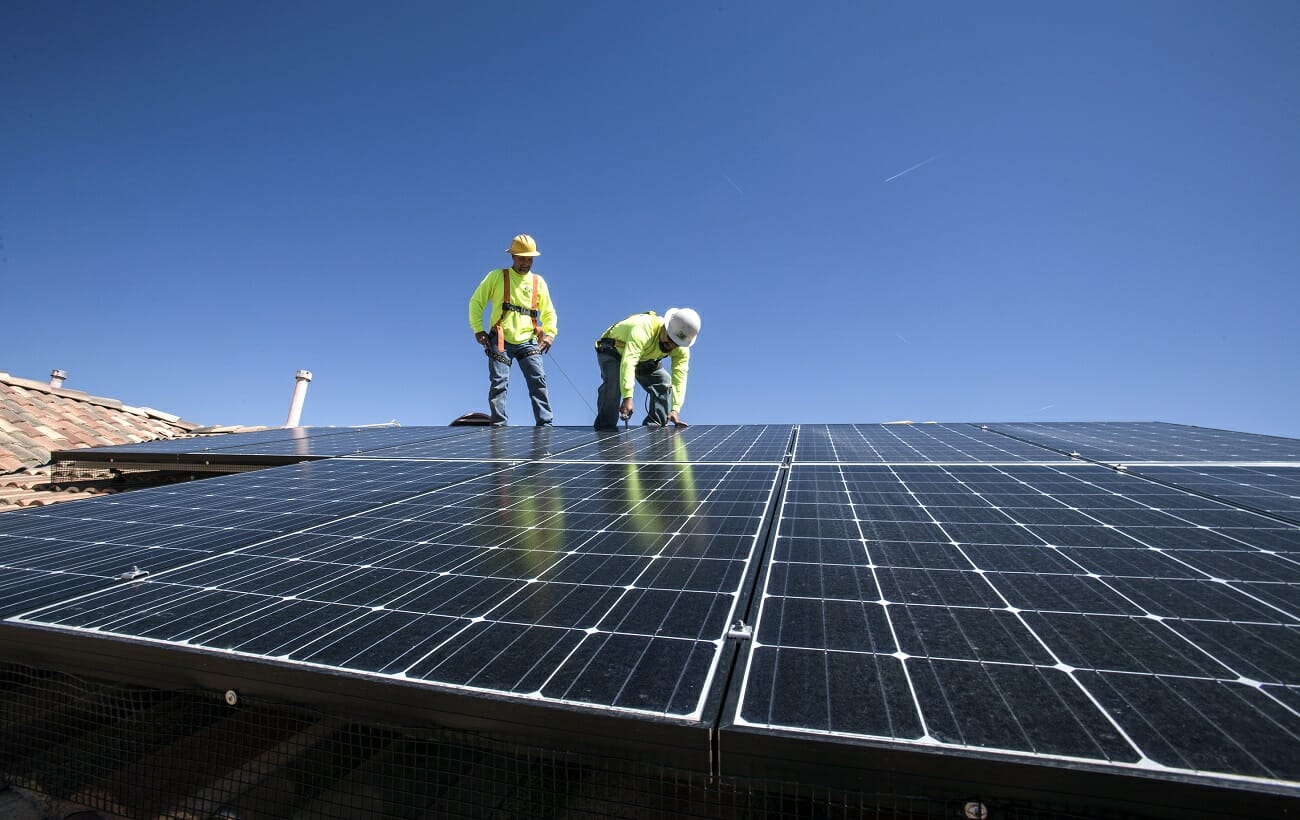 Renewable energy advocates have long held that Nevada's net metering program for rooftop solar customers is a great deal not only for the environment, but also for Nevadans' pocketbooks.
But sometimes, a seemingly great deal is too good to be true.
That's the case with Nevada Counties Solar Program, a "business" that has advertised heavily on Facebook over the past two months promising Clark County residents the opportunity to "Go Solar At No Cost!" According to a search of Facebook's political ad archive, the group has run about 5,700 ads since May.
Recent Facebook ads from the group warn that NV Energy has "just added another increase for this summer's electricity use," but one can avoid the hike by signing up with the program. The ads state that Clark County is the one launching the "no-cost" solar program.
The problem? It's not true at all.
Clark County spokesman Erik Pappa said the county has nothing to do with the company, and has contacted both the business and Facebook in a thus-far unsuccessful effort to get them taken down after it was contacted by residents wondering what kind of no-cost solar program the government would promote.
"It's misleading. The county doesn't endorse this company," he said.
No business by the name of "Nevada Counties Solar Program" is registered with the Nevada secretary of state, and the page did not respond to a request for comment sent by The Nevada Independent. 
After this story was published, a Facebook representative confirmed to The Nevada Independent that the page violated the company's prohibition on misleading or false content and said the company had disabled further ads.
Democratic Assemblyman Chris Brooks, an energy consultant and longtime solar advocate, said it's become increasingly common to see "scam" solar companies enter the Nevada marketplace after large corporate rooftop solar entities such as SunRun and SolarCity began operating in the state around 2013. Although those companies followed the rules, Brooks said a higher visibility for rooftop solar meant more opportunities for nefarious operators to try to take advantage of potential customers.
"While they were doing everything correctly, there were a lot of fly-by-nights and folks who were operating illegally that popped up, just as a result of there being a heightened interest in solar," he said.
Although Nevada's solar market screeched to a halt following a contentious decision by the state's Public Utilities Commission to slash reimbursement rates for existing net metering rates, the market for rooftop solar appears to be again gaining steam following action taken by the 2017 Legislature to reinstate more favorable rates for new net metering customers.
Since last June, NV Energy estimates about 9,400 applications for new metering customers have been submitted to the utility, with at least 29.8 megawatts of installed rooftop capacity installed since last summer (a megawatt of solar can power approximately 150 homes).
Greg Ferrante, who formed the nonprofit Nevada Solar Owners Association amid distaste with the PUC's decision to cut net metering rates, said in an interview that he wasn't aware of the Nevada Counties Solar Program outside of ads seen on Facebook, but was concerned that any bad actors could spoil the industry's reputation.

"The last thing I want to see is someone come through and torch a very embattled market," he said. "That's all we need is more bad names."
He recommended that homeowners interested in installing a rooftop solar system do plenty of research and shop around before committing to installing a system, given the years-long commitment rooftop solar requires.
"They really need to do their homework," he said. "They need to understand their power bill, understand what they're paying per kilowatt hour."
Brooks said he was aware of the company's claims, and had seen or heard of other "scams" including cold calls and door knocking by people claiming to offer deals on rooftop solar. He said he had been in contact with the state contractors board, but wasn't exactly sure which law enforcement or regulatory agency should tackle the issue.
"At the end of the day, somebody needs to be looking at these companies," he said.
As for the "Nevada Counties Solar Program," the page's statement that NV Energy "just added another increase" for summer electric bills is wrong — the utility actually cut rates following passage of the Tax Cuts and Jobs Act in December 2017 and any increases in power bills comes as residents use more electricity during the hot summer months than they do during the rest of the year. The page's lone evidence for a rate increase comes from a September 2017 article in the Las Vegas Review-Journal about an ultimately unsuccessful proposed rate hike for non net-metering customers.
In an email, NV Energy spokeswoman Jennifer Schuricht referred to the company's recently released Integrated Resource Plan, which calls for doubling the state's renewable energy capacity by 2023, and said the page's claims were wrong.
"Nevada Counties Solar Program is communicating false and misleading information regarding NV Energy rates to our customers," she said. "NV Energy does not raise rates in the summer, and our prices today are lower than they were in 2009."
Updated at 7:50 a.m. to reflect that Facebook has disabled the Facebook page's ability to send ads.
Disclosure: NV Energy has donated to The Nevada Independent. You can see a full list of donors here.
Comment Policy (updated 4/20/2021): Please keep your comments civil. We reserve the right to delete comments or ban users who engage in personal attacks, use an excess of profanity, make verifiably false statements or are otherwise nasty. Comments that contain links must be approved by admin.