Black Lives Matter protest in Downtown Reno, Nev. on Saturday, May 30, 2020. (David Calvert/The Nevada Independent)
Protester voices: Black Lives Matter demonstrators gather in solidarity, call for change and reform
An estimated 1,200 people gathered in Reno on Saturday in a peaceful response to the killing of George Floyd at the hands of Minneapolis police.
Their rally was somewhat overshadowed by vandalism that took place Saturday evening. But in interviews with The Nevada Independent, organizers and participants shared their frustration over police brutality and hopes for unity that prompted the demonstration.
These are some of their stories.
Ray Bacasegua Valdez, 62, American Indian Movement of Northern Nevada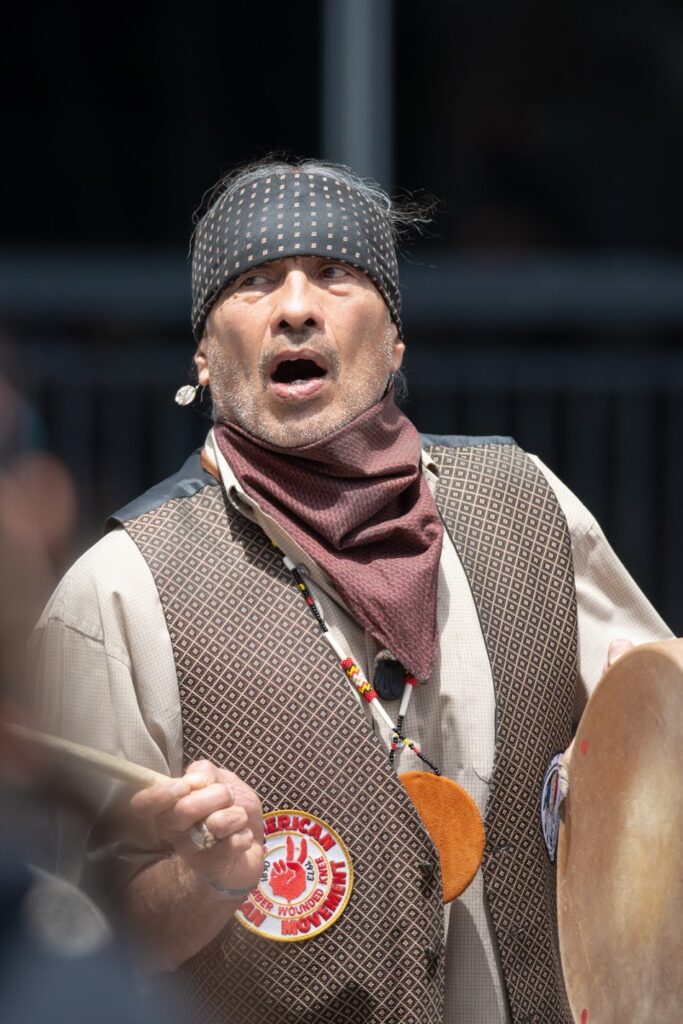 At a Black Lives Matter protest in Reno on Saturday, days after George Floyd died at the hands of four Minneapolis Police Department officers, Ray Bacasegua Valdez, the director of the American Indian Movement of Northern Nevada, led a prayer circle and called for healing and unity.
"There needs to be accountability to those that created that crime against Floyd. And then other issues that we've had similar throughout the country," Bacasegua Valdez said. "We are going to circle and ask for healing for all people, even for those that are making it difficult for us."
The American Indian Movement (AIM) is a grassroots movement founded in 1968 in Minneapolis, Minnesota and initially formed to address police brutality and systemic issues of poverty against Native Americans. The Minnesota chapter of AIM stood with protesters in Minneapolis, and Bacasegua Valdez said that the Northern Nevada chapter stood with their brothers to call for equal treatment.
He noted that the protest on Saturday was intended to be peaceful, but that he understood why other protests escalated.
"We don't condone violence, but a lot of times the system pushes us to protect ourselves," he said. "We're looking for change in a peaceful way, and that's what we're going to pray about today."
Bacasegua Valdez could not pinpoint a specific date when he began to protest, but that police brutality, discrimination and racism have been issues he has grappled with since birth.
"I don't know what [discrimination] looks like. I just know what it feels like … ugly, to feel you're less than human," he said, voice catching as tears welled in his eyes.
Bacasegua Valdez said AIM is working toward improving the well-being of all.
"Those of us that are here today, are of all different tribes from all over that are here now. We stay as a unit, together so that our voice can be heard, that we can create change," he said.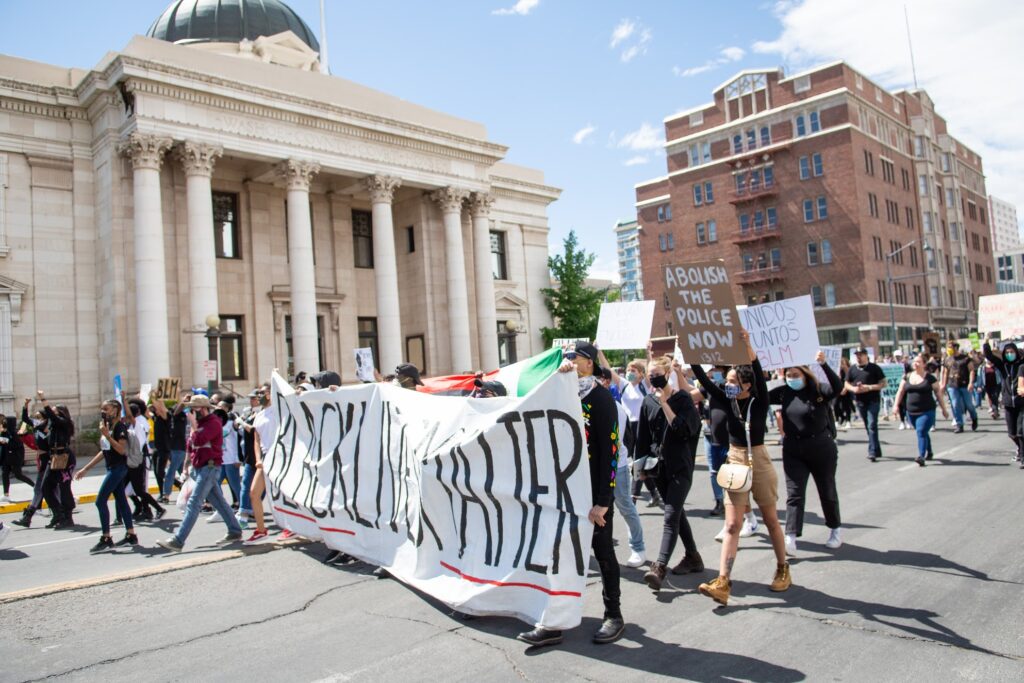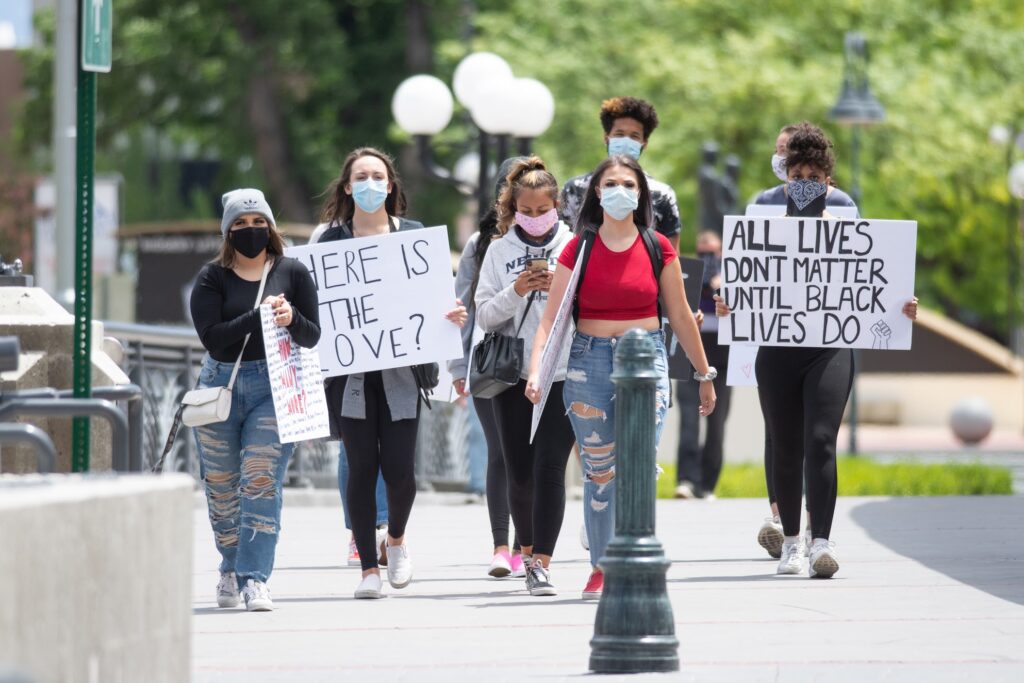 Mina Webb, 19, nanny and visual artist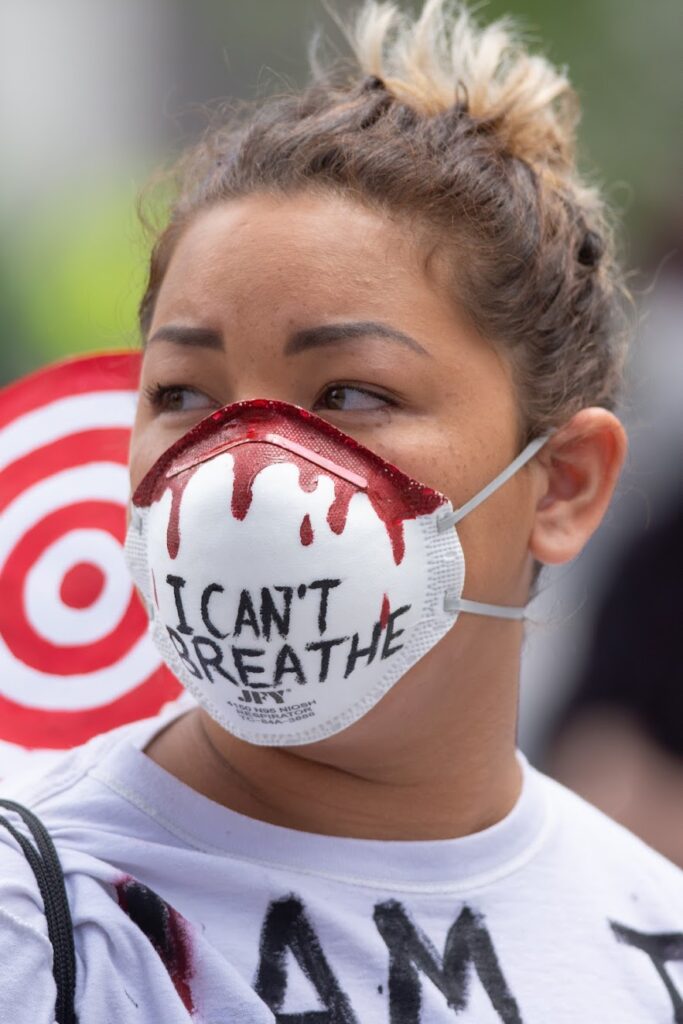 Mina Webb, 19, is a nanny and visual artist who uses artistic mediums to express her ideas.
Dressed in a white T-shirt with the words "AM I NEXT?" printed across the front and surrounded by drawn-on bullet holes, Webb wanted to illustrate what words could not seem to capture.
Her mask was outlined to mimic dripping blood and read "I can't breathe," one of the last things George Floyd said before his death at the hands of Minneapolis police.
"I am terrified that this is going to be my little brothers and my little sister … that one day they're going to be the ones to get shot or suffocated," Webb said.
Attached to her shirt was a red and white paper target that Webb decided to add to her outfit after a man told her on an online platform to put a target on her back so he could grab his gun and hunt her.
Surrounded by an estimated 1,200 people who showed up to the protest in Reno on Saturday, Webb said she felt less alone, but that did not make her any less fearful.
"My friend told me the other day that she keeps a person with her at all times. That if anything goes wrong and she is wrongfully killed, she has a witness," Webb said. "It shouldn't be like this. She should be allowed to walk alone without being scared that she's going to get killed."
She thinks about how her lighter skin tone grants her more safety.
"I have a better chance of living than my own brother, my own sister, and I would rather them take my life than theirs any day," she said.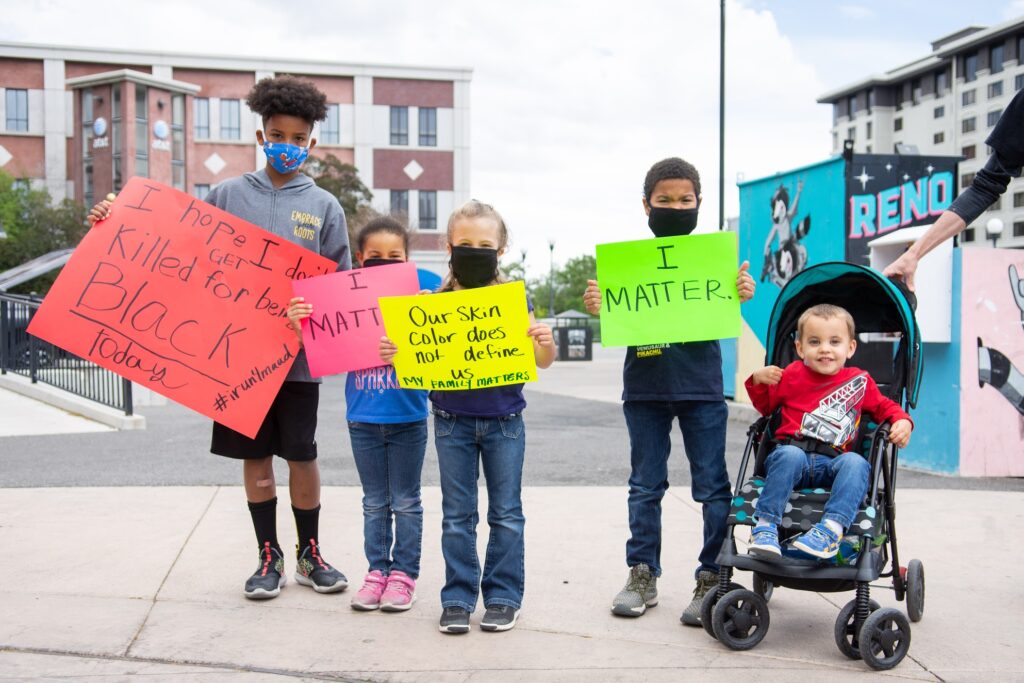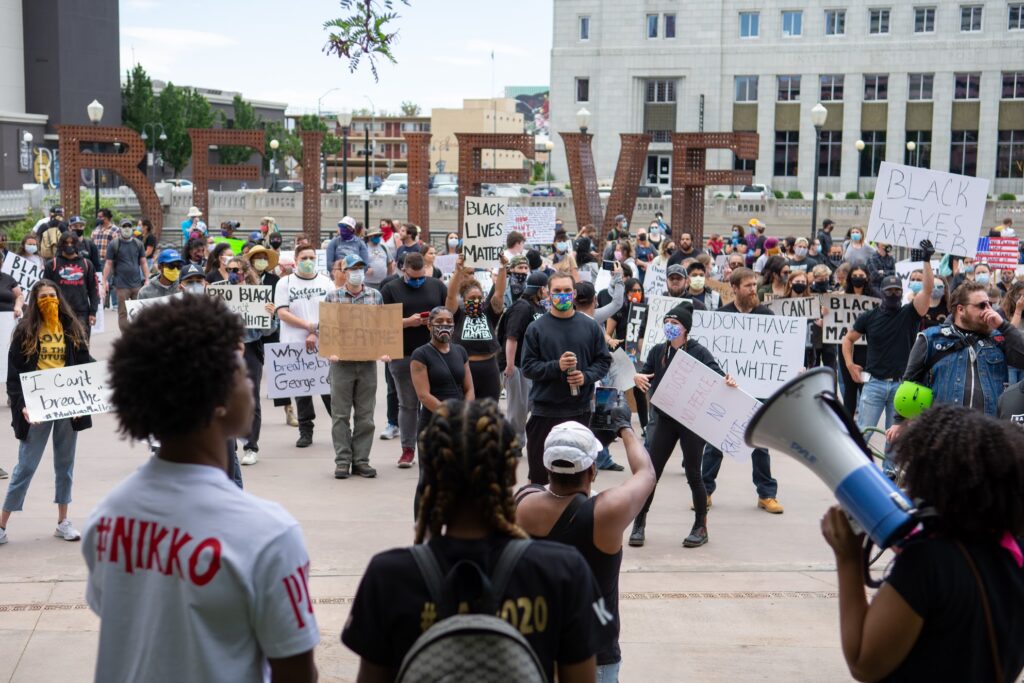 Monique Normand, 38, social worker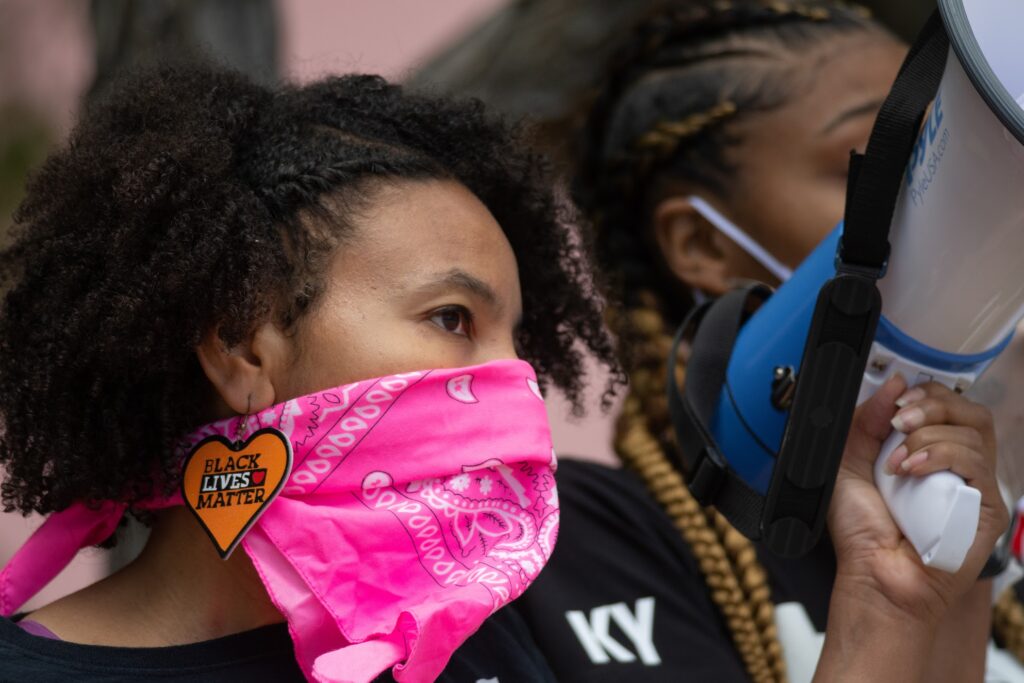 Monique Normand, a 38-year-old social worker, led the Black Lives Matter protests in Reno in 2016 and 2017. She said that change is frustratingly slow, but that she finds hope in the young people getting involved and infusing fresh ideas and energy into the movement.
"By young people, I mean teens and folks in their early twenties. I feel like half of the things that they are willing to do, are willing to get involved in … are things I don't know I would have been able to do at that age," she said.
Through protests and advocacy, Normand hopes that government programs will increase diversity and bias training, de-escalation practices and community involvement in figuring out ways to heal rifts between the police and people of color.
The organizers of the protest in Reno on Saturday continually reminded the crowd that the aim of the march was peaceful, something Normand said was to ensure the message did not get lost.
"Standing together, unify — that is the focus of this. And if you see something, step up, stand up, say something. Don't be complicit," she said. "If you don't see anything and you're quiet and you're just like, I don't want to be involved, I don't want to get in that, you're basically taking the side of the oppressor."
She pointed out that riots have led to results, but worries that violence could overshadow the message of unity and change she and other protestors are trying to spread.
Normand added that seeing the more than 1,200 people gathering to march through Reno's streets helped her feel a sense of solidarity.
"When you're home alone and you're watching your TV with your family, you're just like, 'wow, no one cares about me or nobody cares about us,'" she said. "But to come to something like this and see how many people actually care about the issue and actually want to support, it uplifts your heart."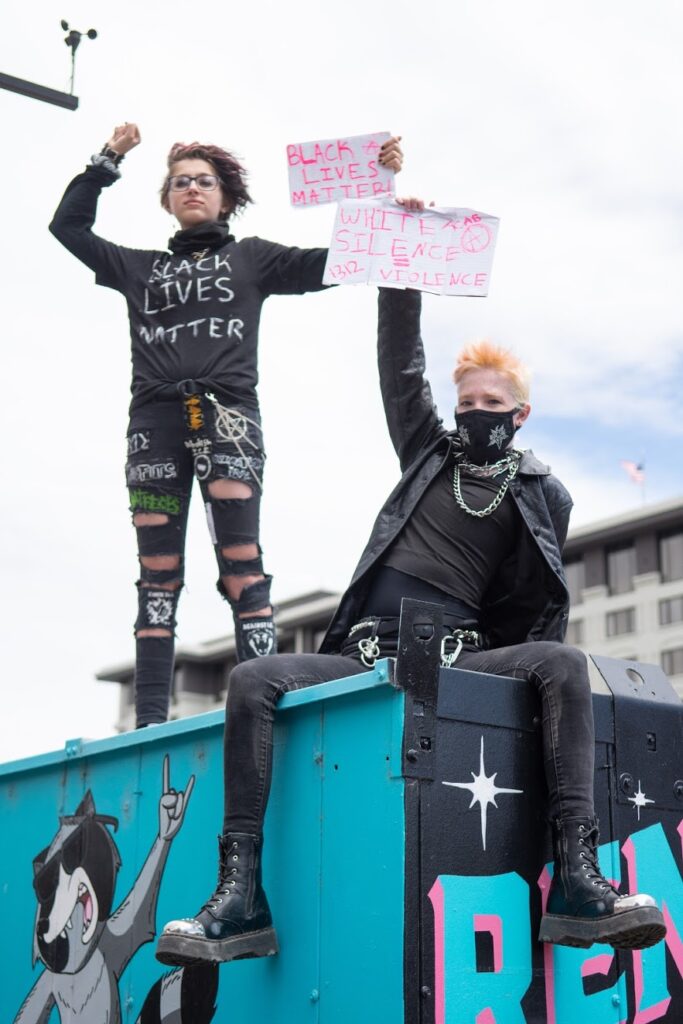 Will, 23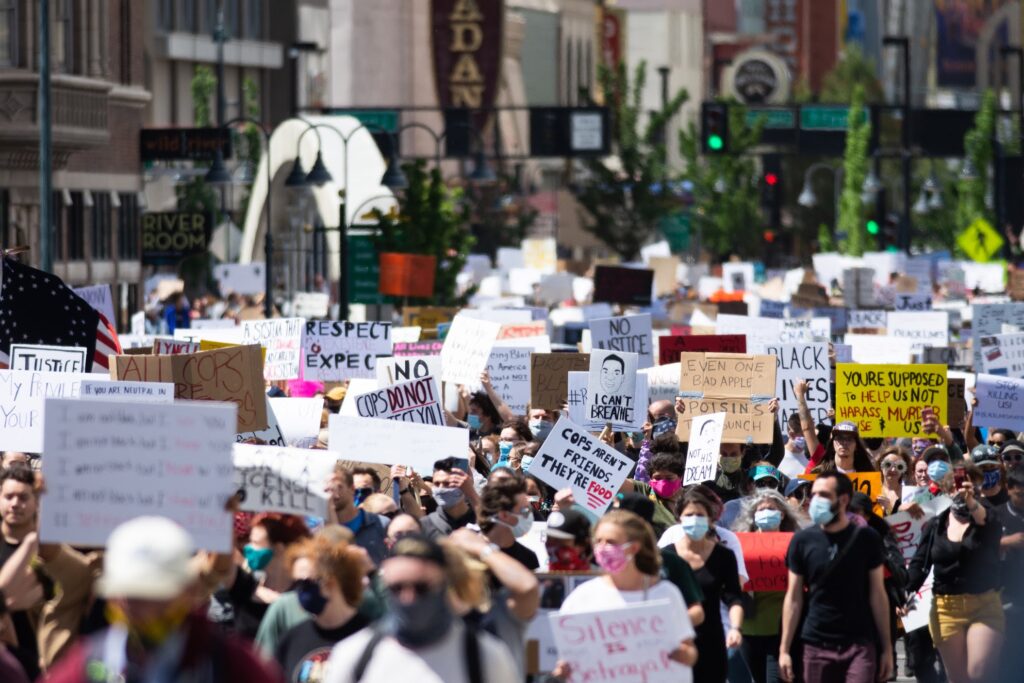 The protest in Reno on Saturday was the first one Will ever attended.
"I've been waiting to do something like this for a very long time," he said. "And I felt bad for sitting on my ass for protests before because it matters."
Will, 23, who asked for his last name not to be used for fear of potential repercussions, recently moved to Reno from Ohio. When he was younger, he never really noticed racial conflicts; his hometown was fairly homogenous.
"I was 16, 17, 18, 19, when there were protests going on and just didn't," he said. "I just felt like I didn't have a hand in the fight."
Now, he is done with the status quo and wants to stand up as an ally.
"The people who founded this country were our age. They were young, they were dumb, they were stupid. They were naive. Hamilton was 23," Will said. "And if they could do it, then why can't we do it now? Change in this manner is nothing compared to what they had to do and if they were willing to risk their lives to found this country and build it in the ideas that they did, then why the hell can't we?"
As for what changes he would like to see? He listed policing and prison reforms as well as ending the use of private prisons.
"We need to repeal the shit that Nixon did, repeal the crap that happened in the 60s and 70s when the government was quite literally, intentionally oppressing black people, assassinating black people," Will said. "The reforms that should have come from that still haven't happened. It's pushed under the rug and it needs to happen now."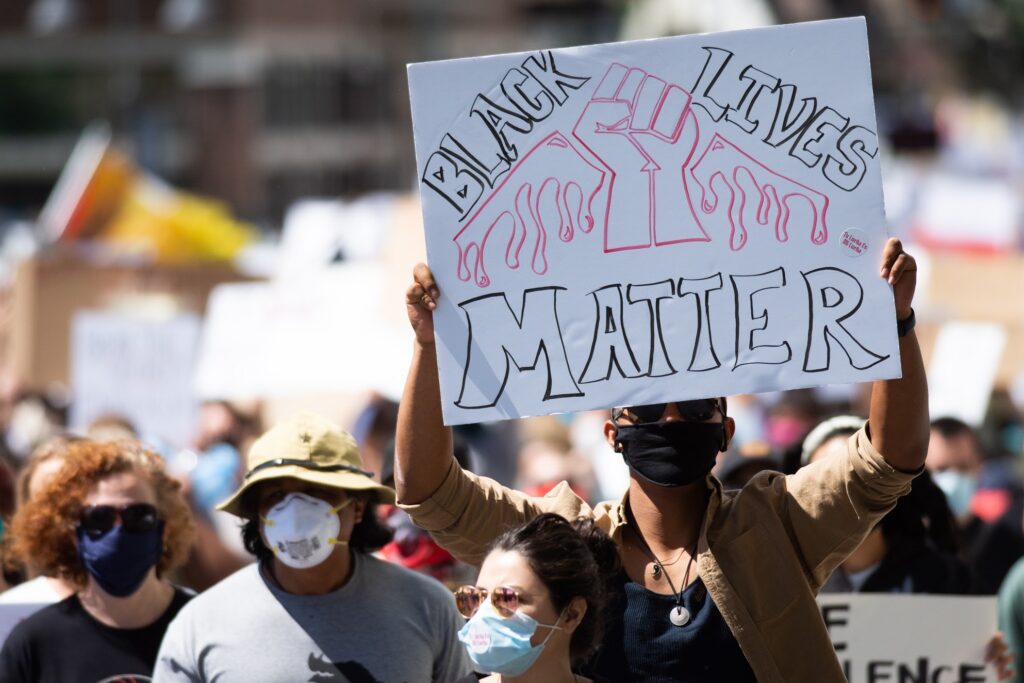 Jamila, 36, and Dawna Joseph, 41, small business owners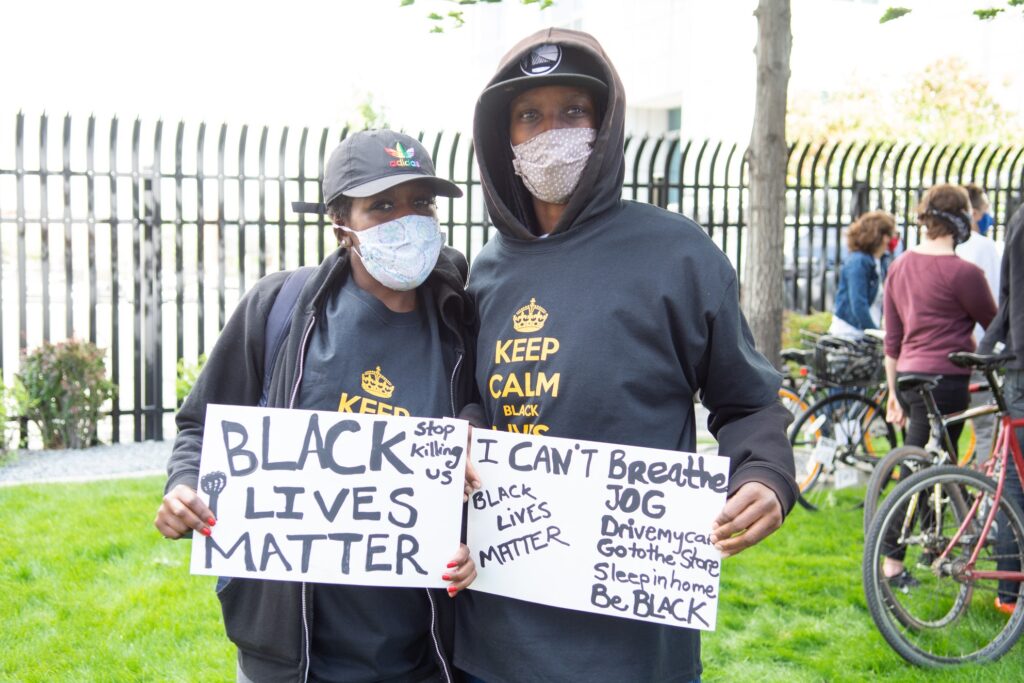 Jamila Joseph, 36, and her wife Dawna, 41, have protested for equal rights numerous times.
They're tired.
"I'm just holding back a lot of emotion as I'm out here, to be honest," Jamila Joseph said. "I'm just kinda quiet and taking things in, but we're really tired of marching and this is really repetitive."
She and Dawna moved to Reno from Oakland, California two years ago and own small businesses in the area. Even though they were nervous about coming out to the protest amid the pandemic, they did not feel as though they had any other option.
"A lot of stuff is going on. The pandemic, us marching, might get stopped or messed with by the police and that's just our everyday reality anyway," Dawna Joseph said. "Never know when's the next person, it could be us, we can leave here and something happens with it."
Jamila Joseph has been reflecting on why police practices and laws fail to change and her only conclusion is that people lack understanding.
"I think people don't understand that it's not an accident. A lot of these situations ... there's a loophole or even the crime that's committed is often justifying the murders," she said. "Our skin tone puts a target on our back."
Dawna Joseph wants equal treatment.
"If you come to the scene, don't come to the scene with the notion that we did something wrong. We might be just protecting ourselves," she said. "Just 'cause someone called on us doesn't mean we started it, or we initiated whatever is going on. Come to the scene, process the scene, make sure everyone's safe."
Jamila Joseph emphasized that not all police act on stereotypes and assumptions, but she has called police to situations and had problems in the past.
"We don't want to have a bad relationship with the police, but it's confusing and we're fearful," she said.
The two women suggested that the police hold a town hall where officers could hear their fears and work with the community to establish better practices. She also thinks they should participate in LGBT Pride events or Juneteenth, a day commemorating the abolishment of slavery in the United States.
As for people who are condemning protests, Jamila pointed out that oppression of black people has taken place for hundreds of years.
"We're tired. I would say, any way you want to bring attention to this situation at this point, do it. Obviously, don't be violent, don't do things that hurt people," she said. "Some people want to do poetry, some people want to march, some people are on the opposite end of that spectrum — we all just want change."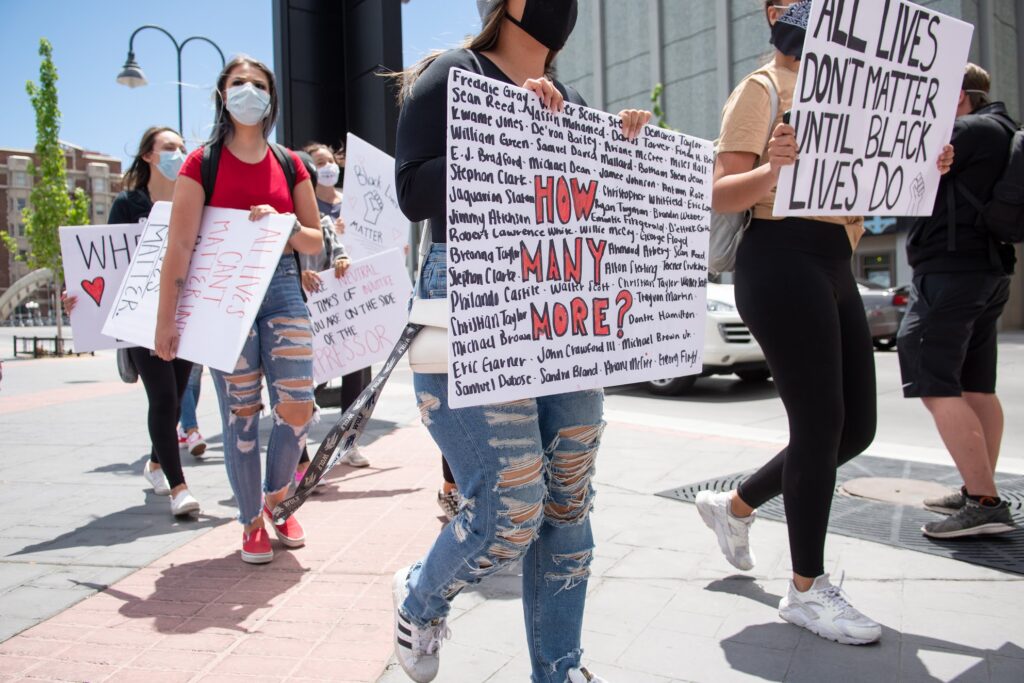 Donald Griffin, 39, Reno ambassador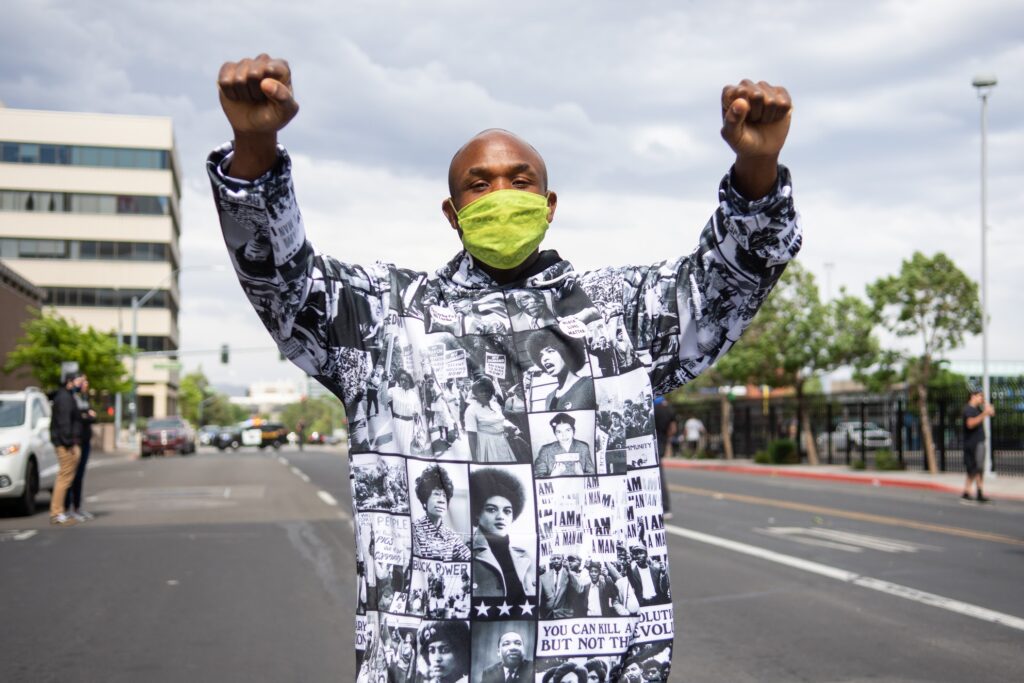 Donald Griffin, 39, works as an ambassador with the City of Reno helping the homeless and aiding people struggling with drug addictions and other issues. He came out Saturday in Reno to protest the death of George Floyd.
"I'm glad that [police brutality] is starting to get some recognition. It's been going on for a long time. It's just not being recorded and they're still trying to find little ways to get out of it," he said. "And that kind of irritates me. I've got a son and a daughter that are black and I don't want them feeling afraid in the country that we helped build."
Griffin said he was heartened by the number of people who came out to stand in solidarity.
"We're standing up for something," he said. "It takes this for us to be united, and that's sad, but we need to keep that momentum going while we're united."
As part of his job, Griffin regularly works with the Reno Police Department and said that he is grateful for the way officers back him up and work with him. As far as ways that the department could improve?
"Keep those body cams on, make sure that you're doing right in upholding the law and treating people how they should be treated," he said.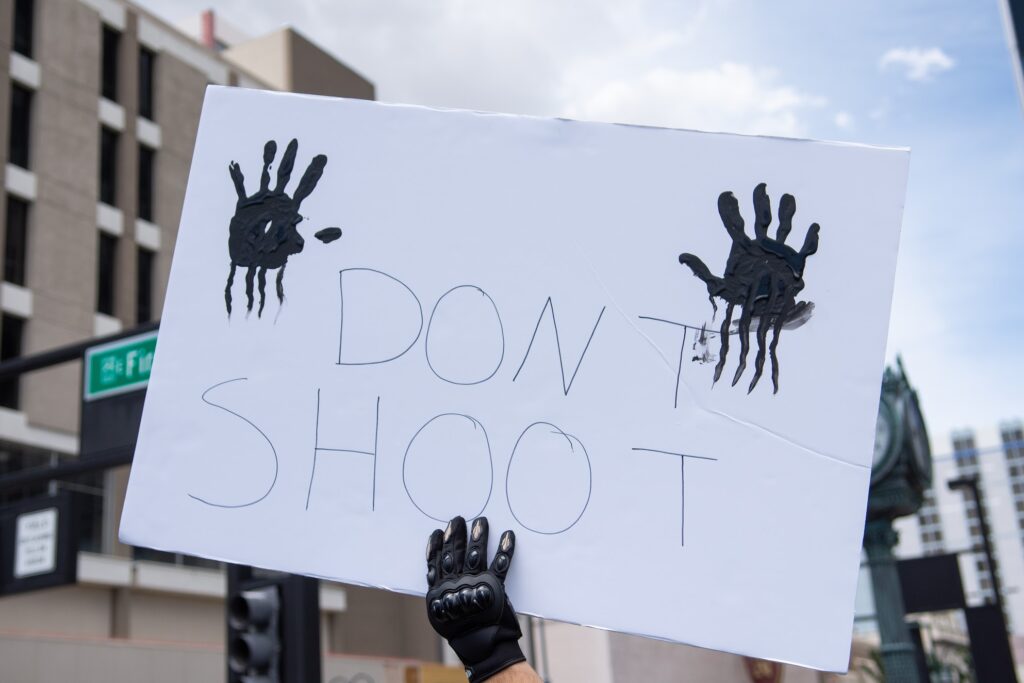 Ackaria Thomas, 18, working to become a salon owner, Victor Patterson, 20, in-home caretaker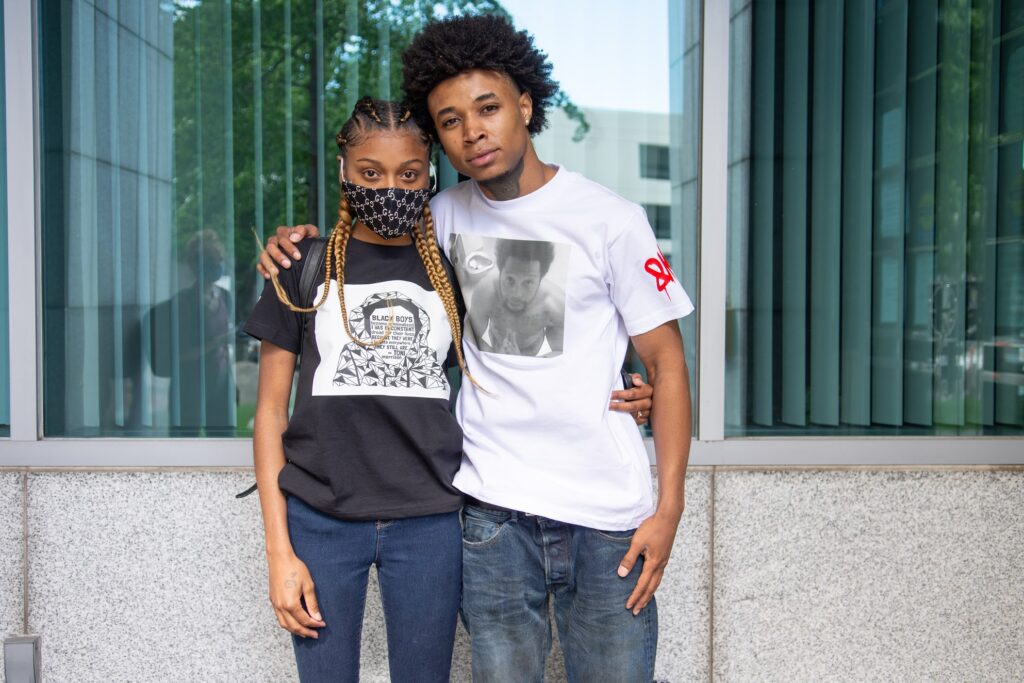 Ackaria Thomas, 18, an organizer of the protest in Reno, designed it as a peaceful demonstration drawing attention to the death of George Floyd. One of her goals for the protest was to increase awareness of a petition to change some of the policies for how police detain and arrest people.
Her boyfriend, 20-year-old Victor Patterson, also helped with the organizing and wore a shirt printed with a photo of his relative, Niko Smith, who died in 2015 in the Washoe County jail after a struggle with deputies.
The pair said many issues affecting the black community go unnoticed or undiscussed. Thomas said she is planning on starting up an activist group to build momentum and community. Patterson said the protest was a chance to reflect.
"We don't talk about it with each other. We don't come together how we did today and we made a really big, positive change by bringing this many people together," Thomas said.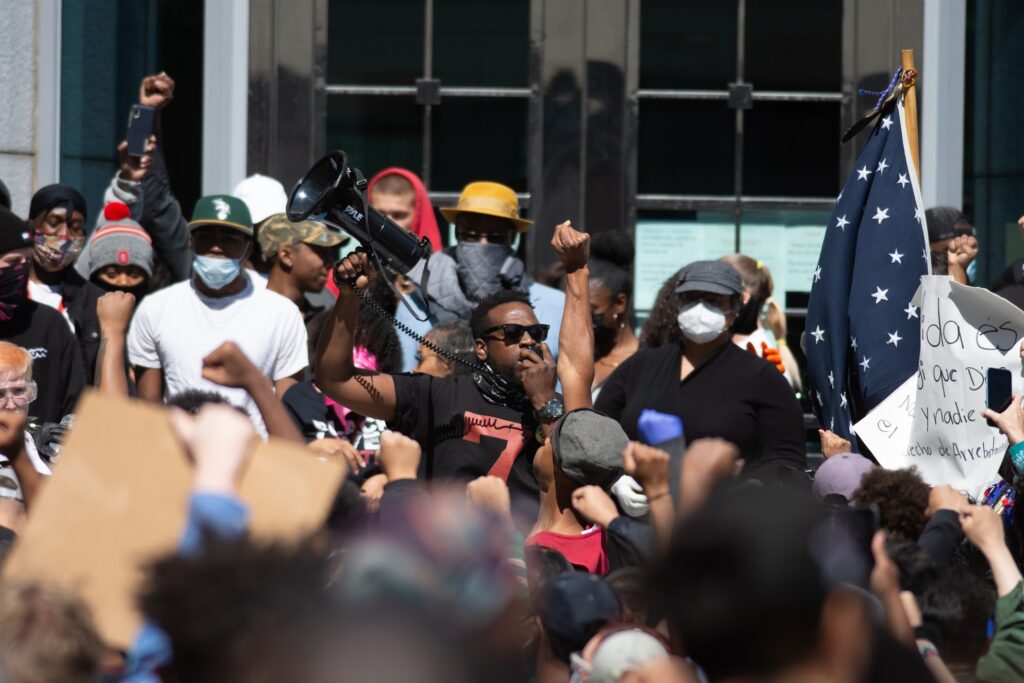 Comment Policy (updated 10/4/19): Please keep your comments civil. We reserve the right to delete comments or ban users who engage in personal attacks, use an excess of profanity, make verifiably false statements or are otherwise nasty.