Protesters call for reform after video shows Clark County school police using force on students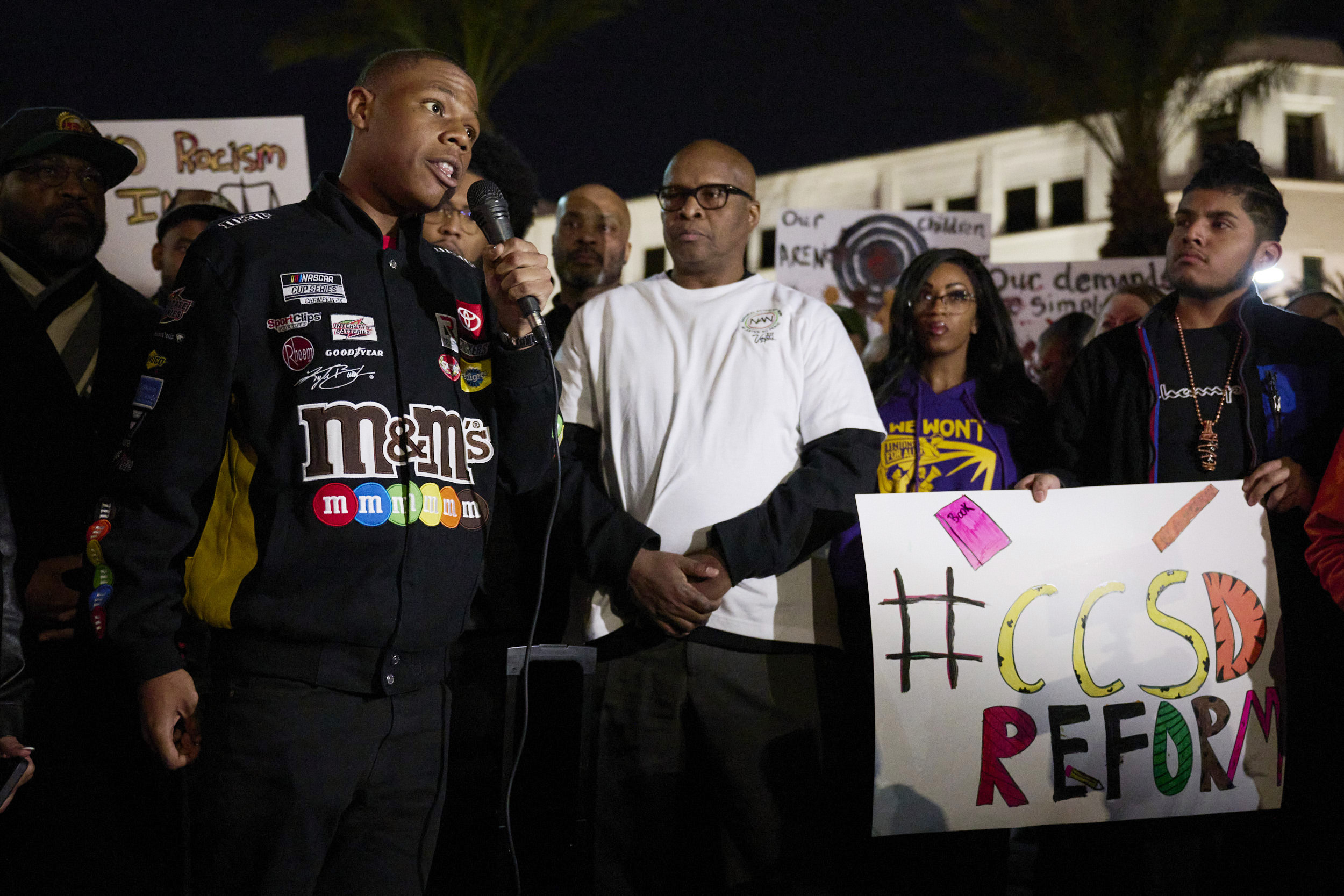 Sickened by a video last Thursday showing Clark County school police pushing a Black student to the ground, placing his knee on the student's back to hold him down and detaining two other students, dozens of community members are pushing for a swift investigation, accountability and reform from the district and its police department.
The community members from groups including the Las Vegas branch of the NAACP, the Las Vegas branch of the National Action Network and 1865 No Racism in Schools made their demands at a Friday night rally outside of the Clark County School District (CCSD) district's administrative office.
Attendees held up signs that read "end police brutality," "no racism in CCSD," and "money for schools, not police."
"We demand reform. It's very simple," said Jshauntae Marshall, one of 1865 No Racism in Schools' co-founders.
The groups also were joined by student speakers. Desert Oasis High School student De'Mahj Solomon suggested adding information on students' rights in class syllabuses.
"This happens all the time and students allow it because they don't know something that we should be informed on," he said. "It would cause no harm and … all that it will do is help prevent what's already happening to us, the students."
Nevada State High School student Rebecca Haile, who previously attended Desert Oasis, called for accountability from the district, responsibility and justice.
"This is a learning environment, not a prison," she said. "If you treat us like we're criminals, if you treat us like we are these delinquents, then those titles will end up being true."
The video of the Jan. 9 incident near Durango High School shows Clark County School District police arresting two Black students and an officer shoving a third Black student to the ground and placing his knee on the student's back while he shouted profanities at nearby students and pushed them away.
The Durango students were not present at the rally, but the ACLU of Nevada, which is representing them and their families, shared a statement on Twitter from one of the parents thanking community members for their support.
"We are overwhelmed from the genuine love and support," the mother said in the statement. "Mentally, you can never ever come back from something like this. As a mother, my heart is broken but my mind is so much stronger."
After the video went viral on social media, the district said in a statement the incident stemmed from an investigation regarding the report of a firearm near one of its schools. The district gave no indication of whether the students seen in the video were connected with the reported firearm or any other information as the matter is under investigation.
"Upon viewing the video involving school police and juveniles near a CCSD campus, we are concerned with how one of our students was treated," Superintendent Jesus Jara said in the statement. "As with any situation, an investigation will occur to understand all the facts and hold people accountable for their actions."
Rev. Robert Bush, president of the Las Vegas branch of the National Action Network, said he denounced the district police's actions, which he said terrorized, bullied and abused students.
"At National Action Network, we are not anti-cop, we are anti-bad cop, and the bad cops must be purged," he said.
The community groups behind the rally are demanding the officer seen in the video be terminated in addition to a swift investigation into the incident and reform to prevent incidents like this from happening.
"Our children are not viewed as children and that's why they are treated the way they are treated," Marshall said. "Their lives are not valued. Black lives do matter."
The district did not issue a statement after the rally, but said in a previous statement that the officer involved in the incident had been reassigned. Jara has also directed district Police Chief Mike Blackeye to conduct a complete review of the department's use of force policy and protocol.
Blackeye sent a separate statement on Wednesday stating that the department is organizing a committee of diverse community members "to interface and inform school police through regular meetings to share perspectives, ideas, and results through constructive dialogue about student and staff safety on our campuses and in our facilities."
But the ACLU of Nevada is calling for stronger action from the district and other county officials.
"It's disgusting that school police officers can attack children without being held accountable," ACLU of Nevada Executive Director Athar Haseebullah said in a statement. "There are no statements from the District Attorney that they are attempting to seek justice for these kids or have opened an investigation of the officer's conduct here. It's sad and pathetic."
Clark County District Attorney Steve Wolfson sent out a statement Friday in which he said he has seen the videos of the incident, though a case has not been formally submitted to his office.
"If the investigating law enforcement agency – the Clark County School District – submits a request for prosecution to my office, I will review the matter to determine if we can prove the elements of crime beyond a reasonable doubt, as I would any other case," he said.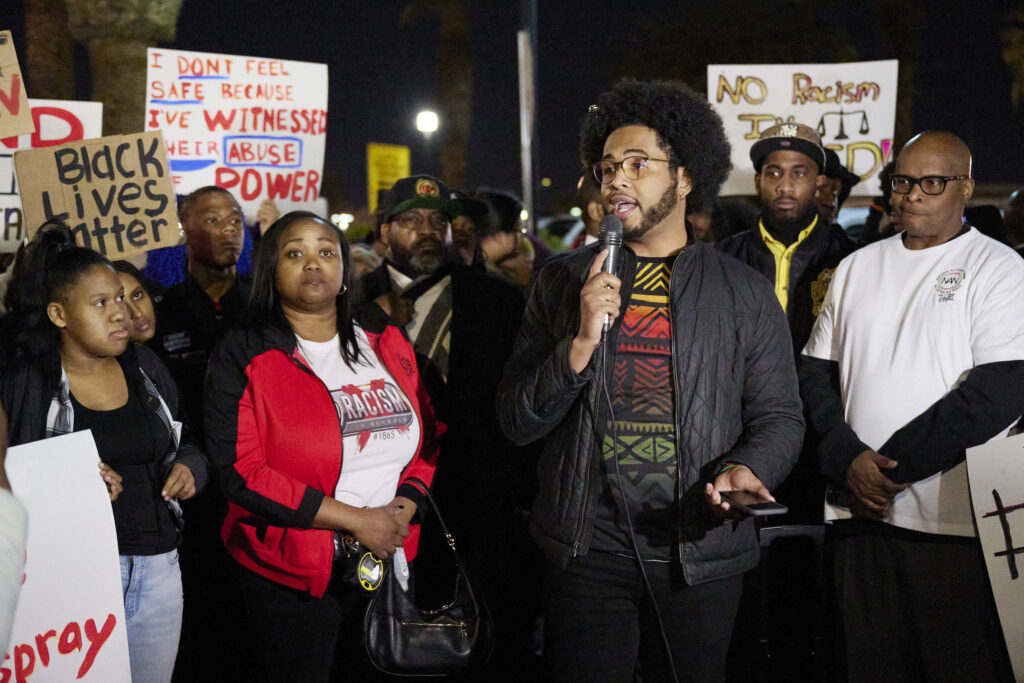 Community leaders such as local NAACP President Quentin Savwoir aren't waiting around for that to happen. Savwoir called on attendees to stay involved in the push to demand reform from the district, show up, and if possible, participate in next week's school board meeting.
"This needs to be a hearty, robust conversation about changing protocols, about getting police out of our schools, about seeing our young scholars as human," Savwoir said.
Savwoir doesn't think attendees should let Wolfson off the hook.
"He just asked for your vote," Savwoir said about the prosecutor, who was re-elected last year. "So make him make a statement, make him take action because our community deserves better and our community will have better."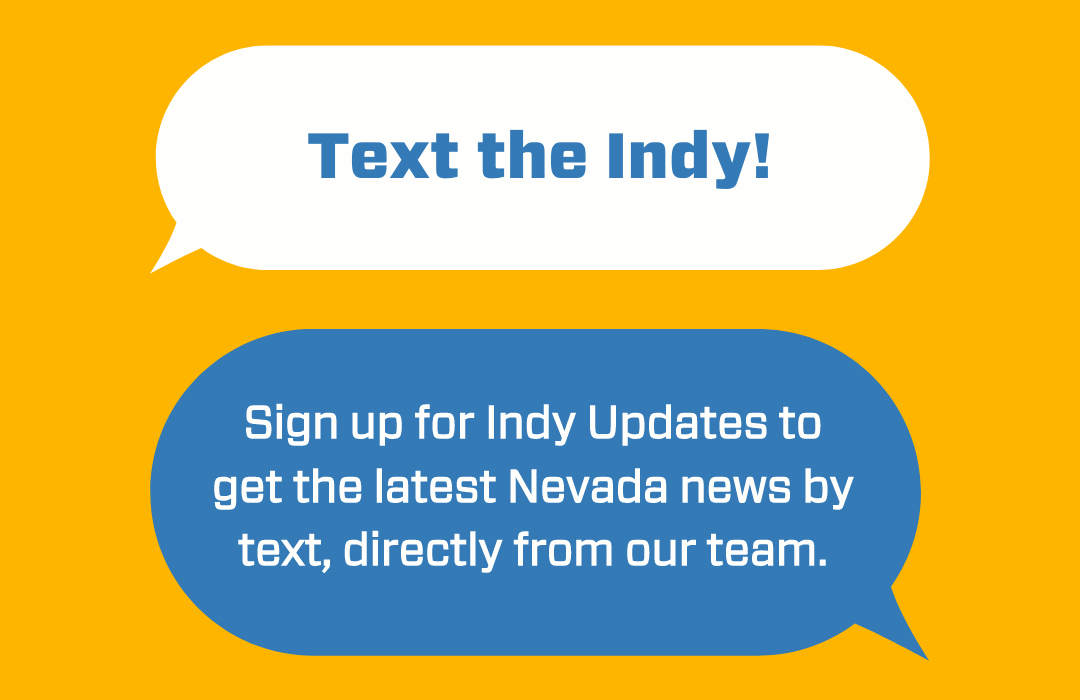 Featured Videos
Comment Policy (updated 4/20/2021): Please keep your comments civil. We reserve the right to delete comments or ban users who engage in personal attacks, use an excess of profanity, make verifiably false statements or are otherwise nasty. Comments that contain links must be approved by admin.