Recent Black Lives Matter movement brings greater awareness to Juneteenth; Nevada representatives call for federal observance of the holiday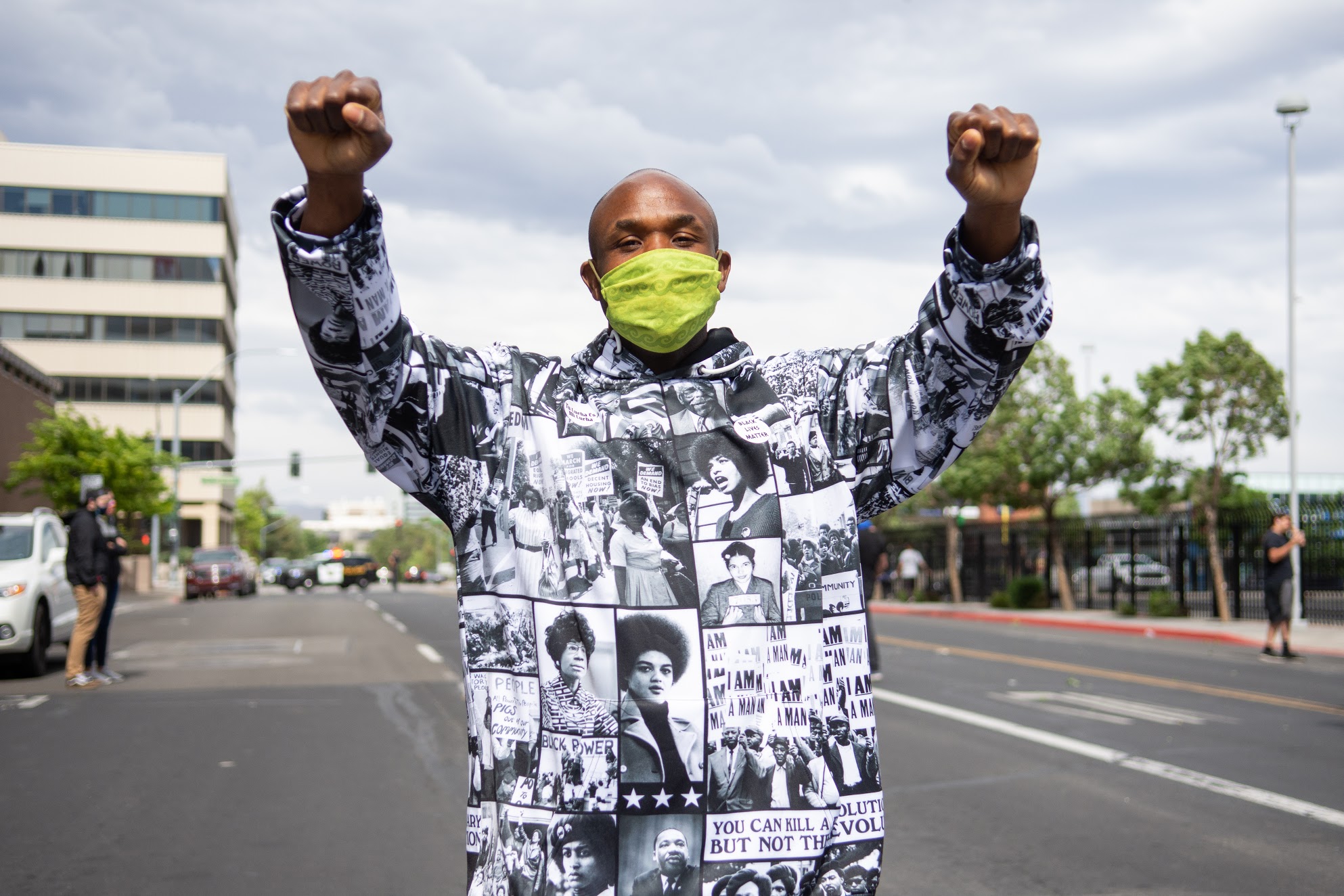 This year's Juneteenth holiday that observes the freedom of enslaved black people arrives on the heels of hundreds of people filling Nevada streets to call for racial justice and mourn the black lives lost to police brutality — all amid the COVID-19 pandemic.
The gravity of these combined events have left Jasmin Fisher, 27, feeling conflicted. Fisher, an organizer for the Freedom Friday event in downtown Reno, hopes the event marking emancipation can bring a sense of relief from all the tension of the past few months.
"I really want to see definitely those smiles, beautiful faces, but I also, too, want to see sighs of relief," Fisher said. "It's not easy to get up every single day and face this world we're living in right now."
The 13th Amendment abolishing slavery in the U.S. was ratified in 1865, two years after President Abraham Lincoln announced the Emancipation Proclamation.
Most slaves in the South were freed upon the announcement of the Emancipation Proclamation in 1863. However, slaves working on plantations in Galveston, Texas almost two and a half years later didn't receive word of their emancipation until June 19, 1865. Plantation owners had kept the slaves working for one more harvesting season following Lincoln's proclamation.
Juneteenth has been an official Nevada observance since 2011, when lawmakers passed a bill sponsored by Assemblywoman Dina Neal and former Assemblymen Harvey Munford and Joe Hogan calling on the governor to issue an annual proclamation to mark the holiday.
'Mississippi of the West'
Nevada, like much of the rest of the nation, has a fraught history with racism. Just as recently as a few years ago in 2017, the University of Nevada, Reno became a spotlight when UNR student Peter Cvjetanovic was photographed at a "Unite the Right" rally in Charlottesville, Virginia, where a counter-protester was killed.
Before the Civil Rights Movement, segregation was rampant and aggressive throughout the state, earning Nevada the moniker of "Mississippi of the West" by James Goodrich in Ebony Magazine in 1954.
The magazine article, titled "Negroes can't win in Las Vegas," detailed segregation practices in the city that eventually led to an investigation into discriminatory practices by a Nevada attorney general.
"The Negro finds little welcome anywhere," Goodrich wrote in the article, according to the Las Vegas Sun. "He is barred from practically every place whites go for entertainment or services. He cannot live outside a segregated, slum-like community. He is relegated to the most menial jobs. For the Negro, Vegas is as bad as towns come. ... Negroes rate no better than second-class citizenship there."
Nevada lawmakers support a federal observance of Juneteenth
Texas was the first state in the nation to declare an observance of Juneteenth in 1980. Today, almost all states in the U.S. recognize the holiday, except for Hawaii, South Dakota and North Dakota, according to the Congressional Research Service.
This year, leaders including Rep. Dina Titus and Rep. Steven Horsford announced their support for the federal observance of the holiday and for additional legislation to address racism against black communities such as the Justice in Policing Act.
"This day is especially important this year, as we mourn the deaths of Black men and women across the country," Horsford said in his press release. "On this year, the 155th anniversary of the first Juneteenth, let us hold close this reminder of how far our country has come in the trek toward equality and justice for all -- and how much progress there is yet to accomplish."
Titus pointed to the role Nevada played in ending slavery by joining the Union in 1864 and supporting ratification of the 13th Amendment. But she echoed Horsford's sentiment of a long road ahead to achieve justice.
"Juneteenth is an important reminder of the work we still must do to bend the arc of history towards justice," Titus said in her press release.
Governor Steve Sisolak issued the annual proclamation of the holiday in a press release on Friday, in addition to signing an executive order to lower state flags in remembrance of the lives lost to slavery.
"We have achieved great things in this country and in this State," Sisolak said in the press release. "However, there is still much work to be done in the fight for equality. Life, liberty, and the pursuit of happiness are universal maxims granted to all Americans upon their birth. Unfortunately, for some races, those axioms are harder to live by and enjoy due to hate, racism, and bigotry."
Rep. Sheila Jackson Lee (D-TX) introduced the Juneteenth National Independence Day Act, H.R. 7232, on Thursday. The proposed legislation would establish Juneteenth as a federal holiday, making it the first new federal holiday since Martin Luther King Jr. Day was approved in 1983.
The bill has 74 cosponsors, including Rep. Joaquin Castro (D-TX) and Ilhan Omar (D-MN).
Sen. Kamala Harris (D-CA) announced on MSNBC Thursday a corresponding bill proposal in the Senate, with support from Sen. Cory Booker (D-NJ), Tina Smith (D-MN) and Ed Markey (D-MA).
"Our nation still has a long way to go to reckon with and overcome the dark legacy of slavery and the violence and injustice that has persisted after its end," Booker said in a statement. "Making Juneteenth a federal holiday represents a step forward in the journey of healing America is still taking."
Corporations, other organizations recognizing Juneteenth
A large number of companies have issued statements this year on an observance of Juneteenth. Fiat Chrysler, Ford Motors and General Motors are holding moments of silence out of respect and others like the National Football League (NFL) and Nike announced the day as a company-wide paid holiday.
NFL Commissioner Roger Goodell wrote in a company memo that league offices will be closed to recognize Juneteenth. He also issued a formal apology in early June to NFL players who kneeled during the national anthem as a way to bring awareness to social justice issues like police brutality, saying it was "wrong" not to listen to the players sooner, and said the league was pledging $250 million over the course of 10 years for social justice causes.
UNR President Marc Johnson also announced earlier this month that the university is working on bringing NFL player and UNR graduate Colin Kaepernick's image back to campus. Kaepernick faced harsh public criticism for years for his decision to kneel while the anthem played at games.
Since then, a group of UNR alumni launched an effort aimed at building a statue of the football player on campus.
"We started this group as proud alumni of the University of Nevada, Reno," the group said in a statement to the Reno Gazette Journal. "Kap is one of the best players, and humans, that this University has produced; and that should be celebrated. We think a statue of him kneeling in Mackay Stadium would be a great way to pay tribute to such a standout UNR representative."
An opportunity for reflection, education and awareness
Despite the delay, Juneteenth is celebrated as the day that every black slave was finally free, granting liberation to all. Celebrations include music, food, dancing and parades.
The day is also an opportunity for reflection, according to Nevada organizers, who noted that it's taken 155 years for the holiday to be in the spotlight the way it is this year.
"It's not just a day of fun, but it's a day of educating ourselves and understanding our history and where we've been, where we've come from and where we're going," Fisher said, adding that the recent Black Lives Matter protests have highlighted the holiday and persisting systemic racism issues, spurring conversation across the country.
KaPreace Young, the new president of the Northern Nevada Black Cultural Awareness Society, hopes the sudden inspiration for education on black history will continue through the heat of the moment.
"Black history is not limited to Juneteenth nor is it limited to Black History Month in February, so I just encourage everyone to educate themselves and to educate each other because for black people, we're black every day, not just on specific days," said Young, 23.
She also acknowledges the generational importance of the holiday.
"Juneteenth isn't necessarily just for black people, it's for our ancestors, to celebrate all that they've done for us," Young said. "Juneteenth, for me, is to highlight what it means for me to be black and it means for me to appreciate those who have come before me. It's more of a generational appreciation, not an individual appreciation."
The Freedom Friday event will be focused on letting the community express creativity through art, including a mural painting by Reno artist Joe C. Rock. The painting was commissioned by the City of Reno to cover the side of the City Hall building that was vandalized following a recent protest and "is meant to unify the community by highlighting local and national civil rights leaders, equality, unity and Black Lives Matter issues," the city said.
Rock will be paid $3,000 from Councilwoman Naomi Duerr's discretionary funds.
"The Black Lives Matter message has become obscured by rioting and violence," Duerr said. "The movement needs to be center stage, and the message heard loud and clear."
Both Fisher and Young hope the event can bring happiness during difficult times caused by civil unrest, the pandemic and its economic fallout.
"I just imagine smiles," Young said.
Updated 6/19/2020 at 2:36 p.m. to include Governor Steve Sisolak's proclamation and executive order.
Comment Policy (updated 4/20/2021): Please keep your comments civil. We reserve the right to delete comments or ban users who engage in personal attacks, use an excess of profanity, make verifiably false statements or are otherwise nasty. Comments that contain links must be approved by admin.