Record Street sweep displaces unhoused people during record temperatures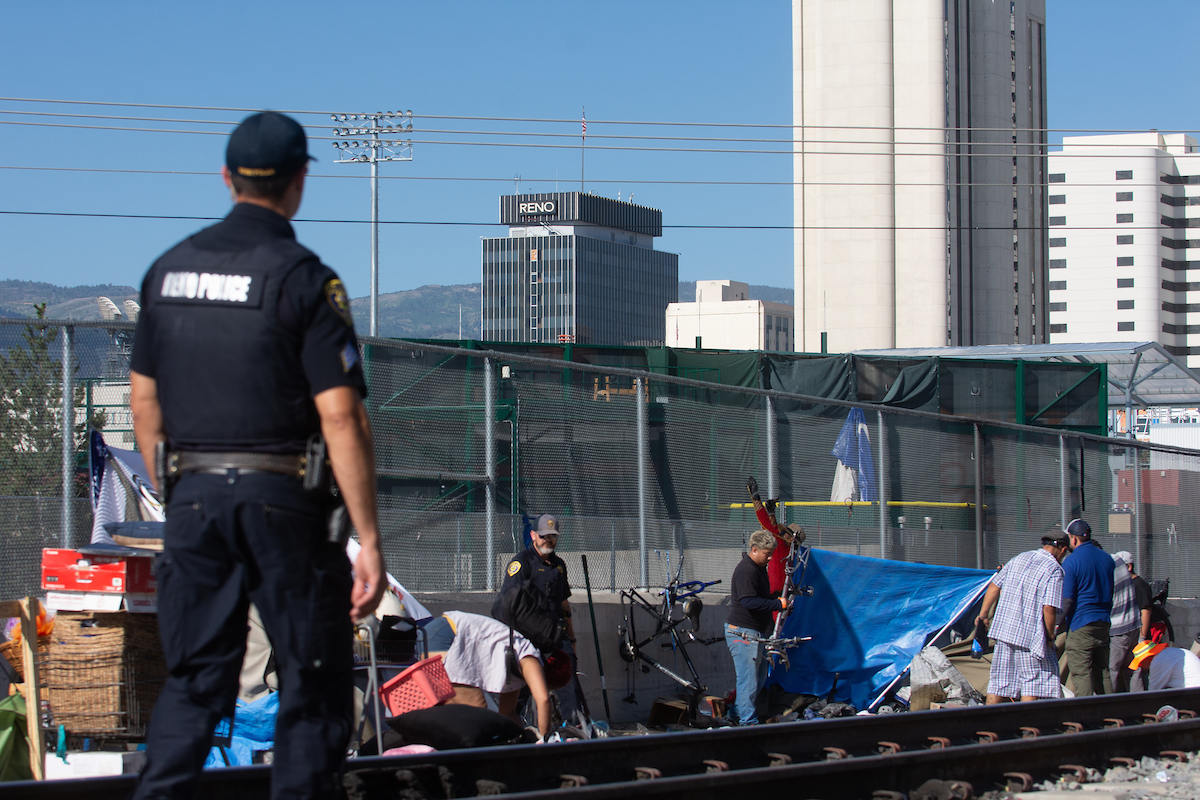 During a record-setting heatwave Tuesday morning, Tim, 35, packed his belongings into a Walmart shopping cart. He was one of the many people living near the train tracks between Record Street and Wells Avenue that Reno police ordered to relocate within 30 minutes.
Tim said he has gone through this process about 20 times, at least once a season for the past five years. Ahead of the Tuesday move, the city gave people staying at the encampment five days' notice, but Tim said he waited until the last minute to move. For one sweep, Tim recalled, he wasn't given any notice at all and came back to find his identification and birth certificate missing.
"I was out trying to make some money for the day and I came back and the city had come through and took my entire camp and everything," he said.
Despite having advance notice ahead of Tuesday's 8:30 a.m. sweep, Tim said the process of moving all his belongings is always stressful. He estimated that he regularly loses at least two-thirds of his possessions every time he relocates.
"Right now it's extremely stressful because my spouse is in jail and I'm doing it all by myself," he said.
Local government response
Reno's Clean & Safe Team, along with Qual-Econ U.S.A — a local janitorial company that specializes in corporate and government cleaning projects — showed up Tuesday morning with rakes and carts to clean up the site.
Reno spokesman Landon Miller estimated that as of June 30, crews had cleaned out a total of 275 sites and 1,675 cubic yards of trash.
"There are multiple sites that have been cleaned several times due to increased activity and public safety and health hazards," Miller said.
Though sweeps take place on private property as well, the curved stretch of track Tim was moving from is owned by the City of Reno — the name listed on the cleanup order. A statement from the city cited "an enormous safety risk for people sleeping, living, and congregating adjacent to the railway" as the reason for the order.
Erich VonSniver with KarmaBox — an organization that helps provide outreach, informs people of services available at the Washoe County's Cares Campus Safe Camp shelter and manages donation boxes around town — said these sweeps happen because business owners and organizations submit complaints to the city about damage to their property.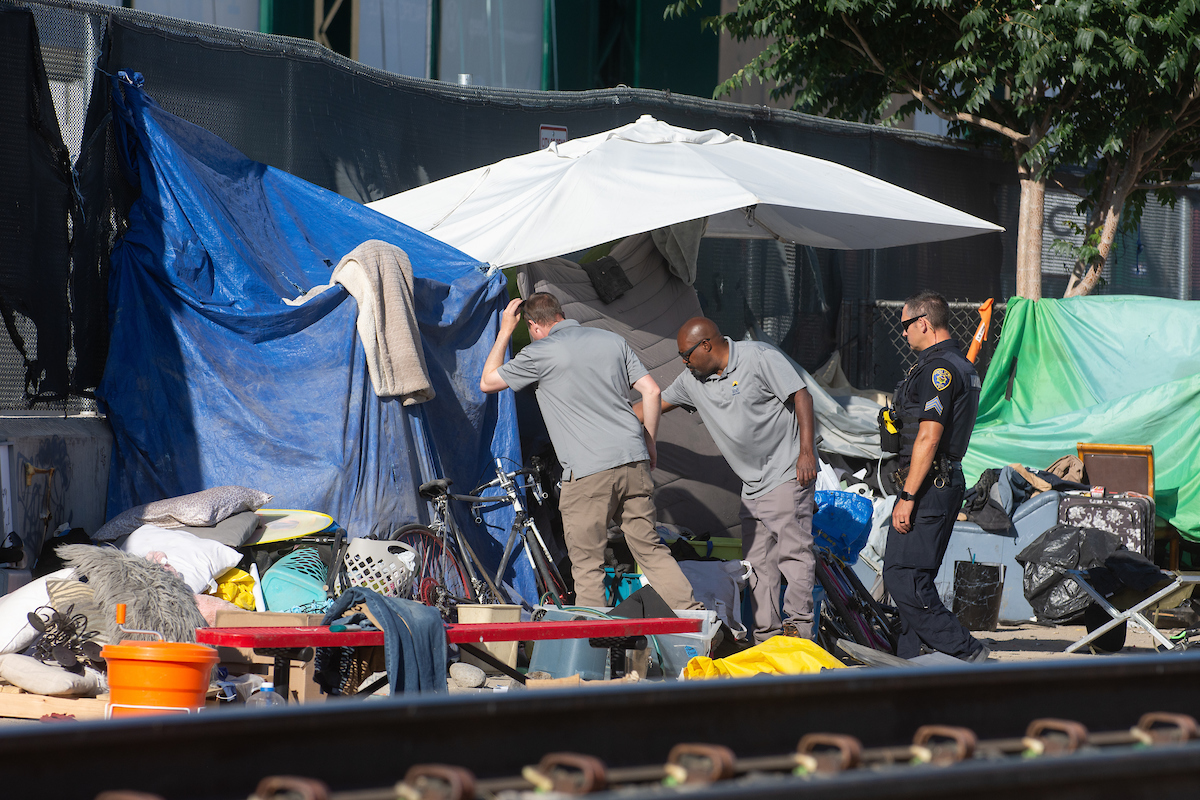 "Unfortunately they are on somebody else's property, always," VonSniver said.
He also said the more time that passes between each sweep, the more costly the cleanup is.
"If [the sweep] doesn't happen, it gets a lot worse," VonSniver said. "That giant trash pile would triple over time. It gets a lot harder and [costs] a lot more money for the city to clean. Everybody out here, I've talked to them all — they understand that this is a part of the process."
Though VonSniver said he understands why the sweeps happen, they make his job more difficult.
"I've been working with somebody, and then they have to leave that spot," he said. "But I do talk to them and let them know that it is coming."
VonSniver said he keeps communication open with the unhoused Nevadans he is working with so he can track what location they are headed to next.
According to the City of Reno, on the Friday prior to Tuesday's sweep, the Clean & Safe Team and its partners — which include KarmaBox and the Reno Initiative for Shelter and Equality (RISE) — began reaching out to people in the encampment. A total of 59 notices were issued and 27 people were advised of the cleanup, Miller said. He also said outreach included offers of transportation to the Cares Campus' cooling center and efforts to get people government-issued documents such as IDs and Social Security cards.
Of the 59 tents on the site, Miller said nine were abandoned and 13 were used for storage of bicycle parts. One person out of the 27 that Reno's outreach team talked to "accepted services and was transported to the Nevada Cares Campus," another was waiting for a spot at Safe Camp and one was waiting for his ReStart apartment unit that is set to open up Aug. 11, Miller said.
On Tuesday, Miller said the city moved 27 people. Advocates at the site counted more. However, counts of unhoused populations are usually inaccurate — even when conducted in a large-scale federal capacity — because of transience and not everyone seeking out services.
The city also said it recognizes the dangers high temperatures impose on people living outdoors.
"Being exposed to these conditions increases risk of heat exhaustion and heat stroke. Even though the hot weather was not the reason for the cleanup, the City has been encouraging all residents to avoid being outside during extreme heat," read a statement the city issued to justify the sweep, reiterating that "cooling stations are currently available at the Nevada Cares Campus and the shelter is not at capacity."
The Cares Campus, the largest homeless shelter in the region, is owned and operated by Washoe County, but was created in partnership with Reno and Sparks in 2020. Washoe County's housing website indicates that, as of Tuesday, there were 23 beds available at the Cares Campus, as well as 22 beds at its emergency shelter and two more at the Cares Campus Safe Camp.
"The Cares Campus has open beds every day; recently we have had plenty of beds. In the last month we've averaged 22 open beds per night," said Bethany Drysdale, the public information officer for Washoe County.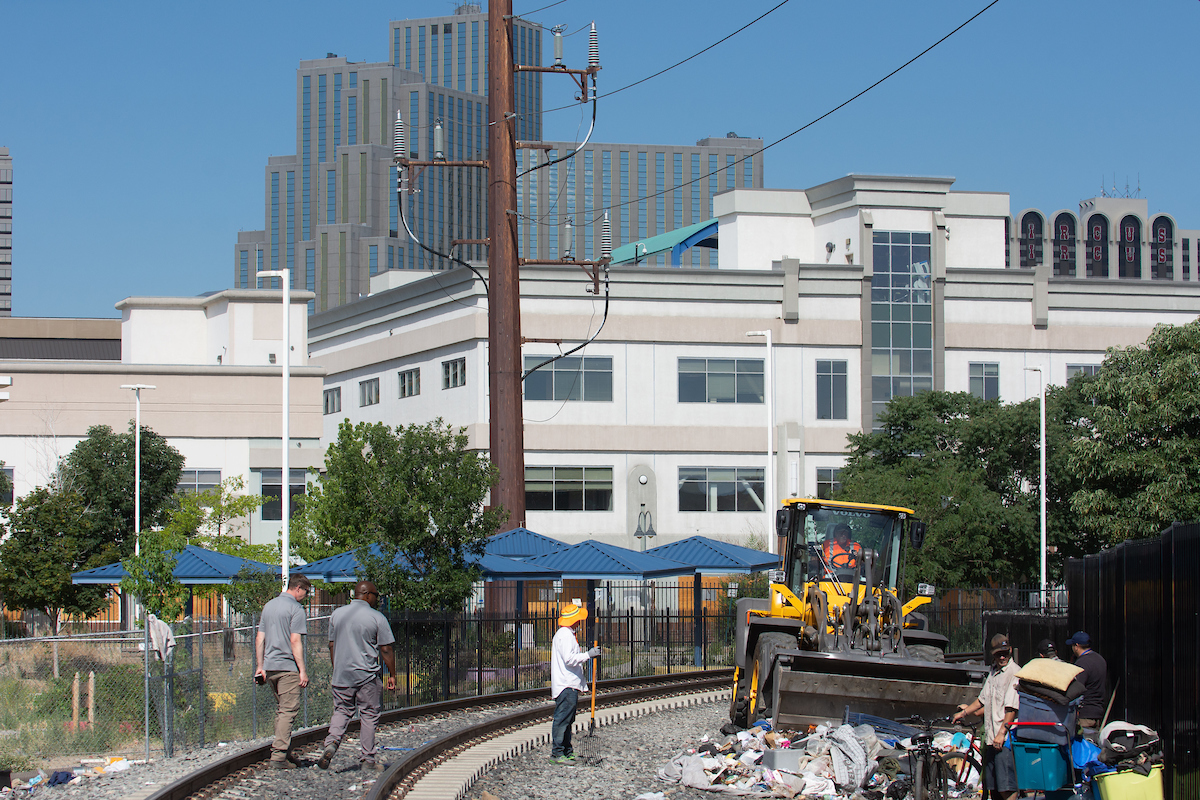 Legal implications and explanations
Though sweeps are not illegal in Nevada, legal questions remain about the process.
In 2009, Martin v. Boise prohibited criminalization of homelessness after the United States Court of Appeals for the Ninth Circuit ruled that it was cruel and unusual punishment for city laws to prohibit people from sleeping outdoors within city limits. Cities are allowed to move people only if there is enough shelter space, meaning if a sweep happened when there were more people being moved than beds available, there could be legal implications for the city.
However, Rhea Gertken, deputy director of Nevada Legal Services Inc. said using Martin v. Boise as a legal defense is not without nuance. There are things to consider, such as how much notice was given, what storage procedures were followed and what a notice and procedure actually mean.
"I don't want to go too far in saying that Boise is or isn't going to help when it comes to some of these camping issues," Gertken said. "There's still some, again, gray area with that is, of course, what the law operates in sometimes."
In addition to beds, the Cares Campus has a cooled — or heated — area that can accommodate 112 people. A person does not need to be staying at the Cares Campus to access the cooling area. The Cares Campus also provides meals, bottled water, filtered water filling stations, showers and laundry.
The Cares Campus has also extended its hours and is now open from 6 a.m. to 8 p.m. to accommodate people needing to be indoors during the high temperatures. Typically, the shelter's services end at 6 p.m.
VonSniver said that people staying at the shelter are more likely to have access to a case manager and get consistent services. However, he said people can sometimes get violent at the shelter, causing others to leave. VonSniver said he usually encourages women to seek shelter at Our Place, a smaller shelter that is also county-run but often full.
"The security does do their best, but can't be everywhere all the time," VonSniver said.
The Cares Campus received scrutiny when it first opened from local residents, advocates of unhoused Nevadans' rights and the unhoused community. At the time, a Reno Gazette-Journal article described a "ceiling collapse, rampant mold and safety concerns." Advocates and unhoused people say the Cares Campus is sometimes used as the "blanket answer" for homelessness by local jurisdictions and shouldn't be.
"Safety has been a top priority since the Cares Campus has opened, and we have continually improved our procedures as we've seen areas that were lacking," said Drysdale in response to the criticism about the shelter's safety.
She mentioned new men's and women's bathrooms that are now staffed 24/7, a women's-only dorm, a security fence and increased security measures and increased staffing with Allied Universal Security officers, Volunteers of America staff and case managers. Drysdale also said the county is very explicit "about disciplinary procedures so there is no question about the type of behavior that is allowed or what will happen to those who cause problems on the campus."
Drysdale also said there have been a decreased number of calls to law enforcement and medical services since the shelter's welcome center was established.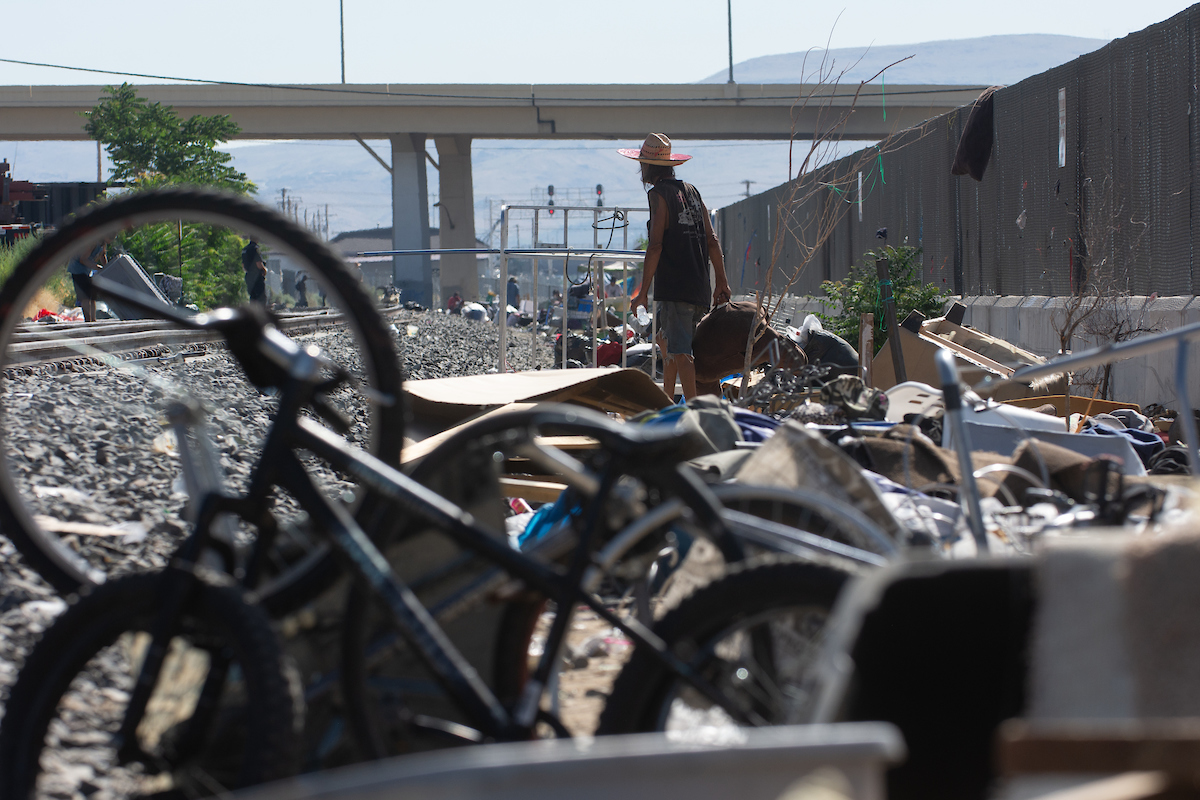 Constant displacement for unhoused Nevadans
Constant displacement is a reality for most people who would rather not go to the shelters, VonSniver said.
"Unless you decide to go to the shelter, that's what it's gonna be," he said. "Because that's what the city is working on, is to try and get people uncomfortable out here so they go to the shelter."
The city offering services at the Cares Campus to people packing up their belongings is common practice, Tim said. However, he also said he would rather take his chances on his own than go to the shelter.
"If you go to the shelter, you have to stay at the shelter," he said. "They want you to go there so you're not on the streets so you don't have to be seen. And in order to keep your bed there you have to stay to be seen."
This means he can't go out and make appointments or to go out for the day to make money. He said the rules are such that he would have to stay there and check in with Cares Campus staff regularly to keep his bed.
Though it can be difficult to find water at times, Tim said he finds hydration by going into apartment complexes to drink from spigots and goes swimming downtown to keep cool. While he's downtown Tim said he tries not to draw attention to his housing situation.
"As soon as anyone knows that you're homeless, they treat you different," Tim said. "It's like you're sick. There's been times where I've just felt like screaming, 'Homelessness is not contagious.'" You know what I mean? If they treat you like a disease, like you're garbage."
As he continued to pack up his things, Tim said he plans to find another location to set up his belongings.
"I'm just gonna go and find another spot with more trespassing signs posted I'm sure… and set up my tent until they can kick me out over there," Tim said.
Updated 7/21/2023 at 10:00 a.m. to clarify a quote from Tim.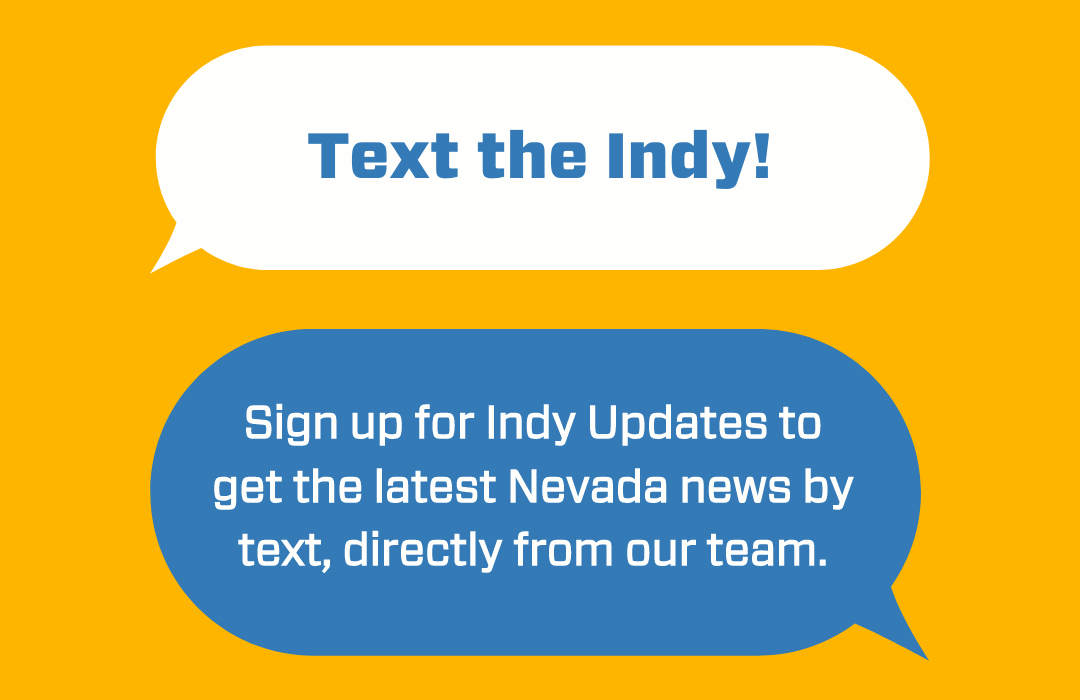 Featured Videos