Red Rock Canyon National Conservation Area considers raising fees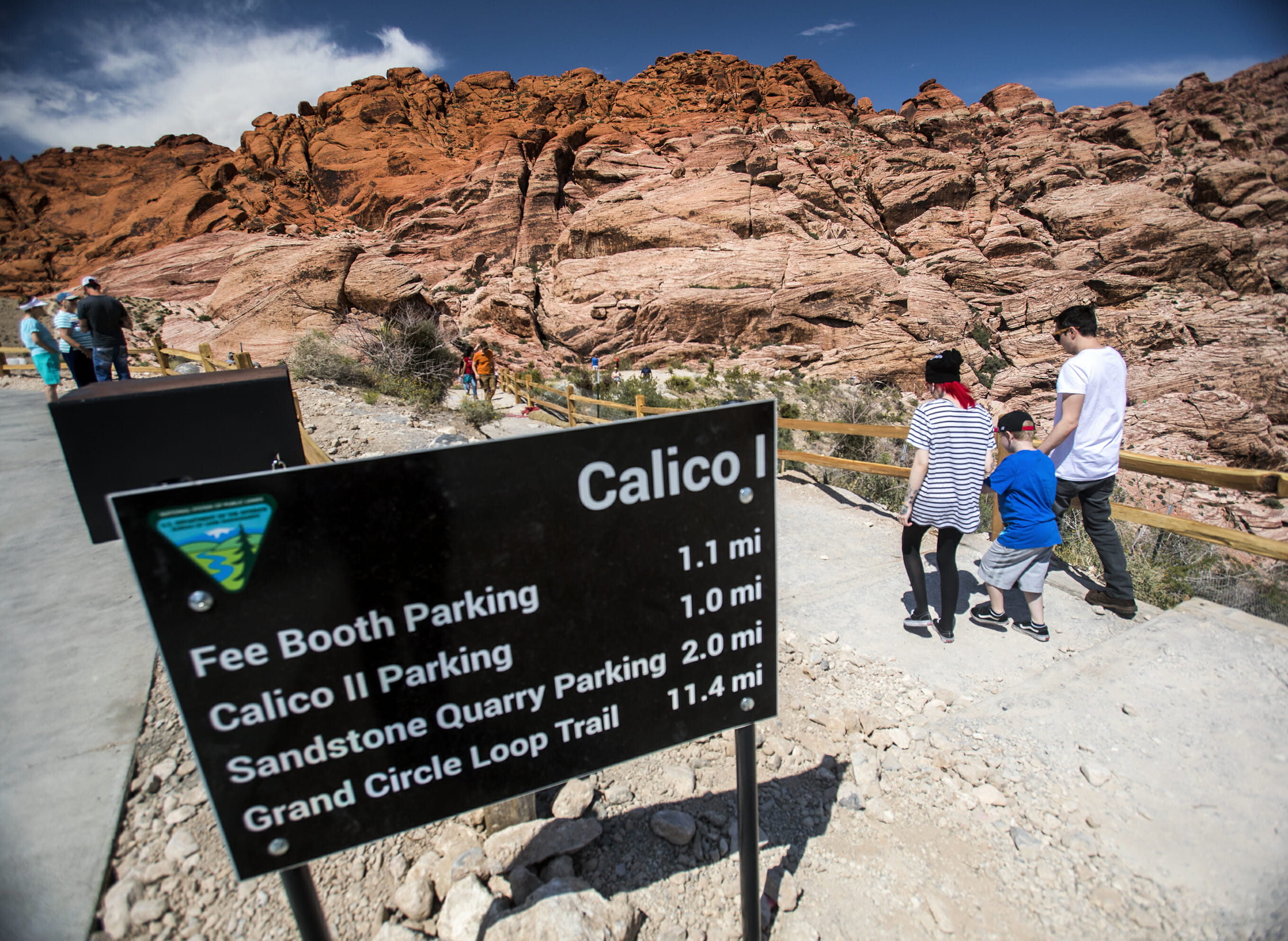 About 20 passionate hikers, climbers and outdoor enthusiasts gathered at a recent public meeting to push back on the federal government's proposal to hike fees for visitors to the Red Rock Canyon National Conservation Area, an increasingly popular destination for Las Vegas residents and tourists.
The proposal calls for raising fees on cars entering the 13-mile scenic loop from $15 to $20, and an annual park pass from $30 to $50. It comes as the landmark is expected to break records by bringing in over 4 million visitors this year and more than 5 million visitors by 2025.
But the most controversial part of the plan among attendees at the Las Vegas meeting wasn't the fees — it was new charges for visitors to reserve a spot at the park during peak hours.
The BLM is proposing to add an extra fee of $2 for online and onsite reservations or $3 for phone reservations for the Red Rock Scenic Drive, campground and Calico Basin Core Area. Reservations for campgrounds and picnic areas would be $8 online and onsite and $9 for phone reservations, in addition to the entrance fee.
"This $2 fee for every transaction is excessive; goes to an outside company without justifying how it will improve visitor experience," said Lisa Harrison, a volunteer coordinator for the Southern Nevada Climbers Coalition.
The Bureau of Land Management (BLM) started reservations in 2018 through Recreation.gov – a website that provides information and services to outdoor activities nationwide. In 2020, when most parks closed, Red Rock relied heavily on reservations and limited-entry tickets to prevent overcrowding.
Josh Travers, the assistant field manager of the BLM, argued that the changes are needed to deal with rising visitor counts. High visitation has caused parking lot and highway congestion, making it more difficult for search and rescue teams as well as causing more damage to cultural resources.
"We implemented the reservation system, which since then has substantially increased our ability to respond to search and rescue incidents," Travers said. "In addition to that, we're also seeing resources being better protected."
Reservations typically do not sell out unless the parking lots are filled — something that Travers said rarely happens. Reservations are only needed during peak hours from roughly 9 a.m. to noon, not early morning or evening hours. But the explanations didn't satisfy many attendees.
"I don't understand how my barber shop has figured out to have free reservations, but a federal government organization that I have my tax dollars go to, I have to pay a $2 fee," said Colin Basler, 28, a frequent climber who visits Red Rock three to five times a week.
A main complaint during the public meeting was the reservation system site, which parks are using nationwide. The technology consulting company, ​​Booz Allen Hamilton Inc, reinvented the government website in 2018 to make it more accessible to travelers by providing information all in one place.
"Increased fee and mandatory reservations through Reservation.gov will discourage me from visiting the park … I am unable to opt-out from using this service even if I show up and the park is empty (as it is frequently during the week)," Basler wrote in a statement to The Nevada Independent.
Additionally, Basler mentioned in the meeting that his car has been broken into at Red Rock, but has "been in the park 50 maybe 100 times and seen only one Ranger."
Meeting attendees suggested that the extra fees be redirected for more park rangers, easily accessible bathrooms, park cleanup and more.
The 2023 business plans, approved in 2017, will provide further funding toward these areas. The current proposed fees go toward the reservation management system rather than directly removed from the Red Rock funding account.
Reservations for the scenic drive are only required during peak seasons from Oct. 1 through May 31. Meanwhile, the campground is closed for the summer because of high temperatures and will reopen after Labor Day weekend. If approved, the new rates would go into effect in October and reservations could be made 30 days in advance with that fee included.
For now, Red Rock will review comments in public meetings, including the virtual and in-person meetings held the first week of July. Comments will be accepted until July 22 either via email at [email protected] or via comment cards at the Red Rock visitor center.
The proposal will then be reviewed by the Mojave-Southern Great Basin Resource Advisory Council for approval.
Current amenity prices and proposed change with the expanded fee
2023 Business Plans
In addition to the expanded fee for the reservation system, prices for Red Rock passes will increase. In 2017, the Mojave-Southern Great Basin Resource Advisory Council approved an increase of fees for 2018 and 2023 business plans. This business plan was not up for debate during the public meeting.
The extra fee will go toward trail maintenance, improved signage, parking lot expansion, education programs, increased search and rescue operations, more park rangers and any additional resources.
For bicyclists, the fee would range from $5 to $8 with no reservation fee required, but the $5 fee for pedestrians would remain the same. However, the Red Rock Annual Pass would increase from $30 to $50, plus the extra fee for each time a reservation is made.
The America the Beautiful Pass — which covers admission to national parks and other sites in the federal system, including Red Rock — will not see a price change. Its annual cost is $80.
Total amount of fees collected in the past five years
Of the Red Rock fees collected over the past five years, 36 percent went toward operations, 64 percent toward labor and 14 percent toward grants and agreements.
"Yes, those percentages are greater than 100 percent," Travers said. "That's because it costs more to operate and to manage Red Rock Canyon than the fees that we're collecting to support the operations and management."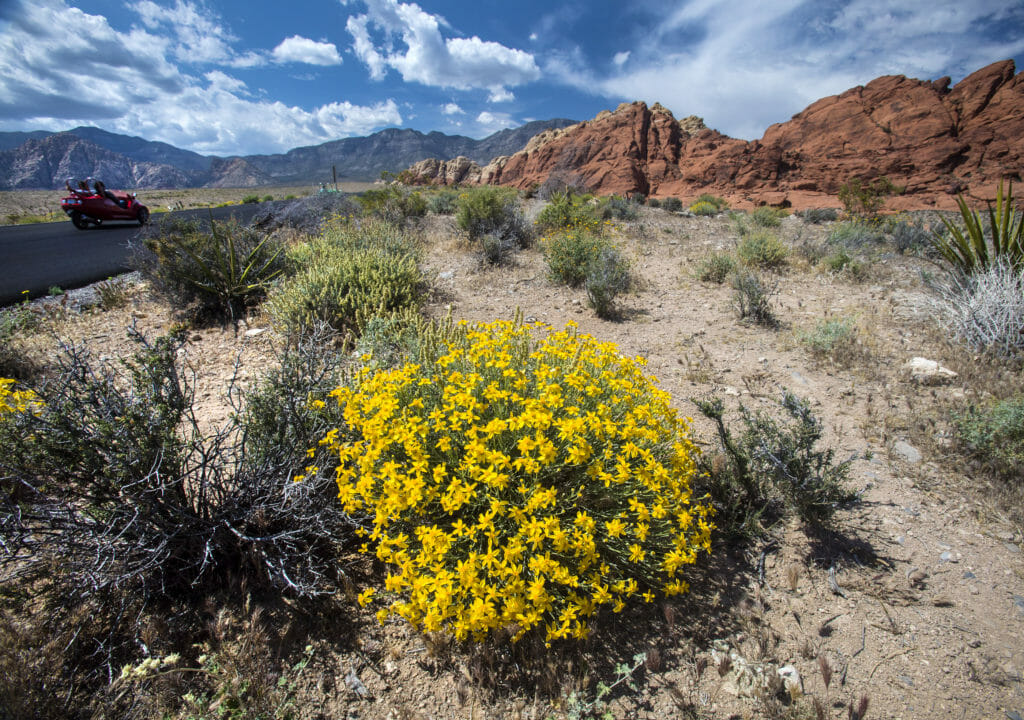 Parks Nationwide
Red Rock is not the only place experiencing high levels of visitation. National parks are seeing an increase in tourism nationwide. John Garder, senior director of budget and appropriations at the National Parks Conservation Association, said in an interview with The Nevada Independent that "park service visitation is at a historic high."
According to the National Park Service, recreational visits increased by 60 million in the year after the pandemic began — going from about 237 million visitors in 2020 to 297 million in 2021. But last year's nationwide visitation count was still below the 2019 level, when more than 327.5 million visits occurred. But officials said specific sites, including Red Rock, are seeing more visitors. Plus, 780,050 annual entrance passes were sold in 2021 compared to 760,806 in 2019.
Garder said there is not a single explanation for the surge in park visitation, but lots of credit can be given to the influence of social media and online reviews such as on Tripadvisor that help circulate publicity.
While mostly viewed in a positive light, the visitation numbers pose some challenges, especially in terms of staffing. The National Park Service staff has decreased by around 5,935 employees in the last decade, a 22 percent decline, according to The Revolving Door Fund.
"They do need staff and resources to accommodate those visitors and deal with vehicular traffic and the other challenges that come with high levels of visitation. So the park service needs funding," Garder said.
In recent years, bills and amendments, including The Great American Outdoors Act, have helped fund these parks. That particular federal law was implemented under the Trump administration and provides nearly $3 billion for land and water conservation as well as fixing maintenance issues in parks and public lands.
The House Appropriations Committee also recently approved a bill that would increase funding for the Department of Interior by 18 percent, or $44.8 billion. The National Park Service, which is within the Department of Interior, is proposed to receive $3.6 billion. The bill also would provide funding for tribal communities, water conservation, endangered species and more.
But that federal legislation hasn't been fully approved, and other climate and environmental bills have been halted as well. Numerous parks have gradually raised fees to accommodate for increased visitation.
"Fees should never be raised at a level that would price visitors out and should always be accompanied by a … significant investment by Congress," Garder said.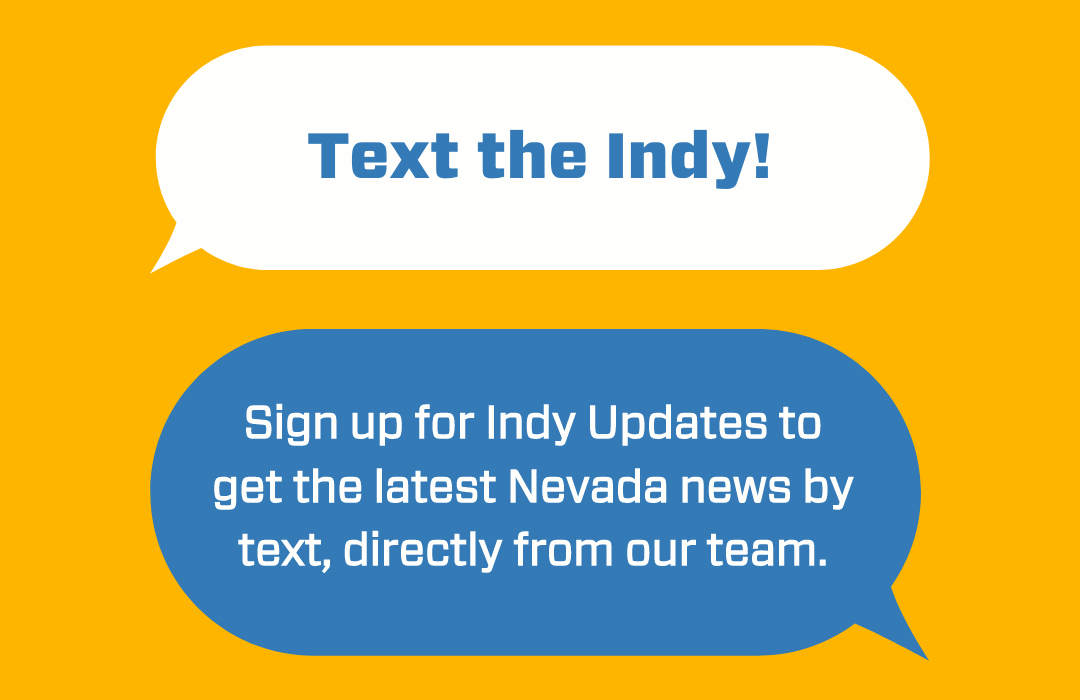 Featured Videos