High schoolers will show off their constitutional chops at statewide 'We the People' civics competition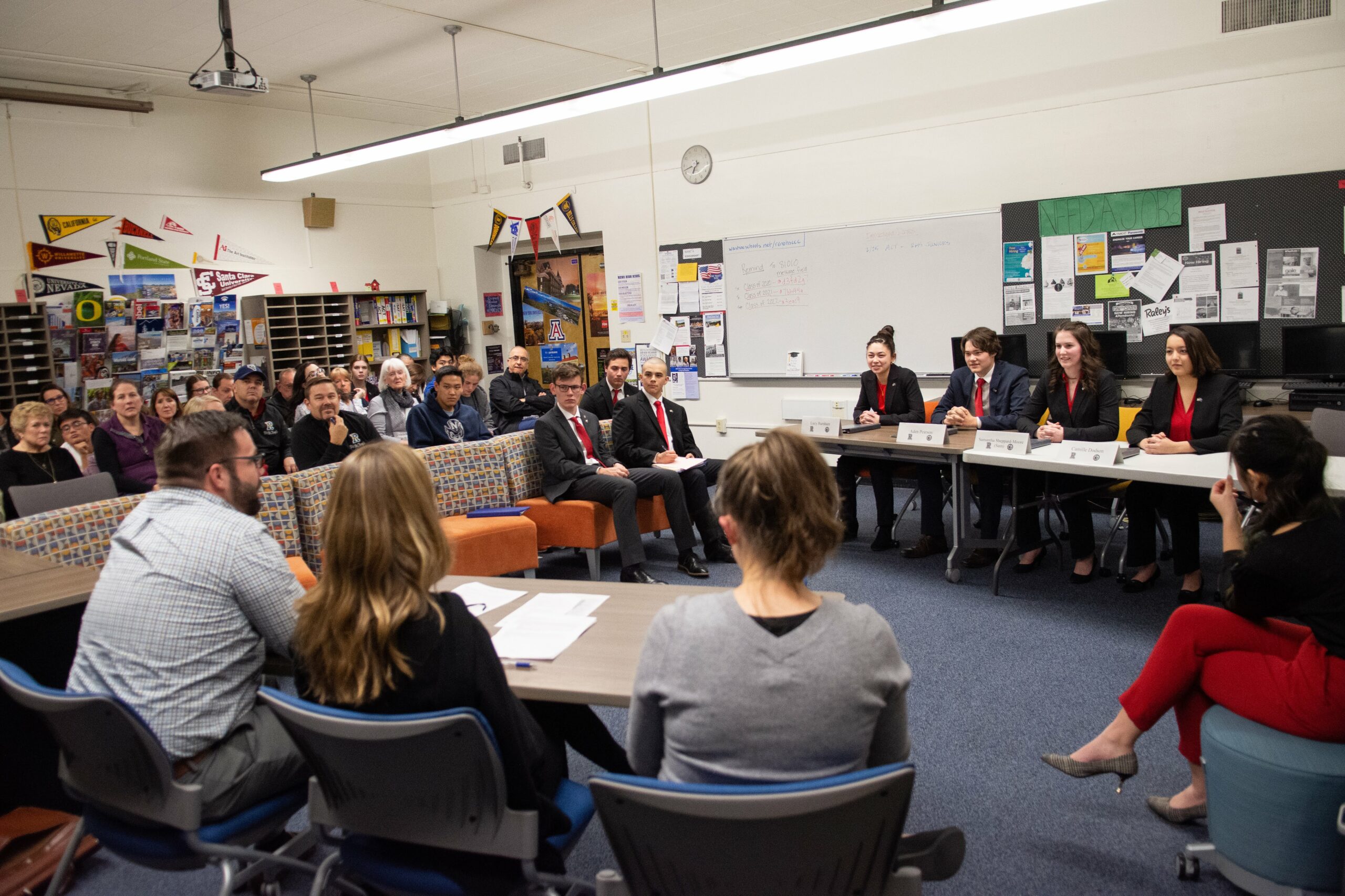 The room descended into silence as Reno High School seniors Maggie Arden, Ana Cisneros, Rami Itani and Lauren Kinder settled into their seats across from three volunteer judges acting as members of Congress.
The judges — Leslie Hart from the Holland and Hart law firm, attorney Rich Williamson and Jowi Asmar, a law clerk in the Washoe County Courts — asked the students: "'The Self-Incrimination Clause of the Fifth Amendment is an unsolved riddle of vast proportions, a Gordian knot in the middle of our Bill of Rights.' Do you agree or disagree with this quote? Explain your position."
Without skipping a beat, the four students launched into four minutes of testimony discussing the Fifth Amendment's self-incrimination clause guaranteeing individuals the right not to testify against themselves in any criminal proceedings and whether that right applied to a refusal to share a mobile phone passcode with law enforcement.
The students shared talking time and took both sides of the issue — placing an internal debate on display as two members supported Fifth Amendment protections of mobile phones, and two others opposed them.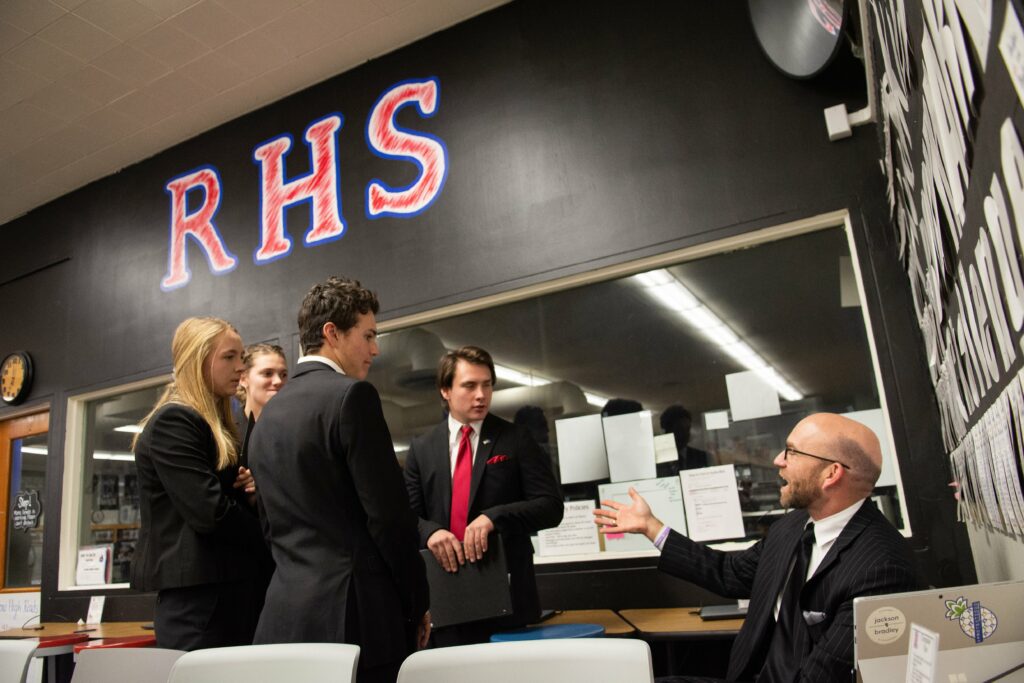 Cisneros, Itani, Kinder and Arden were debating at Reno High's formal dress rehearsal Wednesday evening in preparation for the state-level We the People: The Citizen and the Constitution competition in Las Vegas on Saturday. They are four of Reno High's 26 students participating in the We the People Program.
The students are grouped into teams of four, called "units." In September, each unit began to study and discuss the Constitution, Bill of Rights, Federalist Papers, Plato's Republic, various Supreme Court cases and other documents central to the American form of government.
The units spent the next four months preparing for the competition, which consists of hearings where judges acting as members of Congress listen to testimonies from the students and then cross-examine them.
Richard Clark, the organizer and lead teacher of Reno High's We the People Program, said this is the 13th year Reno High has participated in the country-wide program and competition.
In addition to a for-credit class and a weekly practice at the school, Clark said the units met with a volunteer coach to discuss concepts or practice cross-examination questions, and every group participates in competitions.
"The unique part about this competition is there is no bench. Everyone plays. Every student is on the team, and every unit competes," he said. "It helps, because if one kid or one unit is not strong, it creates a natural peer pressure for improvement. It also forces smart kids who have bad habits to learn how to work and study."
Kathleen Dickinson, Nevada's coordinator for the We the People program, said hundreds of elementary, middle and high schools use We the People's program curriculum in their classrooms. Reno High will be one of 24 high schools in Nevada participating in the state competition.
Clark said he was inspired to start Reno High's program after hearing how transformative the program was from friends of his who coached We the People at Reed High School in Reno. He also said watching a presentation on the program from a group of sixth-graders whose knowledge of the Constitution "intimidated" him contributed to his desire to start teaching the program at Reno High.
"A reasoned, well-educated, engaged citizenry is requisite for our Constitution to survive," he said. "If we like our freedoms and liberties, then we must be willing to learn about them and learn how to persevere them for the next generation."
Clark's words echoed statements made by supporters of SB193, a bill unanimously passed in the Assembly and Senate in the 2019 legislative session. The bill provides $175,000 from the state general fund for the fiscal years 2019-2020 and 2020-2021 to the Nevada Center for Civic Engagement to support the We the People: The Citizen and Constitution Programs in elementary, middle and high schools throughout Nevada.
Brien Karlin, a government and history teacher at Reno High, said the trip to Las Vegas for the state competition costs roughly $12,000, and funding from the bill this year has relieved some fundraising burdens and made the event more accessible for students.
"Our kids work very hard to fundraise, families shoulder some of the cost, and we have philanthropic organizations that have graciously helped...Schools still have a huge responsibility, but the state funding has helped," he said.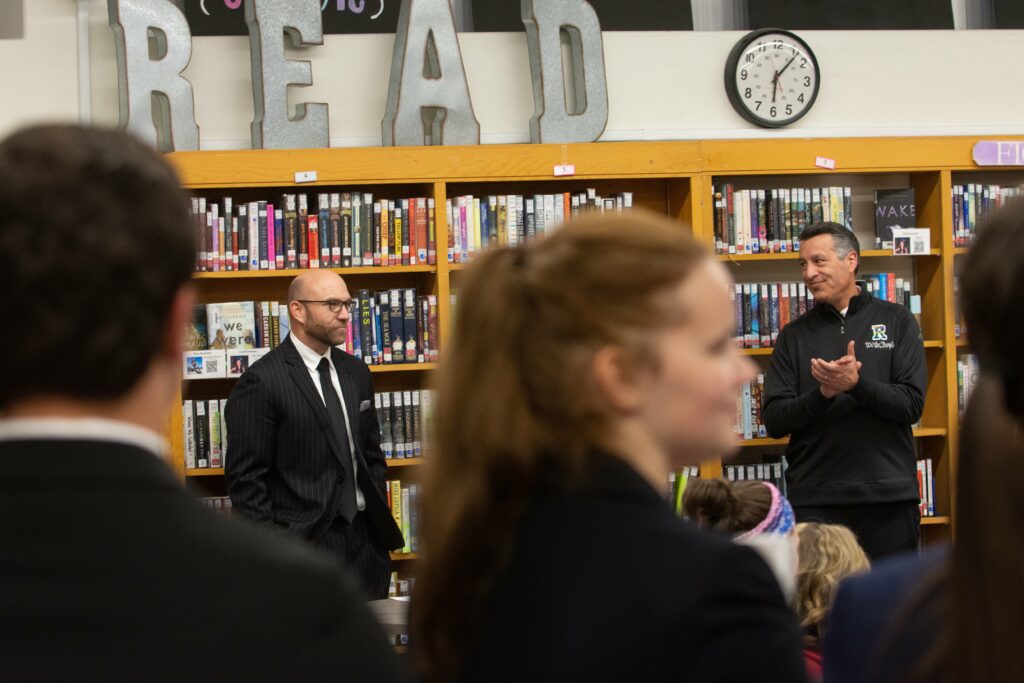 Former Republican Gov. Brian Sandoval volunteered as a judge and opened the dress rehearsal by recognizing Clark.
"[Clark] does not get the attention and gratitude he deserves," Sandoval said, emphasizing the necessity of civic engagement in education. He then reminded the assembled students to "relax" and "take a deep breath" when they reached Las Vegas for the state competition.
After the opening remarks, the students separated into two "hearing rooms." Three judges listened to a unit's testimony relating to questions ranging from "what are the benefits and costs of having multiple political parties in a legislative branch?" to "To what extent did the Framers have to imbue the new executive branch with powers not found in the state Constitution?"
Students presented testimony and then answered cross-examination questions from the volunteer judges.
After Cisneros, Itani, Kinder and Arden's testimony, the judges grilled the students in a 6-minute cross-examination questioning their positions and asking whether they preferred an inquisitorial or adversarial justice system.
The students eagerly answered the questions in the manner of constitutional law experts. They defined an adversarial system as a court acting as a referee between the prosecution and defense and an inquisitorial system as a process where the court is actively involved in proving facts and cited and discussed relevant court cases on their positions.
Cisneros smiled throughout the testimony and cross-examination. She said she was thrilled to exchange ideas with law experts and views the Constitution as something alive and relevant to current events and policy.
Members of all six units shared talking time, spoke decorously and carefully used their words. Only a misplaced binder and a slip-of-the-tongue, colloquial "screwed" during one session indicated that these high school students were still practicing.
Judges gave notes reminding speakers to have fun, slow down and take a pause if they could not think of a word.
Mary Lynn Newman, vice-president and deputy general counsel for EMPLOYERs a small business insurance company and one of the volunteer judges that evening, said volunteering had given her a refresher on constitutional law. She said she loves seeing the students' passion for the subject.
"This program is invaluable because the students learn in-depth the basis for our government and why active citizenship is important and valuable," she said. Newman also said she finds herself surprised when a unit offers a new perspective on an existing law she had not considered.
During Cisneros, Arden, Itani and Kinder's final cross-examination of the evening, this time on the right to free exercise of religion, the group answered questions so thoroughly that judges paused for a moment to think of more questions.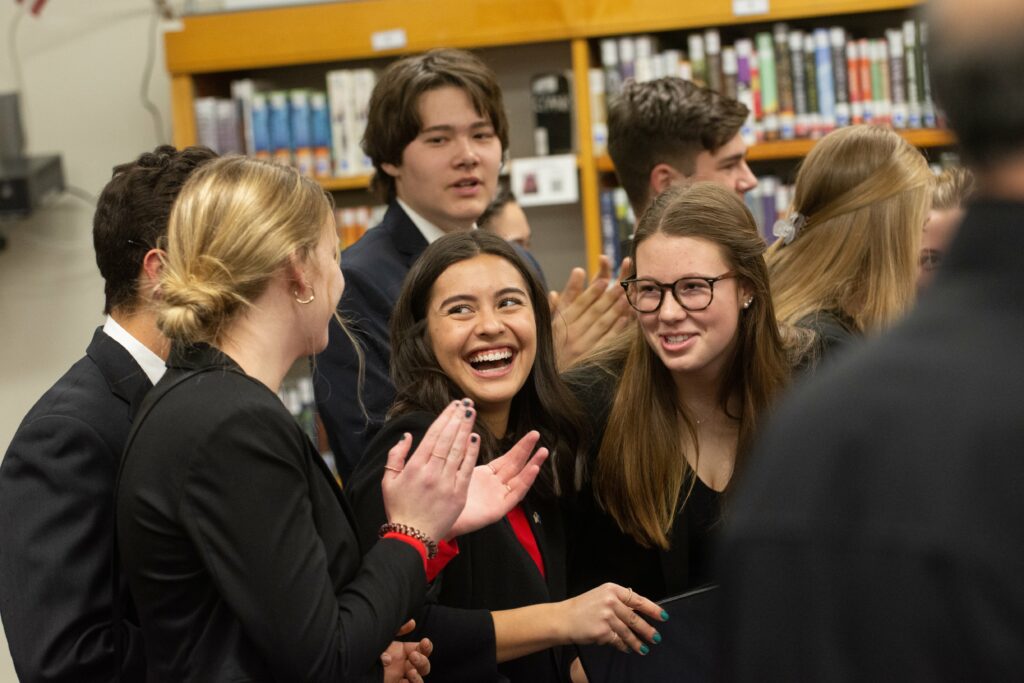 Itani said his unit focused on protections within the Bill of Rights, and working as a team was one of his favorite parts of the entire process.
"When we hear team activities we think of sports and things like that, however, this is very academic-based, and it's really cool to just sit around at Coffee N' Comics (a coffee shop located in Reno) for five hours talking about our Constitution or about the Bill of Rights or different case laws and then just going on a [tangent]," he said.
Although Itani said he knew about the Fifth Amendment concerning Miranda Rights and came across it daily, it was not until he started studying the Constitution that he realized its implications beyond arrests.
"I have the right to remain silent … but the importance, and the confusion that is held behind [the Fifth Amendment] is absolutely amazing to me," he said. "Akhil Reed Amar (a professor of law and political philosophy at Yale University) describes [the Fifth Amendment] as a Gordian knot, and it's so cool to think about it that way, where it's something that's so diverse and so unsolvable that we can just sit here and talk about it."
Cisneros said she used to stumble over her words, and the program has helped her gain public speaking skills and confidence.
"I remember my first practice. I was so scared I started crying … because I didn't know anything," Cisneros said, adding the caveat, "I don't cry anymore."
She said the teachers and judges scared her at first, but she now knows they are just trying to help.
"Mr. Clark, specifically, he's the real intimidating type. As Machiavelli stated, he'd 'rather be feared than loved,' but he's actually a teddy bear," Cisneros said with a bright smile.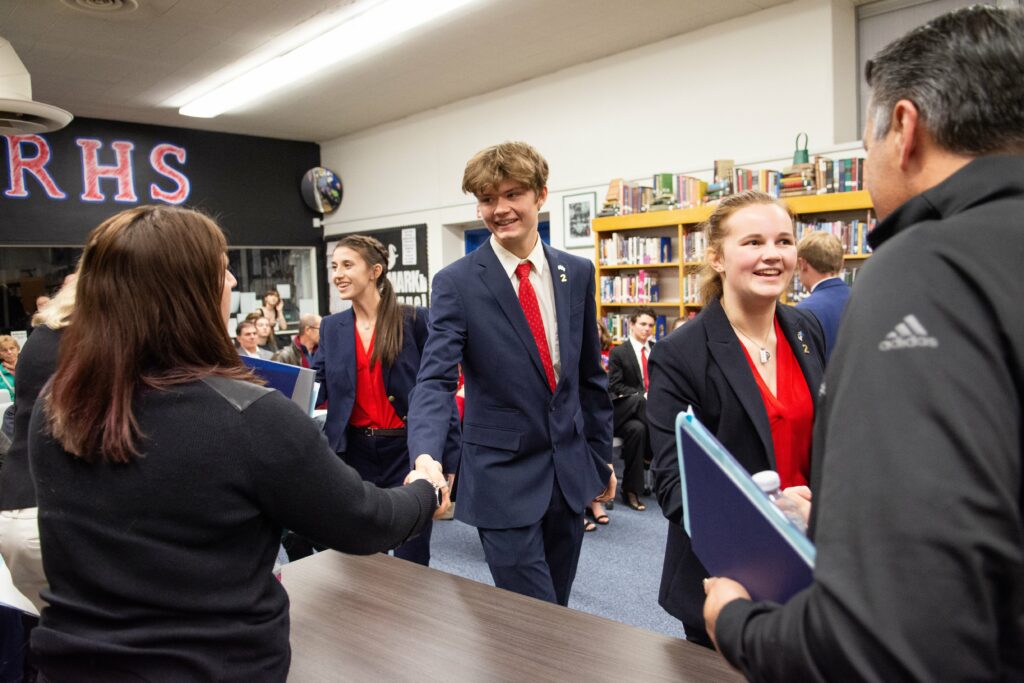 At the district competition on Dec. 14, Reno High School placed second after Reed High School. Itani said he and his team were upset by their results at districts, and he hopes they can remember to have fun and focus on the team instead of the scores.
"We've been working every single day for four-plus hours, and I'm nervous about losing the team aspect in the competitive portion of it," he said.
Arden said although the district-level-competition did not go as hoped, her favorite memory was when she linked arms with other Reno High students and sang the school song at the top of her voice. She said it eased her nerves and helped her feel a sense of unity — she is taking that moment with her to state.
"For state, I am going in with the mindset of showing off what I have learned. I am passionate about what I am talking about, and I have evidence to support my claims, and I want to blow the judges away with what I know," she said. "I am also excited to have another competition experience with the team because it connects us in a way, unlike any other experience we have in class. It could be our final time competing, so I want to enjoy it."
If the students take second place or win the competition on Saturday, they will advance to the national championship in Washington, D.C., in April.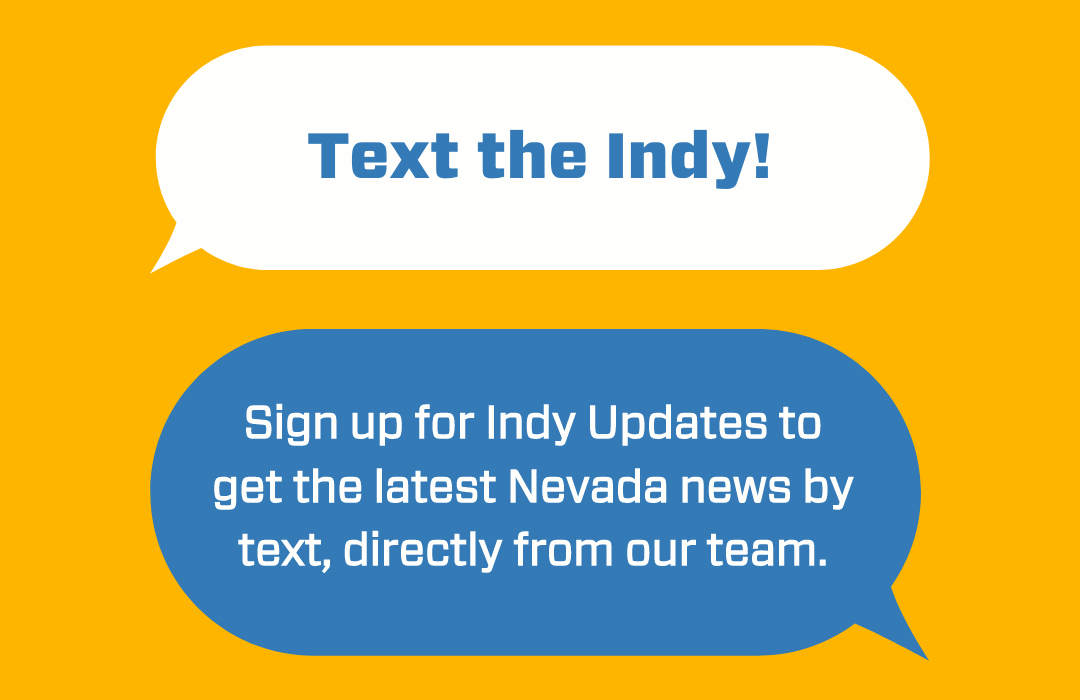 Featured Videos
Comment Policy (updated 4/20/2021): Please keep your comments civil. We reserve the right to delete comments or ban users who engage in personal attacks, use an excess of profanity, make verifiably false statements or are otherwise nasty. Comments that contain links must be approved by admin.