Report: Nevada drops in national health rankings amid long waits, doctor shortages
Nevada dropped from 35th in the country in 2019 for overall health outcomes to 42nd in 2022. Diabetes and childhood immunization rates also worsened since 2019.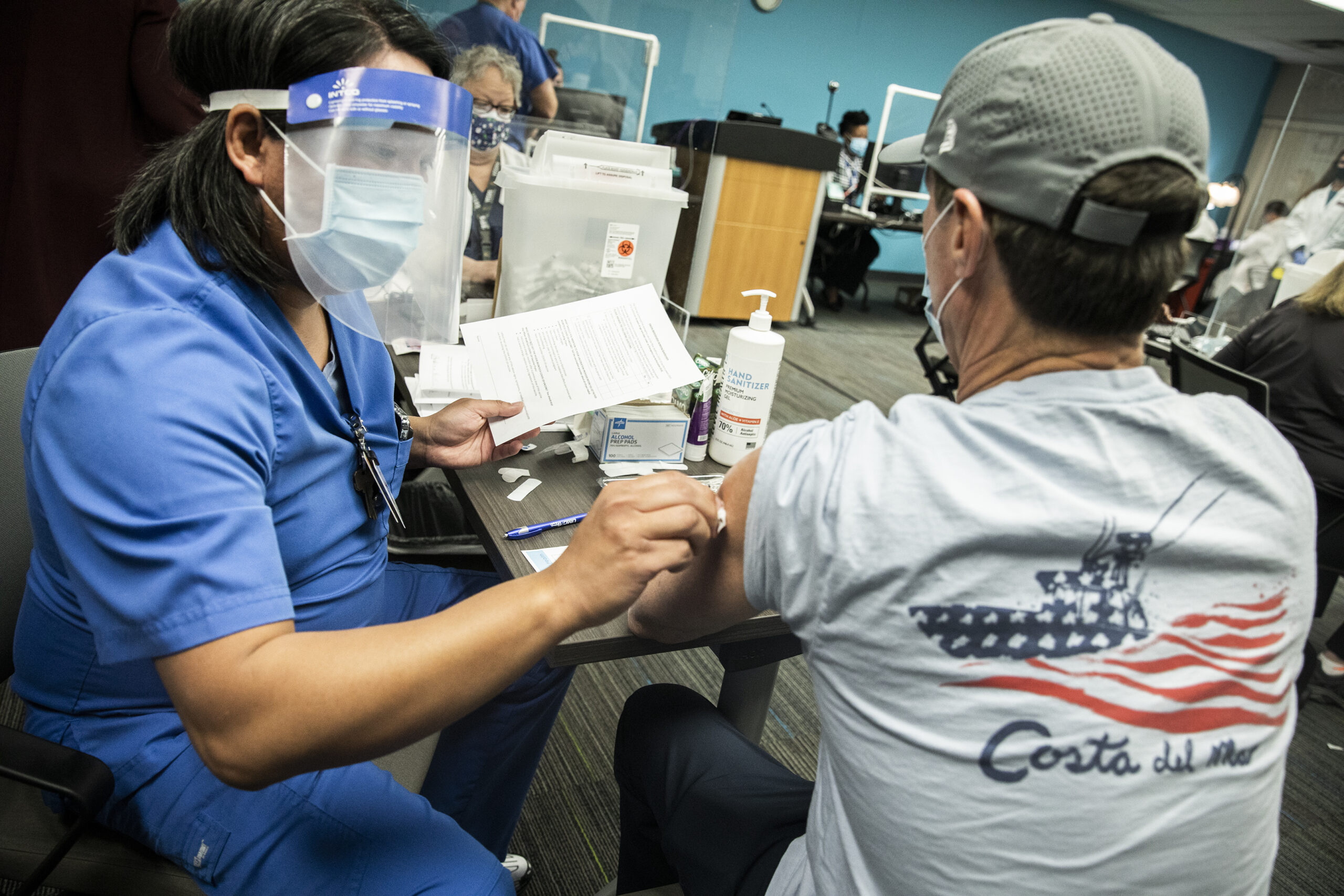 Despite making significant strides in reducing teenage birth rates, lowering HIV infection rates and diminishing tobacco and alcohol use among young people, Nevada has dropped seven spots in a national ranking of state health outcomes since a statewide assessment was last published in 2019.
The 2022 State Health Assessment, published earlier this month, was developed in partnership between Nevada's Division of Public and Behavioral Health (DPBH) and other health care entities. The report, which is updated every three to five years, is a data-driven resource outlining the state's health care strengths and challenges and recommending priorities.
Analyses of data from America's Health Rankings cited within the report show Nevada dropped from 35th in the country in 2019 for overall health outcomes to 42nd in 2022. Obesity, diabetes, opioid-related deaths and childhood immunization rates have worsened since 2019, along with educational outcomes and the availability of affordable housing.
As part of the report, researchers conducted a community survey of more than 2,100 Nevada residents and held community listening sessions aimed at understanding what contributes to Nevada's health care disparities.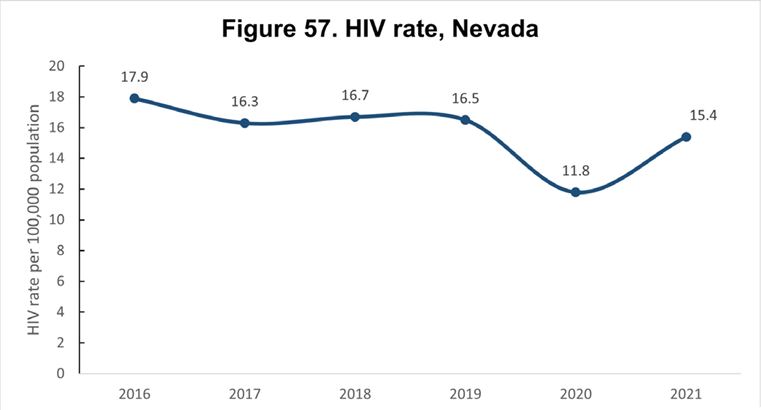 In their responses, residents said they had difficulty accessing primary health care services, faced long wait times for care and experienced barriers to receiving behavioral health and supportive services.
When asked about what is necessary for overall health, one respondent replied, "Cost of living, access to affordable housing, access to healthy foods," highlighting how health outcomes are inextricably intertwined with housing, food security and other factors commonly referred to as social determinants of health.
Researchers also noted that the COVID-19 pandemic exacerbated economic and behavioral health disparities and reduced residents' financial earnings.
Key health priorities identified in the report include access to health care, chronic diseases, mental health and substance issues, public health infrastructure, food security, housing, income and air quality.
For the complete report, click here.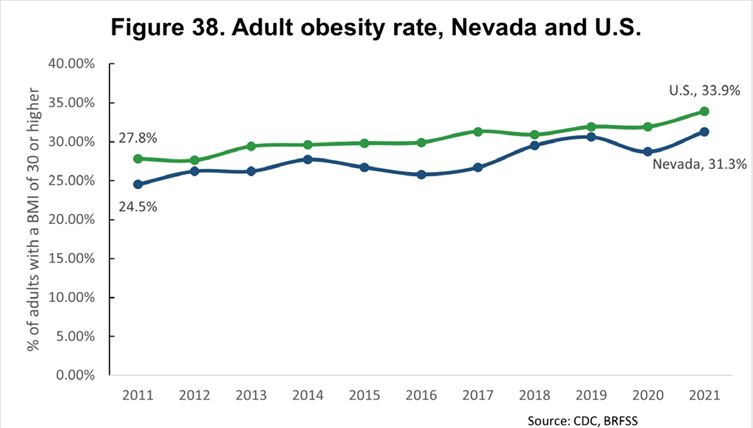 Access to health care
In survey responses and listening sessions, more than two-thirds of Nevada residents identified access to health care as a primary issue. Respondents noted problems such as insurance limitations, difficulty finding providers accepting new patients and long wait times to get an appointment. They reported that the greatest unmet need was seeing a primary care doctor, dentist or orthodontist.
"I think, honestly, access or easy access to health care because we … can only exercise and eat well, like so much," one respondent said. "Access to health care, or even just affordable health care, is something that makes the whole community healthy."
The report said three primary factors affect access to health care: insurance coverage, health care workforce and services that are available nearby and in a timely fashion. Researchers estimated that in 2021, more than 67 percent of Nevada's population resided in a federally designated primary medical care Health Professional Shortage Area (HPSA), compounding the problem.
The report found that in Nevada and across the country, members of the public health workforce are considering leaving because of a lack of adequate public health funding, burnout after the pandemic and minimal advancement opportunities.
The state ranks 45th for number of physicians per 100,000 people and 49th for number of primary care physicians and general surgeons. State officials said that part of the solution to the problem lies in working with in-state universities to expand public health workforce capacity.
Authors of the report noted that residents also struggle to access behavioral health care at a time when many "reported elevated levels of stress and anxiety."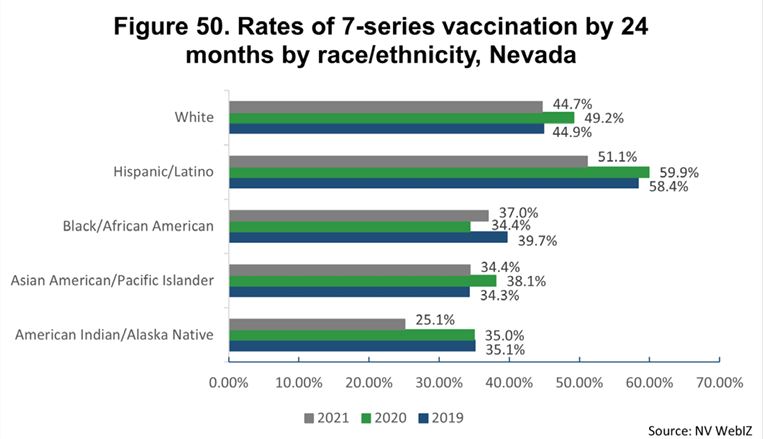 Insurance rates
Following the implementation of the Affordable Care Act, the report noted that rates of insurance coverage within the state have dramatically improved — nearly 11.6 percent of Nevadans were uninsured in 2020 compared with almost 23 percent in 2010. However, respondents highlighted that insurance types can limit care and result in high out-of-pocket expenditures.
"It's like a standoff between the doctors and the insurance companies. And we're the victims of it because the doctor can only sit and talk to you for seven minutes," one respondent said. "I can't tell you everything in seven minutes."
Roughly 43 percent of survey participants said their main barrier to accessing health care was the "inability to make a timely appointment," while another 31 percent said it was finding an in-network provider and insurance coverage for necessary care.
Uninsurance rates in Nevada are highest among the Hispanic/Latino population (19.7 percent) and American Indian/Alaska Native populations (19.7 percent).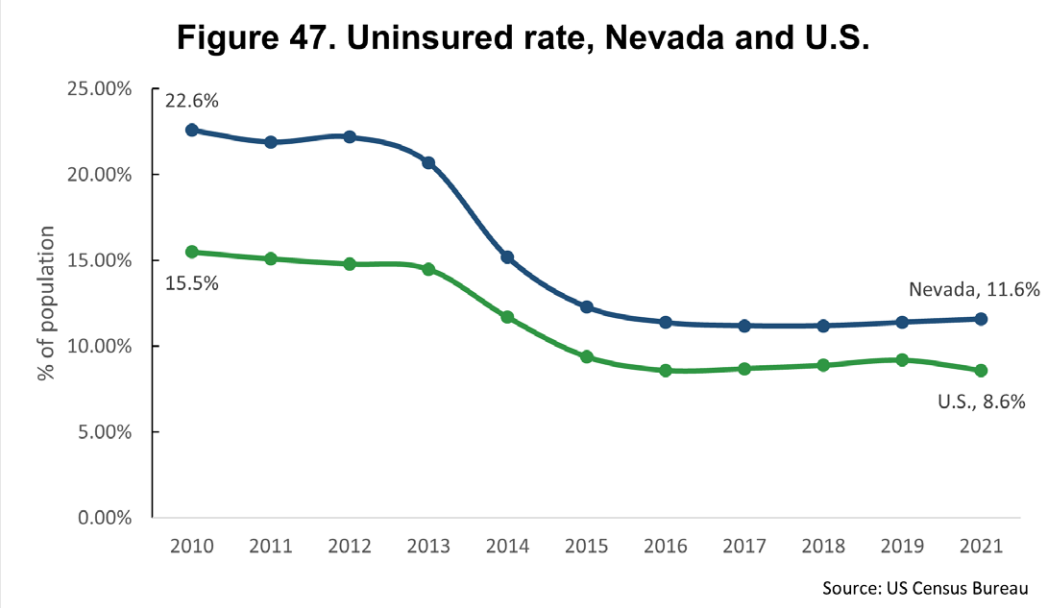 Improving services
Within the report, officials noted that "to improve access to public health services, Nevada has continued to move toward regionalization and the development of more local health districts."
Nevada and Texas are the only two states with a decentralized public health system, meaning that regional public health agencies offer services to most residents, and the state public health agency offers services where local agencies do not exist.
The majority of the state's population is served by the Southern Nevada Health District, Northern Nevada Public Health (formerly known as the Washoe County Health District) and a recently established Central Nevada Health District, which (when completed) will offer health services in Churchill, Mineral, Pershing and Eureka counties.
However, the state has historically struggled to provide adequate health services because of a lack of funding. The report cited studies from the Trust Fund for America's Health that noted Nevada and Wisconsin have the lowest annual per capita investment in public health at $72 a person (the national average is $116 a person).
Most of the state's public health funding comes from federal grants, which experts said lack consistency and "highlights the need for ongoing, non-categorical, flexible general funding to not only continue existing programs but to allow funding to be shifted as needed."
The Nevada Independent is raising $200,000 by Dec. 31 to support coverage of the 2024 election.
Tax-deductible donations from readers like you fund this critical work.
If you give today,your donation will be matched dollar-for-dollar.
Give + Get Matched
Featured Videos