Sandoval concerned about Trump's call to arm teachers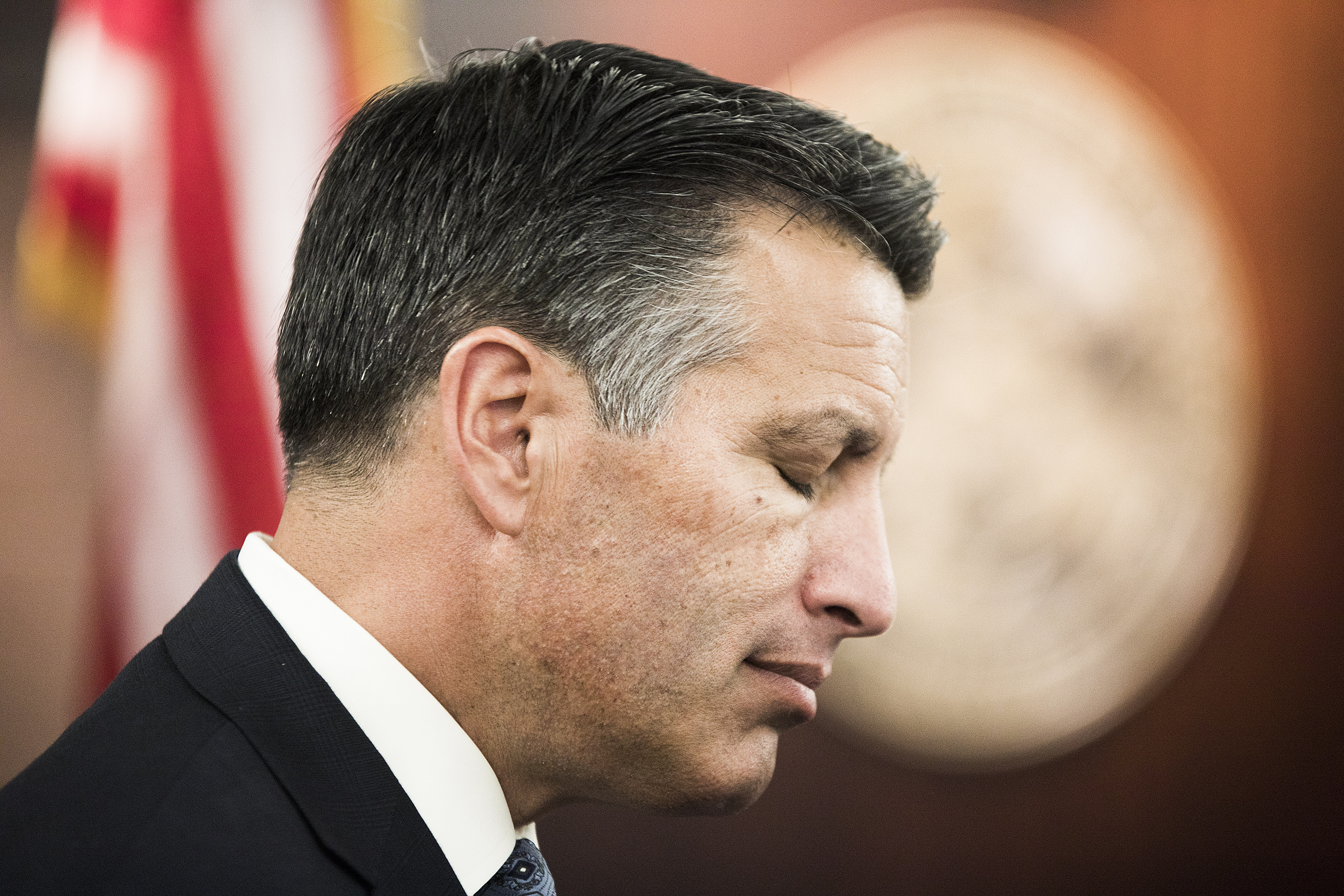 Gov. Brian Sandoval is not convinced that President Donald Trump's proposal to arm teachers to make schools safer is a good idea, telling reporters Friday "at first blush, it concerns me."
"I'm talking as a parent of a child that comes from a middle school that just had an incident in Reno, and also the father of a daughter who is studying to be a teacher," the Nevada governor said at a reception ahead of the National Governors Association's (NGA) winter meeting.  
Sandoval, who is currently NGA chair, said there could be better alternatives than arming teachers, which Trump suggested in a speech earlier Friday at the Conservative Political Action Conference. A day earlier, the president raised the idea of paying teachers a bonus for carrying a gun.
The president was responding to the mass shooting at a Parkland, FL, high school last week that left 17 dead.
"You've got to look and see what the other alternatives are, perhaps we just need to secure the schools a little better, have single points of entry; you want to make sure you beef up the security at schools as well," Sandoval added.
But Sandoval did not dismiss the idea out of hand. He called the issue "an ongoing conversation" that needs "a lot more discussion," and he praised Trump for starting the dialogue. "We need to start having this national conversation with regard to firearms," he noted.
The issue of school safety is topic that will come up Monday when Sandoval and other governors visit the White House.
"I know this is something that's going to come up. I was at the vice president's residence today, he brought that up," Sandoval said.
Infrastructure will also be on the agenda. The president released an infrastructure plan earlier this month that called for providing $200 billion in federal funds that would be leveraged into $1.5 trillion in infrastructure investment, including through partnerships with the private sector.
Asked about using private funds to generate capital to refurbish the nation's infrastructure, Sandoval reiterated his opposition to tolling roads. Tolling is typically used in public-private partnerships as a way to repay investors.
"In Nevada we don't have any toll roads and when you have private investment, you've got to get an ROI, you've got to get a return on investment and in order to do that, it may involve tolling and those types of things," Sandoval said. "That's something that I have not supported historically."
He said he'd have to see what the private sector would propose before ruling anything out. But he added that 86 percent of Nevada is federal land, which makes tolling less viable. "There are a lot of wide open spaces. For people in the rural areas, it won't work," Sandoval said.
Other issues that could come up in the meeting with the White House include federal action with regard to states that have legalized recreational use of marijuana.
"So far, it's worked extremely well, it's built into my budget and if the conversation comes up, certainly that's one I'm going to have," Sandoval said, adding that he had opposed the ballot initiative that made Nevada one of nine states that have legalized marijuana for recreational use.
Legal sales in Nevada began on July 1 and have generated more than $19 million in tax revenue through roughly mid-December, according to the Department of Taxation.
The Trump administration sent a shock through the industry in January when Attorney General Jeff Sessions reversed the Department of Justice policy not to prosecute state-legalized marijuana programs, so long as they follow certain guidelines such as preventing the distribution of marijuana to minors.
The move drew the ire of most of the Nevada delegation and that of other states.
Sandoval said he didn't believe that the issue of building a nuclear waste repository at Yucca Mountain would be discussed with Trump Monday. Trump included $120 million for the project in his fiscal 2019 budget blueprint.
"I've already talked to the White House about this," Sandoval said adding that the funding "is a fraction of a fraction of a fraction of what it would take to do anything" with regard to the massive project.
"It is no secret in the White House, my position on Yucca Mountain, that I oppose it, will continue to oppose it and that Nevada will continue to aggressively fight this to the end," Sandoval said.
Comment Policy (updated 4/20/2021): Please keep your comments civil. We reserve the right to delete comments or ban users who engage in personal attacks, use an excess of profanity, make verifiably false statements or are otherwise nasty. Comments that contain links must be approved by admin.