Sandoval joins other governors in questioning aspects of federal sage grouse conservation plans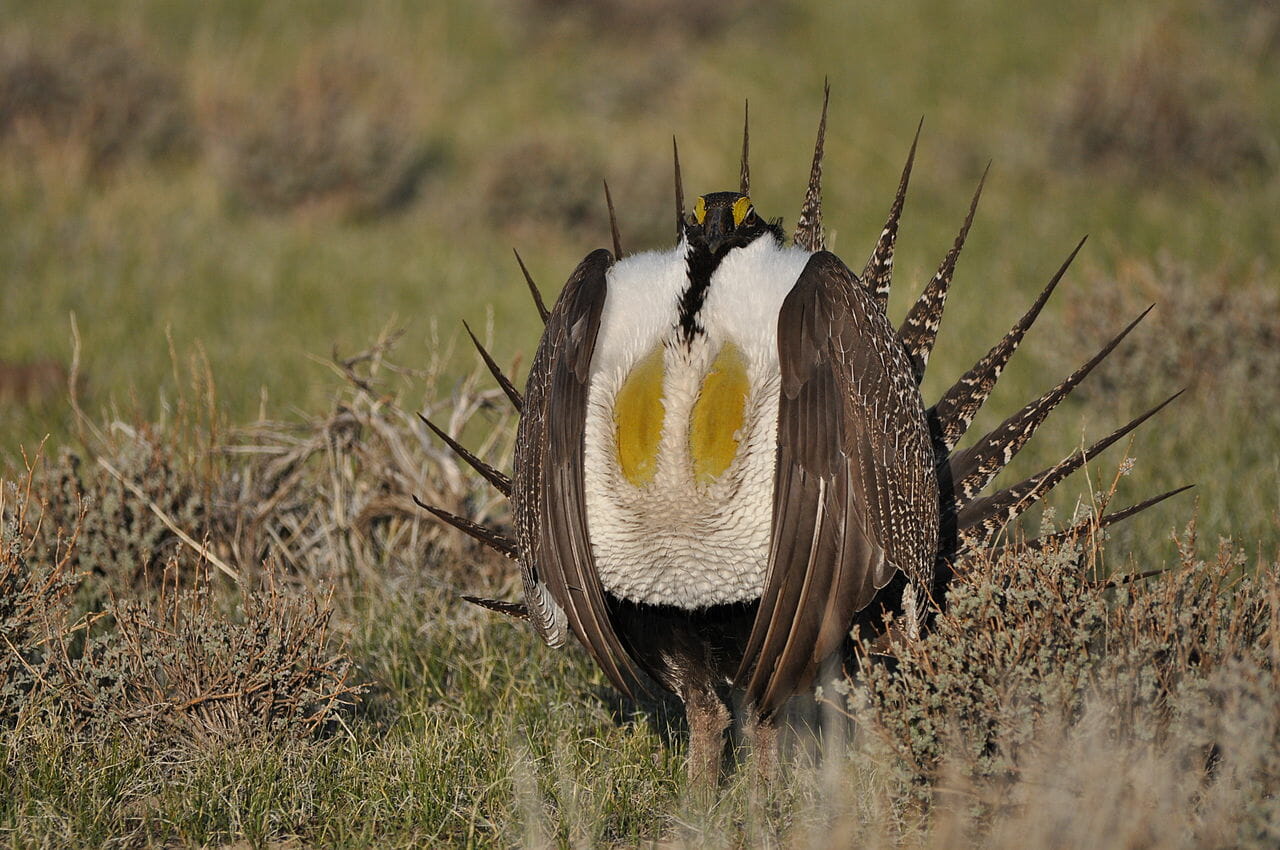 Nevada Gov. Brian Sandoval has joined several of his fellow Western governors in criticizing portions of a Trump administration plan to revisit and potentially modify federal approaches to sage grouse conservation efforts.
In a statement provided to The Nevada Independent, a spokeswoman for Sandoval said that the governor shared concerns that a report published by Interior Department Secretary Ryan Zinke last week suggesting possible modifications to a 2015 land use plan designed to keep the bird off the federal Endangered Species List.
Sandoval spokeswoman Mari St. Martin said that the governor considered the report to be "another step" in ensuring that Nevada's needs and existing state plans to deal with sage grouse conservation are either improved or kept in place. But Sandoval took issue with one experimental and controversial aspect of the proposed changes — setting state-specific population targets for sage grouse rather than the broader goal of improving and restoring habitat.
"We have to remember, that the Greater sage-grouse is a state bird and management of the bird is a state responsibility," she said in an email. "Governor Sandoval does not agree with managing the bird by population objectives as defined by the Secretary. He continues to believe that habitat must be managed properly in order to increase numbers and conserve habitat."
Just about every side in the debate over sage grouse, from ranchers to environmentalists to state and federal officials agree that listing the bird on the Endangered Species List could be catastrophic to future development in both rural Nevada and the other 10 states with a sage grouse population. As the Interior Department continues to review and suggest changes to existing conservation efforts, here's a look at how the current conservation plan came into effect and what could possibly change going forward.
Bird is the word
Sage grouse look like overly plump chickens and come with patterned feathers and a notoriously odd mating dance. They're found in 15 out of 17 counties in Nevada, and are found in California, Colorado, Idaho, Montana, Nevada, North Dakota, Oregon, South Dakota, Utah, Washington and Wyoming.
Federal officials estimate that sage grouse population has declined by about 30 percent since 1985, primarily due to loss of habitat. The species relies on sagebrush, which faces threats from invasive species such as cheatgrass, human development and wildfires and takes between 20 and 100 years to fully restore.
In 2010, the U.S. Fish & Wildlife Service determined that population declines and eroding habitats warranted protection under the Endangered Species Act, but the bird was not placed on the list in favor of higher-priority species.
That near-listing led to a wake-up call for several states, many of which launched state-based initiatives and began working more closely with the federal government to prevent a listing of the species, which create numerous regulatory and cost-prohibitive hurdles — including a requirement that Fish & Wildlife assess and approve any project that could affect a listed species — that would likely deter or slow down energy projects in many Western states. Utah Gov. Gary Herbert estimated in 2014 that a listing would cost the state $41 billion in lost oil and gas production.
It's why many western states felt as if they dodged a bullet in 2015 after former Interior Secretary Sally Jewell announced that in an "unprecedented" conservation effort, the species was not in danger of going extinct and thus would not be listed. It coincided the finalizing of 98 separate land use plans across 10 states designed to aid habitat conservation efforts and "support sustainable economic development."
Nevada has been dealing with sage grouse conservation efforts for nearly two decades — former Gov. Kenny Guinn launched a conservation team in 2000, and Sandoval has largely continued those efforts, forming his own task force in 2011 and overseeing approval of a lengthy conservation plan in 2014.
Fish & Wildlife Service is scheduled to reevaluate the status of the sage grouse and potentially determine if it warrants inclusion on the endangered species list in 2020.
DOI order and what it could mean for Nevada
In early June, Zinke signed an order creating an internal review team designed to evaluate federal and state sage grouse conservation plans and explore possible modifications to the plan that could encourage "local economic growth and job creation."
The fruits of that order resulted in a memorandum from Zinke and 13-page report released in early August detailing topic areas and a number of short and long term recommendations designed to improve the plan and "strengthen communication and collaboration between states and the federal government."
Zinke said in the memo that he was "particularly interested" in assisting states set population objectives to help raise the bird's numbers — a change in policy opposed by Sandoval and Nevada Conservation League executive director Andrew Maggi, who said it will only exacerbate issues and that conservation and habitat restoration was a more effective long-term solution.
"That's not scientific. Science doesn't back that up," he said. "Science says focus on habitat."
The report itself notes that more research is needed on the effectiveness of captive breeding to increase population size and "has not yet prove effective." The report also details recommendations on updating habitat management, modifying or creating new policies on "fluid mineral leasing," increasing "flexibility" in grazing policies and a host of other land-use issues.
While Zinke has instructed Interior Department agencies to begin following through with the report, many of the recommendations laid out call for additional communication and collaboration with local and state authorities.
Sandoval's spokeswoman said that the report would give Nevada additional flexibility in making any necessary changes to the state's conservation plan, and noted that Sandoval and other members of the Western Governors' Association had met with Zinke throughout 2017 and requested that states were a major part of the discussion especially with any amendments to land-use plans.
"Nevada's engagement has identified where in the plans flexibility is needed, what state specific remedies may already exist, and how best to better involve stakeholders," she said.
Democratic Colorado Gov. John Hickenlooper and Republican Wyoming Gov. Matt Mead sent a joint letter to Zinke in June stating that a population-based approach to conservation was "not the right decision," and said "wholesale" changes to the 2015 land use plans were likely unneeded.
Mead echoed those concerns again last week after the release of the initial report.
"The states have primacy over sage-grouse management and Wyoming's plan is solid and should be allowed to work," Mead said in a statement last week. "The Wyoming approach balances energy, agriculture, conservation and recreation. The federal plans do not fully implement the Wyoming approach. While DOI identifies numerous ways to improve federal plans, I am concerned that the recommendations place more focus on population targets and captive breeding."
Other governors in Western states have been more open to the department's proposed changes — Idaho Gov. Butch Otter said he was encouraged by the release of the report.
"This is an appropriate step toward empowering Idaho to proactively manage and conserve sage grouse populations while preserving the customs and culture of the state," he said.
The Nevada Independent is raising $200,000 by Dec. 31 to support coverage of the 2024 election.
Tax-deductible donations from readers like you fund this critical work.
If you give today,your donation will be matched dollar-for-dollar.
Give + Get Matched
Featured Videos