Senate Bill 103: The first step in protecting man (and man's best friend)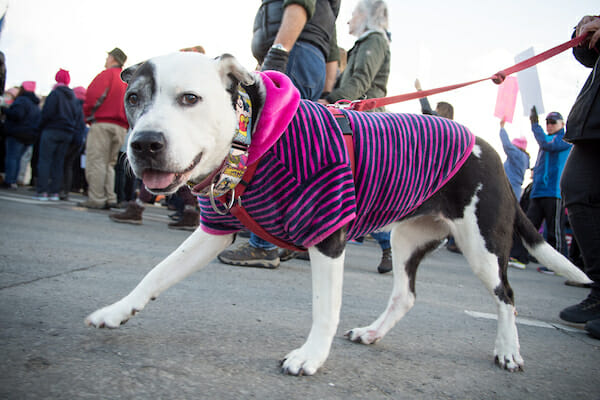 Nevada should continue protecting its dogs and those who love them. In 2019, AB161 required that homeowner associations allow at least one pet be owned by any home in the association. In that same session, SB367 passed, protecting pet ownership for Nevadans who receive housing assistance. The bills passed both chambers with either large majorities or unanimous votes. SB103 is the next step. It would prohibit insurance companies from denying or discriminating in coverage based on a dog's breed, aiming to build off Nevada's past success to protect people's ability to keep the dogs they love.
This isn't a partisan issue.  If you review the 22 states that currently have laws prohibiting breed-specific legislation — discriminating against a dog breed because of its genetic history or appearance — you will see red states like Texas and Florida and blue states like California and Illinois.  These states prohibited breed specific laws for various reasons that affected their populations.  But if you review the legislative history and rationale for each state's respective law, you will see one common rationale: breed restrictions contribute to housing insecurity. 
The truth is that many apartment complexes and landlords refuse to rent to dogs they consider "dangerous" even though there is conclusive scientific data that shows the opposite. Peer reviewed research from the Center for Animals and Public Policy shows that there is nothing inherent in a dog breed that causes it to be more violent. In fact, studies show that a dog's breed is far less likely to correlate with its likelihood for a bite-related fatality than the owner's treatment of the dog. Yet people still promote the myth that certain dogs' "jaws lock," or that certain dogs are inherently dangerous, even though those myths run counter to the data. For instance, a Creedons College of Ireland study compared the severity of dog bites by breed. Bites by "dangerous" breeds — such as German Shepherds, Rottweilers, and Pit-bulls — were no different than similarly sized dogs. While it may be a tough pill to swallow, the full-sized Goldendoodle down the street is just as likely to bite as the Pit-bull or Chihuahua right next door.
Dog aggression is a learned behavior. If you show a dog love and treat him or her with respect, the dog will return the favor. A study in the Journal of Veterinary Advances looked at various aggression metrics based on a dog's upbringing. One of the primary findings was that 40 percent of dominance aggression in dogs is caused by an owner's lack of obedience training, not the dog's breed.
Now that the myths have been dispelled, it's important to understand the people these myths affect. Breed restrictions affect people in different ways. Some are lucky enough to find housing that accommodates dog ownership. Some seek out internet emotional support letters out of necessity to maintain their residence or property insurance. Others opt for an insurance company with a higher premium, if they can find one to provide coverage.
But, these solutions are not easily available to everyone. And for people who are in a state of housing insecurity, struggling to pay rent and dealing with the realities of COVID, the fear that they may have to give up their pets for a roof over their head should not be a consideration. The data shows that breed restrictions disproportionately affect low income and marginalized groups. As housing prices rise state-wide, the housing that people can afford with their dog is increasingly slipping out of reach. When a landlord restricts access to housing based on breed, the housing market for an already housing insecure person gets smaller. For many, the choice of dog ownership can be the biggest impediment to housing security they have.
People who are forced to choose housing or their dog more often than not are forced to surrender them to local shelters. A study in the Open Journal of Animal Science looked at the primary reasons people surrender their pets, and what resources would have helped them avoid having to do so. Thirty-three percent of respondents who gave up their dogs indicated that access to pet-friendly housing would have helped them the most to avoid the difficult choice. For respondents who rent instead of own, housing-related problems were the number one reason for re-homing their animals.
Senate Bill 103 aims to resolve the biggest hurdle to local governments prohibiting breed restrictions outright and solve these problems. It prohibits insurance companies from refusing to issue, canceling, refusing to renew insurance, or increasing insurance premiums for pet owners based on dog breeds. It is the essential first step in addressing breed restrictions. Local governments don't have the authority to regulate insurance, so it is near impossible for them to be the first mover in promoting breed friendly laws. The lack of available insurance has long been used to kick the can down the road on ending breed restrictions.
Other states have adopted similar laws in their states without repercussion. For instance, Pennsylvania and Michigan have laws that prevent insurance breed restrictions. There has not been data made available that shows insurance premiums rose. Insurance companies have the means to determine the amount of risk a dog's breed has on the insured. It's time for them to establish that breed restrictions decrease costs in a material way or stand down from opposing laws that aim to end breed restrictions.
Local governments too are starting to understand the importance of pets to the residents they serve. When the City of Reno approved a new homeless shelter at the end of 2020, the City made sure that its residents with pets were taken care of. At each stage of the process, pet housing was a priority, making the Legislature's removal of statewide impediments to local breed restriction reform all the more important.
Nonprofit organizations have also taken note. For instance, Noah's Animal House provides an important resource for survivors of domestic violence, knowing that access to housing which accommodates pets is essential to getting people out of domestic violence households. In Las Vegas, Noah's shelter removed a barrier to safe shelter by creating a boarding facility that works in coordination with a domestic violence resource center. In 2018, Noah's shelter did it again in Northern Nevada. But where do people go when they are leaving a shelter?
We all know people who are obsessed with their dogs.  But for many, a dog is more than just a companion you feed and take on walks.  A dog is a family member.  A dog provides emotional and physical support when times are rough.  And during COVID-times, when people are socially distant to ensure their health, a dog can be a best friend and a lifeline.  Senate Bill 103 offers an important first step in promoting housing security for Nevada's residents and their best friends.
Correction (3/1/2021 at 11:11 a.m.): This op-ed was corrected to say that there are 22 states (not 13) that ban breed-specific legislation.
Alex Velto is a City of Reno Planning Commissioner and Attorney at Hutchison & Steffen PLLC. Rebecca Goff is the Clinic Manager at the Nevada Humane Society who has worked in veterinary medicine for over a decade.
The Nevada Independent is raising $200,000 by Dec. 31 to support coverage of the 2024 election.
Tax-deductible donations from readers like you fund this critical work.
If you give today,your donation will be matched dollar-for-dollar.
Give + Get Matched
Featured Videos