Sisolak should learn from Sawyer, sins past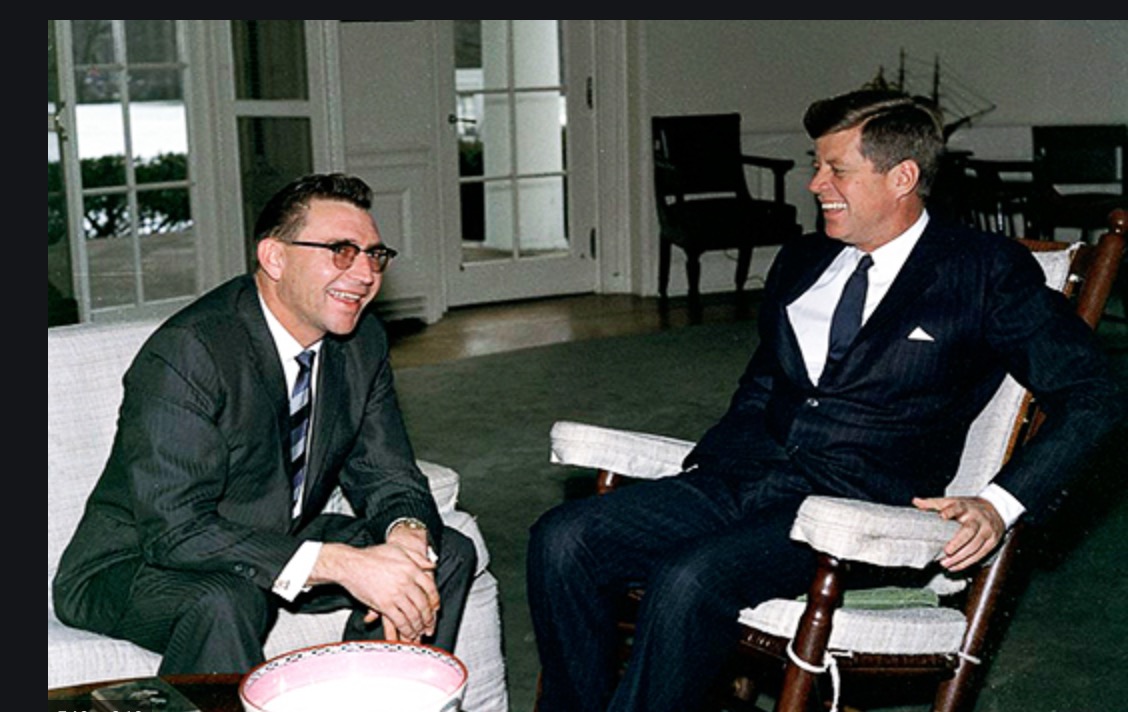 During the summer of 1961, a decade after Estes Kefauver's tribunal concluded that the Mafia had infiltrated Nevada casinos and despite the creation six years earlier of the Gaming Control Board, Gov. Grant Sawyer became convinced the federal government would not trust Nevada to police its own.
Having learned a federal strike force was being assembled to raid Nevada gaming establishments, Sawyer got on a plane and flew to Washington, D.C. He immediately went to see Attorney General Bobby Kennedy.
"I asked if he was planning to raid Nevada, and if so, why?" Sawyer recalled in "Hang Tough!," his memoir and the label the media had given to the governor's policy of standing up to organized crime. "We had a heated discussion to say the least, and there was no give or compromise on his part at all. He looked at Nevada, as many people did then, as a den of iniquity…"
The next day, having received no satisfaction from the attorney general, Sawyer went to see his brother in the White House. President Kennedy seemed to have no idea of his brother's plan, and Sawyer assured him the state was making progress in enforcement. "The president was very cordial, very nice," Sawyer recalled. "He made no commitments, but the raid never occurred."
***
A nascent industry brimming with cash and plagued by corruption. A federal government taking a dim view of the sin and the state. A governor trying to send a message that Nevada will regulate the businesses without D.C. interference.
Much has been made of the similarities between the early days of the gambling industry in Nevada and the newly legalized marijuana economy in Nevada. But as the FBI announced this week that the pot industry is a "public corruption threat" and that it is the agency's role to stop any criminal behavior, never has the comparison to gaming's infancy and Santayana's dictum seemed more apt.
"The corruption is more prevalent in western states where the licensing is decentralized—meaning the level of corruption can span from the highest to the lowest level of public officials," the FBI posted on its website last week. "It's our role as the FBI to help to ensure that the corruption doesn't spread in this new industry."
I have no doubt the feds have been watching as a sensational civil trial wrapped up last week in District Court Judge Elizabeth Gonzalez's courtroom, one that featured losing applicants for pot licenses essentially alleging the state's regulatory scheme is at best inept and at worst corrupt. More than a half-century after Sawyer confronted the Kennedys and as gaming has spread across the country and the planet, pot remains illegal at the federal level and Nevada has never been more exposed and susceptible to federal intervention.
Gov. Steve Sisolak knows this.
In his State of the State address, Sisolak announced the formation of a Cannabis Compliance Board, which he said was modeled after the gaming regulatory system Sawyer had erected to fend off the feds and keep Nevada's house in order. In March, as criticism emerged about the opacity of the state's licensing process, the governor proposed an amendment to a Senate bill to increase transparency.
The message from these moves was clear: Nevada's new pot industry, as gaming was more than 50 years ago, is a scandal waiting to happen. Like Sawyer, Sisolak has taken preemptive steps to ward off any probing federal eyes.
But he – and the state – is arguably in a much worse position than Sawyer was when he hopped on that jet to D.C. Sawyer had supported JFK; they were both Democrats. Not only did Sisolak not support Donald Trump, but he has assailed the president and the state has joined lawsuits against his administration. And Trump has been singularly hostile to the state he lost to Hillary Clinton, including his efforts to restart Yucca Mountain.
Sisolak may not have to contend with an attorney general as hostile as Sawyer did, especially with Jeff Sessions, a notorious foe of pot, gone. But if Trump wanted to go after Nevada and raid businesses here that are technically operating in violation of federal law, katy Barr the door.
Sisolak surely understands the stakes here, for the state and for himself, especially because he was the chairman of the Clark County Commission that awarded licenses to some of the people now involved in that ugly lawsuit. It's easy to caricature the legal proceeding as a bunch of disgruntled rich guys suing a bunch of other rich guys over the right to make tens of millions, maybe hundreds of millions of dollars. But this goes beyond political influence and a questionable licensing process and to how much oodles of cash invites corruption and bad actors.
Sound familiar? I bet it would to Sawyer if he were still alive.
Using political juice to obtain a benefit is not illegal; it's practically a way of life in Nevada. The FBI talking about possible corruption in western states? That's a horse of a different color.
"Had the raid ever come off, the political consequences for me would have been pretty devastating, and I was very aware of that," Sawyer said in his memoir.
So is Sisolak, I'd guess. And as the lawsuit is resolved and the new regulatory structure takes shape, we will see if the state's 30th governor will hang as tough as the 21st did.
Jon Ralston is the editor of The Nevada Independent. He began covering Nevada politics in 1986.
Featured Videos
Comment Policy (updated 4/20/2021): Please keep your comments civil. We reserve the right to delete comments or ban users who engage in personal attacks, use an excess of profanity, make verifiably false statements or are otherwise nasty. Comments that contain links must be approved by admin.