Sisolak's calendar of first month shows meetings with union leaders, top officials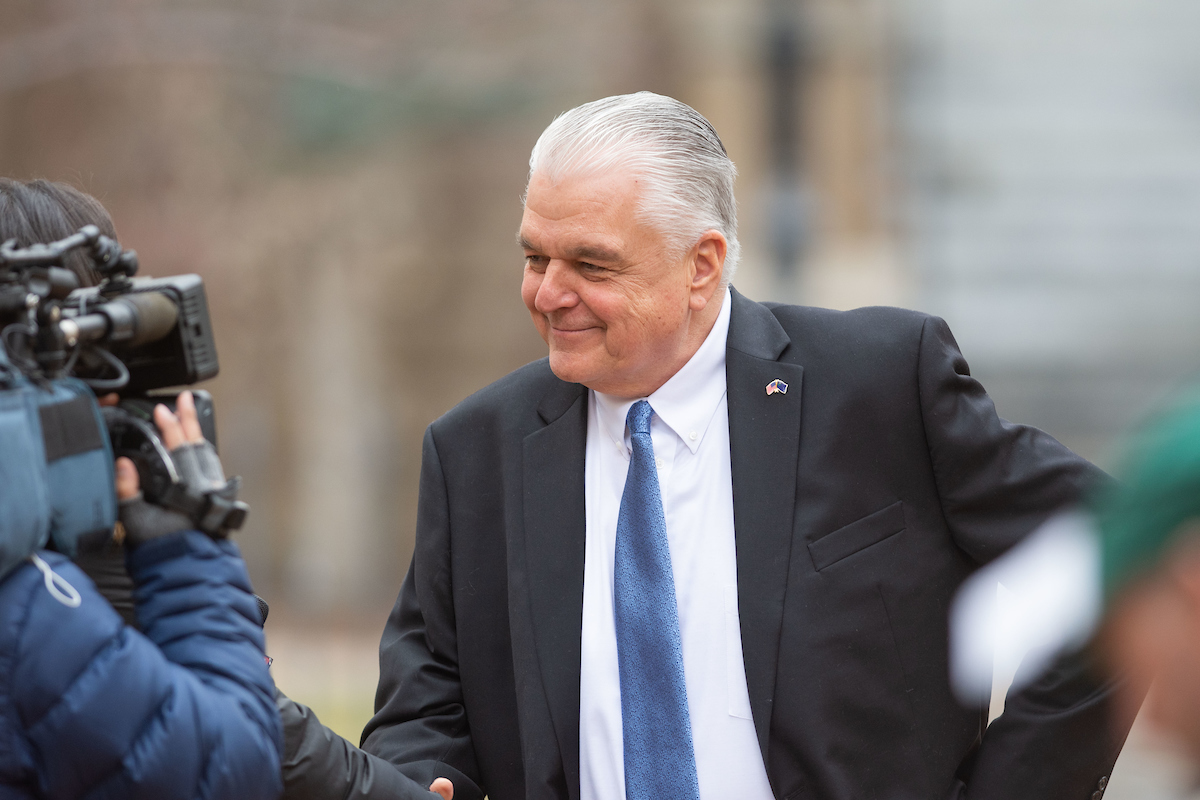 Gov. Steve Sisolak's first month in office was dominated by meetings with top state and federal officials and with the individuals and groups that helped elect him last year.
According to a copy of Sisolak's official calendar, the new governor held a slew of meetings and calls throughout January and the first week of February with education and business leaders, union heads, one Trump administration official and with California billionaire and Democratic megadonor Tom Steyer.
The Nevada Independent filed a records request for Sisolak's calendar for the month of January and the first week of February on Feb. 7. Although scheduled meetings aren't confirmation that a meeting actually happened or what topics were discussed, a look at the governor's calendar provides valuable insight into which individuals Sisolak met with and heard from as he began planning for his first legislative session as governor.
"During the governor's first weeks in office, he met face-to-face with all 63 legislators, signed a landmark bill to close the gun background check loophole, established a task force on sexual harassment, and more," Sisolak spokeswoman Helen Kalla said in an email. "Additionally, the governor has traveled around the state to meet Nevadans where they are – from Elko to Las Vegas to tribal communities across Northern Nevada. "
Here's who Sisolak met with during his first month in office:
Interest Groups
Sisolak's calendar shows a meeting on Jan. 22 with one political adviser — Megan Jones, a former political director for Sen. Harry Reid and a longtime Democratic political consultant involved in multiple ballot questions and dozens of races for statewide and legislative candidates. Her firm, Hilltop Public Solutions, also helped run the campaign for Question 1 in 2016, requiring background checks on most private gun sales and transfers. The measure was never implemented despite being approved by voters because of the FBI's refusal to conduct the background checks.
Earlier this month, Sisolak signed SB143 into law — a fix of the 2016 voter-approved initiative that requires the state and not the federal government to conduct the background checks. Jones didn't return an email seeking comment as to the purpose of the meeting.
On the education side, Sisolak also reported meeting with Clark County Education Association union leader John Vellardita and Clark County School District Superintendent Jesus Jara on Jan. 30. Sisolak's proposed $8.8 billion budget includes a 3 percent raise for teachers and upwards of $156 million more in state funds for education, the bulk of which will go to the school district.
Vellardita, whose union strongly supported Sisolak in both the primary and general elections, declined to say what was discussed at the meeting beyond reiterating that CCEA and the district will work together on issues that matter to both, including a weighted school funding formula.
"A meeting like this reflects that intent," he said.
The new governor also scheduled a call with Tom Steyer, the California billionaire whose NextGen America organization spent millions of dollars to run ads and registered voters to assist Nevada Democrats in the 2018 election. Steyer — who also helped fund ballot measures raising renewable energy production standards and requiring automatic voter registration at the DMV — was unable to communicate with Sisolak or other candidates because of rules on campaign coordination and spoke with the new governor about his organization's accomplishments and goals.
"They discussed NextGen America's work in 2018 which led to historic turnout among young voters and the passage of Question 6— and NextGen's commitment to continuing that work in 2019 and beyond," NextGen America spokeswoman Aleigha Cavalier said in an email.
The calendar also shows a scheduled meeting with AFSCME President Lee Saunders on Feb. 4 in the governor's Carson City office. During the 2018 campaign, the union spent more than $3.7 million through a PAC aimed at boosting Sisolak and hitting his Republican opponent, Adam Laxalt. Sisolak has embraced and highlighted one of the union's top goals — collective bargaining for state employees — in his State of the State speech.
A spokesperson for the union said Saunders and Sisolak discussed "their shared belief that public service workers, like all Nevadans, deserve the freedom to negotiate a fair return on their work."
The governor also reported meeting with representatives of electric car manufacturer Tesla on Feb. 5.
Sisolak also reported meeting with UNITE HERE president D. Taylor on Feb. 8. The union's local branch, the Culinary Union Local 226, played a huge role in Democratic turnout operations in the 2018 election, sending 1.8 million mail pieces, knocking on thousands of doors and making thousands of calls to support Democratic candidates.
Bethany Khan, a spokeswoman for the Culinary Union, declined to answer an emailed question as to the purpose of the meeting.
Not all of the meetings were directly related to pressing issues. The governor scheduled a meeting in Las Vegas with Jan Jones Blackhurst, the former Las Vegas mayor and Caesars Entertainment executive on Jan. 18, but Blackhurst said the scheduled meeting was more a chance to catch up rather than talk about any particular issue.
"It was more of a social visit than anything else," she said.
State and federal government
Sisolak's first month in office was peppered with scheduled meetings with top state and federal officials.
In one of his first meetings scheduled on his calendar, the governor met with Sen. Catherine Cortez Masto at the state party's offices in Las Vegas. His first call with a member of President Donald Trump's administration came on Feb. 5, with acting Interior Department Secretary David Bernhardt (nominated just a day prior to the call), as part of an introductory call and brief overview of state land and wildlife issues.
He also reported meeting with the state's lone Republican statewide official, Secretary of State Barbara Cegavske, on Feb. 4 — the first day of the legislative session.
The governor's calendar also shows a slew of meetings with top state education officials, including several members of the State Board of Education.
He scheduled calls with three members of the board — Mark Newburn on Feb. 4, Robert Blakley and Tamara Hudson on Feb. 5, and a meeting with David Carter on Feb. 7. Department spokesman Greg Bortolin said the governor "reached out to members of the Board of Education that he did not know and introduced himself."
The calendar also shows scheduled calls with three senior Nevada Department of Transportation staff — Tracy Larkin, Bill Hoffman and Cole Mortensen — on Jan. 24. Sisolak recommended that Kristina Swallow, a former City of Las Vegas engineer, head the transportation department in late January.
Department of Transportation spokesman Tony Illia said in an email that the meetings were "information-gathering meetings for the governor to learn more about how the department runs and hear feedback from its employees."
Sisolak also met with every state lawmaker for short meetings during the first week of the legislative session — including 30 scheduled ten-minute meetings with legislators on Feb. 26 in their respective offices. The day prior, Feb. 5, he scheduled short meetings with Assembly Speaker Jason Frierson and Senate Majority Leader Kelvin Atkinson in their respective offices.
The calendar also sheds some light into the governor's process for appointments. He scheduled a meeting with former Eighth Judicial District Court discovery commissioner Bonnie Bulla on Feb. 7, six days before his office announced that she would be appointed to a vacant seat on the Nevada Court of Appeals. He also scheduled a meeting with fellow court applicants Tracie Lindeman on Feb. 5 and District Court Judge Jerry Weise on Feb. 6, as well as a meeting with Nevada Supreme Court Chief Justice Mark Gibbons on Jan. 29.
Sisolak Calendar by Riley Snyder on Scribd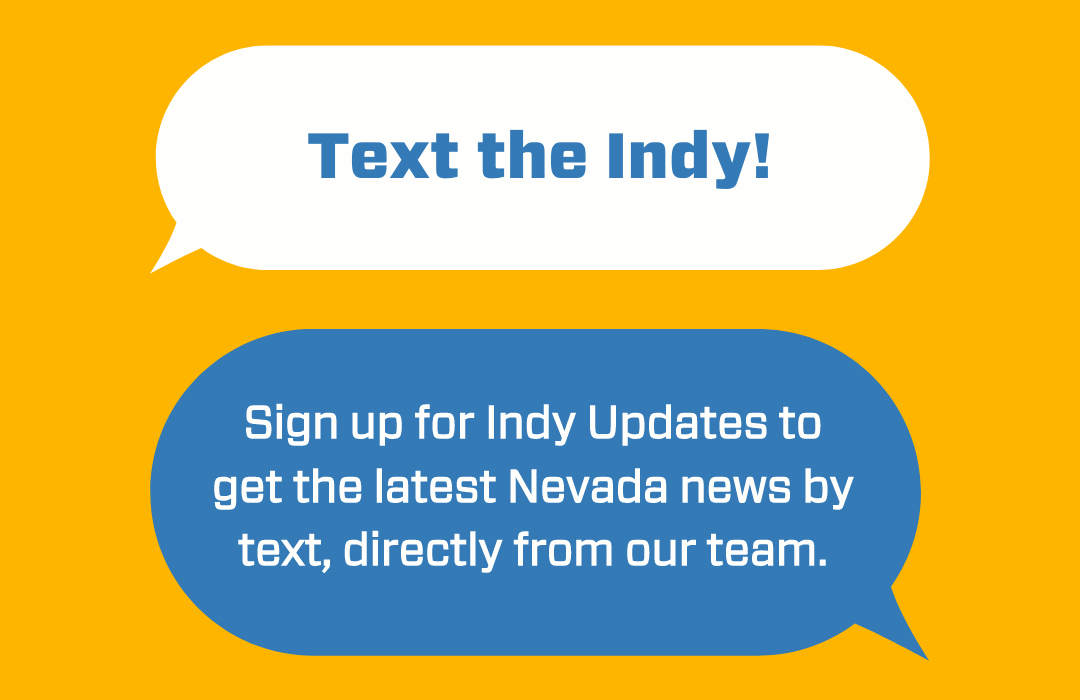 Featured Videos
Comment Policy (updated 4/20/2021): Please keep your comments civil. We reserve the right to delete comments or ban users who engage in personal attacks, use an excess of profanity, make verifiably false statements or are otherwise nasty. Comments that contain links must be approved by admin.