State adopts regulation for hand counting ballots, but it won't affect Nye County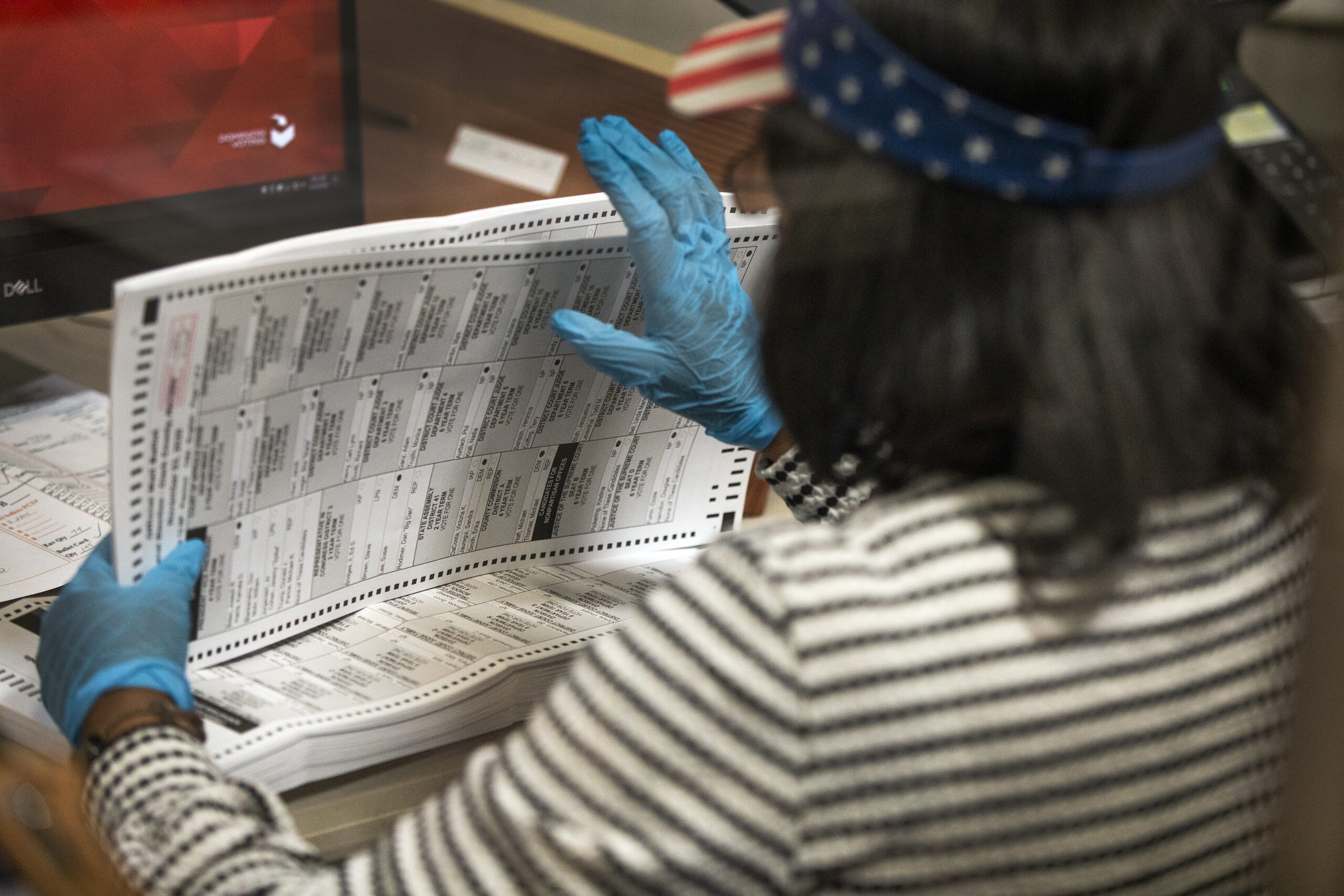 Nye County's recently appointed interim clerk, a 2020 election denier, will not be required to follow a newly adopted state regulation for hand counting ballots, after an amendment to the regulation ensures it will only affect counties that rely strictly on a hand count for results.
The amendment came after a sharp disagreement between Nye County Clerk Mark Kampf and state election officials regarding how county election workers should be able to conduct a hand count of votes.
During an initial workshop on the hand count regulation, Kampf strongly opposed the regulation and instead touted his own plan for a "parallel tabulation" process that involves running paper ballots through the typical mechanical tabulators and checking the results with an additional hand count of all ballots.
On Friday, the secretary of state's office adopted the temporary regulation, which will only be in effect for the 2022 general election, including the amendment that characterizes a "hand count" as a process of determining election results by counting votes in a way that "does not involve the use of a mechanical voting system." The initial version of the regulation would have imposed the requirements on any hand counting of ballots.
Mark Wlaschin, the deputy secretary of state for elections who oversaw the adoption of the regulation, said the amendment essentially establishes requirements only for officials planning to strictly hand count ballots.
"If a county election official decides they're interested in conducting a hand count audit, or a hand count tabulation, but are going to use as the primary method of tabulation a mechanical system, then these regulations are in essence recommendations, but not required," he said.
During the Friday adoption hearing, Kampf described the changes as a "significant improvement over the first draft." He added that he sees differences in the secretary of state's requirements for hand counting and his own plans for doing so, but said they are not significant.
Kampf also encouraged collaboration between himself and any other county election officials planning to hand count votes.
Less than three months away from the general election, no county election officials appear poised to rely strictly on a hand count to determine election results.
However, some other counties may rely on a partial hand count, or a hand count in addition to their normal mechanical tabulation process. During the primary election, officials in Esmeralda County hand counted 317 ballots, while officials in Lander County hand counted the results of six races.
The regulation still faced stiff opposition on Friday from several advocacy groups, including All Voting is Local, Silver State Voices and the American Civil Liberties Union of Nevada. Representatives from those groups broadly argued against hand counting as a method of counting votes, highlighting the possibility of increased human error and delayed results during a hand count.
"I think this is a slippery slope that will have dire consequences for the state," Sadmira Ramic, an attorney with the ACLU of Nevada, said during the hearing. "It's just a recipe for chaos, and this backward direction in our process of voting is something that we should be fighting against vigorously."
The regulations adopted Friday will take effect on Oct. 1, and last through November 2023, meaning state officials will have the opportunity to tinker with the requirements before deciding whether to seek a permanent regulation for hand counting.
"I think this change in the regulation reflects that, again, there's going to be a continued refinement of these procedures moving forward," Wlaschin said. "So again, it's going to allow for continued research and development in the coming months and years."
Featured Videos
Comment Policy (updated 4/20/2021): Please keep your comments civil. We reserve the right to delete comments or ban users who engage in personal attacks, use an excess of profanity, make verifiably false statements or are otherwise nasty. Comments that contain links must be approved by admin.