State guidance outlines tough triage choices, patient priority if COVID-19 cases surge past capacity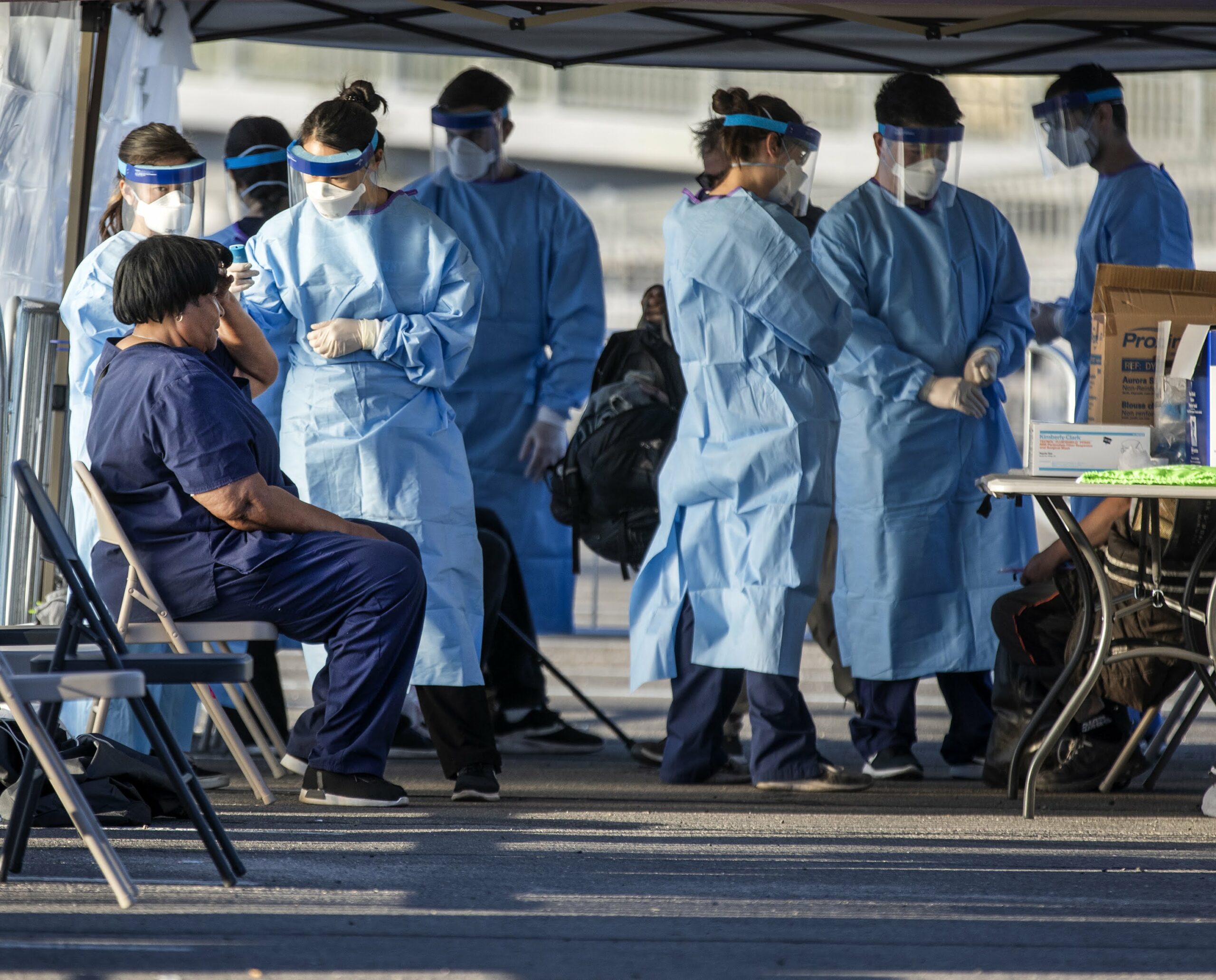 Amid calls and emergency directives designed to "flatten the curve" and prepare Nevada's beleaguered health care system for an expected surge in COVID-19 cases, state leaders are still preparing for the worst.
As cases of the novel coronavirus continue to surge, hospitals in hot-spot states have in recent weeks begun to grapple with grim and difficult triage questions to determine which patients should receive treatment when the number of cases overtakes capacity.
Even as Nevada leaders take increasingly drastic action to stop the spread of the virus — including Gov. Steve Sisolak on Wednesday ordering an expanded nonessential business shutdown to now include golf courses and religious gatherings — state health officials have taken initial steps to provide guidance to hospitals and medical facilities on what to do if the unthinkable becomes reality.
Those recommendations are laid out in a 42-page "Crisis Standards of Care" plan published by the state's Department of Health and Human Services, which was sent to local governments and health districts last week.
While the guidance document does not give explicit triage directions or implement a "point" system used by other hospitals to determine patient priority, it does give a general guidance on best ethical practices for medical facilities and professionals for what to do when demand for care surges over capacity or if live-saving personal protective equipment (PPE) runs out.
It also recommends active rationing of testing for younger people with mild symptoms, a detailed definition of when a COVID-19 positive patient is deemed recovered, multiple examples of how ventilators and protective equipment may be modified, urges emergency medical services to avoid transporting patients unless absolutely necessary and what prisons and jails should do to mitigate spread of the virus.
Washoe County Health District Officer Kevin Dick referenced the guidance document during a press call on Wednesday, saying it was a proactive preparation for a worst-case scenario.
"If we end up with a situation where our surge levels exceed the capacity of our hospital system to provide the medical care that each individual needs, these 'Crisis Standards of Care' will be an ethical approach to how to allocate medical resources that are not sufficient to treat every individual that needs care," he said.
The guidance lays out "core ethical guidelines" principles for hospitals and health care providers to follow during the pandemic, including a focus on providing equal access to care for all individuals. The guidelines state that persons "critical to health and safety infrastructure" may receive additional support, while encouraging that "distinctions among patients ought to be based on medical assessment and probable success of treatment."
Unlike some other states, including Massachusetts, the guidelines do not specifically say whether younger patients should receive medical equipment and treatment over elderly patients in the event of a shortage — only that "the patient who is most likely to medically benefit from the use of resources should be given priority."
Nevada's guidelines state that in the event of conventional care being unavailable because of a surge in cases, medical professionals should seek "alternative" forms of care such as palliative or comfort care.
The recommendations also include revamping traditional Emergency Medical Services systems (such as 911 response), notably recommending that dispatchers decline to respond to calls without "evident potential threat to life," as well as refusing to respond to unknown problems or injury incidents until a known illness or injury can be confirmed.
It also recommends that EMS personnel decline to transport any individuals without a significant injury or illness, and instead provide "alternative resources destination/transportation."
For long term care facilities, the state guidance recommends "universal" adoption of facial masks and for health care providers to wear recommended PPE for care of all residents, regardless if symptoms are present.
Residents of long-term care facilities are asked to stay in their room, and if cases are detected in a facility, prohibit residents from leaving their room except for medically necessary purposes (while requiring them to wear protective equipment and staying six feet away from other people). It also recommends implementing protocols for "cohorting ill residents with dedicated" health care professionals.
In addition to providing information about the state's emergency medical volunteer service, the guidance also recommends that state and local officials work with medical school deans to use medical students during a crisis. Possible roles for medical students including assisting in telemedicine calls, practicing limited non COVID-19 health care, working as community volunteers or working as normal health care workers if they have prior experience or certification.
Though limits in testing have been acknowledged by local and state leaders, the guidance makes it abundantly clear that hospitals and medical providers should not test any "younger, healthier individuals with mild illness." Instead, it recommends that those individuals stay home on self-isolation for 7 days, or 72 hours after symptoms stop appearing, whichever is sooner.
Priority testing is reserved for the following symptomatic patients:
Patients hospitalized with severe lower respiratory signs and symptoms of illness
Healthcare providers and workers
Patients in other public safety occupations, such as law enforcement or firefighters
Patients involved in an illness cluster in a facility or institution (e.g., health care, schools, prison, homeless/shelters, other institutions)
The guidance also states that patients older than 60, people with underlying medical conditions or pregnant women should contact their health care provider if their symptoms worsen in order to receive a test.
It also includes a definition of recovery for COVID-19 patients. The guidance states they may only leave home isolation after 7 days have passed since their diagnosis was confirmed and if they have no subsequent illness or respiratory issues.
The guidance also lays out a broad behavioral and mental health strategy, warning that without sufficient "psychological first aid," broad populations of individuals including health care workers could face significant onsets of mental illness. The guidance cites research showing that between 30 to 40 percent of people directly affected by a major disaster are at risk of developing clinically diagnosable mental illness, such as depression or post-traumatic stress disorder.
The guidance suggests leveraging telehealth services "as much as possible" during the pandemic, advising state and local agencies to consider lowering or eliminating fees associated with the service.
"A covered healthcare provider in the exercise of their professional judgement may request to examine a patient exhibiting COVID-19 symptoms, using a video chat application connecting the provider's or patient's phone or computer in order to assess a greater number of patients while limiting the risk of infection of other persons who would be exposed from an in-person consultation," the guidance states.
It also notes that federal officials are relaxing enforcement on certain rules for telemedicine, but warns providers to stick to reliable and secure video communication products and avoid third-party applications, or public-facing applications such as TikTok or Facebook Live.
The guidance also lays out several advisories and recommendations for the use of and extending the life of personal protective equipment.
For N95 respirator masks, the state guidance recommends that hospital and medical professionals adhere to disposal guidelines to limit contamination caused by re-use of ventilator masks. These include discarding respirators after:
Aerosol generating procedures
Any respirator contaminated with bodily fluids from patients, such as blood, respiratory or nasal secretions
Any respirator used while in close contact or exit from the care area of a patient with an infectious disease
It also recommends caution when reusing a respirator for COVID-19 patients, and urges medical professionals to use expired N95 masks before using face masks or other coverings.
If no respirators are available, the guidance recommends that medical facilities exclude health care workers with higher risk for contracting illnesses from dealing with known or suspected COVID-19 patients. It states that health care workers who have clinically recovered from COVID-19 may have developed "protective immunity" and could potentially provide care for patients with the virus.
Still, many hospital workers say that they've been unable to follow those guidelines and are instead forced to constantly re-use respirators and other medical equipment.
It also contains use guidelines for eye protection, isolation gowns, and facemasks, with suggestions on what materials may be used in shortages of any of the equipment.
For ventilators, the guidance outlines several possibly temporary and limited modifications of the machines, including hardware and software changes, modifying tubing or other components, or using a ventilator outside of its cleared environment of use (such as a home ventilator being used in a medical setting).
For hospitals, the guidance lays out several best practices for COVID-19 patients, including only hospitalizing them if medically necessary, keeping patients isolated in a room and possibly designating entire units with dedicated staff for COVID-19 positive patients and limiting individuals in rooms where tests or specimens are taken.
The guidance also lays out COVID-19 mitigation recommendations for jails and prisons, including:
Suspending all social and legal visits, contractors and volunteers/nonessential personnel for at least 30 days
Screening and testing all symptomatic inmates, including isolating them if an inmate or detainee has the signs, symptoms and exposure criteria consistent with COVID-19. It recommends isolating symptomatic inmates in single rooms, or in a "designated area" with other symptomatic inmates if room is not available
Keep incoming inmates/detainees isolated for at least 14 days before being released into general population
Implementing social distancing measures, including canceling group activities, communal dining, medication distribution and self-serve food service
NV_DHHS_DPBH_CSCRecommendations_COVID-19_040220_ADA by Riley Snyder on Scribd
NV_DHHS_DPBH_CSCRecommendat... by Riley Snyder on Scribd
The Nevada Independent is raising $200,000 by Dec. 31 to support coverage of the 2024 election.
Tax-deductible donations from readers like you fund this critical work.
If you give today,your donation will be matched dollar-for-dollar.
Give + Get Matched
Featured Videos