A chuckwalla lizard. Photo courtesy of Nevada Department of Wildlife.
State pushes to tighten wild reptile collection rules
August 27th, 2017 - 2:00am
Explore Nevada's wild reptile removal restrictions, and you'll find some oddities.
Collectors can remove reptiles with their hands, but they can't use explosives. They're allowed to use tongs but they can't use a jackhammer. They can use a noose or a snake hook or nets, but they can't use a crowbar or a tire iron or cans or man-made pits that could disrupt the desolate terrain of the Mojave and Great Basin deserts.
Commercial collectors can remove an unlimited number of chuckwallas but they must submit monthly logs of the species, sex and age of their catch. They're required to pay a $250 annual fee, must be a Nevada resident and keep a transaction history of all sales, trades or barters.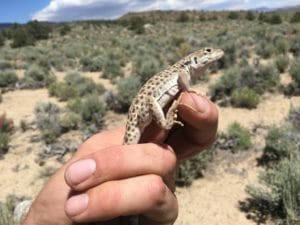 With these conditions, all listed in the state's administrative code, the Nevada Board of Wildlife Commissioners has issued a couple dozen permits to reptile collectors since the commissioners made the practice legal in 1986. Licenses peaked at 31 in 1994, when registered collectors took more than 31,000 reptiles, a number that has steadily decreased since then. About 7,000 reptiles were removed last year, and now there are seven collectors registered with the state, five of whom belong to the same family.
Regulators at the Nevada Department of Wildlife have been concerned about commercial collection, which is banned in bordering states. And after two past attempts, the department is renewing a push to restrict the practice, citing concerns about population loss and the possible use of illegal traps.
The department is currently drafting two regulations, one that would prohibit all commercial reptile collection and another that would limit collections by criteria, such as season or species. Wildlife commissioners, who set policy, are expected to consider the proposals in September.
At a wildlife commission meeting in August, collectors defended their methods as legal and argued that their business did not threaten what they see as an abundant reptile population.
But the department sees commercial collection as one of many threats facing the roughly 50 reptile species in Nevada, said Jason Jones, an NDOW biologist pushing for the regulations. Other threats to population size include climate change, development and disease.
"It's death by one-thousand cuts," he said.
Reptile ownership
About 4.7 million U.S. households owned one or more reptiles in 2010, but they often buy pets from captive breeders, according to a 2011 report prepared for the U.S. Association of Reptile Keepers, a non-profit focused on responsible reptile ownership. This trend is not limited to the U.S. A 2014 analysis in the British Herpetological Society's journal found that 90 percent of U.S. reptile and amphibian exports — shipped to countries in Europe or Asia — were captive bred.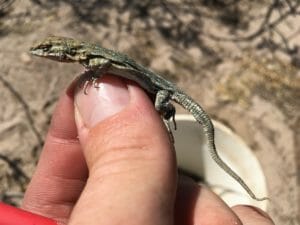 For months, Jones has been presenting this data at wildlife commission meetings to provide regulators with context for where Nevada fits into the U.S. reptile trade, which brings in about $1.4 billion in annual revenue, according to estimates from the Association of Reptile Keepers.
Based on collection logs, he estimated that wild-caught Nevada reptiles (excluding turtles, which can't be exported from Nevada), accounted for 12 percent of U.S. exports from 2005-2010. And Jones suggested that this trade can be lucrative, with gopher snakes going for $380 in Europe.
Jeremy Bentz, one of the remaining collectors in Nevada, said he was "laughing on the inside" when he heard that claim repeated back. "It's not a whole big money-making thing," he said.
He said he collects reptiles on the side for a few months out of each year, usually in April and May. His father collects reptiles full-time and his uncle uses it as one source of income, Bentz said. "I do it as a family thing," he said during an interview. "It pays for my camping trip."
The family has tangled with the department over commercial collection before. In 1989, the family, with other collectors, sued the department after its first attempt to prohibit commercial reptile collection. That case was ultimately appealed to the Supreme Court, which ruled in favor of the department. Despite winning the case, the commission backed down from the ban (the commission considered a ban again in 1998 but ultimately allowed the practice to continue).
In its ruling, the Nevada Supreme Court said that it was within the commission's power to issue the ban — that the burden fell on the collectors to prove that the practice did not harm wildlife.
That claim is at the center of the department's argument.
Conservation issues and legalities
At recent commission meetings, Jones has argued that commercial collection poses an issue because it often overlaps with breeding months, and populations are slow to recover. Looking at collection logs, he showed the commission that in the Amargosa and Ivanpah valleys, collectors have, at times, come back with fewer reptiles per day, despite devoting more time to collection.
"Even with an increased effort, they had a very little return," Jones said at the July meeting.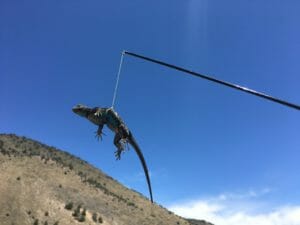 Jeremy Buntz said the department's presentation was misrepresentative of what he observed on the ground. He questioned how the department defined effort, especially with a small sample size of collectors who work at different paces and are not all collecting to generate income.
Jones conceded that the commercial collection data is not perfect.
"It's market driven," Jones said. "But it raises a lot of red flags."
Other environmental groups have joined the department's push.
Patrick Donnelly, who runs the Center for Biological Diversity's regional office in Las Vegas, argued collection can have "huge, cascading effects on overall (reptile) population numbers."
Donnelly said it's especially concerning that the the practice continues on public land managed by the BLM. A prohibition, he said, would bring "Nevada in line with the rest of the West."
He added that the commission, a nine-member panel appointed by the governor and charged with protecting the state's wildlife, could be "legally liable" if it doesn't act on the reptile issue.
Then there are questions of legality.
According to the department, there are more than 700 pitfall traps in Southern Nevada. Pitfall traps, used for collecting insects or in controlled ecological studies, are an illegal method for capturing reptiles. The traps comprise small holes in the ground that blend with the desert. The department has documented reptiles, mice and scorpions falling into these traps.
Of the traps it checked in 2016 and 2017, it found that about half of all reptiles and nearly all mammals that fell into the traps had died. These traps are not permitted, the department said, and a number of them are maintained by reptile collectors. In recent months, nearly 300 have been removed by volunteers and solar developers, but they remain a concern for regulators.
"There is significant mortality of reptiles due to large numbers (700+) of unpermitted pitfall traps," one NDOW administrator wrote in a memo ahead of the July commission meeting.
The collectors said they used traps to catch unregulated scorpions, a practice that is legal.
Doug Nielsen, a spokesman for NDOW, said there are ongoing investigations.
Here is the NDOW presentation on Commercial Reptile Collection, presented at the June 23 board meeting:
Nevada Department of Wildlife -- Reptile Collections by Michelle Rindels on Scribd
Comment Policy (updated 4/20/2021): Please keep your comments civil. We reserve the right to delete comments or ban users who engage in personal attacks, use an excess of profanity, make verifiably false statements or are otherwise nasty. Comments that contain links must be approved by admin.