Steyer pushes back on Medicare for all, talks about improving veterans services at town hall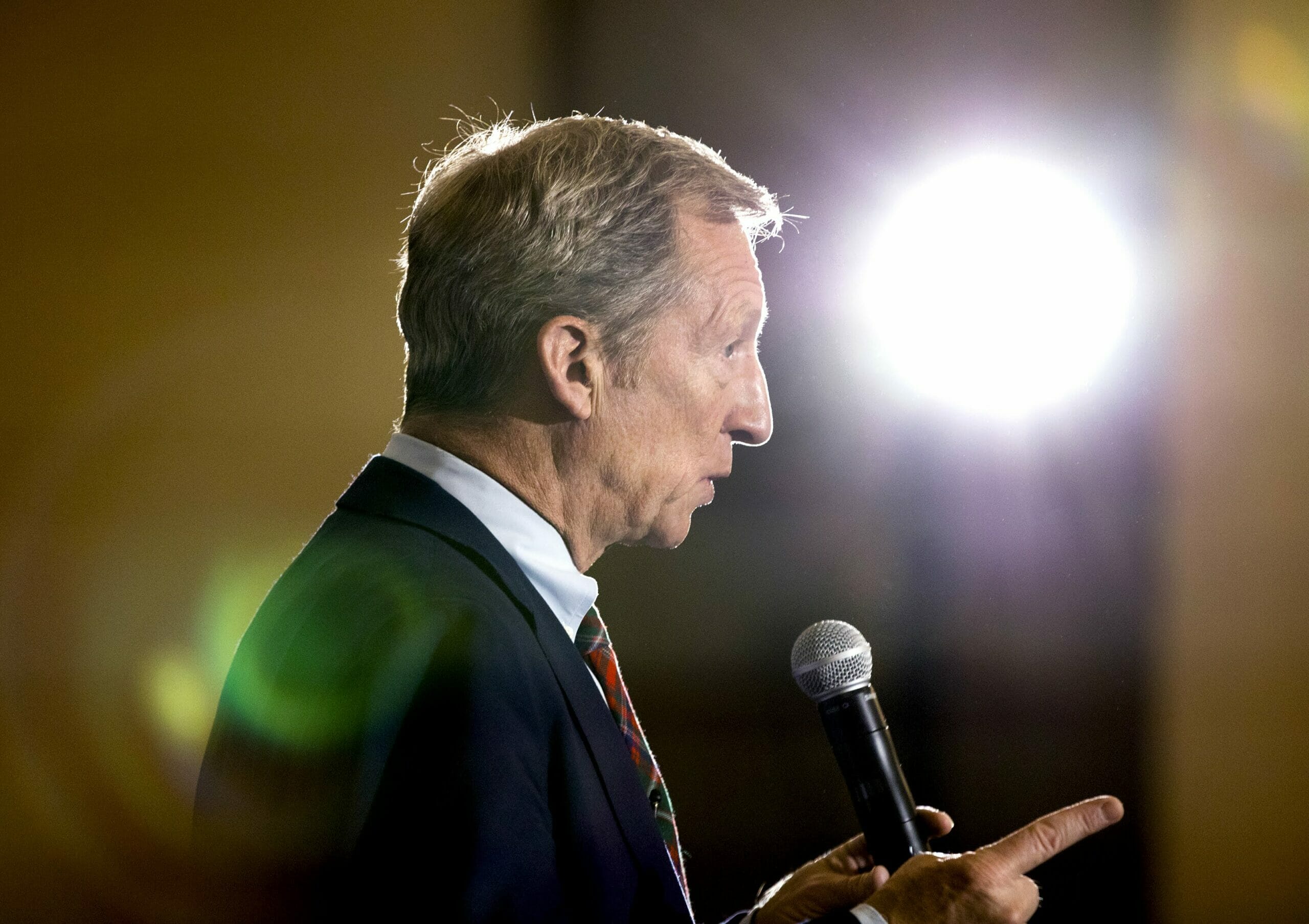 Democratic presidential hopeful Tom Steyer noted at a Henderson town hall on Monday that the word "billionaire" often prefaces his name.
"When I hear myself described in the press, the first thing they talk about [is] me being rich," Steyer told the crowd at Sun City MacDonald Ranch, where about 100 had gathered from surrounding neighborhoods and retirement communities in Henderson.
With the Nevada caucus a little less than four months away and Iowa's only three months out, the 17 Democratic presidential candidates who are still in the running are vying to set themselves apart from the competition. Although he was late to join the long line of Democratic presidential nominees, Steyer said he has been in the political game for more than 10 years. Steyer made his fortunes as a hedge fund manager before retiring to found NextGen America, a political action committee that he started in 2013 with the goal of mobilizing college students and young voters.
"For the last 10 years, I have been organizing a coalition of ordinary American citizens to take on unchecked corporate power," Steyer said.
Over the weekend, Steyer came out against Massachusetts Sen. Elizabeth Warren's newly released health care plan — which calls for a government-run, Medicare-for-all system paid for by new taxes, payments by employers and cuts in government spending — saying that taking away private insurance would be too severe a change for the existing health care system to handle. It was a point he drove home in broad terms at the town hall.
"If what you want to do is make sure everyone is covered and that we use the power of the American government to drive down costs, you can do that through a public option," Steyer said, referring to his proposal to offer a government health insurance plan but allow Americans whether to opt into it. "Leave Americans the right to choose their health care."
Mike Mattingly, a Vietnam veteran, asked about Steyer's plan to improve the Department of Veterans Affairs and make it easier for veterans to access and use government services.
"I hang around a lot of Vietnam veterans, and we have a saying that the people at the VA either hope they can put you through enough hoops that you'll give up and go away, or they hope you'll die before they have to pay a claim," Mattingly said. "What are you going to do about the VA?"
Steyer said that he had just come from a roundtable at Veterans Village, a local veteran-focused housing provider, where he discussed "wraparound services" that get homeless vets off the streets and into housing. He said one of the things he took away from the discussion was the value of having advocates or liaisons assigned to veterans to help with paperwork and the legal "hoops" Mattingly had mentioned.
In response to the question of what he would do about the United States' $1 trillion deficit, Steyer stood by a wealth tax he proposed a year ago and jabbed at Republicans for exacerbating the deficit by passing the so-called Tax Cuts and Jobs Act in 2017.
"The Republicans spent — by my measure — 25 years saying how profligate Democrats are," Steyer said. "And [Republicans] get in, and they give away $1.2 trillion and blow up our deficit."
Leading up to the town hall, Steyer's campaign was focused on the ongoing impeachment inquiry in its social media messaging, saying that he was maintaining momentum during the week of the "historic impeachment vote" and pointing out that Steyer had started a Need to Impeach campaign two years ago that collected 10 million petition signatures to impeach President Trump. Steyer was ready with that information at the rally when asked how he thought current impeachment proceedings were going.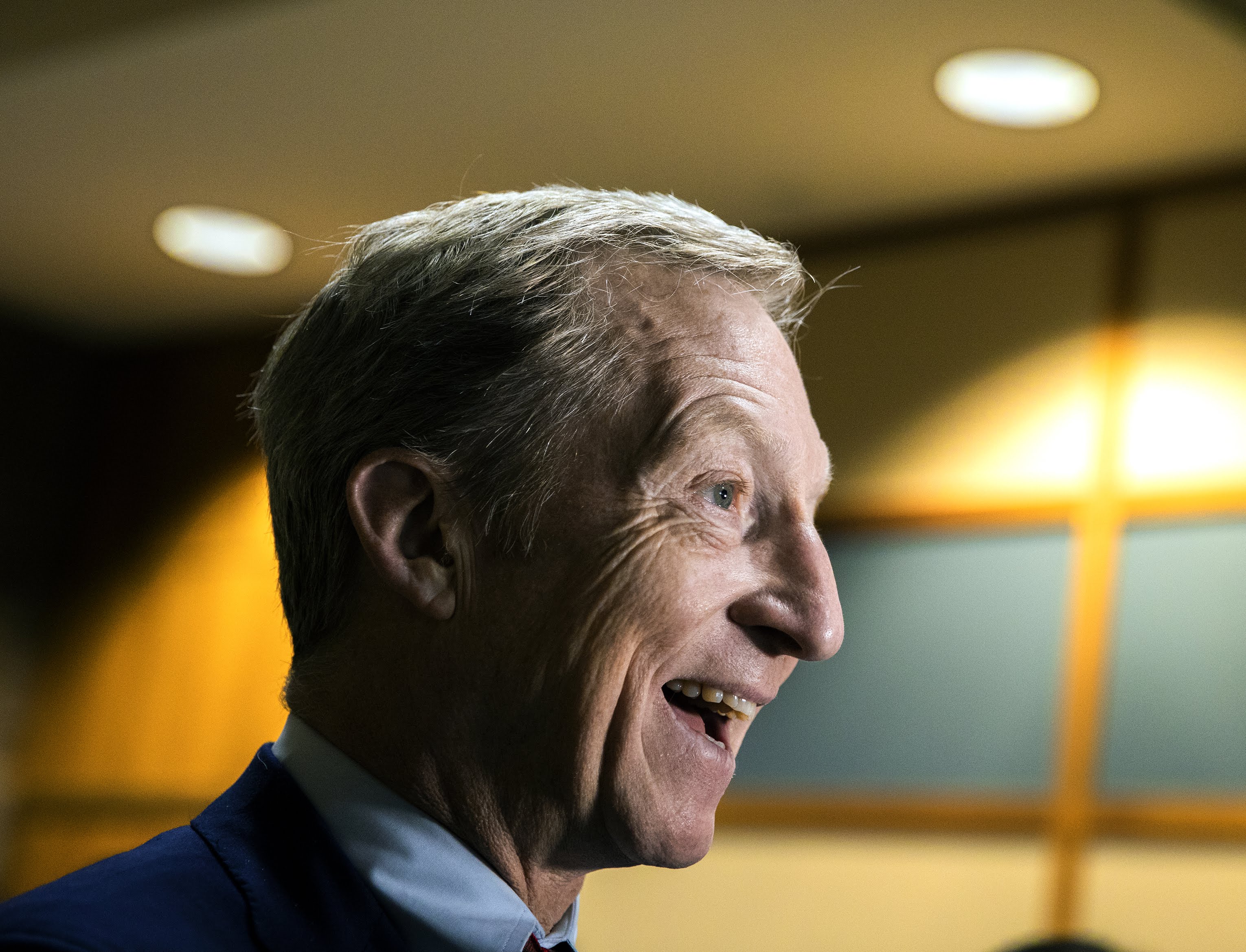 The Nevada Independent is raising $200,000 by Dec. 31 to support coverage of the 2024 election.
Tax-deductible donations from readers like you fund this critical work.
If you give today,your donation will be matched dollar-for-dollar.
Give + Get Matched
Featured Videos