Stop the Bleed program seeks to educate public about life-saving methods for gunshot injuries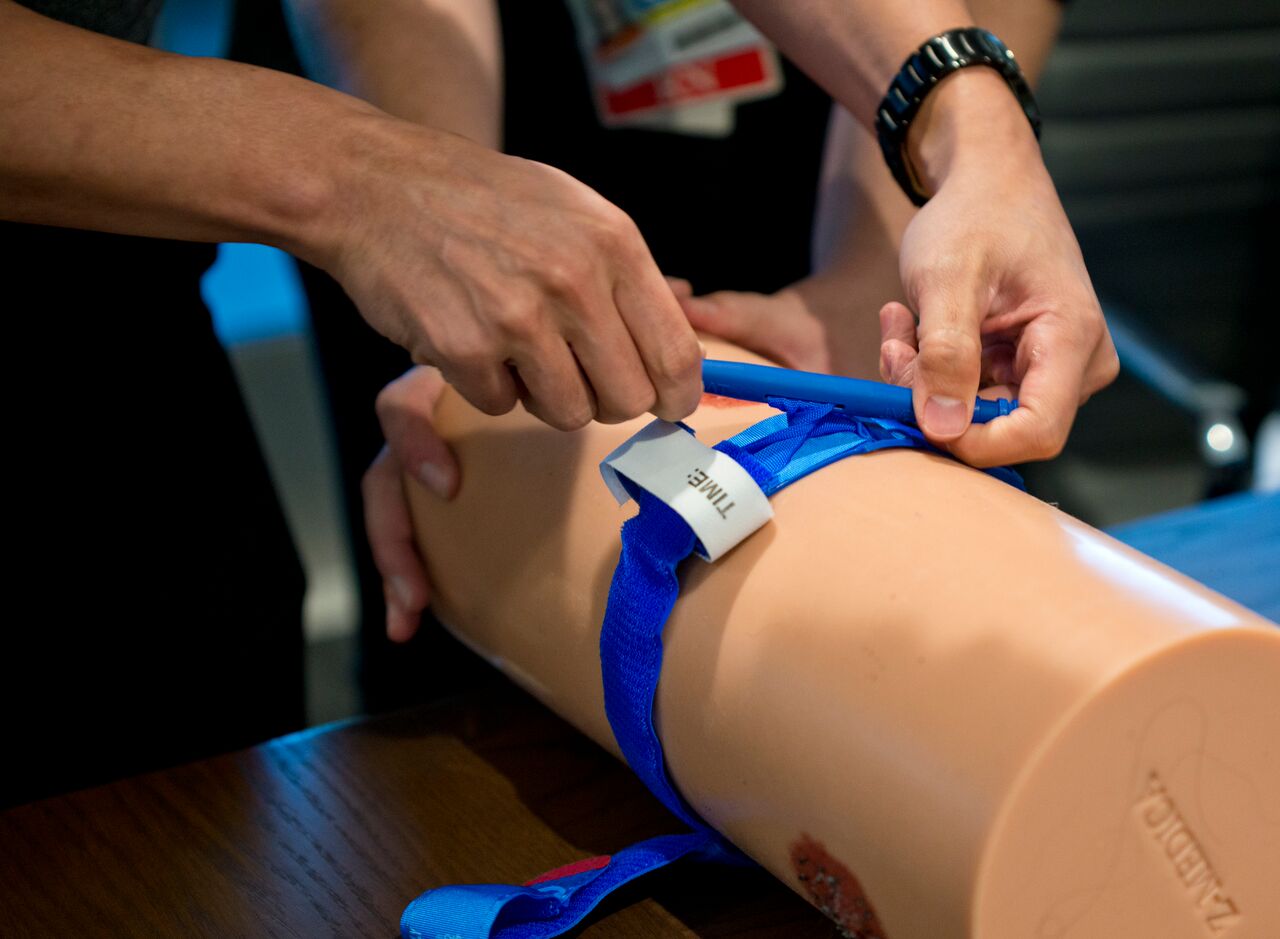 by Sonja Swanson
"Knife or gunshot wound?"
Dr. Douglas Fraser is holding a large, peach-colored rubber tube with some convincing red gashes down its side. The student opts for the knife wound, then quickly wraps a tourniquet above the slash and starts packing it with gauze. She's done in minutes, which is the point: An injury in a vital place can cause a victim to bleed to death in five to 10 minutes, long before emergency first responders get to the scene.
Fraser, Vice Department Chair of the University Medical Center Trauma Center, and five other trauma professionals from UMC are here at the Las Vegas headquarters of international hospitality company Hakkasan to lead a training program called Stop the Bleed. It's a nationwide program that began with The Hartford Consensus, a meeting convened by the American College of Surgeons in 2013 after the Sandy Hook shooting. Along with other resolutions aimed at reducing deaths from mass casualties, the committee called for a campaign to empower bystanders to become first responders and save lives.
Stop the Bleed, a close cousin to CPR training, was born.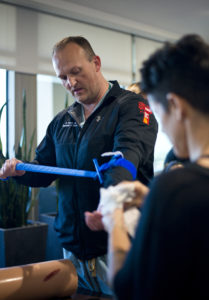 Not only can trauma victims bleed to death very quickly, says Dr. Lenworth Jacobs, director of the Hartford Hospital Trauma Institute, it can also be difficult for dispatchers to locate them in chaotic, large areas such as the Route 91 concert venue and the Boston Marathon route. "The bottom line in all of this is if you're involved in one of these events and bleeding severely, the person who is likely to save you is the person sitting beside you," said Jacobs, who headed the Hartford Consensus and the development of Stop the Bleed.
That happened in Las Vegas.
"I think the person I remember best was shot in the thigh and came in with a belt on his upper thigh," said Dr. Deborah Kuhls, director of the UMC Trauma ICU and the head trauma surgeon on duty the night of Oct. 1. Initially, a bystander incorrectly applied the makeshift tourniquet below the wound, but then another bystander fixed it above the profusely bleeding bullet hole, likely saving his life.
Although Dr. Kuhls hesitates to make any claims about how many might have been saved with more bystander training, she noted that most firearm incidents involve close-up shootings, with more injuries to the torso and head. On Oct. 1, with the shooter located across the street and 32 floors up, she saw "a number of extremity vascular injuries"—wounds to arms and legs. "Those are the majority of the bleeding wounds that Stop the Bleed is designed to control."
Interest in the program, naturally, spiked after the shooting. "I had just finished training our trainers, maybe two or three weeks before the shooting," says Cassie Trummel, the Trauma Outreach and Injury Prevention Program Coordinator at UMC. Since then, interest in Stop the Bleed has "exploded." Her team holds events open to the public at the hospital, and arranges private events free of charge for large organizations.
Although bystanders can use their hands to staunch heavy bleeding, having the right equipment on hand can be even more effective. The basic trauma kit recommended by the Hartford Consensus contains gloves, gauze dressing coated with coagulant, and tourniquets. It's a modified version of the same trauma kit that soldiers carry into battle. This is no coincidence.
Sixteen years of war in Iraq and Afghanistan have given U.S. military surgeons tried and proven techniques and tools that they are now bringing back home to civilian trauma centers. Representatives from the Department of Defense and Homeland Security were members of the Hartford Consensus.
Dr. Kuhls would like to see this relationship expanded with House Resolution 880, the Mission Zero Act, which would provide $40 million in funding to "train and incorporate military trauma care providers into the trauma center." Another bill to watch, she says, is H.R. 2757, which would provide for violence prevention centers administered by the CDC. Both of these bills, introduced earlier in 2017, have seen little action or discussion as of yet.
State governments are taking notice of trauma response initiatives as well. A bill proposed in California this April initially sought to require all new public structures to install trauma kits next to defibrillators, but was amended to instead require government entities to "conduct research and collect public comment" about mandating such kits. The bill does, however, provide Good Samaritan protections for those who use and install the kits in good faith. Nevada's Good Samaritan statute doesn't include a provision for trauma kits, although, as Dr. Jacobs points out, "If you tried your best to be helpful here, it is highly unlikely that 12 of your peers would say that you're a bad person."
Back at Hakkasan headquarters, 34 staff members listen intently as Dr. Fraser and Dr. Paul Chestowich demonstrate how to use a tourniquet properly. (Hint: it's tighter than you think.)
"You're not making friends here, you're saving lives," says Dr. Fraser. "This device hurts like hell."
Although some of the slides in the presentation are grisly enough to draw audible gasps and nervous giggles from the audience, it's not intended to be gratuitous. Part of the preparation in Stop the Bleed is mental.
"If you've thought it through and it happens, you just execute the plan," said Dr. Jacobs. "If you haven't, it's a problem."
Shortly after the session, Darren Garrett, director of security for Hakkasan, said the program was "fantastic." They'd planned this training well before the shooting, and have also booked the training for every single one of their venues. All of their nightclubs carry Stop the Bleed kits.
"It's that world we live in now, you've got to be as prepared as possible and make sure that we get the tools as much as we can to help everyone succeed," Garrett said.
Although debates over gun control legislation rage after every mass casualty with little result, these kinds of trauma death prevention initiatives—saving a life at the last possible minute—are hardly controversial. But is it too much of a Band-Aid solution? Dr. Jacobs does not think so.
This training, he argued, has a broader application that could help you save someone who's had a kitchen knife accident or fallen on a sharp stake. "Bleeding to death is not something that should happen to you, from any cause," he said. "We feel very strongly that that shouldn't happen and we're going to teach you how to make it not happen."
This is not to say that deaths from gunshot injuries are insignificant. In fact, firearm deaths and motor vehicle deaths are on par nationally—and in Nevada, according to the CDC, firearm deaths began to surpass vehicle deaths in 1991. Today, Nevada is one of 21 states where this statistic holds true.
When it comes to firearm injuries specifically, Dr. Kuhls sees civilian first-responder training as one piece of a larger public health drive.
"There are three arms if you look at it: One is a message to the public, two is legislative, and the third is engineering," she said. "With motor vehicle crashes we've been able to get the fatality rate down very significantly, and so we need to do the same thing with firearms."
Back on the front lines, four students sit around Trauma Registrar and nurse Kim Cerasoli. They pepper her with questions about how much gauze to put in ("until you can't get any more in") and what to do if a wound seems borderline dangerous. When in doubt, she tells them, go ahead and apply pressure:
"Doing something is better than nothing."
Sonja Swanson is a freelance writer. Contact her at [email protected]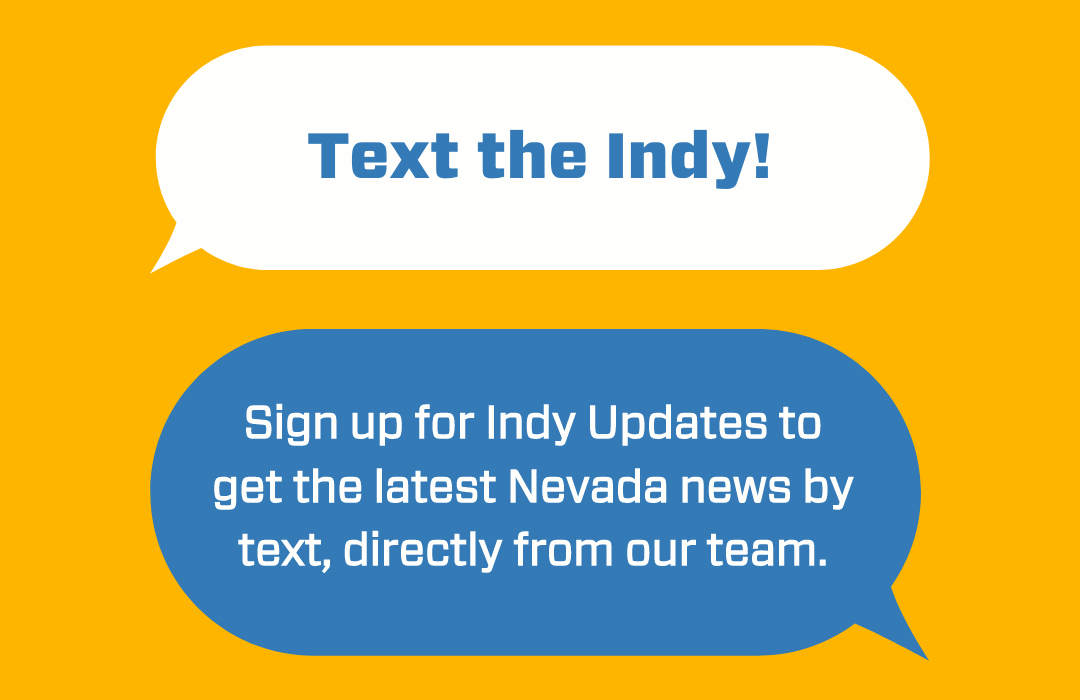 Featured Videos
Comment Policy (updated 4/20/2021): Please keep your comments civil. We reserve the right to delete comments or ban users who engage in personal attacks, use an excess of profanity, make verifiably false statements or are otherwise nasty. Comments that contain links must be approved by admin.