Student protesters push for police-free schools, more funding for mental health support and guidance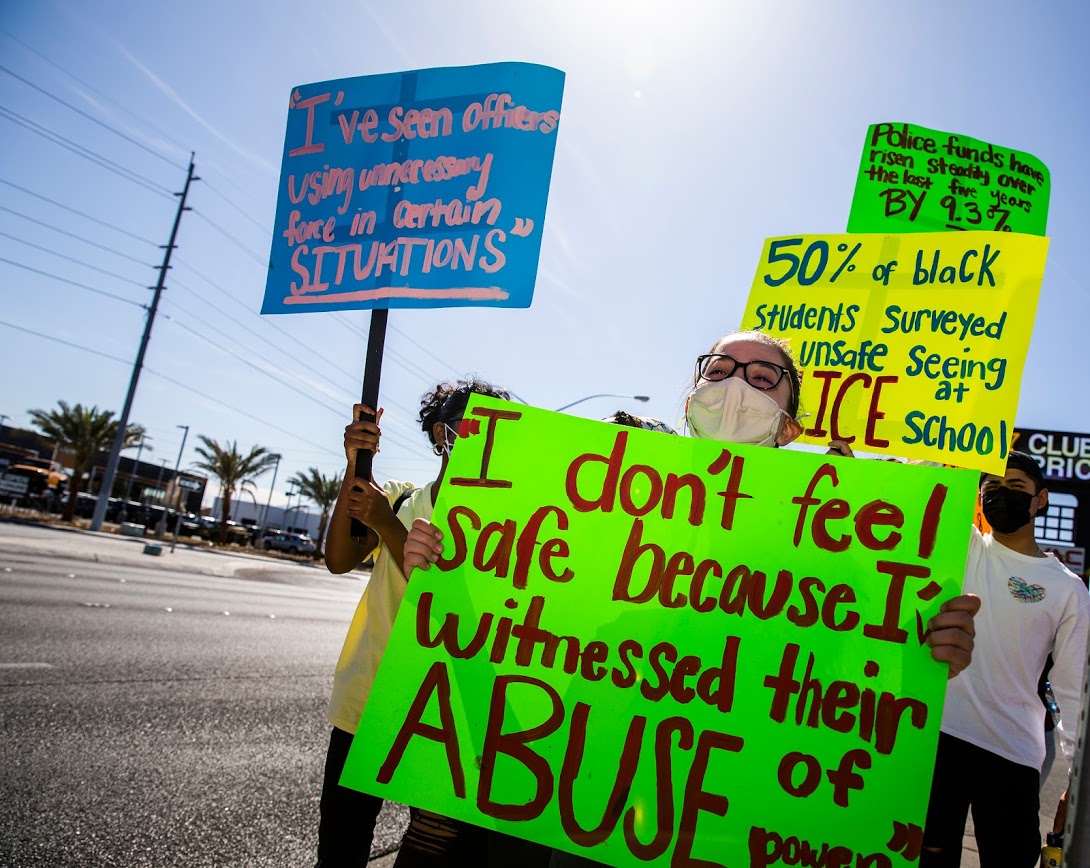 Some Clark County students rallied on Wednesday outside of the district administrative building demanding changes to police presence at schools, ending the use of pepper spray on students and putting more funding toward mental health resources.
The small rally organized by progressive advocacy group Make the Road Nevada was made up of about 10 students holding signs calling for police-free schools. Some recounted negative experiences with school officers, including seeing officers bodyslam their peers and breaking up fights using pepper spray that affected students standing by.
"The heavy feeling I get when walking through the quad as I'm simply trying to get from class to class is a discomfort that no student should feel in what's meant to be a safe learning environment," Ruth Dinberu, a sophomore, said at the rally.
CCSD shared a statement on Twitter on Wednesday stating that school police officers are "a fabric of the district" who ensure safety in schools and are part of the Clark County School Justice Partnership, which works to hold students accountable and provide community support.
"Our biggest priority is to keep students and employees safe. We strive to treat all students fairly and provide them with early interventions before behavior problems escalate," the statement reads. "This will ensure our schools are safe places and our classrooms are more productive, while helping to keep our students on the right track."
Between 2012 and 2020, school police officers deployed pepper spray in student incidents in schools nearly 180 times, according to CCSD records gathered by Make the Road Nevada for a report published April 6 on students' concerns with school police. Pepper spray can cause coughing, gagging, pain around the eyes, chemical burns, lung inflammation and asthma attacks.
The students at the rally said that they would rather see increased funding for resources, teachers, nurses, social workers and mental health support.
"Students need more mental health resources available to them, and it's time that we implement more restorative justice programs in our schools," Dinberu said. "Instead of funding school police that makes so many students uncomfortable on campus on a daily basis, it's time we divest from criminalization and invest in our education by supporting our students, specifically our Black and brown communities and providing a safe learning environment."
CCSD is the fifth-largest school district in the U.S., with a student body that is about 47 percent Latino, 24 percent white, 15 percent Black and 7 percent Asian and Pacific Islander.
The most recently available district Comprehensive Annual Budget Report for fiscal year 2018-2019, shows CCSD spent more than $18.4 million on the district police force, which employs approximately 220 officers. The officers respond to about 140,000 calls for service and provide service to 360 schools.
Kelli Varrato, a school counselor at Durango High School, held her own signs counter protesting the demand for police-free schools. Although alone, her message was clear: school police officers are essential for the safety of students and teachers. She said she agrees that there should be more funding for mental health, guidance and intervention programs while also keeping the school officers.
"I feel like police are necessary no matter what part of town we're in or the socioeconomic area. They're needed for various reasons," Varrato said. "School police wear many different hats. They actually establish positive relationships with the students and try to really ingrain themselves in the community with the parents and the staff, and they're there for positive purposes, not for negative."
Varrato, who has worked closely with school police officers during her 30-year career, said she has seen officers support and guide the students who often get in trouble and "get them on the right track." She said that school officers are different from Las Vegas Metro Police because they are more involved in the community through the teachers, parents and students.
"It's really purely about keeping everyone safe so they can learn, have a conducive learning environment and a conducive teaching environment," Varrato said.
The Nevada Independent is raising $200,000 by Dec. 31 to support coverage of the 2024 election.
Tax-deductible donations from readers like you fund this critical work.
If you give today,your donation will be matched dollar-for-dollar.
Give + Get Matched
Featured Videos