Students should help shape the 'Future of Learning'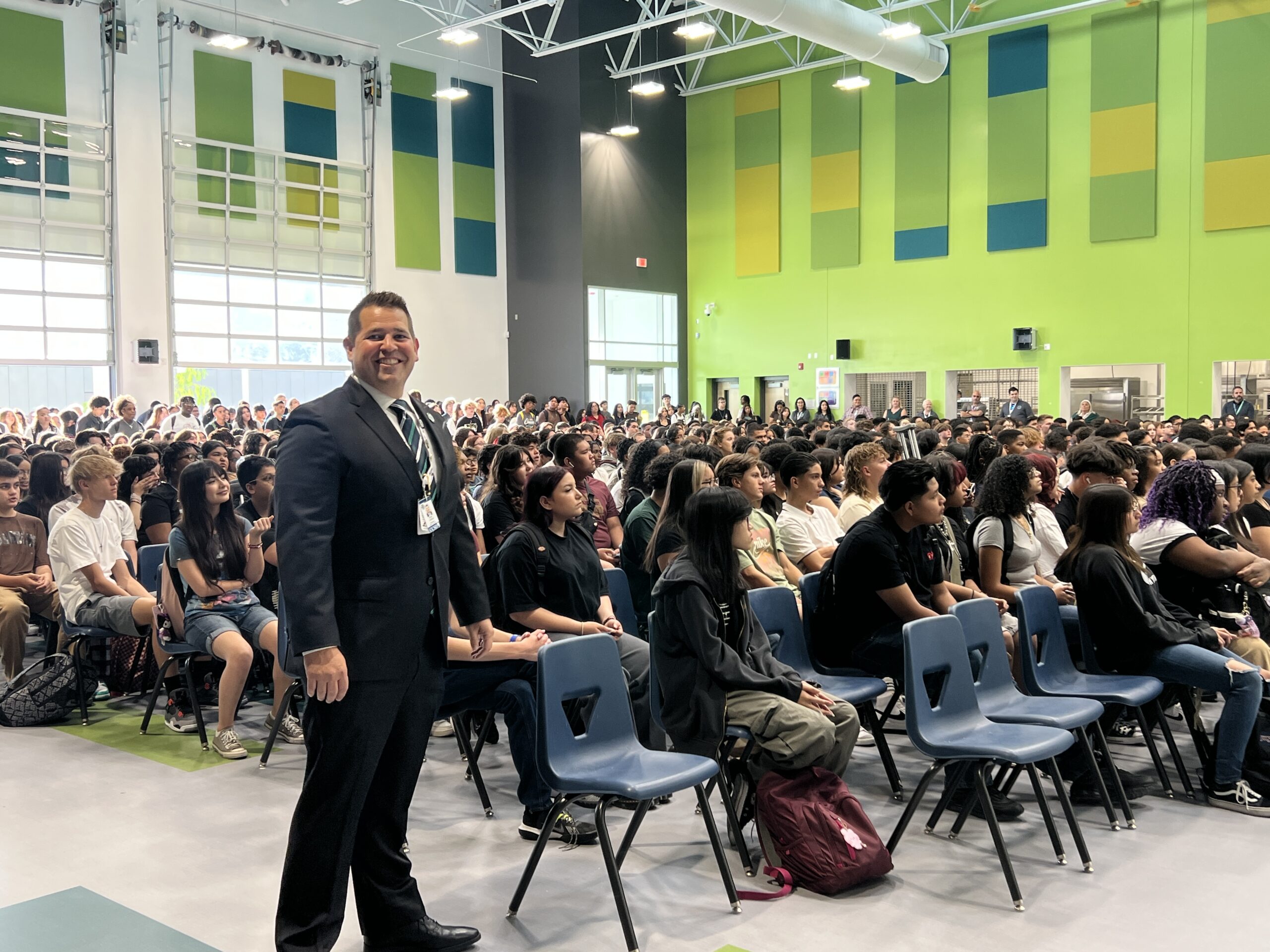 Imagine an educational system that addresses and accommodates students' diverse strengths, needs and goals — a system that not only centers learners but is informed by their voices and embraces them as collaborators in their learning. On Oct. 13, it happened.
Youth leadership from ed.Xtraordinary and Knowledgeworks supported the launch of Portrait of a Nevada Learner, a Nevada Department of Education initiative that aims to transform what it means to "do" school. They did this alongside and with the Nevada Future of Learning Network, the Spring Valley High School student council and the Spring Valley dance team that led the launch of the network and portrait.
Showcasing their artistic and intellectual strengths, youth leaders engaged peers, educators, community and state leaders in understanding the Portrait of a Nevada Learner in creative, joyous and interactive ways. As a Nevada Future of Learning Network ambassador, I was in awe of what the students had designed and created in collaboration with adult leadership to promote the future of learning in Nevada.
From dance performances to a Zen room with singing bowls and creative displays of students' understanding of how they express their learning of content, students brought energy, excitement and fun to learning. What if this wasn't just an event and was the reality of school every day? Undoubtedly, we would not have the current level of chronic student absenteeism and 1,000-plus vacancies for teachers in Clark County School District. Teachers and students, administrators, Superintendent Jhone Ebert, community members, legislators and 200-plus community partners have acknowledged that "business as usual" can not be how education moves forward in Nevada.
What is the aim? Student-led education. The Nevada Portrait of a Learner's design centers on competency-based learning so students can have the opportunity to show mastery of subjects without traditional seat-time requirements. Such a shift also permits students to engage in learning that is meaningful to their journey in school.
Education nationwide is in crisis, especially in Clark County, where only 39 percent of schools are performing at three stars or higher, per the statewide accountability system. Commercial curriculum, arbitrary seat time, one-size-fits-all pathways and unreasonable expectations that every student will attend college are the realities of today. Our students want their voices heard, seen and valued, and they want to advocate for change in their own educational journey.
What if we allowed students to earn credits for the learning and community leadership they engage in outside school? What if we offered pathways that empower students to take ownership of their learning and set clear goals in collaboration with their teachers to learn content and acquire critical 21st century skills for college, career and community?
Personalized, competency-based learning is a nontraditional approach to teaching that affords students the opportunity to do just that while demonstrating their mastery of specific topics. What if students had the opportunity to learn interior design or architecture skills by building and designing a home for community organizations such as St. Jude Children's Research Hospital, which hosts a Dream Home Giveaway each year? Through the Portrait of a Nevada Learner, students have options to engage with and within the community as they become more self-directed in their learning.
The Portrait of a Nevada Learner has the support of more than 200 community partners and the Nevada Department of Education. There are more than 1,400 data points from surveys and virtual discussions with students, educators, community members and leaders throughout the state whose feedback informed the design and development of the program.
Specific conditions must be in place to realize success and have this endeavor become a reality for Nevada's students.
Prioritization of student voices: As the 2024 Nevada State Teacher of the Year and a Nevada Future of Learning Network ambassador, I hope to collaborate with local and state legislators to inform policy that will support the implementation of the Portrait of a Nevada Learner statewide. A critical need that has been identified is listening to students about their assessments and reflections on their academic and social needs. I am committed to hosting a series of listening sessions to hear from students in rural, urban and suburban communities to ensure that all learners' needs are addressed.
Incorporation of community voices: The success of the Future of Learning Network requires ongoing communication, collaboration, and engagement with the community in the iterative process of the Portrait of a Nevada Learner. Community voices and insight through surveys and listening sessions are integral to the program's progression, affording the community diverse entry points and engagement opportunities and helping ensure the program's sustainability.
Commitment to imperfection: Efforts to shift an education system as traditional and long-standing as the current one require a commitment to failing in the direction of growth. Educators and education leaders want to be perfect but to grow, we must learn to be imperfect. At the October launch of the Portrait of a Nevada Learner, Northeast Career and Technical Academy Principal Ryan Cordia acknowledged in his reflections, "We learned a lot in the first quarter working with the Portrait of a Nevada Learner, and we made mistakes, but we are learning and growing from them into quarter two." That is the goal of this work. The shift won't be seamless, easy or fast. It will be imperfect, but we can and will move education forward.
How do I contribute? How do I thrive through challenges? Who am I? How do I connect and belong? These questions guide the Portrait of a Nevada Learner. We want our students to answer these questions through their educational careers and transition into college, career and community. As members of the Nevada community as well as global citizens, our students deserve an education informed by their voices, strengths and leadership.
Laura "Jeannie" Penrod is the 2024 Nevada Teacher of the Year, Nevada Future of Learning Network ambassador 2023-24, and Teach Plus CEO Teacher Cabinet. She is in her 18th year of teaching in the Clark County School District. Penrod teaches English at Southwest Career and Technical Academy.
The Nevada Independent is raising $200,000 by Dec. 31 to support coverage of the 2024 election.
Tax-deductible donations from readers like you fund this critical work.
If you give today,your donation will be matched dollar-for-dollar.
Give + Get Matched
Featured Videos