Susie Lee launches $500,000 ad campaign, polling behind Republican opponent Becker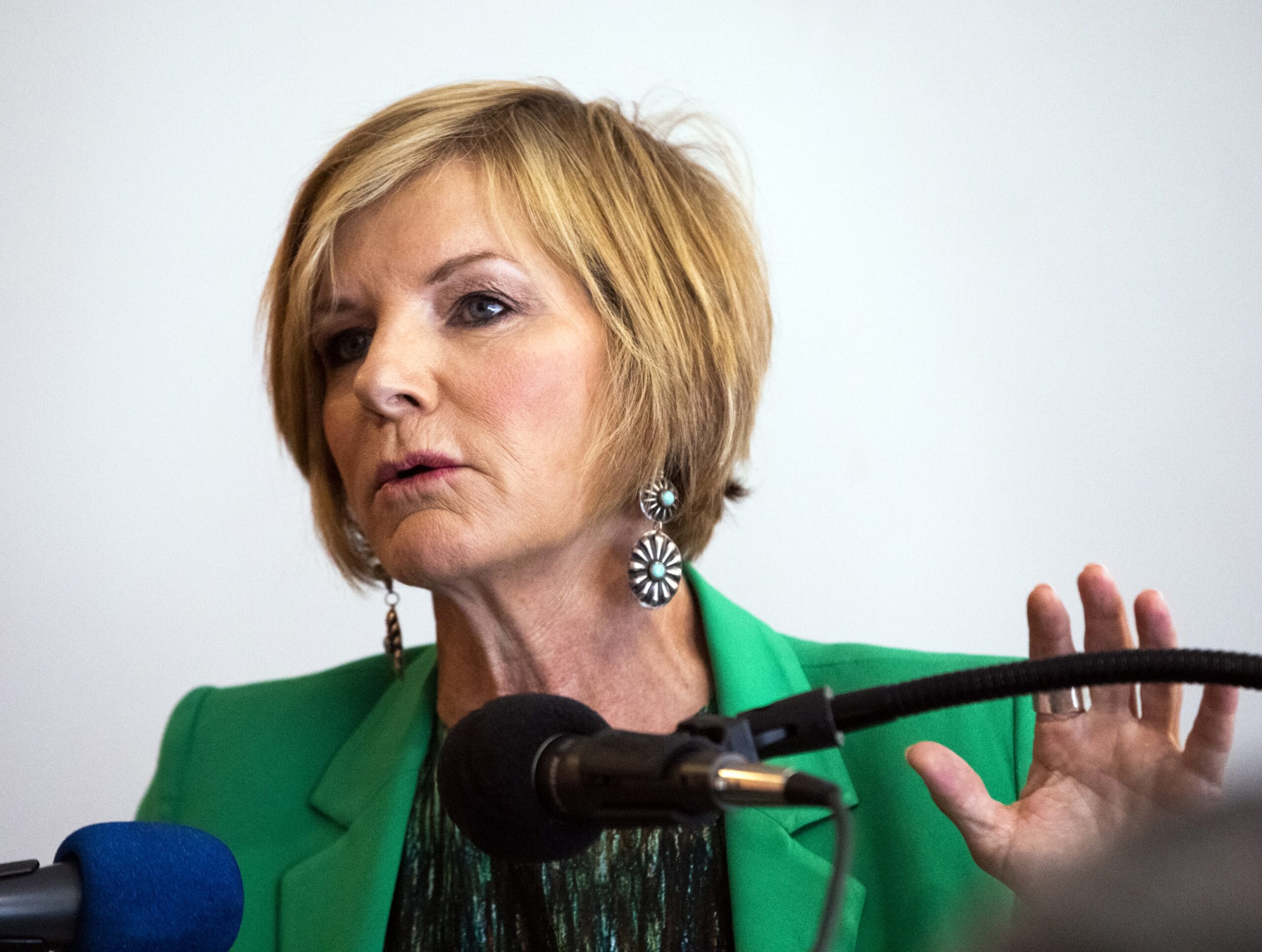 Democratic Rep. Susie Lee announced last week her first television ad of the 2022 election cycle, part of a $500,000 ad campaign touting herself as "pro-choice" and her Republican opponent April Becker as "anti-choice."
With the launch of the ad campaign following the U.S. Supreme Court's ruling overturning Roe v. Wade, Lee has quickly moved to frame the race as a "stark choice" for voters in District 3.
It marks the first major spending of the cycle for Lee, as new polling commissioned by the Becker campaign and National Republican Congressional Committee (NRCC) indicates that likely voters in the toss-up district are almost evenly divided between the two candidates.
The poll, conducted by The Tarrance Group (rated "B+" as a pollster by FiveThirtyEight) from June 20-23 just before the overturning of Roe, found Becker held a slight lead over Lee (46 percent to 44 percent) within the poll's 4.9 percent margin of error, among 400 likely registered voters in the district.
That narrow divide dovetails with most evaluations of the race. The Cook Political Report, Politico and others rate the race as a "toss-up." Lee is considered a "Frontline Democrat" — a classification from the Democratic Congressional Campaign Committee (DCCC) given to members in the most competitive races.
Since Becker's victory in the primary election earlier this month, the two candidates have elevated their political attacks on one another in the tight race.
In Lee's television ad, a narrator describes Becker as "threatening every woman's right to choose." Lee's campaign also announced a "search party" for Becker in Las Vegas on Wednesday, throwing a dig at Becker for her minimal comments on the issue of abortion.
On Becker's website, she simply describes herself as "pro-life, with exceptions for rape, incest and the life of the mother." In a statement last month, Becker echoed that sentiment and said she believes "states should decide abortion policy," but she did not answer specific questions about her position on abortion access.
This week, Becker has flipped the attacks back onto Lee, asserting that she only used the television ad to attack her "for being a Republican woman."
Becker also attacked Lee for the findings of a Mother Jones story published earlier this week, which reported that the congresswoman owned stocks in a company called Evoqua Water Technologies that could potentially financially benefit from a piece of legislation she helped author. Though purchase of stocks in the company were completed by a money manager without direction from Lee, the Democrat helped pass legislation as part of the federal infrastructure package to provide more funding for water recycling projects, which Evoqua engages in as part of its work.
"Members of Congress must be banned from trading stocks," Becker said in a statement. "[Lee] should immediately divest her holdings and apologize for this unethical behavior."
When asked whether Lee believes her ownership of Evoqua stocks is ethically problematic, a spokesperson for Lee described her as "a tireless advocate for water infrastructure legislation to address the drought crisis" and said it was an attempt to move the conversation away from abortion.
"This is just April Becker's latest desperate attempt to distract from the fact that a vote for April Becker is a vote to ban abortion nationwide with no exceptions," she said.
Becker's latest attacks mostly marked new territory for the Republican challenger, as she has, for most of this year, focused her campaign on inflation, blaming Lee and Democratic policies for high prices and tying the incumbent to President Joe Biden.
Those economic-oriented attacks are likely here to stay. The Tarrance Group poll found just 37 percent of respondents approved of Biden's performance, below the national average, and four out of 10 respondents identified economic issues, including inflation and jobs, as their top concern.
Still, Becker continues to face an uphill battle in the money race. Lee entered late May with more than $2.3 million in her campaign war chest and has only begun to dip into that money with the $500,000 ad campaign. Becker, who ramped up spending ahead of her crowded primary battle, entered late May with just $250,000 in the bank.
Featured Videos
Comment Policy (updated 4/20/2021): Please keep your comments civil. We reserve the right to delete comments or ban users who engage in personal attacks, use an excess of profanity, make verifiably false statements or are otherwise nasty. Comments that contain links must be approved by admin.