Reno, NV. Public domain photo via Wikimedia.
The Indy Outlook: The High Cost of Housing in Reno
August 13th, 2017 - 8:16am
Home means Nevada to me. But for too many Nevadans, a home is simply unaffordable. Nevada has one of the lowest shares of households in the nation that own their own home, and the share in Reno is lower than for the rest of the state.
The benefits of home ownership are economic as well as psychological. Worldwide, the ownership of housing is the major path for working people to build up wealth. People who own their homes take better care of their property, and there is a strong correlation with civic participation, educational achievement, less crime, and less reliance on public assistance. Of course, it is essential that homeowners be able to afford their mortgage, so we don't risk another financial crisis.
But as important as home ownership is, we should not forget about the large share of households that just rent their home or apartment. People need a decent place to live, where they feel safe and secure. They need a roof over their heads. This is more difficult than it should be, especially in Reno.
The median wage in the Reno area was $16.61 per hour in 2016, an annual income of around $33,000 if you work full-time for 50 weeks a year. Since one-bedroom apartments in Reno rent for an average of $932 per month, this means that our median full-time worker in Reno would have to spend 33.7 percent of his or her pre-tax income on rent to live in an average one-bedroom apartment.
Federal HUD guidelines officially consider you to be "rent-burdened" if you spend more than 30 percent.
It's not much better in Las Vegas, where the average one-bedroom apartment rents for $804 per month and the median worker earns $15.94 an hour. That's 30.2 percent of gross income for a full-time median worker.
It helps not to live alone. The median household in Reno earns about $47,000 per year, still less than it was a decade ago, and the average two-bedroom apartment rents for $1,156, or 30 percent of the median family income. If you want a house instead of an apartment, Zillow reports that the median monthly rent is $1,650. If you are single, you need a housemate.
Buying isn't cheaper, though you may get more for your money. Zillow reports a median home price of $318,600 in Reno. Assuming 10 percent down and only 4 percent interest on a 30-year loan – which means you must have great credit – the median household would still have to devote 35 percent of pre-tax income just to make a mortgage payment on an average home, never mind the property taxes, insurance, utilities, and other costs of home ownership.
This figure shows the quarterly all-transactions housing price index for Reno and Las Vegas compared to California and the United States on average, from 1980 through the first quarter of 2017, divided by the consumer price index and adjusted for the current median home price. Real housing prices in Nevada were stable for more than two decades, before the high prices in our big neighbor to the West spilled over the Sierras.Real home prices in Reno are now 32 percent higher than the average from 1980-2000, while prices in Las Vegas are now only 4 percent higher.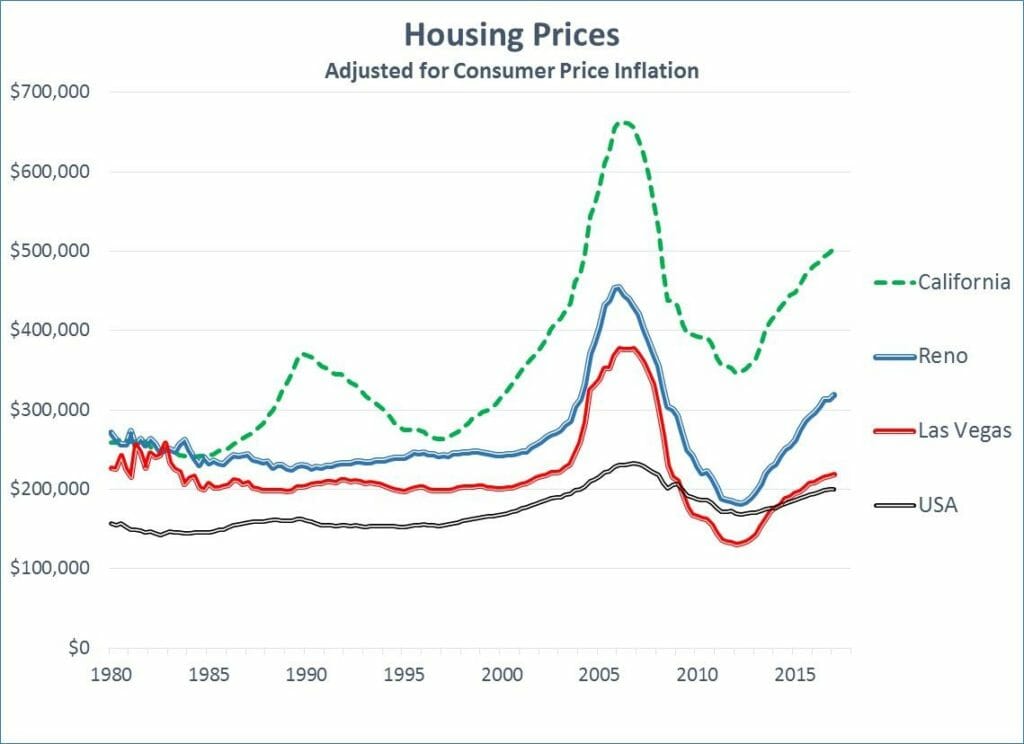 If you moved here from somewhere like San Jose, where the average wage is not quite double and the median home price is more than double, Reno might seem like a bargain, especially when you add in the absence of a state income tax.
Housing in Nevada was really a bargain five years ago, when real inflation-adjusted home prices were lower than they had been in 40 years or more. That was after six years of decline following the housing boom, the resulting financial crisis, and Great Recession it caused in turn. But in the last five years, housing prices in Reno have risen by 76 percent, even after we adjust for consumer price inflation. This was the single largest percentage increase in the nation, for all urban areas for which statistics are available.
Why is our housing becoming so much more expensive? Part of the problem is that Nevada was the epicenter of the last housing crisis, and when construction workers lost their jobs, two-thirds of them left the area. As a result, we stopped building homes and apartments for more than a decade, but our population kept growing even during the worst of the crisis. We had a huge backlog of demand, and still have limited inventory.
Some rental properties are being converted to meet the demand. Locals have even started to say they have been "Tesla'd" when their landlord evicts them in order to convert their apartments into more profitable condominiums.
In the last five years, Washoe County has added around 27,000 people and 26,000 jobs, with an annual employment growth rate of 2.7 percent. Once again, construction has been the biggest growing employment category, though we are still 10,000 jobs below where we were back in 2006. Other big sectors of job growth include health care, warehousing, food service, and retail sales. Though Tesla and other new employers receive much of the attention, in five years we have only added 1,100 manufacturing jobs.
With construction workers moving back, we are starting to build again. The Census reports that Washoe County has increased its total housing by 6,500 units in the last six years. Building permits in Reno fell from a high of almost 6,500 per year in 2005 to around 540 in 2011, but then rebounded to almost 3500 permits in 2016. In the first half of 2017, almost 2200 permits were issued, up 65 percent over the first half of the prior year.
But the houses we are building are bigger and more expensive, though they are often built on smaller lots. Homebuilders make more profit on bigger homes, and the demand for big houses drives up land prices, so builders can't make a profit by paying attention to the needs of even average families, never mind those whose incomes are less than average.
We have limited places to build, and developers pay a much higher percentage in local government fees if they build a cheaper house than if they build more expensive ones. This makes it harder for people to get into a starter home.
Many of us can remember our parents buying their first home. Three bedrooms, maybe two baths, 1,200 square feet, and a small yard. We don't build many of those anymore.
We should make it easier to build small homes and apartments in unused urban lots, even tearing down abandoned properties, but instead it is cheaper to build on the outskirts of town. As a result, even if builders wanted to build houses that regular people could afford, they would likely be located far away from either jobs or bus lines.
Our federal income tax system exacerbates this demand for large houses. The mortgage interest deduction requires married homeowners to itemize more than $1000 per month in deductions before they exceed the standard deduction, and the more income they make the bigger percentage they get back. This deduction encourages those with higher incomes to borrow more in order to buy bigger houses than they need, but it does nothing to benefit the majority of households. It is a perverse incentive, but builders, realtors, and those who own large homes would oppose getting rid of it.
Growing income inequality also exacerbates this problem. In 2013, the top 1 percent of households in Nevada earned 38 times as much as the average income of the other 99 percent, making Nevada the 4th most unequal state. In Reno, this was only 33 times as much. From 1979 to 2013, the average real income of the top 1 percent in Nevada grew by 164 percent, while the average real income of the remaining 99 percent actually fell, by 11.6 percent. Those at the top have the money, and we are building homes for them, not for those at the bottom or even the middle. That's how these markets work.
Can we fix this? It is hard to control the speculative behavior of investors, landowners, and homebuyers that leads to the wild swings we have witnessed in the Reno housing market, though we can try to avoid getting caught up in it and hope we are ready if and when it ends. However, we can try to start changing the composition of the housing we provide, at least if we really care about the working class.
It will not be free and it won't be easy. We may have to start demanding more affordable housing, ranging from starter homes for buyers to convenient multifamily housing for renters, and this will require real action, not wishful thinking. We may need to change our zoning laws, our fee structures, and the other incentives we give to developers, and these changes might make more sense than subsidizing the mortgages of the top 20 percent.
We could also follow other policies to help more people afford a house, by reducing inequality and increasing the incomes of those who work for a living, perhaps by providing skills, education, and opportunities. But that is another column.
Elliott Parker is Professor of Economics at the University of Nevada, Reno. His new book, Nevada's Great Recession: Looking Back, Moving Forward, with Kate Marshall, is available from the University of Nevada Press.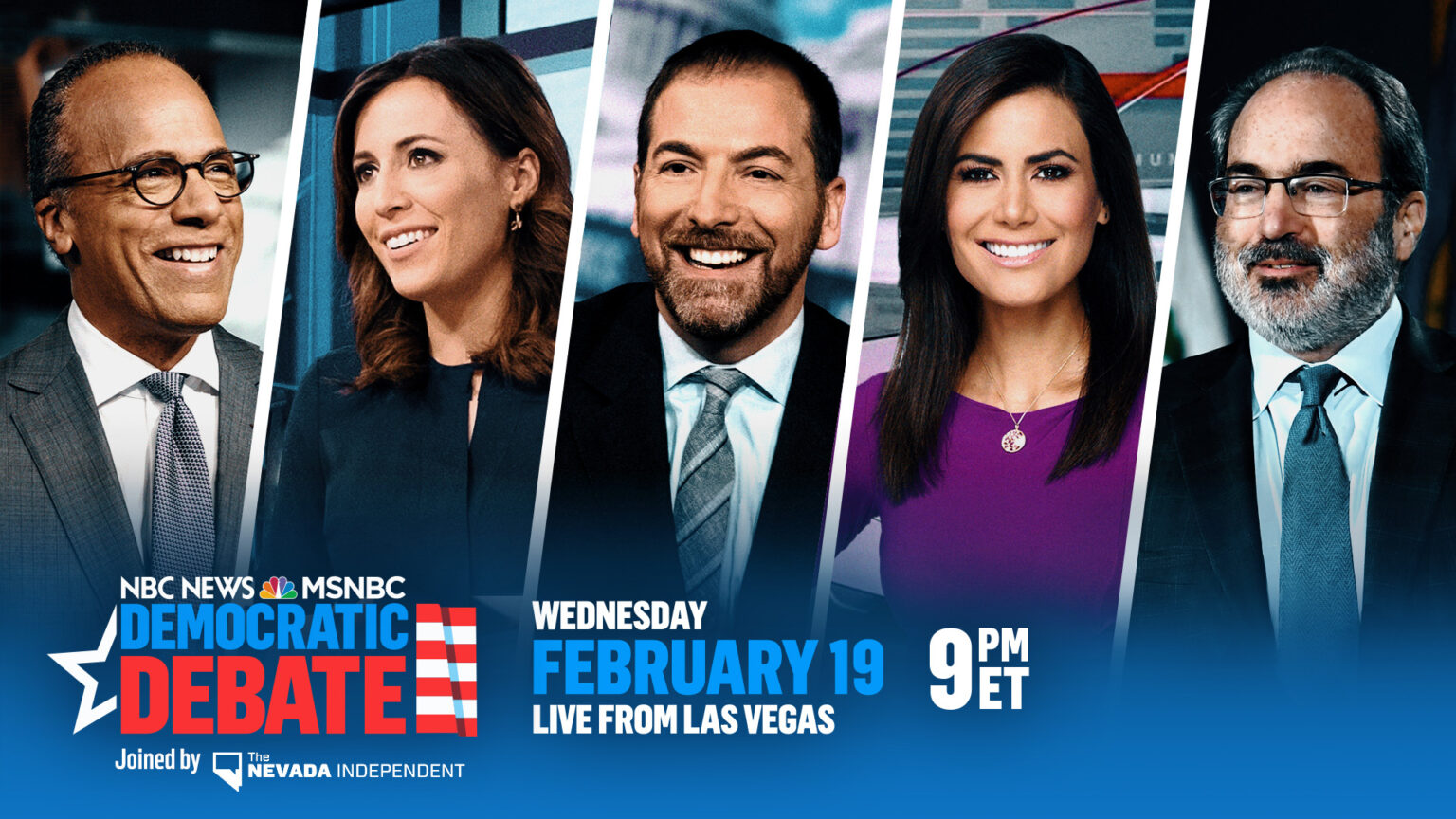 Comment Policy (updated 10/4/19): Please keep your comments civil. We reserve the right to delete comments or ban users who engage in personal attacks, use an excess of profanity, make verifiably false statements or are otherwise nasty.