There are tens of thousands of actual wild horses in Nevada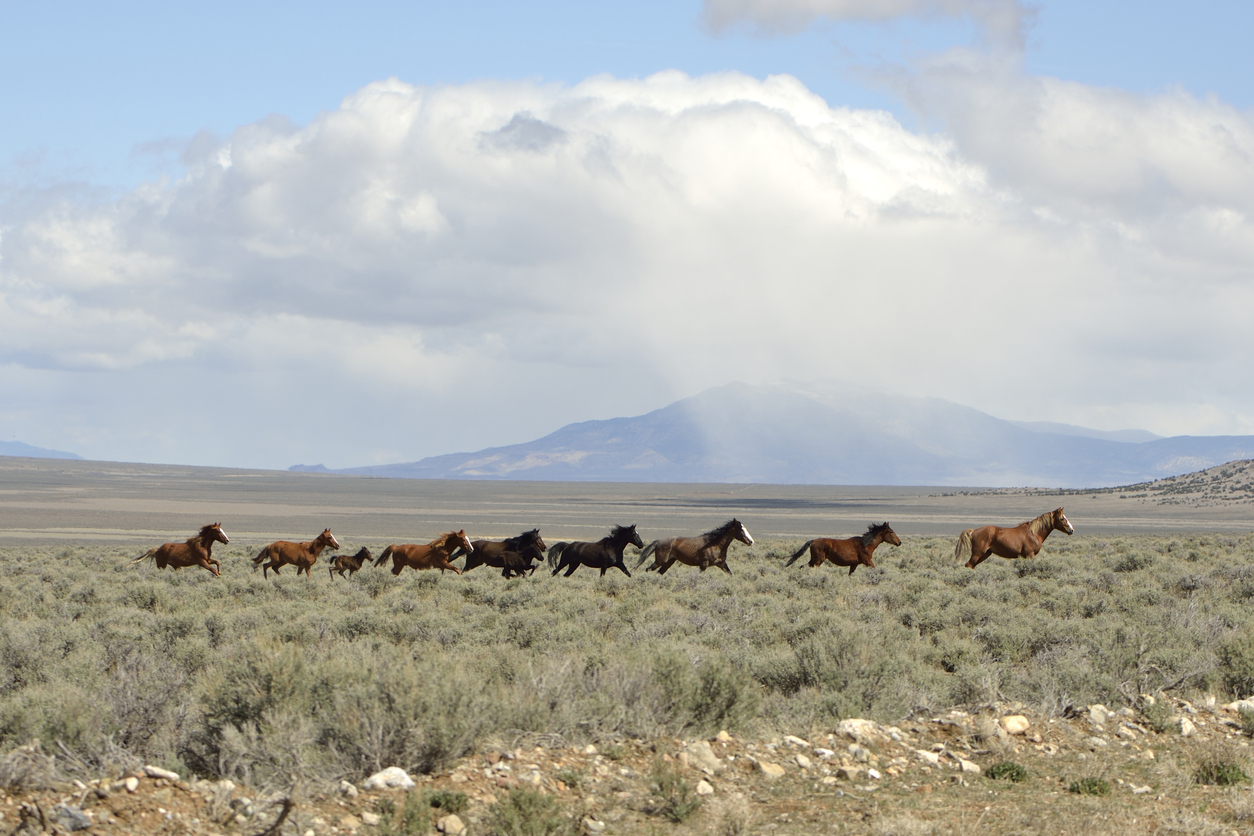 The only thing David Colborne got right in his recent opinion-editorial entitled "Sorry everyone, Nevada still does not have wild horses" is that wild horse preservation and wild horses are extremely popular among Nevada voters. This popularity extends across party lines, across Northern and Southern Nevada, and across our rural regions as well as Clark and Washoe counties.
This fact was confirmed in a 2018 poll of Nevadans conducted by the highly respected Public Policy Polling firm (rated A- by FiveThirtyEight). Here are some sample results:
Question: Wild Horses should be protected from slaughter
Overall   Trump Voters  Clinton Voters   Others
Agree: 75% 70% 79% 78%
Disagree: 18% 22% 14% 15%
Question: Mustangs are a symbol and should be protected
Overall   Trump Voters  Clinton Voters   Others
Agree: 86% 78% 91% 93%
Disagree: 11% 19% 5% 5%
Eighty-six percent. There is no other issue in Nevada this popular on a bipartisan basis. None. Nevadans view wild horses as an emblem of our culture, our lifestyle, the American West. Wild horses, like Nevadans, are rugged, self-reliant, independent and free.
Visitors to Nevada also love our wild horses. Here in the Tahoe-Reno Industrial Center, located in the heart of the Virginia Range – which is home to the largest concentration of wild horses left in existence in the world – all the big tech company leaders absolutely love our wild horses. This includes Elon Musk, Rob Roy and many others here.
At the recent Tesla event announcing its new $3.5 billion-dollar semi-truck manufacturing plant, the Tesla truck and trailer parked out in front had a massive mural on the trailer depicting wild horses on the ridge overlooking the Gigafactory. WalMart has wild horse images on its massive facility here. And many of the companies here support wild horses through the provision of watering stations and by authorizing wild horse volunteers to access their land for darting and diversionary feeding.
Now let's get to the key problems with Colborne's piece. Webster's dictionary offers the following definitions:
Wildlife - living things, and especially mammals, birds, and fishes that are neither human, nor domesticated
Wild - a wild, free, or natural state of existence
Under plain English conventions, horses roaming free and not under human care, generation after generation, are indeed wild. And for more than half a century, federal law also has defined the horses roaming free in Nevada as wild horses:
"'[W]ild free-roaming horses and burros' means all unbranded and unclaimed horses and burros on public lands of the United States. (16 USC sec 1332(b))
As 86 percent of the land in Nevada is federal land, all the unbranded, unclaimed horses roaming free are in reality and under the law wild horses. It also should be noted that during past roundups and removals by the BLM, a miniscule number of the horses recovered (well under 1 percent) had brands, and very few of those were ever returned to an owner.
It is undisputed that horses were here before any American set foot on the land which would become Nevada. The Lewis & Clark expedition encountered wild horses as well as domesticated horses with the Shoshone in Montana in 1805. Those horses were descended from the steeds of the Conquistadors and migrated across the western states.
There is no study that has ever concluded there was a period of time in Nevada where the state had no horses roaming wild and free. Likewise, there has been no definitive, fully comprehensive DNA study which has tested every band of wild horses in Nevada to determine lineage.
The Virginia Range is the area bounded by Interstate 80, Highway 95A, Highway 50 and Highway 395/Interstate 580. It is almost completely privately owned. The horses there fall under state jurisdiction, not federal. In a compromise on language and terms with ranching interests and wild horse advocates, the Legislature has passed laws which defined horses in this area as "feral." But even this particular law has the following definition:
"Feral livestock" means any formerly domesticated livestock or progeny of domesticated livestock which have become wild and are running at large upon public or private lands." (Emphasis added; see NRS 569.008)
Even state law refers to the Virginia Range horses running at large anywhere in the state as "wild."
Here's the core issue: There is a small faction of people in Nevada pushing for full extermination of wild horses. Some want immediate removal of all wild horses and others want to get rid of wild horses a little at a time by cutting down the size of the herds well below what is needed for healthy breeding by frequent roundups and removals — death by a thousand cuts.
Let's be crystal clear: Roundups and removals by the BLM or the state equals slaughter of these magnificent creatures. Sure, some of the horses are adopted, but most are purchased by buyers who are not tracked or monitored to ensure the horse is not sent to slaughter via "kill buyers" or other nefarious intermediaries. The fact that many end up being slaughtered is beyond dispute.
The wild horse preservation advocates have proven that their darting program is the only effective solution to managing the wild horse population in the state. Having lived in the Virginia Range for more than 10 years, I have personally witnessed these volunteers working day and night, out in the snow, the rain, the mud, the intense heat, to protect these animals and manage the population to stay at sustainable levels. They are out here, day after day, with their own trucks, their own fuel, their own gear.
In my view, they are true angels on this good earth. Their program works and is a success by any measure. The Virginia Range wild horse preservation effort by local groups such as Wild Horse Connection and the American Wild Horse Campaign is the gold standard for good management of the wild horse population without roundups and slaughters.
If the state of Nevada were to come into the Virginia Range and/or the Tahoe-Reno Industrial Center and try to round up and remove wild horses, with many inevitably being slaughtered, you could kiss good-bye any hope of bringing in more great Wall Street or tech companies. Environmental excellence is a prerequisite to attracting top global companies these days. Simply put, wild horses are great for marketing Nevada and improving the diversity of our economy.
So, in conclusion, you're dead wrong, Mr. Colborne. The horses roaming free in Nevada are now and always have been wild.
Happily, Senate Bill 90, if passed, would declare the wild mustang as the official state horse of Nevada. This simple, short legislative declaration would enshrine what is already true in the hearts and minds of Nevada voters.
Kris Thompson is project manager of Tahoe Reno Industrial Center.
The Nevada Independent is raising $200,000 by Dec. 31 to support coverage of the 2024 election.
Tax-deductible donations from readers like you fund this critical work.
If you give today,your donation will be matched dollar-for-dollar.
Give + Get Matched
Featured Videos