TPS recipients, overshadowed by DREAMers, wage fight for attention, action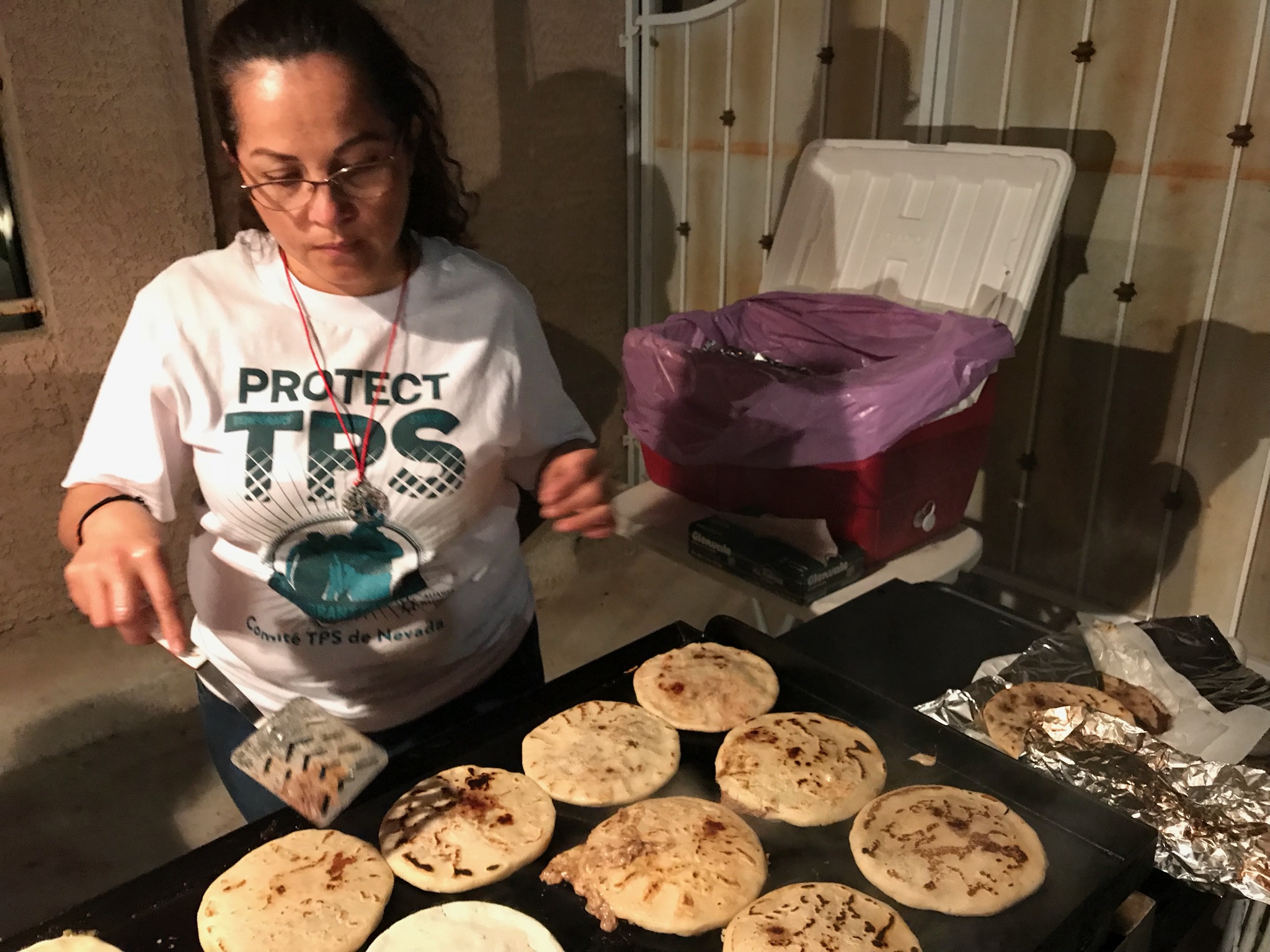 Amid the already difficult policy debate triggered by President Donald Trump's decision to crack down on immigration, thousands of Salvadorans living in Nevada are waging a fight that may be even more complicated.
Hotel workers such as Walter Martinez, a utility worker at the Wynn Las Vegas, are beneficiaries of a program designed to help immigrants from countries destabilized by war or other disasters. Trump last month announced that he would end the program, known as Temporary Protected Status (TPS) for Salvadorans, putting Martinez and other Nevada residents into legal limbo.
"We are part of this country," said Martinez, who has lived in the U.S. for over 15 years and who joined three other Las Vegas activists in sweeping through the offices of the Nevada delegation this week to make their case.
The TPS recipients are in a peculiarly difficult spot.
Facing a Congress that tends to respond to mass action and move only under deadline pressure, these workers must explain the why it is urgent for lawmakers to extend their protections now when the program is set to expire in 2019. The Salvadoran workers also must try to get their message out a time when DREAMers, the young people brought to the U.S. illegally as children, are greater in number -- an estimated 1.8 million compared to 200,000 for the TPS recipients -- are facing a March 5 expiration date for their own program. There are an estimated 4,800 TPS recipients from El Salvador in Nevada.
Migrants from nine other countries that participate in the TPS program are also concerned, including Haitians, Hondurans and Nepalese, as well as migrants from three countries that previously participated, including Liberia.
The delegation's four Democrats in Congress have been supportive on the TPS issue, which made the activists' meetings with the offices of Republicans Sen. Dean Heller and Rep. Mark Amodei more notable. Also, the GOP currently controls the legislative agenda by virtue of holding the majority in both the Senate and House.
The challenge of getting out from under the shadow of the DREAMers was on full display when the group met with staff from Heller's office. While sympathetic to the Las Vegas activists, the group said after the meeting, Heller's office has prioritized DREAMers, who are protected from deportation by the Deferred Action for Childhood Arrivals program (DACA), which Trump proposed to end next month.
In response, the group argued that both DACA and TPS are urgent and affect the same group of people, which augurs for a comprehensive solution.
"We want a comprehensive immigration law for all," Martinez said.
The activists were upbeat after meeting with Amodei, who pledged to help their cause.
"The politics are getting in the way of the facts," Amodei told The Independent after the meeting Tuesday.
He said the group has an excellent case to make in that they have lived in the country for over a decade, in most cases, and have been checked out by law enforcement periodically over the years in order to continue to participate in the TPS program. They also work and pay taxes.
Among the legislative solutions Amodei said he would consider is a measure introduced by Florida Republican Carlos Curbelo that would grant legal permanent resident status to more than 300,000 qualified Nicaraguan, Honduran, Salvadoran and Haitian migrants who have been in the TPS program prior to 2011.
Amodei is one of two Republicans who have signed onto a Democratic measure to force a vote, if a majority is reached, on a bill that would legalize the nation's DREAMers who meet certain requirements and provide them a path to citizenship.
Along with Martinez, the Las Vegas activist group included Sandra Granados, a waitress at Wynn Las Vegas of Salvadoran descent and TPS recipient; Jose Ricardo Lopez, an industrial laundry worker in Las Vegas of Honduran descent and TPS recipient; and Miguel Angel Funes, who works at Mandalay Bay and is a U.S. citizen, but whose brother is a TPS recipient.
The four are members of the Nevada TPS Committee, which helps program participants in the state. They, along with ¡Arriba! Las Vegas Workers Center, took part in a three-day lobbying effort in Washington spearheaded by The National TPS Alliance, a group made up of TPS committees from around the country.  
Other House Republicans have also weighed in on TPS. Texas Republican Roger Williams met this week with Salvadoran Foreign Minister Hugo Martinez to discuss the TPS matter. Williams said he supports helping those in the program, but cautioned that the issue should be dealt with separately from DREAMers in order to make sure neither gets caught up in the political horse-trading.
"If you blend them, somebody's going to lose," Williams told The Independent, adding that the TPS issue "is much more powerful, in some cases, than the DACA issue."
California Republican Darrell Issa also met with Minister Martinez and told The Independent that he discussed his idea of using slots in the diversity visa lottery, which is designed to give permanent residency to immigrants from countries with historically low rates of immigration to the U.S., and give those visas to TPS recipients. He has a similar proposal for DACA recipients.
In addition to meeting with Amodei, the activists also met face to face with Democratic Reps. Dina Titus, Ruben Kihuen and Sen. Catherine Cortez Masto. They also met with staff members from the offices of Democratic Rep. Jacky Rosen.
The discussions with the Nevada Democrats and their offices allowed those lawmakers to reassert their support.
"I think it's important for them to have a presence here," said Titus to The Independent after meeting with the group, adding that "I told them that I am with them...and to keep this going because that's how you make change."
Titus' comments were echoed by Rosen.
"Hearing these stories directly has reinforced for me how much is at stake for the thousands of Nevadans who are TPS recipients, and what ending TPS could mean for their families," Rosen said in a statement to The Independent. "These...personal stories that people share inform how I do my job in Congress and advocate for my state."
Cortez Masto pledged to "continue fighting."
"These Nevadans shared their fears that President Trump's decision to terminate their TPS status will destroy the lives they have built here in the United States, and jeopardize the lives and wellbeing of their children, many of whom are American citizens," she said in a statement to The Independent. "I will continue fighting for the rights of every Nevadan—our state is their home."
Disclosure: Wynn Resorts has donated to The Nevada Independent. You can see a full list of donors here.
Comment Policy (updated 4/20/2021): Please keep your comments civil. We reserve the right to delete comments or ban users who engage in personal attacks, use an excess of profanity, make verifiably false statements or are otherwise nasty. Comments that contain links must be approved by admin.