Mt. Charleston Blue butterfly photographed on August 4, 2010. (U.S. Fish and Wildlife Service)
Trump administration finalizes rule to weaken Endangered Species Act
August 13th, 2019 - 2:00am
The Pahrump poolfish, the spring-loving centaury and the Webber ivesia may not be household names, but to the U.S. Fish and Wildlife Service they are well known. They are among roughly 40 plants and animals in Nevada with habitat protected under the Endangered Species Act of 1973. 
For decades, conservation groups have used the bedrock environmental law to protect habitat for charismatic and lesser-known species threatened by development. Despite its passage in 1973 with strong bipartisan support, the act is a frequent target of industry and often finds itself at the heart of disputes over ranching, homebuilding, mining and oil and gas development.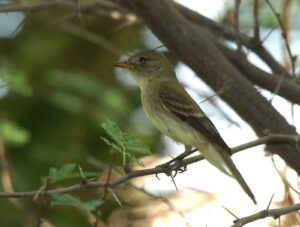 On Monday, the Trump Administration released revised regulations aimed at overhauling how federal agencies, chiefly the Fish and Wildlife Service, implement the act. The move, viewed by environmentalists as weakening the act, require the agency to include economic factors in the process for deciding whether to list a species as threatened or endangered. The action could additionally decrease "critical habitat" protections, make it more difficult for the agency to weigh climate change and leave threatened species without default protections once they are listed.
"This is one of the worst attacks on the ESA in recent memories," said Patrick Donnelly, state director for the Center for Biological Diversity, which focuses on protecting endangered species.
In a news release, the Fish and Wildlife Service said the new regulations were "designed to increase transparency and effectiveness and bring the administration of the act into the 21st century." But there was also a clear economic component. Commerce Secretary Wilbur Ross said that the rules "fit squarely within the president's mandate of easing the regulatory burden on the American public, without sacrificing our species' protection and recovery goals."
Kristen Boyles, a staff attorney with the environmental nonprofit Earthjustice, said the changes are tilted in favor of industry. She said the regulations, in some places, contradict the statutory intent of the act, and on the whole, run counter the wildlife service's mission: to protect species. 
"None of these regulatory changes are for the benefit of the species," Boyles said in an interview. "There is nothing good in these regulations for these threatened and endangered species."
Although some species are confined to a localized area — or even a few springs — many rely on a large landscape and face multiple threats, what Donnelly called a "death by 1,000 cuts." By making it easier to develop in what the agency often deems "critical habitat," Donnelly and other environmentalists argued that it could allow for the approval of more small-scale projects that have the cumulative effect of chipping away at populations across a listed species' range.
Many of the new regulations apply to future Endangered Species Act listings. As a result, there are still several unknowns about how the final rule will be implemented. But for environmental groups, one area of concern is with the removal of default protections for threatened species. When species are listed as threatened — a step below endangered — they receive the same protections as endangered species, often for years until a long-term habitat plan is developed. 
"The lack of blanket, default protections is a big issue," Boyles said. 
As an executive action, the final rule is all but certain to end up in court. Last year, 10 states asked the administration to scrap the plan. Nevada did not sign onto that original letter, and the attorney general's office did not respond to a comment about whether it would join a lawsuit.
On Monday, Sen. Catherine Cortez Masto joined several Democrats criticizing the move. Cortez Masto, who sits on the Committee on Energy and Natural Resources, said "Trump's gutting" of the act "threatens protected species and could put even more plants and animals at risk."
America is home to an incredible diversity of flora & fauna. Trump's gutting of the Endangered Species Act—even as species struggle with the effects of the #ClimateCrisis & human activity—threatens protected species & could put even more plants and animals at risk #StopExtinction pic.twitter.com/DOQfRrq6Hb

— Senator Cortez Masto (@SenCortezMasto) August 12, 2019
Several industry groups applauded the administration's decision on Monday. Hal Quinn, the president of the National Mining Association, said in a statement that the new regulations would align implementation of the act with its original purpose, helping species populations recover.
"Unfortunately, for too long, the statute has been misused for reasons that have little to do with any endangered species," Quinn said. "They have been a tool to facilitate perpetual listings as the justification for unwarranted land grabs and excessive land-use restrictions."
Industry groups often complain that the act is used to halt specific projects, and that the species are an afterthought to stopping development. Donnelly noted that his organization has been submitting more petitions to list species under the act, requests that often clash with powerful industries that want to develop land. But he said that's because species — and the habitats that they occupy and depend upon — face increasing threats from development and climate change.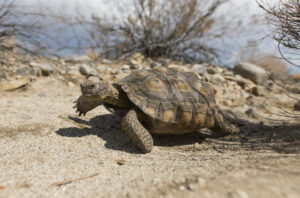 "We are in the middle of an extinction crisis," he said. "New threats are arising all the time."
In May, a United Nations report found that one million species are at risk of extinction because of human disturbances. Compared to other states, Nevada ranks 11th in biodiversity with a high number of endemic species, many still being discovered. Nevada ranks 3rd for at-risk species.
Stories
Candidate Trackers
Endorsements, Ads, Policies, Visits
& More
visit now
Comment Policy (updated 10/4/19): Please keep your comments civil. We reserve the right to delete comments or ban users who engage in personal attacks, use an excess of profanity, make verifiably false statements or are otherwise nasty.