Flowers lay on the ground near the Route 91 Festival grounds on Tuesday, October 3, 2017 following a deadly shooting that took place late Sunday night. Daniel Clark/The Nevada Independent
Trump budget cuts homeland security grants that helped Las Vegas police respond, coordinate during mass shooting
October 8th, 2017 - 2:00am
President Donald Trump and a host of Nevada officials praised Las Vegas police and emergency responders for their rapid response to the mass shooting Sunday that left 58 dead and nearly 500 wounded — but the proposed budget backed by the president would likely cut the flow of federal funds that helped make the response possible.
Nevada received $11.1 million in federal funds in Homeland Security grants for the 2017 fiscal year, including $2.8 million directed to Las Vegas specifically as part of the Urban Area Security Initiative (UASI) grant program. But the federal budget proposed by Trump and approved by the House of Representatives this week could lead to hundreds of thousands of dollars worth of lost federal funding for the state.
Although police officials have been hesitant to characterize the shooter, 64-year-old Stephen Paddock, as a terrorist, the shooting has renewed and highlighted long-standing concerns from Nevada leaders that the federal government is short-changing funding for grants that help fund state emergency response, training and equipment for tourist destinations such as Las Vegas.
The Trump administration proposed cutting the Urban Area Security Initiative grant program from $605 million to $449 million in the current fiscal year, and require localities including Las Vegas — which received roughly $3 million for the program in 2016 — to pony up for 25 percent of the grants, which are spent on training and equipment for bomb and hazardous-material squads.
Overall, the administration's plan would cut nearly $300 million from various homeland security grant programs, which it has justified with concerns that state and local governments that receive the grants aren't spending the entire amount.
"The federal government cannot afford to over-invest in programs that state and local partners are slow to utilize when there are other pressing needs," according to a written justification from the Trump administration reported by the Associated Press.
Republican Sen. Dean Heller seized on the shooting to underscore the need to revise the formula used to determine eligibility for the grant program, and said he brought up the funding formula while traveling with the president aboard Air Force 1 this week.
"This week's tragedy in Las Vegas underscores the need for Homeland Security to reconfigure its risk profile assessment formula and direct more federal resources to the city," said Heller in a statement to the Nevada Appeal on Thursday. "The Urban Area Security Initiative is critical to keeping both Las Vegas residents and tourists safe."
Democratic Rep. Dina Titus also criticized the proposed grant cuts, saying in May that the administration's budget was a "slap in the face" that would increase the burden on local law enforcement agencies without increasing safety.
The UASI grant program has long been an area of concern for the state's federal delegation, especially after Las Vegas was left off the list of cities receiving grant funds in 2013. It's even perturbed Gov. Brian Sandoval, who in 2016 said that the state shouldn't have to continue begging the federal government to be included on the list of localities receiving the funds.
"It seems we have to make this case over and over again," he said in January 2016. "I don't understand."
In addition to the Las Vegas-specific UASI grant, Nevada also received $3.7 million as part of the State Homeland Security Program and $4.5 million through the Emergency Management Performance Grant Program — both of which help fund the state's Division of Emergency Management, which helps coordinate the state response to emergency situations from mass shootings to natural disasters such as wildfire response or earthquakes.
Agency head Caleb Cage said that the agency has been kept busy this summer dealing with emergency response to wildfires and historic flooding in northern Nevada, and that preparing and training a response to mass shooter or terrorism-related events was one of the agency's top priorities.
"While there's a difference between a man-made event and natural disaster, an awful lot of the mechanics of response are going to be the same," he said.
Further cuts would continue a trend for the division, which estimates that federal homeland security grant funding has decreased by 68 percent since 2005.
Other funding reductions come in many ways — a recent $500,000 grant awarded to the Las Vegas Metropolitan Police Department through the Countering Violent Extremism grant program would be entirely eliminated by the 2018 fiscal year under the proposed federal budget.
INDY FAST FACTS
Dina Titus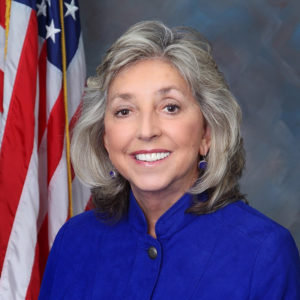 Job:
 Member of the U.S. House of Representatives Nevada's 1st Congressional District
Party:
Democrat
In current office:
2013-present
Birthdate:
May 23, 1950
Education:
College of William and Mary (B.A.) University of Georgia (M.A.) Florida State University, Tallahassee (Ph.D.)
Other public offices held:
Member of the U.S. House of Representatives Nevada's 3rd Congressional District (2009-2010) State Senator, District 7 (1989-2008)
Total donations:
$8,266,318 (4/1/08-6/30/18)
Top donors: 
MGM Resorts International $136,060 University of Nevada $62,859 Carpenters & Joiners Union $60,000 Rocky Research $58,300 Painters & Allied Trades Union $57,000 Last Report: 5
/23/18
Credit: Center for Responsive Politics
INDY FAST FACTS
Dean Heller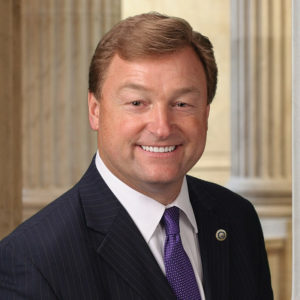 Job:
U.S. Senator
Party:
Republican
In current office:
2011-present
Birthdate:
May 10, 1960
Education:
University of Southern California (B.A.)
Other public offices held:
Member of the U.S. House of Representatives Nevada's 2nd Congressional District (2007-2011) Nevada Secretary of State (1995-2007) State Assemblyman (1990-1994)
Total donations: 
$24,223,634
 (1/1/05-5/23/18)
Top donors:
Station Casinos $117,900 Votesane PAC $92,000 MGM Resorts International $74,500 Blackstone Group $48,400 Capital Group $38,800 Credit: Center for Responsive Politics
INDY FAST FACTS
Brian Sandoval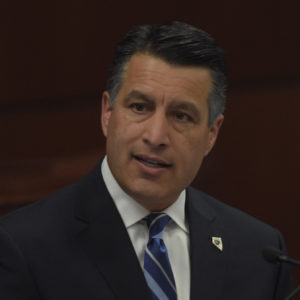 Job:
 Nevada Governor
Party:
Republican
In current office:
2011-present
Birthdate:
August 5, 1963
Education:
University of Nevada, Reno (B.A.) Ohio State University (J.D.)
Other public offices held:
U.S. District Court Judge (2005-2009) Nevada State Attorney General (2003-2005) Nevada Gaming Commission Chair (1999-2001) Nevada Gaming Commission Member (1998-2001) State Assemblyman, District 25 (1994-1998)
Total donations:
$5,035,808 (1/7/11 - 7/5/17)
Top donors:
Caesars Entertainment $245,000 Station Casinos $158,072 MGM Resorts International $160,000 Wynn Resorts $80,000 Marnell Properties LLC $70,000
From the Editor
The Nevada Independent
is a 501(c)3 nonprofit. We need help to attain the elusive goal of sustainability. We depend on recurring donations from you, the readers who believe in our mission of nonpartisan, transparent journalism. I know you are busy. I know you have many commitments. But if you would take a moment to
support our work
or bump up your current donation, I would be forever grateful.
Thanks for all of your support.
Best,
Jon Ralston
get our morning newsletter,
The Daily Indy
Stars & Struggles
Take a peek into today's education world through the lens of Sunrise Acres Elementary School in Las Vegas.
@TheNVIndy ON TWITTER