Two photojournalists arrested during protests in Las Vegas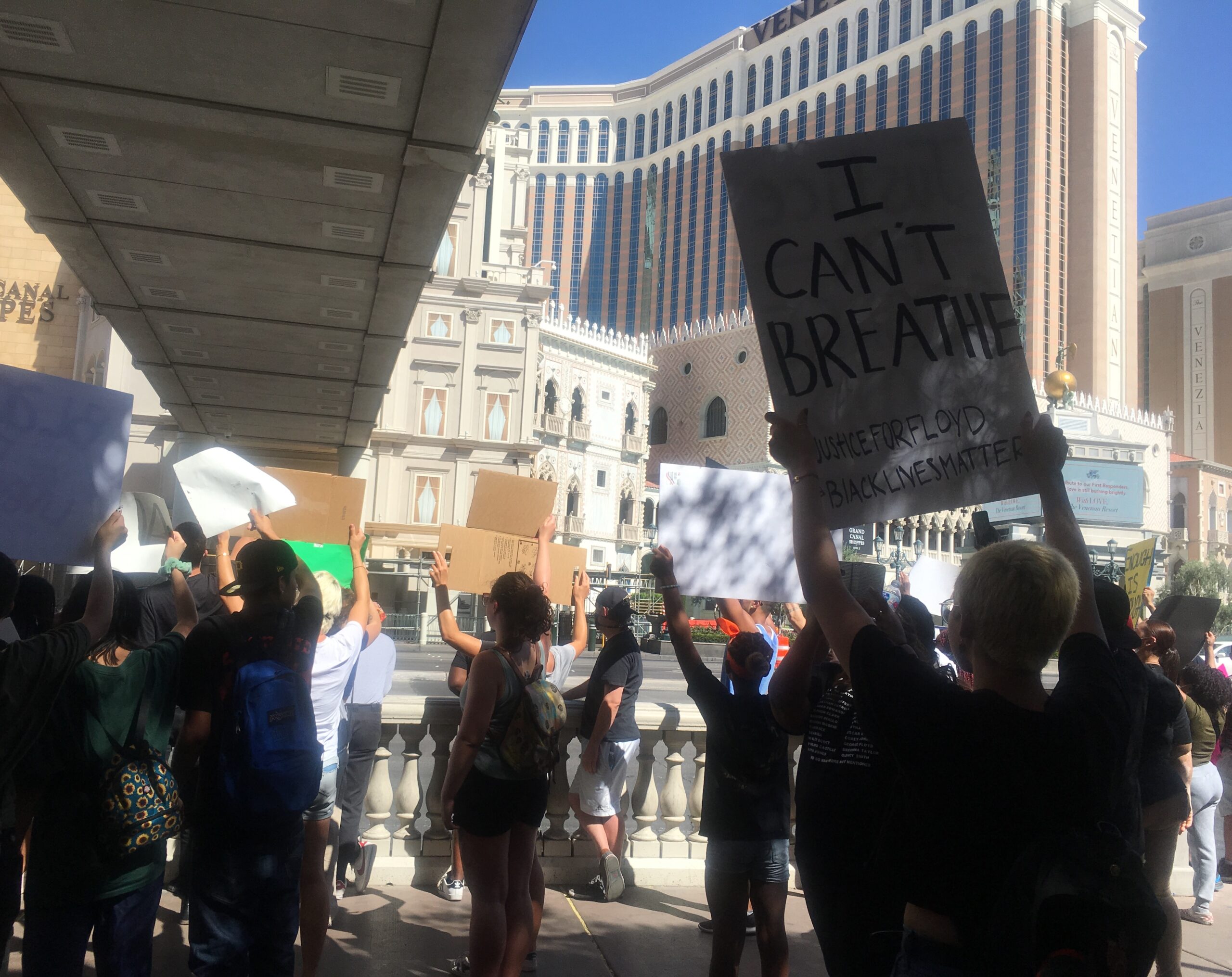 Police arrested two photojournalists covering protests on the Las Vegas Strip in response to the murder of George Floyd in Minneapolis this week, sparking outrage from media advocates and progressives.
Sheriff Joe Lombardo said the reporters refused to obey two orders to disperse before being arrested and did not identify themselves as members of the media until after being taken into custody. One of the reporters contradicted the sheriff's account and video shows her wearing a press badge.
The reporters and others arrested by Metro also were improperly held on bail, violating a COVID-19 administrative order that bans bail for certain misdemeanor crimes.
"These people should have never been held on these misdemeanors," Las Vegas Chief Justice of the Peace Suzan Baucum told the Review-Journal. "It's a travesty."
Bridget Bennett, a freelance photographer, and Las Vegas Review-Journal photographer Ellen Schmidt were booked into the Clark County Detention Center for "failure to disperse."
The bookings by the Las Vegas Metropolitan Police Department follow the arrests of several journalists who have covered protests in cities across the country. On Friday, Minnesota State Patrol arrested a CNN reporter, a producer and cameraman on live television while covering a protest, a decision that was strongly condemned as an attack on the First Amendment.
Bail was set at $1,000, according to the booking logs. Both journalists have been released.
Lombardo said the journalists were part of a group of 15 people on the Strip who were asked to disperse so officers could allow traffic to proceed. He said they were arrested after a second order to disperse and that they did not identify themselves as being with the media until after they were arrested.
Bennett disputed that characterization and said both reporters identified themselves as members of the media.
"I definitely identified myself as a journalist. I told the officer that detained me that I was working on assignment for AFP (Agence France-Presse)," she said.
In a statement, Glenn Cook, the executive editor of the Review-Journal called the arrests "appalling" and said the photographers were "obviously working photojournalists."
"It is appalling that Las Vegas police officers, who have nothing to do with what happened in Minnesota, would so forcefully take into custody two people who were obviously working photojournalists and posed no threat to law enforcement or public safety," Cook said. "They never should have been touched, let alone arrested and then booked into jail."
Lombardo said that among 12 officers hurt during the protests, two were seriously injured last night — one has a broken arm and another had teeth knocked out. Unlike protests in other jurisdictions, he said, no cars or buildings were set afire. The protest escalated, the sheriff said, after rocks and bottles were thrown and graffiti was scrawled on private properties.
"We probably got hundreds of calls and only a handful of people thanked us," Lombardo said.
Lombardo said 31 of the protesters were white, 28 were African-American and 17 were Hispanic. There were 45 males and 34 females; 64 were Clark County residents and 15 were from out of state.
Las Vegas Sun reporter Ricardo Torres-Cortez tweeted a photo showing what appeared to be a Metro officer holding Schmidt's camera. Schmidt said in a tweet this morning that the officer was turning off her camera, but not deleting or viewing any photos.
The officer is not deleting or viewing photos, rather turning my cameras off. He couldn't find the off switch. I don't agree with being arrested while doing my job, but this is untrue speculation.

— Ellen Schmidt ? (@ellenschmidttt) May 30, 2020
In a statement, Schmidt said "it's upsetting to have the right to document public events threatened by police."
"I hope this brings light to the importance of press freedom and then returns to the story I was reporting on," she added.
"The press serve a vital, constitutionally protected role during moments of national strife and civil disobedience," Richard Karpel, the head of the Nevada Press Association, said in a statement. "Journalists put themselves at risk to inform citizens about protestors' grievances and their actions, and to observe whether law enforcement personnel are operating within the bounds of the law. The arrest of journalists working in a public forum at a highly newsworthy event is absolutely unacceptable."
Wesley Juhl, who runs the Las Vegas chapter of the Society of Professional Journalists, condemned the arrests, calling them "absolutely outrageous."
"I think [Metro] should live up to the ideals they espouse," he said. "They are always claiming they are so transparent and so progressive. And here we see them arresting reporters."
Metro said in a release that 80 demonstrators were arrested, according to video of a press briefing posted on the Review-Journal website.
Laura Martin, executive director of the Progressive Leadership Alliance of Nevada, said there was no reason for police to jail those demonstrators, especially given concerns around the transmission of the coronavirus in the detention center. She also criticized police behavior Saturday night, noting that it contradicted a tweet Lombardo sent out on May 28 calling the death of Floyd "deeply disturbing."
The death of Mr. Floyd is deeply disturbing. The officers' actions and inaction are inconsistent with the training and protocols of our profession and the LVMPD.
I can assure you the LVMPD will strive each day to continue to build your trust.

— Joseph Lombardo (@Sheriff_LVMPD) May 28, 2020
"This is not congruent with the behavior of his officers this morning and last night," Martin said.
Lombardo tweeted Friday evening that Metro "stands with our community and censures any police brutality. As we continue to facilitate spontaneous and planned protests, violence or property damage will not be tolerated."
The LVMPD stands with our community and censures any police brutality. As we continue to facilitate spontaneous and planned protests, violence or property damage will not be tolerated.

— Joseph Lombardo (@Sheriff_LVMPD) May 30, 2020
Review-Journal photographer Chase Stevens posted several photos of Metro officers using a "snatch-and-grab tactic" on protesters that Stevens said were demonstrating peacefully.
Las Vegas police officers jumped someone crossing the street with no warning, and the officers shared smiles and pats on the back afterward. They have repeatedly jumped peaceful protesters crossing the street

— Chase Stevens (@CSStevensphoto) May 30, 2020
8:28 p.m.: This story was updated with the demographics of the protesters arrested, obtained from Sheriff Joe Lombardo.
The Nevada Independent is raising $200,000 by Dec. 31 to support coverage of the 2024 election.
Tax-deductible donations from readers like you fund this critical work.
If you give today,your donation will be matched dollar-for-dollar.
Give + Get Matched
Featured Videos