UNLV installs new booth for breastfeeding moms; accommodations still hard to come by elsewhere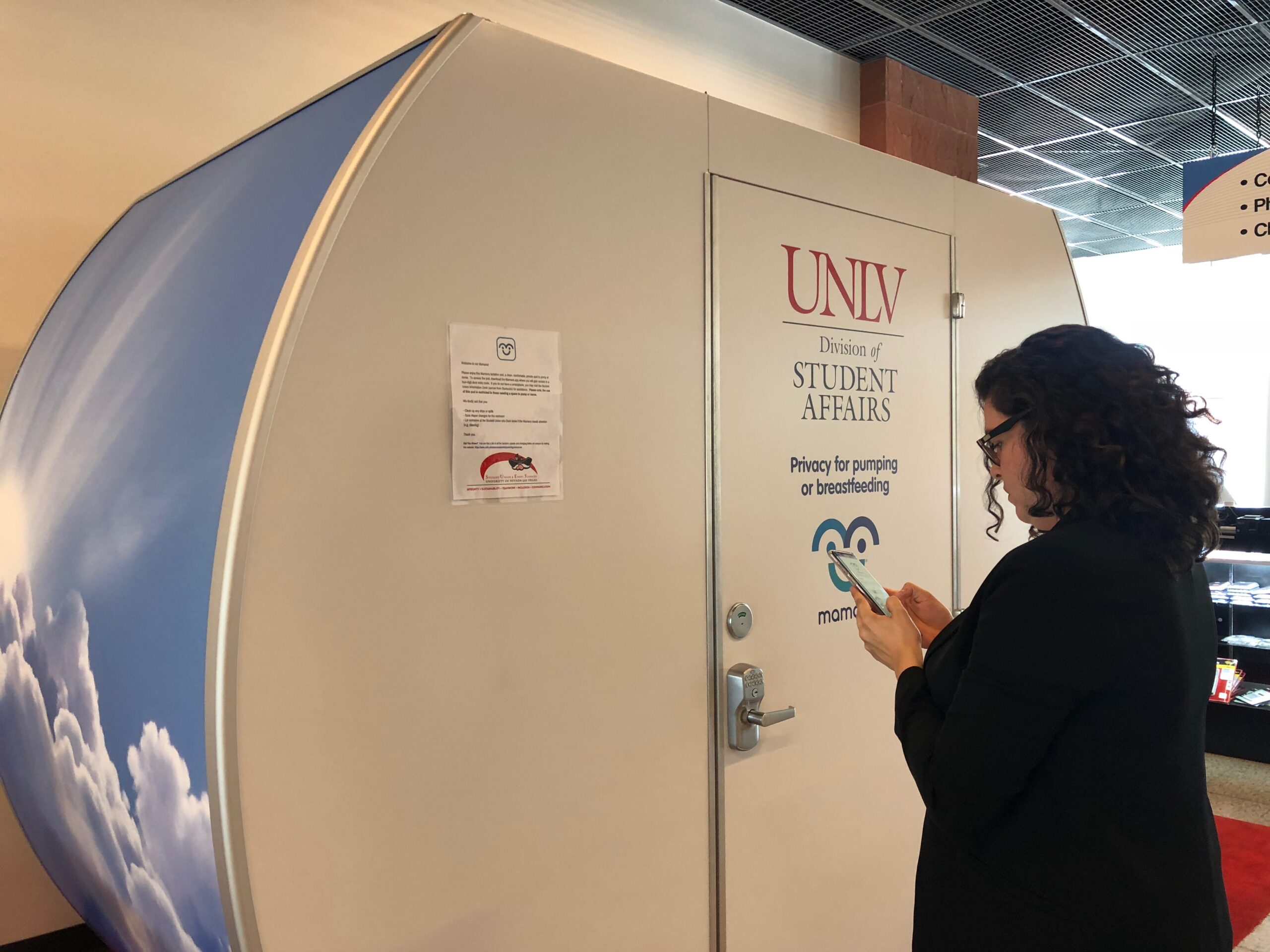 This story has been translated and edited for clarity from its original Spanish version.
It can be a challenge in itself for a new mother to return to work or school. Finding a place where she can breastfeed or take a break to pump milk compounds the issue.
But schools, including UNLV, are making new efforts to accommodate breastfeeding moms — including the unveiling of a breastfeeding booth called the Mamava Pod last month.
Ashley Yuill, deputy director of the Jean Nidetch Center for Women at UNLV, knows the struggle. The mother of a 7-month old, Yuill said she's had trouble finding the time and place for pumping.
"There have been times where I see the clock and it's 2 o'clock, then I know I need to extract my milk," Yuill told The Nevada Independent en Español in an interview at the UNLV Student Union building, where the Mamava Pod is located. "But when they tell me to go to my car or go to the bathroom, it makes me feel like I can't fully be a mother, that as a mother I'm not welcome."
The Mamava Pod is designed to offer a private and comfortable space for nursing mothers who study, work or visit at UNLV. Although Yuill said the school already had places dedicated specifically for breastfeeding mothers, a special room was needed within the Student Union — one of the busiest buildings on campus.
During the first six months of her daughter's life, Yuill had the opportunity to take her baby to work and combine her roles as a mom and as a professional. It's an arrangement that Sascha Mayer, founder of the Mamava Pod, considers a privilege that not many mothers have.
Research has shown that breastfeeding reduces the risk of a range of chronic diseases in infants, and the surgeon general estimates that families who breastfeed save $1,200 to $1,500 in formula costs in the first year of a baby's life.
Both Congress and the Legislature have taken steps to better meet the needs of breastfeeding mothers, although gaps persist. The Affordable Care Act requires employers to provide break time and a private place that is not a bathroom for breastfeeding and pumping, employers are not required to compensate employees for work time spent on those activities and businesses with fewer than 50 employees are exempt from the rule if it would be an "undue hardship."
An idea is born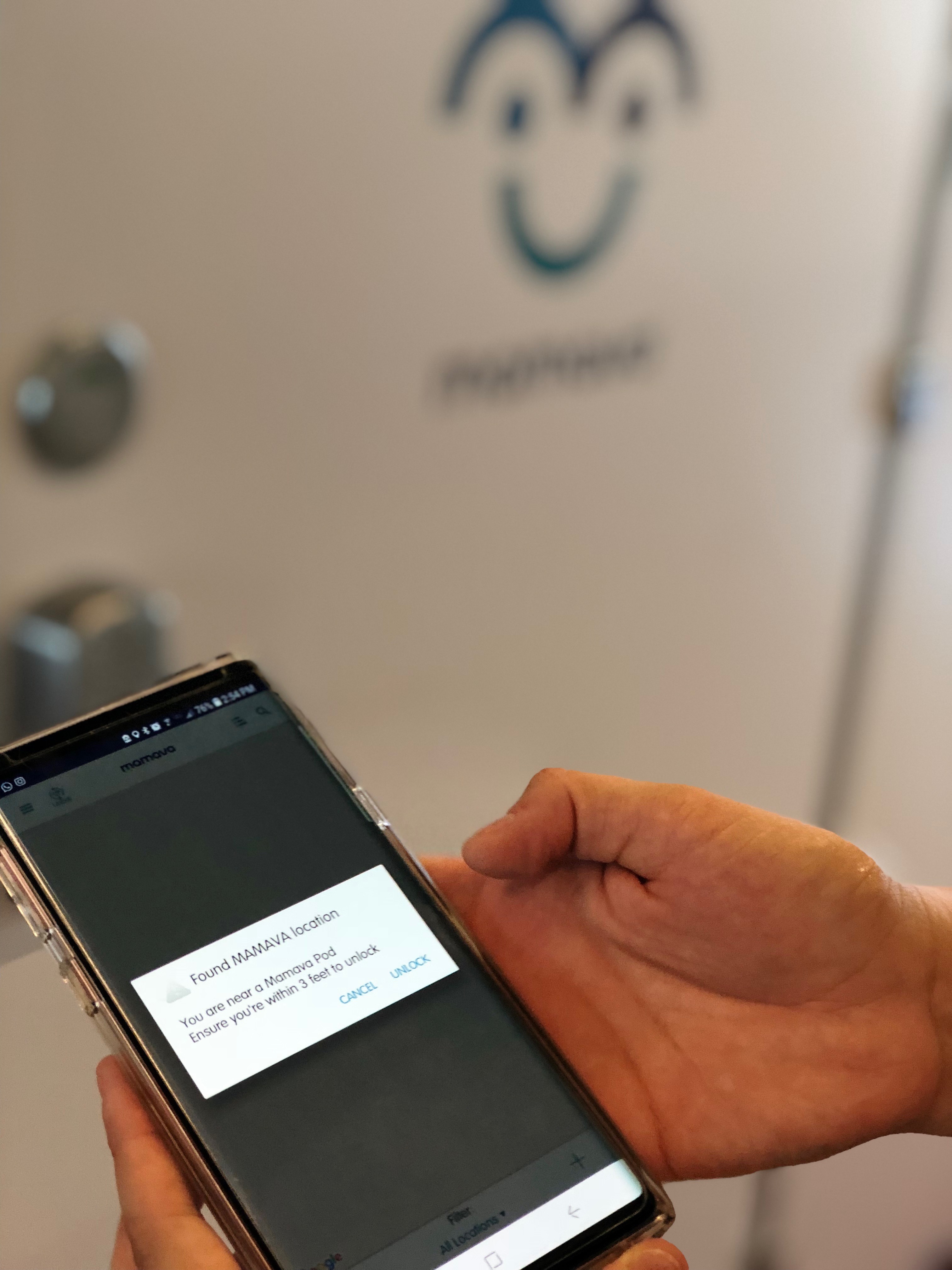 The challenges many nursing mothers face at work, in school or in any public area motivated Mayer and her business partner find ways to promote private, clean and accessible spaces for low-income working mothers.
"When I was nursing my baby, I realized how difficult it was for women with less autonomy in their workplace to breastfeed or extract milk," Mayer said in a phone interview. "Seeing how a receptionist who was part of my team didn't have the possibility of going to the office and closing the door and having the advantages I had as an executive, made me feel it wasn't fair."
With the slogan that breastfeeding should be a right and not a privilege, Mayer and Christine Dodson unveiled their first product, the Mamava Pod — a booth with two seats, outlets where lactating mothers can connect their breast pumps and a USB port to charge any electronic device.
Users can download the free Mamava Pod app on their cell phone in order to find the nearest booth. There are currently more than 500 pods at locations across the country, including airports, convention centers, hospitals, government offices and universities, and Mayer said that one of the goals of her company is to expand their products internationally.
Mothers can access the pod at UNLV by using the app or contacting the student union's information desk.
"The fact that I can bring my baby, have a space where I can breastfeed, and especially not having to worry because people are taking photographs of me and posting them on the Internet, makes me feel like the university really cares about my career and my role as a mother," Yuill said. "I know I don't have to choose one over the other, I can do both."
Breastfeeding and the law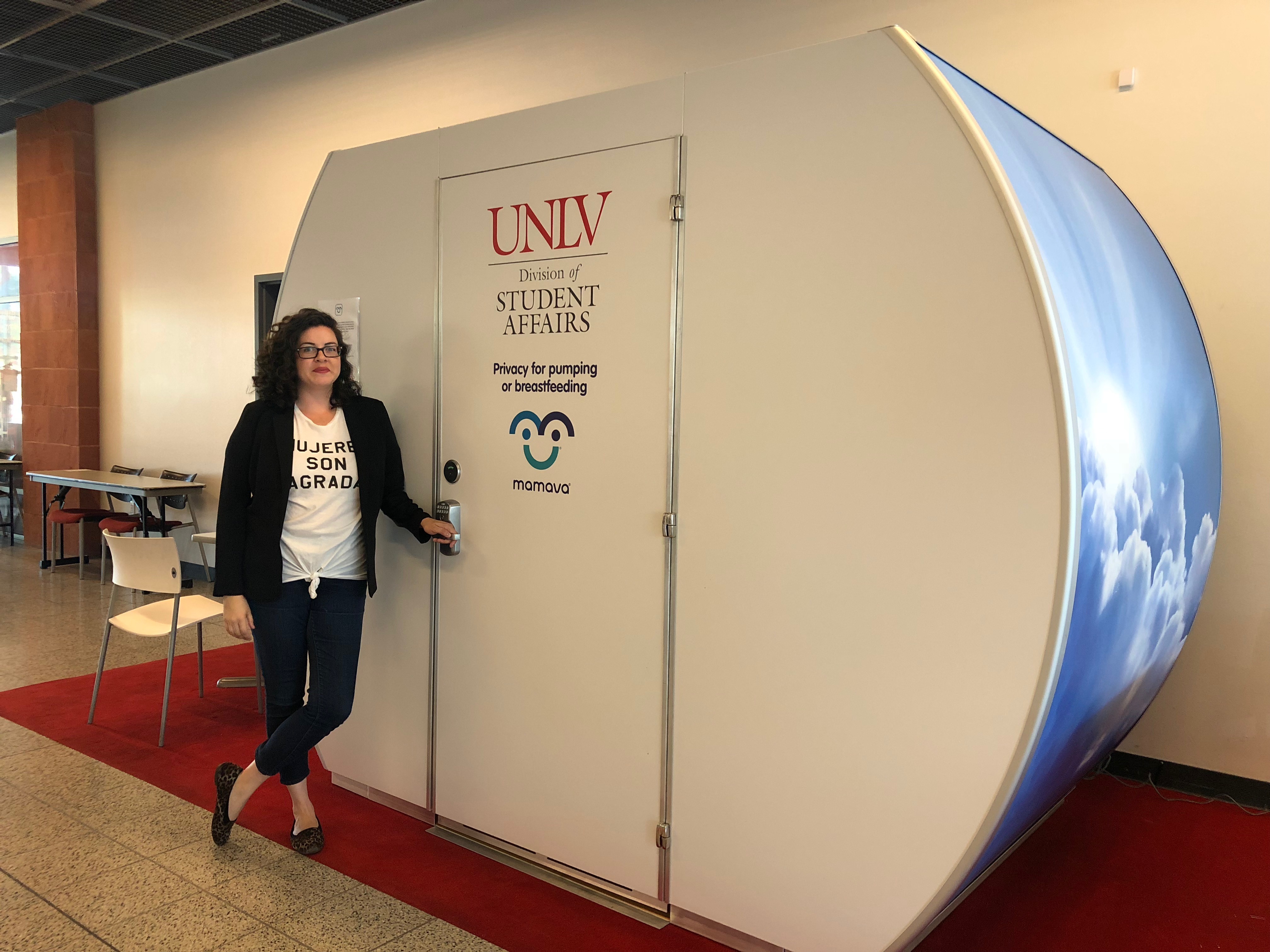 The need for a suitable place to continue breastfeeding a baby when a mother is not at home led Congress to amend a federal law in 2010 through the Affordable Care Act to guarantee a suitable place and time off for nursing mothers.
Article 7 of the Fair Labor Standards Act (FLSA) requires employers provide a safe and private place, other than a bathroom, for nursing mothers to extract their milk up to a year after childbirth. The law also indicated that employers must provide reasonable and frequent break periods according to what mothers need, with exceptions for small businesses.
Nevada legislators also approved a state law in 2017 that guarantees similar accommodations. Democratic Assemblywoman Ellen Spiegel, who sponsored the bill, said it was needed in the event that federal law changed and as a way to cover public sector employees.
Spiegel testified that some breastfeeding mothers were relegated to makeshift locations for breastfeeding. One teacher was told she needed to pump breast milk in a janitor's closet, then faced retaliation when she refused, Spiegel said.
A spokesperson for the US Department of Labor (DOL) said in an email to The Nevada Independent en Español that there are still employers who do not abide by this law.
The DOL mentioned the case of Paula's Pancake House and Belgian Cafe restaurants in California, where an employee was verbally discouraged from taking breaks to pump her breast milk and was not offered a space where she could avoid being seen by others.
The DOL said that the woman faced repercussions when she expressed her concerns, and authorities determined that the restaurant chain's actions created a hostile environment for nursing mothers, discouraging them from taking breaks as required by law.
The agency added that it has received complaints about failure to comply with these regulations, partly because of what they call "disconnection or ignorance of what the law requires." They noted that the Wage and Hour Division (WHD) provided information sheets to explain the law during Breastfeeding Awareness Month; those were also distributed in different states including California, Nevada, Arizona, Oregon, Idaho and Washington.
Yuill added that more education is still needed about breastfeeding and how it can physically and emotionally affect mothers when they do not have a proper space to breastfeed and extract breast milk.
"The milk must be extracted at certain hours," Yuill said. "It's not something we choose to do, it's something that causes pain to the body if it's not done several times a day and it can even affect my milk flow."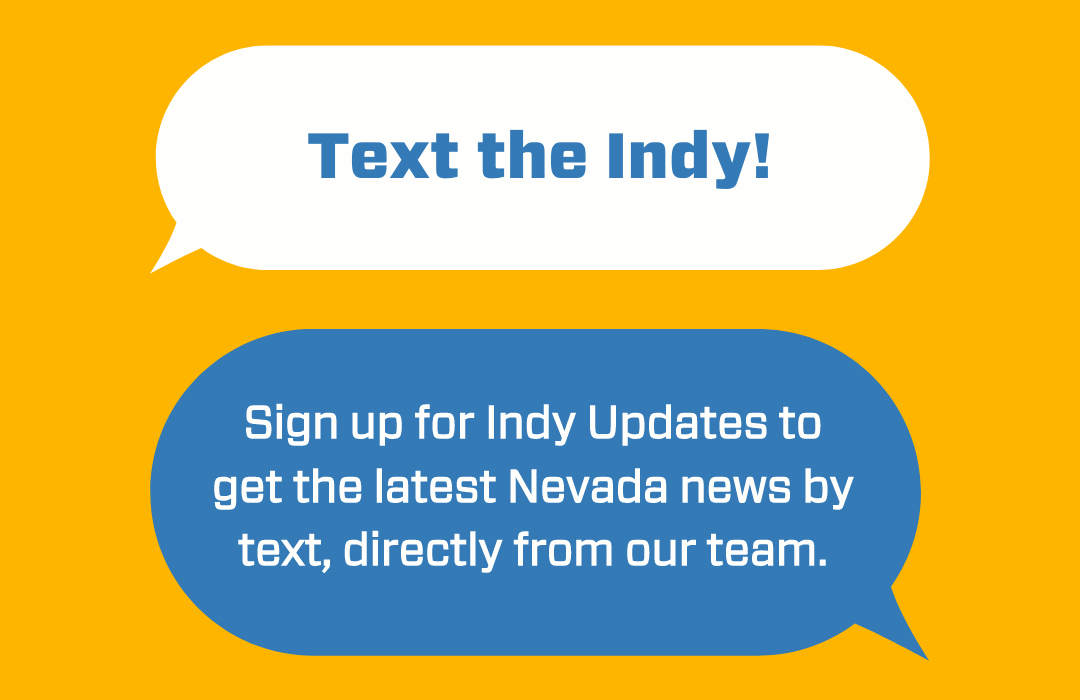 Featured Videos
Comment Policy (updated 4/20/2021): Please keep your comments civil. We reserve the right to delete comments or ban users who engage in personal attacks, use an excess of profanity, make verifiably false statements or are otherwise nasty. Comments that contain links must be approved by admin.