UNLV psychiatry resident wants to give back to city that embraced him as an immigrant teen
Medical school dean says a culturally competent medical workforce that can reflect and relate to the community is a "moral issue."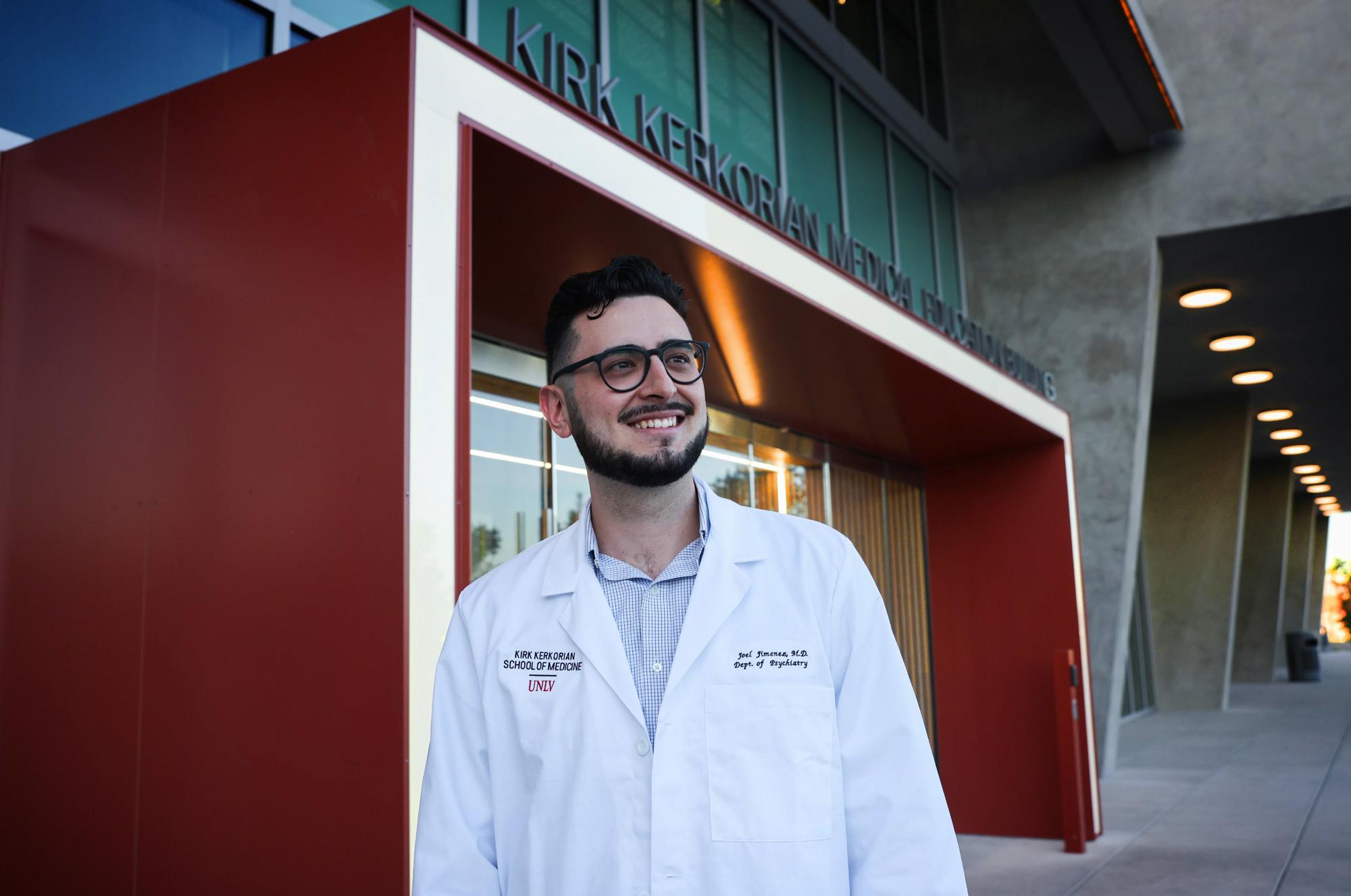 Three months into his residency at the UNLV Kirk Kerkorian School of Medicine, Joel Jimenez Vargas is still getting used to being called "doctor" — a title he's dreamed of holding since he was in high school.
The 26-year-old is one of the 320 UNLV residents embarking on a four-year journey of training in a specialty area after graduating from medical school. Jimenez Vargas, the first member of his family to become a doctor, said he wants to stay in Southern Nevada throughout his career and give back to the community where he's lived since arriving 13 years ago from Guadalajara, Jalisco, Mexico.
"I ranked UNLV number one for my residency training. I wanted to stay here. I felt like when I came from Mexico to Las Vegas the city really embraced me," Jimenez Vargas said, adding that he has a particular interest in helping the Hispanic community.
According to a Pew Research report published in June, Hispanics often face greater challenges accessing health care and medical treatments, including lack of health insurance, language and cultural barriers and higher levels of poverty.
"There's a lot of stigma around mental health in the Hispanic community," Jimenez Vargas said. "We need more people that can relate to these patients and communicate with them."
According to findings by the National Library of Medicine, which collects, indexes and archives scientific literature published by other organizations, Nevada is facing a health care crisis and needs more than 2,500 additional physicians in the health care workforce just to meet national standards. UNLV's medical school is not just recruiting and preparing students to join the much-needed workforce, but also diversifying it, Dean Marc Kahn said.
Kahn told The Nevada Independent that the medical school's goal is to have residents that "mirror the population," know the community and are culturally competent. The Centers for Disease Control and Prevention defines cultural competency as the capacity to "value diversity, conduct self-assessment, manage the dynamics of difference, acquire and institutionalize cultural knowledge and adapt to diversity and the cultural contexts of the communities they serve."
He considers diversity in the field "a moral issue."
"You want a medical school class that looks like the folks in the valley that will best be able to care for that community," Kahn said. 
But the medical school has a limited number of residency spots, adding to the state's challenge of keeping physicians in Nevada. Though Congress approved funding for 1,000 new graduate medical education (GME) positions nationwide over five years — the first time since 1996 — ​​Kahn said that the Southern Nevada health care personnel pipeline has not kept up with the valley's growth.
According to data provided by UNLV's medical school, about 85 percent of the 2023 class went to high school in Nevada. Fifty-eight percent went to college in Nevada before enrolling in the medical school and 30 percent returned to the state.
Jimenez Vargas is one student who went to both high school and college in Nevada. As a student at Mojave High School, his freshman year biology class sparked his interest in science, he said.
"I didn't know what it entailed," said Jimenez Vargas, whose role models included one teacher who continued her education and became a doctor herself. "I had no idea. But I knew that I wanted to be a doctor. So I did my best to get to that goal."
After his residency is done, Jimenez Vargas said he has the option to pursue a fellowship to further narrow his specialty, with options including forensic psychiatry to help criminal defendants or Hispanic psychiatry — which focuses on how culture plays a role in mental health but is not currently offered at UNLV.
Kahn said UNLV's school of medicine, which accepted its first class in 2017, is working toward building on the basic specialties and training programs that are needed first, such as a dermatology program.
As the oldest of four siblings, Jimenez Vargas said he tries to continue guiding his siblings on their educational journeys, especially his 10-year-old brother, who is also showing interest in the sciences.
Though it is rewarding, Jimenez Vargas said nearly "every medical student gives up their 20s studying."
"A lot of my peers that I went to high school with, graduated from college and then went into the workforce right away … In the meantime, we're here just studying 24/7," he said. "At the same time, I really enjoyed that. I always liked school. So being at the library with my friends is fun. I try to look at it in a positive way."
Now as a doctor, he is not only using what he learned from studying, but also leaning on his background and native language to help him better understand Hispanic patients. Even in his short time as a resident, he is often sought out by other doctors because he can interpret and help a patient feel more comfortable and gain trust better than interpreters who are available only over the phone in many hospitals.
"When you have a Spanish-speaking, psychotic patient, it can be super hard to understand them. And especially if you're translating over the phone, it's impossible," he said. "I think we have to do our part as doctors in the health care field to really match the cases with our doctors, because I feel like if you trust your doctor, you're gonna listen to their recommendations more."
The Nevada Independent is raising $200,000 by Dec. 31 to support coverage of the 2024 election.
Tax-deductible donations from readers like you fund this critical work.
If you give today,your donation will be matched dollar-for-dollar.
Give + Get Matched
Featured Videos