UNR students voice fear about campus climate after racist, discriminatory images appear at school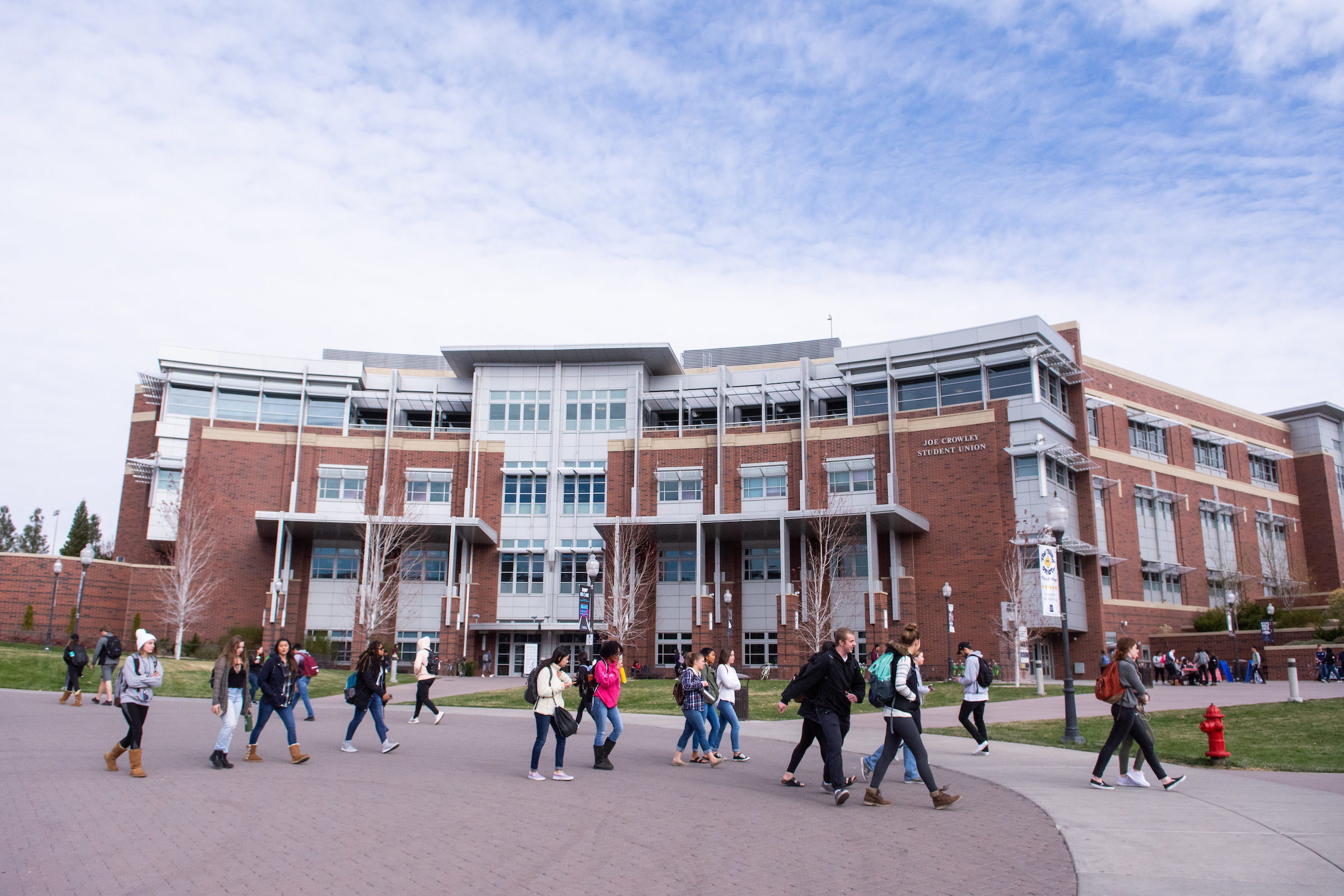 By Stephanie Serrano | KUNR
Editor's note: This story was originally published on the KUNR website and has been translated and adapted from its original version as part of a partnership between KUNR and The Nevada Independent.
More than a quarter of students at the University of Nevada, Reno reported that they had seriously considered leaving the school because they don't feel a sense of belonging, according to a recent survey on school climate.
The results unveiled earlier this month at campus forums come as the university is grappling with racist and discriminatory messaging found around the university in the first few weeks of the fall semester. There have been two separate incidents of swastikas being found at Wolf Pack Tower, a residence hall housed at Circus Circus in downtown Reno, and flyers were also seen in at least five buildings on campus that promoted a white supremacist hate group. 
University officials have also expressed concerns about images circulating on Twitter showing the LGBTQ flag being burned.
"These hateful events do not reflect at all our students nor the university community," said Eloisa Gordon-Mora, the University of Nevada, Reno's Diversity and Inclusion Officer. "We have over 300 student organizations that are all about uplifting endeavors." 
Gordon-Mora says roughly 40 percent of the student body is comprised of students of color. 
The school released the findings of its Speak Your Truth campus climate survey during two forums on Sept. 18. A little more than 200 university students and faculty showed up to the first forum to hear survey results that have been anticipated for several months.
The university contracted Rankin and Associates Consulting in 2018 to create and conduct the survey, which had questions related to campus climate overall, unwanted sexual experiences, perceptions of employment practices and work-life balance. Nearly 6,400 surveys were included in the analysis from a campus that has almost 31,000 people.
One initial finding was that a large minority of respondents feel significantly less comfortable with the overall campus climate, including women, people of color and LGBTQ+ community members.
"This campus is built for everyone; everyone who is qualified to go to school here should be a student here and be comfortable being a student here," UNR President Marc Johnson said. "People from all socioeconomic groups, disability groups, ethnic groups, should feel as though they have a place on this campus."
Johnson supported the request from students and faculty to conduct the survey.
One student who participated in the survey was Lucas Furrer, an undergraduate student double majoring in journalism and political science. He voluntarily took down a poster with white supremacist messages.
As for the campus climate, he says it doesn't feel too great. He says he wishes the university would have more active policing to address hate groups, instead of condemning these actions through a mass email.
"I would say, people are fearful of what's coming next," Furrer said. "There's been such a steady stream of activity by these groups, by these individuals, that it makes someone scared of what's going to happen next, and you see some of the worst case scenarios on TV. You just hope that it doesn't happen here."
Taylor Dupree is a Louisiana native and a Ph.D. student in counseling education at UNR. She started in the fall of 2017, the semester that followed the national exposure of a Nevada student who participated in the Neo-Nazi hate riot in Charlottesville.
"The incident at Charlottesville happened, and I had people from the program that I am currently in emailing me and texting me like, 'Hey, I just want you to know this is not a representation of our campus. Please don't believe that this is the case for us,' and I believed them," Dupree said. "I was like, 'OK, this is an incident where something happened with someone and the university is going to take the steps that it needs to take,' and since I've been here, I've been wrong."
Dupree was also a part of a focus group conducted by the university before the survey where she described the microaggressions she says she has faced due to her gender and race as one of two African American women in her program.
Dupree has spent the last three years in Reno. She's had thoughts of leaving each year, but now says she's worked too hard and wants to be proud of graduating.
A big question circulating among attendees at the forums: What is the university going to do with this data?
Johnson says the survey will help guide what committees need to be developed to improve the living and working life of the institution.
As the university starts this work, students like Furrer and Dupree want to know how their safety concerns will be addressed.
"Well, we do everything we can to investigate these incidents," Johnson said, "and then, if we can find the perpetrators, we will prosecute them, but we encourage everyone to take personal responsibility for safety — you walk in groups and you have these conversations, so we are doing education, we are doing investigation, and prosecute, if we can find perpetrators."
KUNR Reporters Andrew Mendez and Noah Glick contributed to this report.
Disclosure: The license for KUNR is owned by the board of regents to the Nevada System of Higher Education.
Comment Policy (updated 4/20/2021): Please keep your comments civil. We reserve the right to delete comments or ban users who engage in personal attacks, use an excess of profanity, make verifiably false statements or are otherwise nasty. Comments that contain links must be approved by admin.