Upset with support for DeVos, constituents have a hard time reaching Dean Heller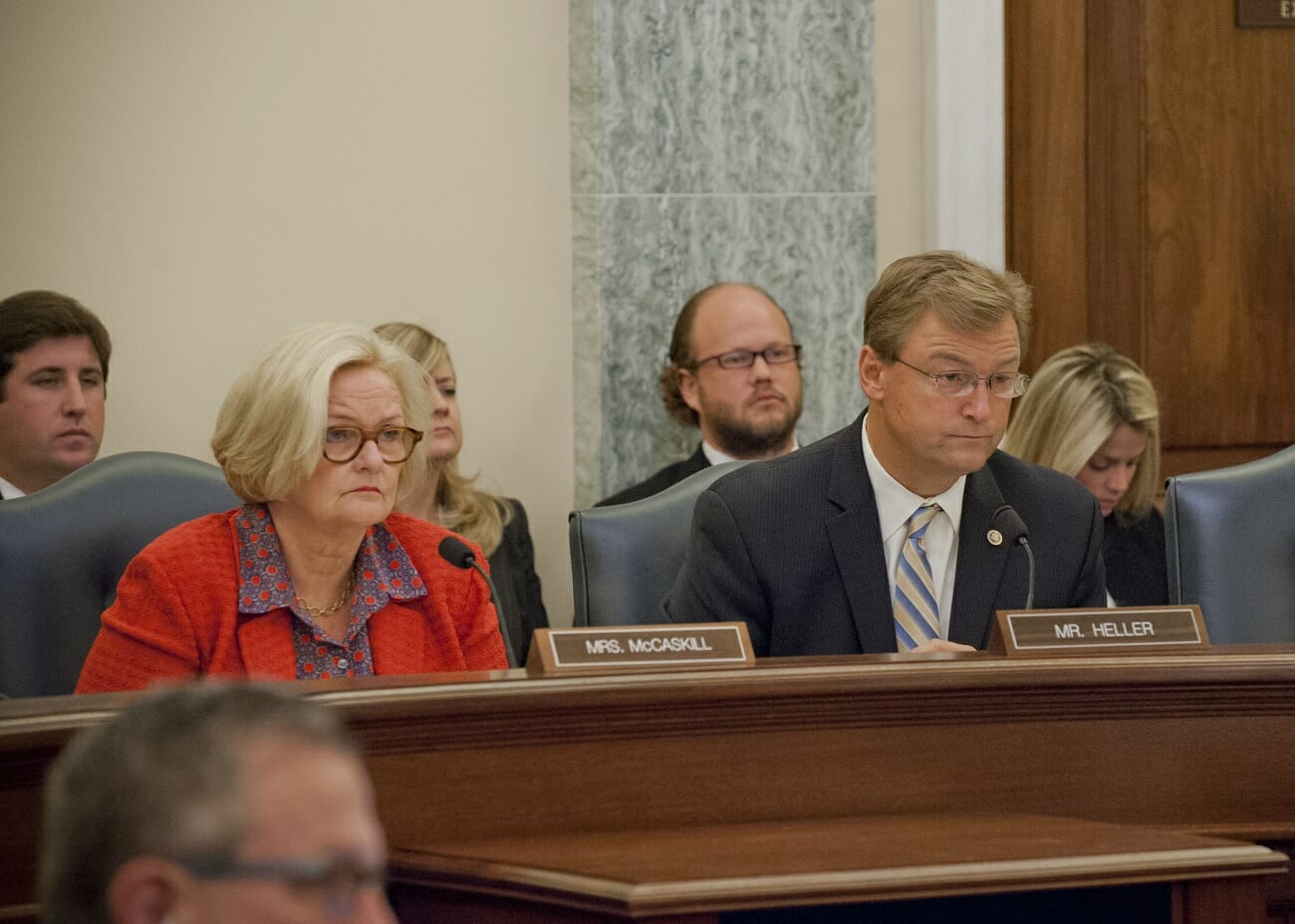 Constituents upset with Nevada Sen. Dean Heller's decision to support Education Secretary nominee Betsy DeVos say they're having a difficult time reaching the Republican senator's office to register their complaints.
It's a serious enough problem that Heller's official Twitter account acknowledged the problem Thursday morning.
"We are experiencing heavy call volumes in all our offices," he said in a tweet. "Staff is answering as many as possible. Please continue calling to get through."
Heller emerged as the center of a progressive firestorm for several hours on Wednesday, after fellow Republican Sens. Susan Collins (Maine) and Lisa Murkowski (Alaska) announced their opposition to DeVos and imperiling her nomination. Numerous progressive groups and celebrities including the Democratic National Committee, MoveOn.org and George Takei sent out emails and tweets encouraging people to call Heller's office and ask him to oppose DeVos.
Meghan S., a Reno woman who asked to not have her last name identified, was one of those callers. She told The Nevada Independent that she repeatedly called Heller's office — 21 times on Tuesday and 27 times on Wednesday — before reaching a staff member.
She said she was mostly perplexed by a voicemail recording that she alleged didn't allow her to leave a message.
"I even looked at the phone number just to make sure that I had dialed the correct number," she said, adding that she had even sent a fax to his office in an attempt to get a response.
Heller's office did not respond to questions about the voicemail, but the senator's official Twitter account said their after-hours voicemail was different and that people calling into the office should either hear a busy signal or have their call picked up by someone in their office.
The Nevada Independent was unable to confirm the existence of the voicemail, but other concerned constituents said their calls were only met with busy signals.
Another woman, Molly Rose Lewis, sent an email saying that she wasn't able to reach Heller's Reno office, was hung up on after calling the Las Vegas office, and that it took 40 tries before her call was picked up by someone in his Washington D.C. office.
"This can't be the best way to serve the constituents, though....especially with so many things coming up for votes," she said in an email.
Robert Kern, a Las Vegas-based lawyer and Democratic activist, said he tried calling Heller's office about 30 times without ever having someone pick up his call. He said that he also sent a follow-up email and several tweets, but felt that would have even less of a chance of success.
"Generally, that's how we expect the senators to gauge the voice of their constituents," he said. "If he doesn't have people answering the phone, then he's sure as hell probably not having people count the contact forms."
Calls to Heller's office by The Nevada Independent on Thursday were picked up by a staff member, but a spokesman for the senator was unable to speak and did not return an email seeking comment on the number of calls or the voicemail recording. 
Several Twitter users have complained about not being able to leave a voicemail at Heller's office. Several Nevada Assembly Democrats — Tyrone Thompson, William McCurdy and Jason Frierson — tweeted that they were calling Heller to urge his opposition to DeVos.
Mailbox full in NV; call cannot be completed as dialed in DC. Heller, where are you and why can't you take phone calls from constituents? https://t.co/8X92Ne8uEX

— Gail Linsley (@GailLinsley) February 2, 2017
Meghan S. said that she understood the barrage of calls made if difficult for Heller's staff to answer every one immediately, but that it was still annoying to have to do so much to give her opinion.
"It's like they don't really care, because I'm sure I'm not the only one who's gotten that message," she said.
Photo courtesy Sen. Claire McCaskill on Flickr.
4:23 p.m. - This story has been updated to include a response from Heller's official Twitter account regarding his office's voicemail.
2-3-17 - This story has been updated to include more details about the alleged voicemail from Heller's office.
Comment Policy (updated 4/20/2021): Please keep your comments civil. We reserve the right to delete comments or ban users who engage in personal attacks, use an excess of profanity, make verifiably false statements or are otherwise nasty. Comments that contain links must be approved by admin.