What is responsible outdoor activity during the COVID-19 pandemic? A Q&A with Colin Robertson, director of the state's outdoor recreation office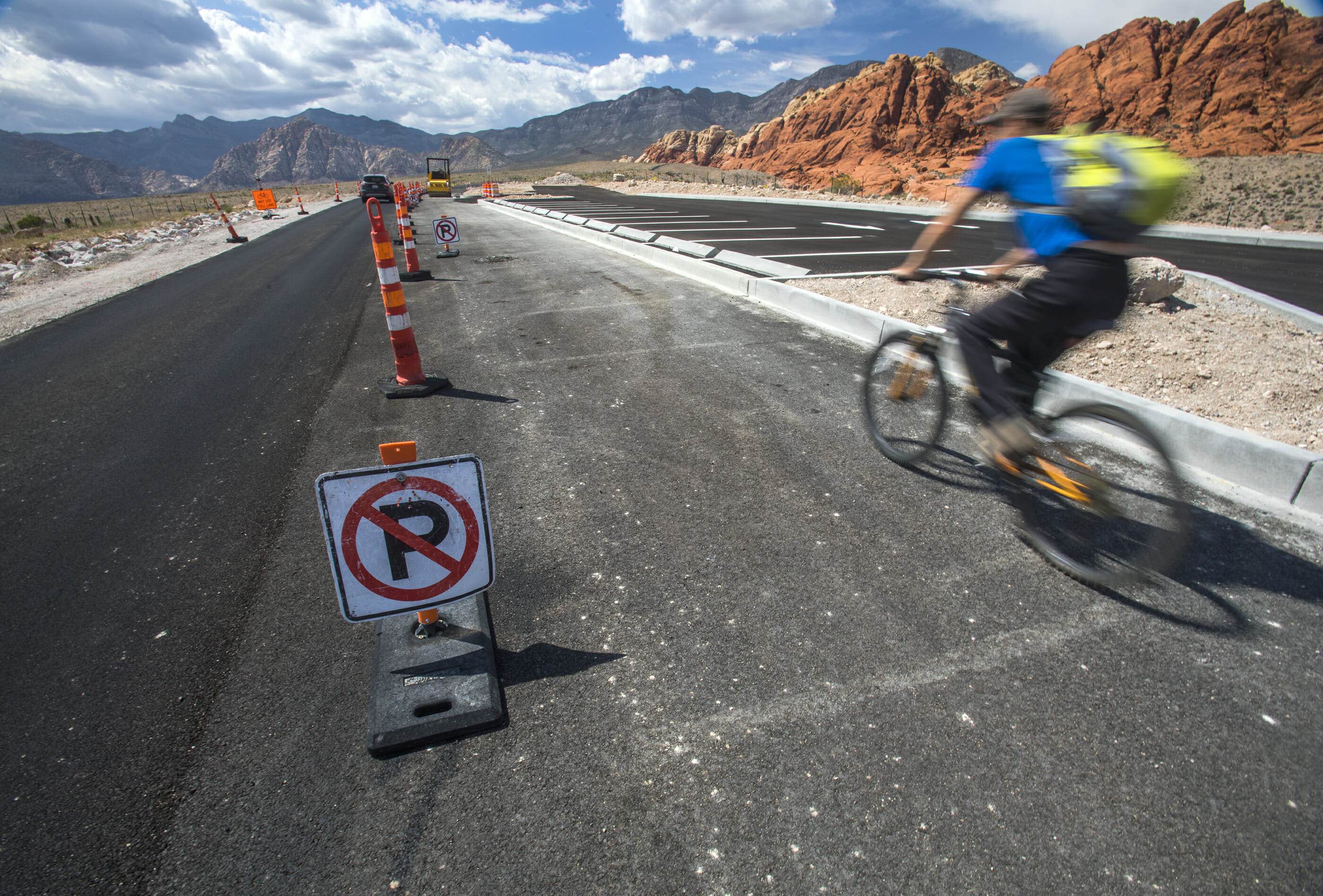 When Gov. Steve Sisolak issued a directive Wednesday urging all Nevadans to shelter-in-place, the order created a major carveout for outdoor recreation.
Under the directive, Nevadans are still permitted to leave their homes for a hike or a run — with one caveat. They should comply with social distancing guidelines to remain six feet away from other individuals and stick to groups that do not extend beyond their household members.
In recent weeks, as mitigation measures were put in place designed to urge Nevadans to stay at home, more and more people have been seeking an escape outside, said Colin Robertson, who runs the state's newly created Division of Outdoor Recreation.
At some spots around Reno, there have been reports of cars tightly packing the parking areas at popular trailheads. Other recreation areas, such as Valley of Fire State Park, have temporarily closed because so many visitors were flocking there.
Robertson said getting outside can be healthy. Numerous scientific studies have shown that outdoor activity can greatly improve mental health. But during the coronavirus epidemic, the rewards of spending time recreating outside come with additional risk and responsibility.
In an interview Wednesday morning before the shelter-in-place directive was announced, Robertson said people who want to spend time outdoors must take measures to prevent the spread of coronavirus during the weeks ahead, as the country works to contain the pandemic.
Stay local, he said. Go to less popular spots. Social distance. Absolutely do not share supplies.
"We want to make sure that everyone is following the guidance and directives coming out of the governor's office and out of the Centers for Disease Control, first and foremost," Robertson said. "But as the governor has mentioned, outdoor recreation is one of the ways that you can 'Stay Home for Nevada' and still find ways to exercise and get fresh air."
Robertson spoke to The Nevada Independent for a Q&A on how to responsibly engage in outdoor activities as the state looks to decrease coronavirus spread.
What are your top activities that you like to do to recreate? And what have the last couple of weeks looked like where there has been this directive to stay at home?
For me, I took my family for a drive 10 days ago...and drove up over the Mount Rose meadows and through Incline Village and along the east shore of [Lake Tahoe], and then back down into Carson City. And one of the things that that illustrated to me was that there were lots and lots of people in our region — and for that matter across the state — who are using outdoor recreation as a means of physical and mental wellbeing in the stressful time.
But because of the popularity of places like the meadows or the Mount Rose trailhead, there were hundreds, literally hundreds of cars lining the Mount Rose Highway. And that starts to look like people who are not considering guidance and directives...as much as they are considering their own desires to get outside.
So I think what we are taking away from that — and seeing other states in the Intermountain West that are experiencing similar challenges — is that we want everybody to enjoy the benefits of outdoor recreation, especially in a time of crisis and stress like this. But we need everybody to make good decisions considering the health and wellbeing of everyone in the community, first and foremost.
I had a similar experience this past weekend. I went to a trailhead in town and the parking lot was just packed, and the trail was even packed. And this was a conversation I was having with someone earlier today, which is when you're actually out on the trail and passing people and seeing people, what are the best practices?
The best practice would be, if a given trailhead, a given park, or a given parking lot already appears to be full, I pass it for the time being. Come back at a different time, a lower usage time.
Basically the governor's directives include not congregating in groups larger than 10. And in fact, most of the guidance is aimed at keeping your members of your household, or your family unit, more or less isolated together. Rather than congregating in groups. And that's part of the challenge and the problem of some of these popular outdoor recreation destinations like the meadows or like Galena Creek Park or other places where lots of people know to go, and then make a decision to join everybody at that location who's already there, rather than maybe moving on to another place or coming back to that place at a less common time.
What about people who like to go out into the backcountry? What should the people be cognizant about doing in the backcountry right now in terms of the staffing for first responders? Where should they draw the line?
It's important not to get too prescriptive about the individual activities or the individual choices that people make about how they are going to respond to the COVID-19 crisis. I mean there are some very basic things, right? Stay home if you are sick or showing or feeling any COVID-19 symptoms such as fever, coughing, or having any trouble breathing. I don't want to prescribe what people should or shouldn't be doing. But I think if we are making decisions — outdoor recreation decisions — you're always making decisions based on some level of risk.
And in a situation where our healthcare system is already going to be taxed severely by the need to respond to this particular public health crisis, we need people to make decisions that are proven and well thought through. So if you are, for example, recreating in the backcountry and have something happen, you are going to need resources to come and help that are being then pulled away from the immediate needs associated with the health crisis at-large.
Don't make a decision that increases risks for you, your community, or your first responders. Make decisions that help you enjoy the benefits of outdoor recreation in a very local, and even hyper-local, kind of way.… Don't go far to other communities and tax those community's healthcare systems.
What about hunting and fishing right now? Is that something that people can do?
Hunting and fishing are great ways for people to get outside and to do so in a localized way without having too much impact on community health resources… Following [seasonal rules], of course, and doing so in legal ways is essential, but hunting and fishing are great opportunities for people to be outside and physically distanced from one another. I'm saying physically distanced, and I'm trying to repeat that because we need people in a time of crisis like this to be socially connected, but physically distanced, not socially distant from one another.
There's a lot of emphasis on staying local for the reasons that you've mentioned. At the same time, we've also talked about not wanting to overload some of these popular areas and parks. What would your suggestion be to someone who wants to stay local, but doesn't want to overwhelm a popular area?
I am sitting, as we speak, in my mobile conference room, a.k.a. my pickup, in a park in the City of Reno that is cooperatively operated by Washoe County and by the city of Reno. Right now, from where I sit, I can see four people recreating: a walker, a dog walker, and two mountain bikers. They are all enjoying the benefits of [the park], and they are all being appropriately distant from one another, and they're not overwhelming this facility.
So, we want to encourage people to take advantage of the resources at the local level — city and county government websites — for information about parks and recreation opportunities.… But following guidance from the Centers for Disease Control and from the governor's office, first and foremost. There are a lot of opportunities for local recreation that do not overwhelm popular sites. I think the park that I'm sitting in this morning is a good example of that.
Is there anything that you would like to add?
We want people to enjoy the benefits of outdoor recreation. There are many documented benefits, right. But [we want people] to do so in a personally responsible way and also in a way that is thinking first-and-foremost of the health and wellbeing of the community-at-large, and making prudent decisions about how we 'Stay Home for Nevada' and still enjoy some outdoor recreation opportunities.
This interview was edited for length and clarity.
Comment Policy (updated 4/20/2021): Please keep your comments civil. We reserve the right to delete comments or ban users who engage in personal attacks, use an excess of profanity, make verifiably false statements or are otherwise nasty. Comments that contain links must be approved by admin.