What new clean car standards mean for Nevada drivers and the environment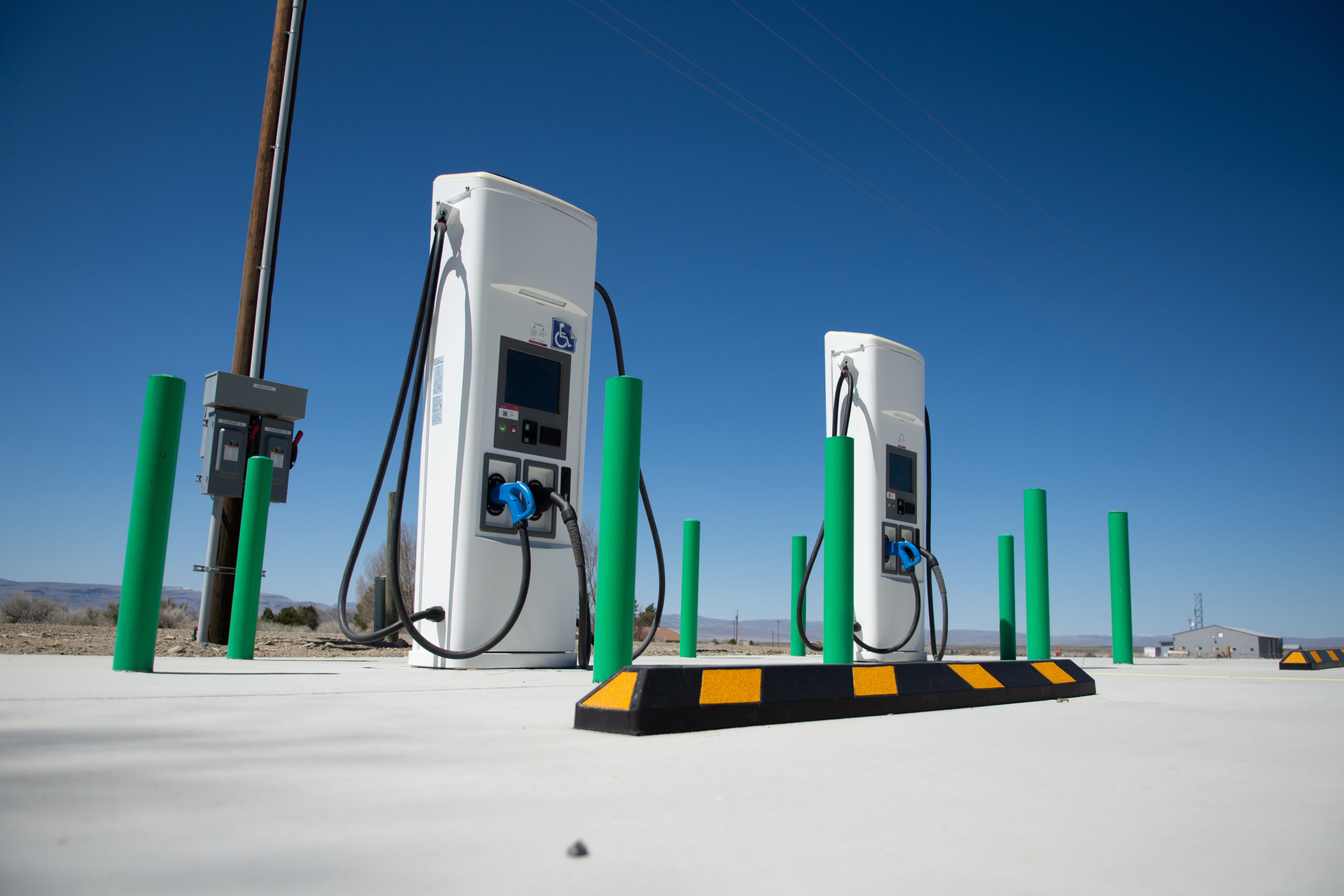 Following an accident that totaled her gas-powered car several years ago, Mary House decided she wanted a vehicle that would be healthier for her and safer for the environment.
House decided on an Hyundai Ioniq, a car that was "not terribly expensive" relative to many popular electric vehicle (EV) models at the time. But there was a problem — the Las Vegas resident was unable to find one at a local dealership.
"I had to literally go to California to get the electric car that I chose," she said.
House's difficulties finding an electric vehicle in Nevada are not new. In 2019, a report on the state's auto industry found that fully electric vehicles only made up roughly 2 percent of the state's vehicle sales market. But House, the cofounder of the faith-based nonprofit CHR, Inc. (Caring, Helping & Restoring Lives), is hopeful the status quo is about to change.
Last month, Nevada became the 16th state to adopt California's clean car standards, a decision that state officials and environmental advocates heralded as a way to not only strengthen emission standards and expand access to EVs, but also to take a major step toward limiting the state's primary source of pollution.
The approved regulation, also known as Clean Cars Nevada, implements California's Low Emission Vehicle (LEV) standards for tailpipe emissions. The regulation also adopted California's Zero Emission Vehicle (ZEV) program, which requires car manufacturers to produce a certain percentage of zero-emission motor vehicles each year, with both requirements effective for model year 2025.
"Clean Cars Nevada is a huge victory for the Silver State," Gov. Steve Sisolak said in a statement last month. "As Nevada continues to grapple with the many impacts of climate change … advancing climate-forward policies and programs that reduce greenhouse gas emissions and improve air quality are more critical than ever to ensure a healthy, sustainable future for Nevada."
The regulation stems from Sisolak's 2019 Executive Order on Climate Change that focused on reducing greenhouse gas emissions and a June 2020 announcement that the Department of Conservation and Natural Resources would seek to adopt California's clean car standards.
States are typically limited to adopting minimum emission standards set by the U.S. Environmental Protection Agency. But the federal Clean Air Act includes a carveout for California, which allows the state to adopt its own more stringent emission standards. In turn, other states are allowed to adopt California's regulations instead of the federal requirements.
Here's how the clean car standards will work in Nevada.
Expanding electric vehicle access
As part of the Clean Cars Nevada rules, vehicle manufacturers will be required to "deliver for sale" — meaning manufacture and deliver to local car dealerships — a certain percentage of zero-emission and light-duty motor vehicles. That category includes battery, fuel cell and plug-in hybrid EVs.
Under the ZEV program, manufacturers will earn a certain number of credits for each vehicle delivered for sale based on the vehicle's electric driving range, and will need to meet increasing credit requirements every year. State officials stress that the program will not require individual drivers to purchase EVs — it just requires auto manufacturers to make more non gas-powered vehicles available for sale.
The program's credit requirement guarantees a greater number of EVs will be brought into the state as the program gets underway in 2024 — at least 7 to 8 percent of all vehicles available for sale in model year 2025. But Nevada's transition to a so-called "clean cars" state is also expected to improve availability of zero-emission vehicles.
Simon Mui, the deputy director of the clean vehicles and fuels group with the Natural Resources Defense Council, a nonprofit environmental advocacy group, said automakers traditionally send the bulk of zero-emission vehicles to states with ZEV programs.
"[Dealerships] call the manufacturer and say, 'Hey, can I get this product?' They're like, 'No, sorry, we're sending this only to California and Oregon and New York and all these other states [with the ZEV program]," Mui said.
From January 2011 to June 2021, 43 percent of fully electric vehicle sales in the U.S. were made in California, compared with about 1 percent in Nevada, according to data from the Alliance for Automotive Innovation, a trade group for automobile manufacturers.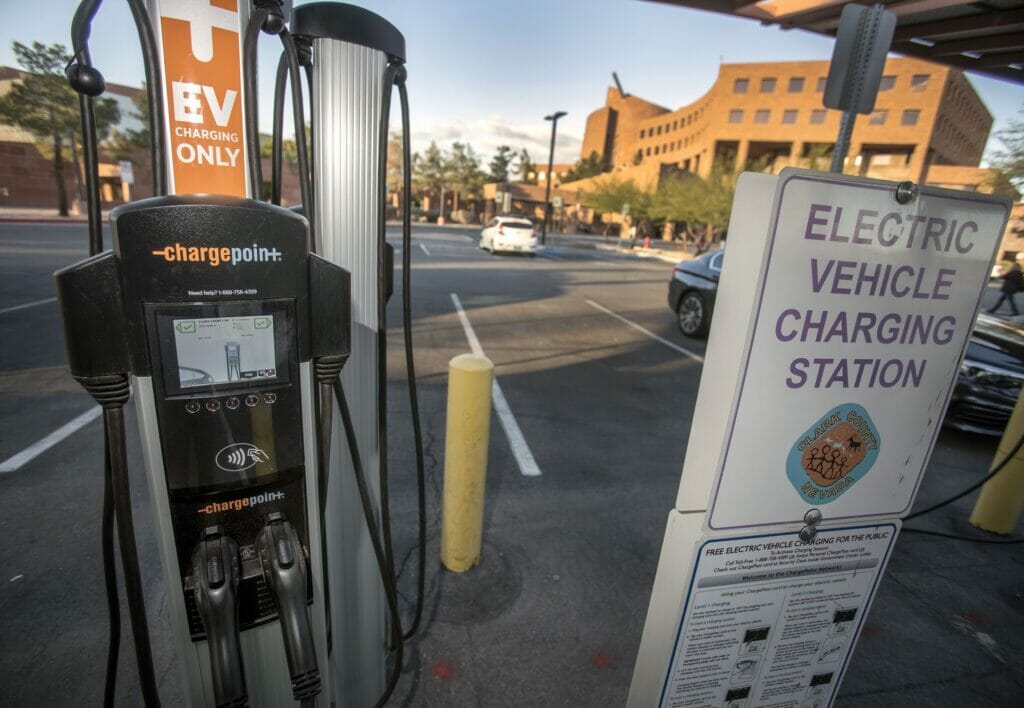 Nevada's version of the ZEV program also includes an early credit banking system to help phase in the changes and "to essentially reward automakers for sales ahead of the when the standard starts," Mui said. The system allows automakers to earn credits for delivering zero-emission vehicles to Nevada in 2022 and 2023, before model year 2025 vehicles are made available in 2024.
Clean energy advocates believe that change will make it easier for Nevadans to find electric vehicles at their local dealership.
When Las Vegas resident Bethany Khan, 35, purchased her first electric vehicle several years ago, she was unable to rely on a local car dealership to know exactly what she was getting.
"The first time I bought my EV … the person who sold me the car didn't really talk to me about the car," Khan said. "I had to go in there and know the research and know what I was getting."
When Khan's first EV was totaled in an accident earlier this year, she, like House, was unable to find an EV through a local dealer. After two months without a car, Khan was able to purchase an EV from a California dealership and have it shipped to Nevada. Khan and House said many people in the Las Vegas community are not aware of EVs as a cost-effective transportation option.
"I think there just needs to be more awareness of them, that you do not have to buy a super fancy, brand new EV," Khan said. "If more EVs were available in the lots, more people would see them and consider them as an option."
Nevadans are generally limited to purchasing vehicles from locally owned dealerships, rather than directly from manufacturers. That means people cannot buy directly from EV-only manufacturers, with one key exception: Tesla is allowed to sell its products through retail showrooms and service centers — a provision included as part of the company's $1.3 billion incentive deal reached with the state in 2014.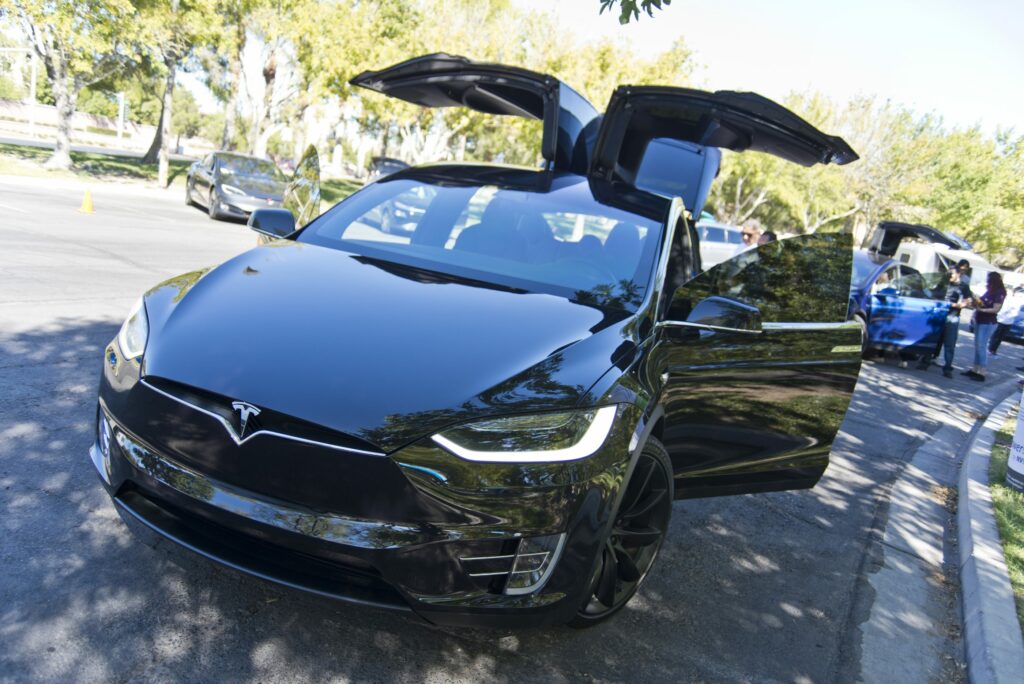 The upfront costs of EVs are another barrier. Those costs are generally higher than the standard prices of widely available gasoline-powered vehicles, but Mui said EV owners are able to make up that difference through savings on fuel costs and maintenance bills.
"Your monthly [fuel] bills and your monthly maintenance bills are significantly lower, and so you're basically spending a lot less over time," he said. "Most economists kind of call this a payback period … and right now, most studies are looking at three- to six-year paybacks, which are essentially within the time of when most people finance their vehicle anyhow."
An evaluation of the Clean Cars Nevada rules, conducted by an independent consulting firm earlier this year, estimated that with the ZEV program in place, cash purchasers who buy a vehicle outright are expected to save about $1,200 on average over the lifetime of a model year 2025 EV, compared with a similar gas-powered vehicle.
But Andrew MacKay, executive director of the Nevada Franchised Auto Dealers Association, which represents local dealerships, said he expected the program to experience some "growing pains."
"Just throwing a bunch of any product into a market doesn't do anything. It has to be a product that people want," MacKay said. "[But] when you consider just what is planned to come to market from an EV standpoint, hybrid standpoint and new product mix in the next three to five years, it's pretty exciting."
Reducing pollution
According to a state report, the transportation sector has been the largest contributor of greenhouse gas emissions in the state since 2015, outpacing emissions from electricity generation, which includes burning coal and natural gas for power.
Mui said that without addressing tailpipe emissions, Nevada will not be able to achieve its climate goals, which include reducing greenhouse gas emissions to zero or near-zero by 2050 — a target set by SB254, a bill passed during the 2019 legislative session.
"It's kind of almost like a mathematical prerequisite. To solve climate change, you're going to have to lower pollution coming from the largest source," Mui said.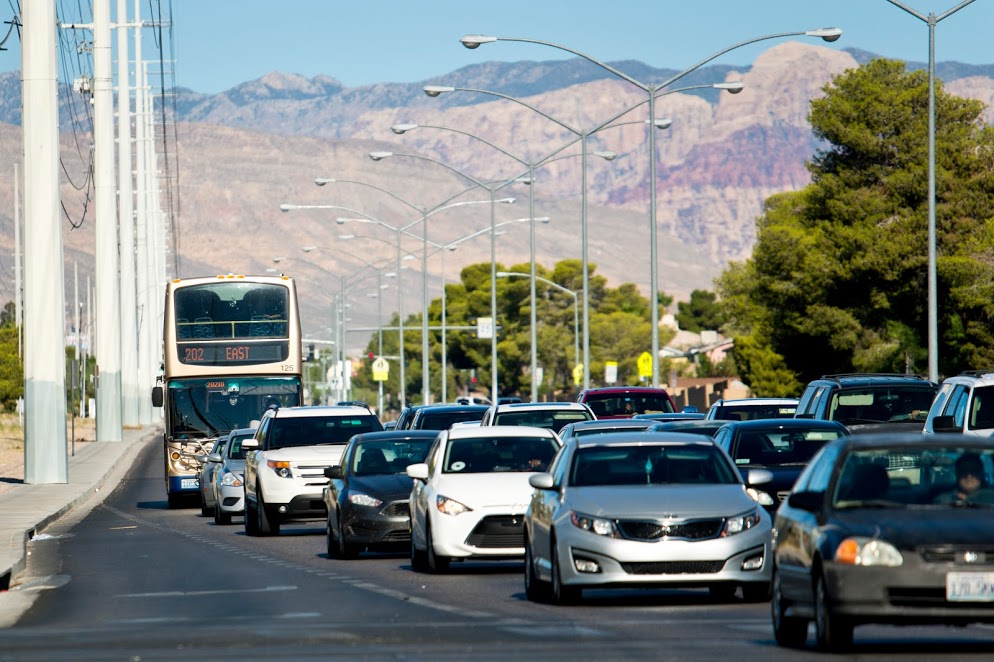 Advocates of the Clean Cars Nevada rules envision both segments of the regulation will help reduce pollution. Through the ZEV program, gas-powered vehicles on Nevada's roads will be swapped out over the coming years for EVs that produce no tailpipe emissions.
The LEV standards, meanwhile, will require automakers to phase-in a progressively cleaner mix of vehicles from year to year with increasingly stringent standards for exhaust emissions. The standards are meant to guarantee that a broader group of vehicles available for sale are low-emission vehicles. Those standards will apply to the vast majority of passenger vehicles driven in Nevada.
House said the new standards are especially important for communities of color, which are disproportionately affected by climate change.
"You go to the Historical Westside and … it's very polluted, houses aren't safe, and the air quality is just terrible in those areas," House said. "At least we're starting the conversations, and we're starting the actions that are needed to address the communities of color."
But increasing the number of EVs on the road is only half the battle — the state has also been active in building out charging infrastructure for the expected increase in electric-powered vehicles. Former Gov. Brian Sandoval launched a rural charging stations program in 2015, and lawmakers in the 2021 legislative session passed SB448, which calls for NV Energy to invest in a $100 million expansion of the state's electric vehicle charging station infrastructure over the next two years. (This map shows where EV charging stations are located throughout Nevada.)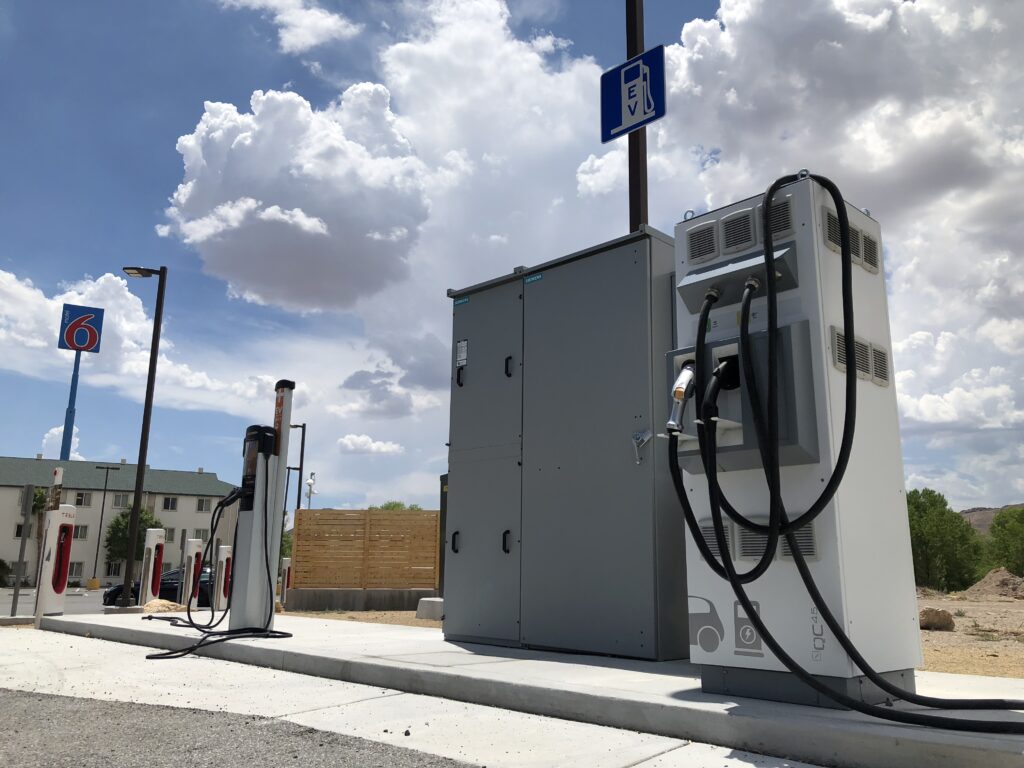 Nevada's path to new standards
Members of the Legislative Commission approved the emission rules in an 8-4 vote last month — Sen. Scott Hammond (R-Las Vegas) and Assemblyman Tom Roberts (R-Las Vegas) joined all Democratic members of the commission in support. The regulation language had been the subject of more than a year of input, after the Department of Conservation and Natural Resources first announced it would consider California's standards in June 2020.
Throughout the regulatory process, Nevada saw negotiations with manufacturers go far smoother than in other states, Mui said. In Minnesota, for instance, automakers and some state lawmakers pushed back against the proposed adoption of California's clean cars standards.
But Nevada officials were able to gain buy-in from automakers by allowing companies to collect early credits starting in 2022 and by finding a middle ground on how many early credits companies could earn.
"I think it's a model, honestly, from a regulatory standpoint, for the credit system that you're gonna see that's going to be considered in other states as well," MacKay, who represents local auto dealers, said.
The clean car rules adopted by Nevada are also specifically tied to the standards as they existed in California on Jan. 1, 2020, meaning Nevada will not automatically change its emission standards based on what its Western neighbor may do in the future. Under the rules, Nevada will next have the chance to revisit the regulation in 2023 and potentially enact more stringent standards then, Mui said.
Last year, California Gov. Gavin Newsom signed an executive order directing the state to require that all new cars and passenger trucks sold in California be zero-emission vehicles by 2035.
But MacKay cautioned that it would be best to watch how those heightened standards play out in California before bringing them to Nevada.
"Learn to walk before you run," he said. "If California ultimately does in fact meet those aspirational goals 14 years from now, maybe Nevada sits back and looks and goes, 'Okay, this is something that we should in fact consider."
Advocates in Nevada say there's still more work to do to transition away from fossil fuels in transportation and in other sectors. Last year, several environmental groups released a report finding Nevada off track to meet its 2050 greenhouse gas reduction goals with existing policies.
"Now that the regulations are in place, the conversation is really about how to remain successful," Mui said.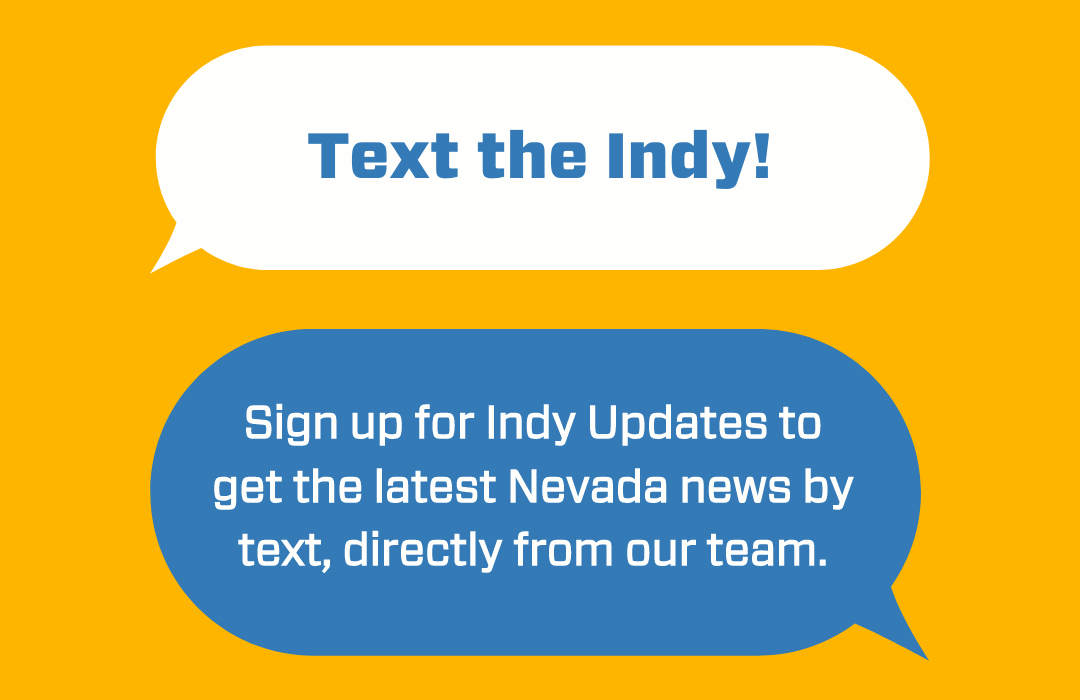 Featured Videos
Comment Policy (updated 4/20/2021): Please keep your comments civil. We reserve the right to delete comments or ban users who engage in personal attacks, use an excess of profanity, make verifiably false statements or are otherwise nasty. Comments that contain links must be approved by admin.