Why Vegas is on the hook for natural disaster protection plans in Northern Nevada
Opponents of NV Energy's Natural Disaster Protection Plan argue ratepayers are unfairly funding costs outside their service areas.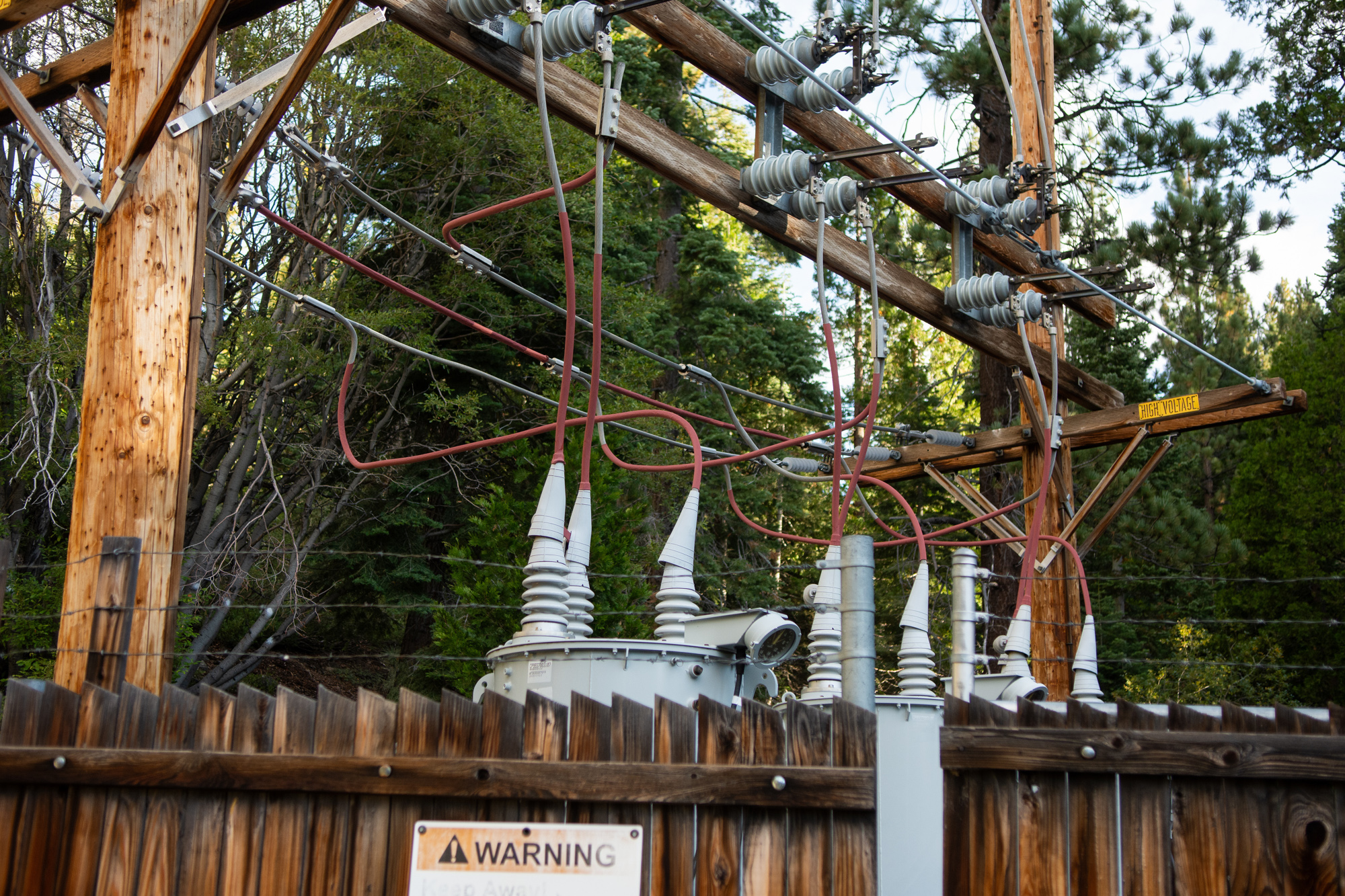 Electrical grid failures have been pinpointed as sources of some of the country's most damaging and deadly wildfires — the 2018 Camp and Woolsey fires in California, the 2020 Santiam Fire in Oregon and the 2021 Marshall Fire in Colorado. When the smoke dissipates, the cost of paying for these disasters hits utilities, and their customers, hard.
In the wake of the devastating fires, Nevada lawmakers passed legislation in 2019 requiring that the state's primary electric utility — NV Energy — draft periodic plans outlining steps to prevent such a disaster from happening here.
In the years since, NV Energy has developed an extensive plan and invested millions of ratepayer dollars into mitigation efforts.
The latest NV Energy Natural Disaster Protection Plan (NDPP), which spans from 2024 to 2026, addresses preparation work for an array of disasters, including earthquakes, wind events, floods and mudslides, with the bulk of its focus on wildfires. The plan specifically targets nine areas of extreme or elevated fire risk ranging from Lake Tahoe to Elko. All but one of the targeted areas — in the Spring Mountain Range outside of Las Vegas — are in Northern Nevada, mostly in the Reno-Tahoe-Carson City area.
In the plan, NV Energy is forecasting $43.5 million for Southern Nevada projects, including wildfire cameras and moving lines underground, and $127.6 million for Northern Nevada.
Funding for the NDPP is collected from all NV Energy customers, without considering their geographic location. That geographic imbalance has led large corporate customers and the state's consumer advocate to cry foul to the Nevada Public Utilities Commission (PUCN). They argue that slapping higher rates on all NV Energy customers — the majority of whom live in Southern Nevada, outside the highest risk zones — is not a fair solution.
Despite those protests, the PUCN this summer approved the newest plan and, with a 2-1 vote, the funding mechanisms for work done under the past plan. Rate changes go into effect this month.
Southern and Northern Nevada NV Energy customers pay different rates and base charges, including those for basic service and per kilowatt hour of consumption, but all customers, NV Energy argues, should be responsible for fire prevention because all customers benefit from natural disaster prevention.
The charges are nominal — a fraction of kilowatt hours used — for most residential customers. But for corporate power users such as gaming companies MGM Resorts International and Wynn Resorts — who have objected to how the plans are funded — the costs could be much higher because the NDPP and other volumetric surcharges scale up for large power users. Attorneys with the state's Consumer of Bureau Protection (BCP) are also worried that ratepayers are funding direct costs outside of their service areas.
The multiyear battle raises an increasingly pressing public policy question as climate change fuels more erratic weather patterns: Are natural disasters statewide or local issues?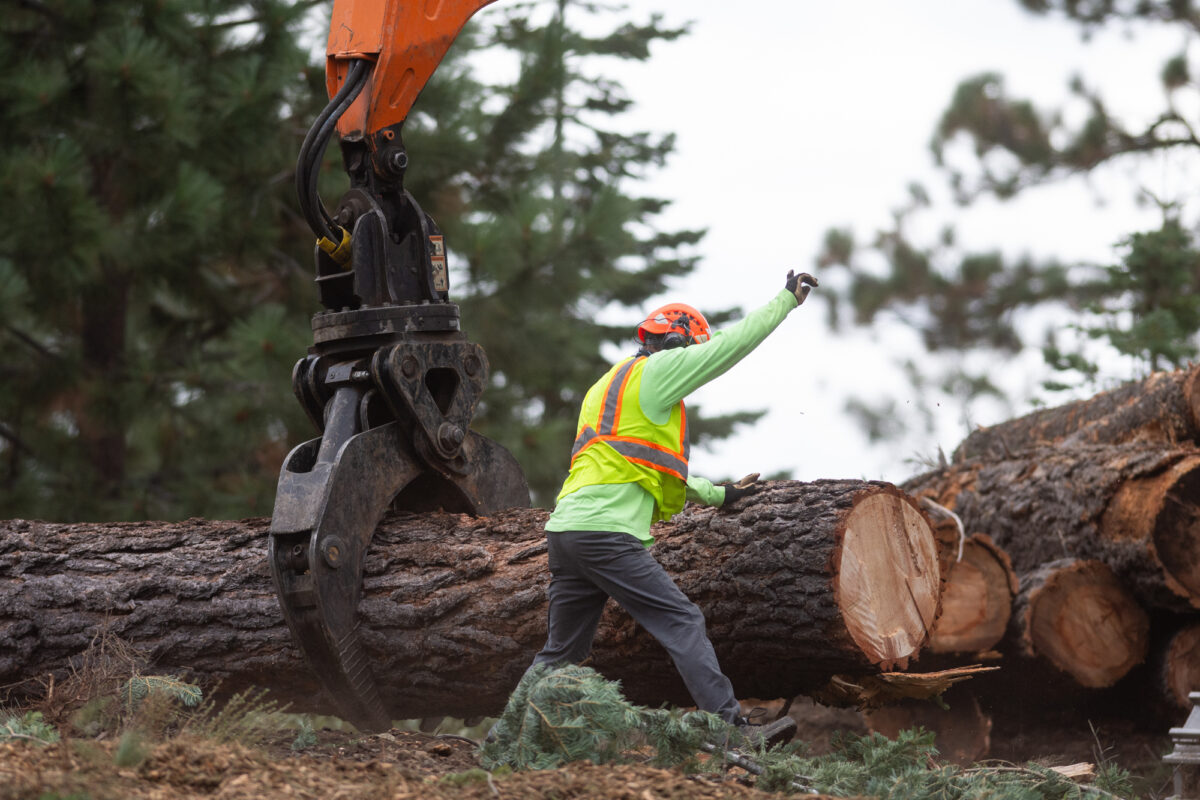 SB329 and the need for a natural disaster protection plan
In 2018, massive wildfires burned across the West. In California, the Mendocino Complex and the Carr fires burned hundreds of thousands of acres that summer; in November, the town of Paradise burned in the Camp Fire, killing 85 people and destroying more than 18,000 structures.
It was on the heels of those wildfires that former state Sen. Chris Brooks (D-Las Vegas) introduced SB329 during Nevada's 2019 session.
The bill requires utility companies to submit a natural disaster plan to the PUCN every three years. Expenses related to paying for the NDPP would be recovered through a separate line item on customers' power bills.
"The Camp Fire in California and similar events throughout the country have shown us that an improperly built electric grid can wreak havoc on residents," Brooks said when presenting the bill. "We must prevent this from happening in our state."
The response to natural disasters and the repair afterward is largely paid for by state tax dollars, and those are paid for proportionately across the state, Brooks said in a recent phone call with The Nevada Independent, adding that if the response and repair are paid for by all Nevadans, prevention should also be paid for by all Nevadans.
"It's shortsighted to think wildfire doesn't impact the whole state," he said.
The bill passed in the Assembly 38-2, and unanimously in the Senate before being signed into law by former Gov. Steve Sisolak.
NV Energy submitted its first natural disaster plan to the PUCN in 2020 and its plan for 2024 to 2026 earlier this year.
The future and current disaster plans were approved without complaint — but the debate over who pays for the work done under the plans continues to rage.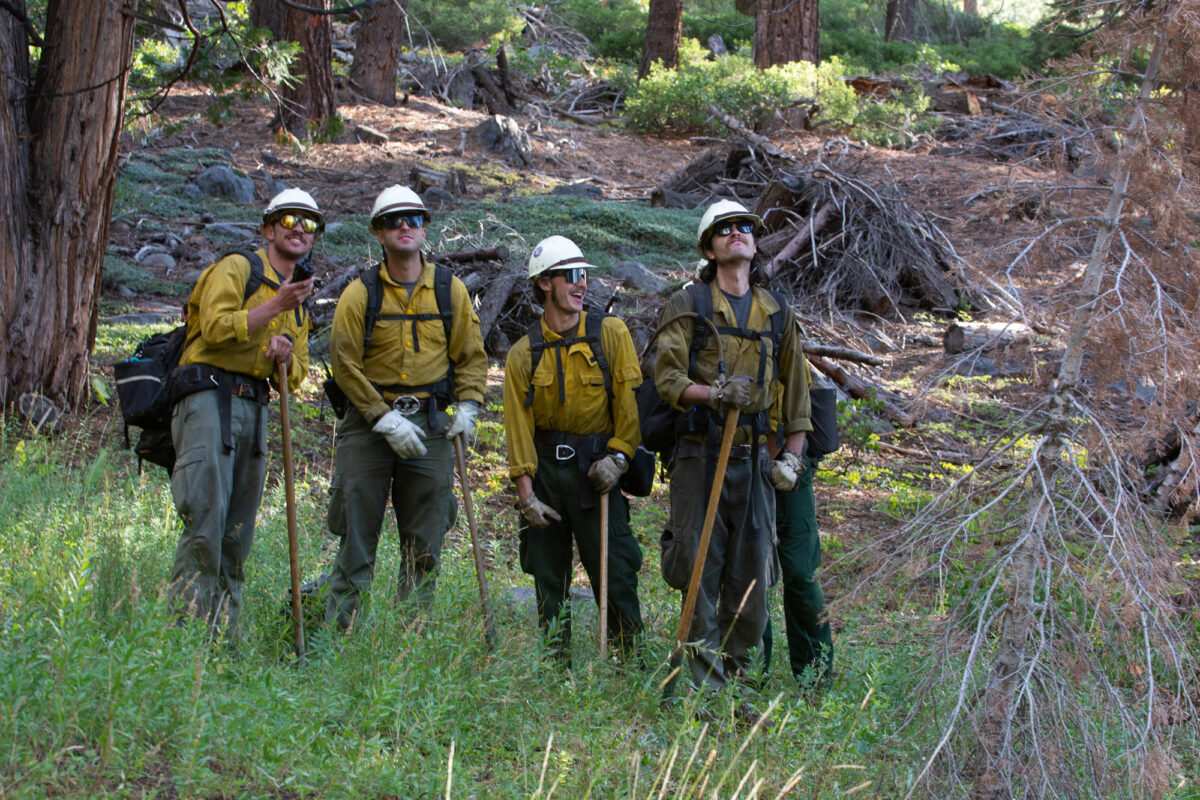 Funding plans spark opposition
NV Energy collects funds from customers retroactively — with the approval of the PUCN — for work completed under the NDPP. Southern Nevadans will pay nearly $20 million for work completed last year in Northern Nevada, according to the BCP, and more than $67 million over the past four years.
Disaster prevention is a statewide benefit, the utility argues, citing language in SB329 for support. In 2020, lawmakers including Brooks wrote to the PUCN, clarifying that a single, statewide rate was the intent of the legislation.
"A single rate is exactly the cost-effective strategy and method the Nevada Legislature intended," they wrote, adding that "Natural disasters, whether they be wildfires in Lake Tahoe or Mount Charleston, or a monsoon affecting the Las Vegas strip will affect the economy of the entire state."
In a 2022 filing with the PUCN, NV Energy piggybacked off the sentiment of the letter, stating "most Nevadans will benefit from the NDPP." It's also pointed out that the charged NDPP rate "comprises a very small percentage of the average bill and will likely remain a small percentage of the average bill and will likely remain a small percentage in the future," according to testimony provided by Cary Shelton-Patchell, NV Energy's director of revenue requirement and regulatory accounting.
But the question of how rates are allocated across the state has been a recurring theme in regulatory filings, according to Jesse Murray, vice president of electric delivery and natural disaster protection for NV Energy, with the BCP and Southern Nevada gaming companies the primary objectors.
Large or small percentage, the BCP disagrees with the distribution of the NDPP charges across the state, stating that the payment by Southern Nevadans for work done in Northern Nevada "was ordered in the absence of substantial evidence to justify it."
"To be clear, the BCP takes no issue with the NDPP in general," attorneys for the agency said in a request for reconsideration. "The BCP takes issue with the decision to alter the reasonable and just premise that the cost causer pays."
Whitney Digesti, senior deputy attorney general for the BCP, did not return a call to The Nevada Independent, and Ernest Figueroa, Nevada State Consumer Advocate and head of the BCP, did not respond to an emailed request for comment.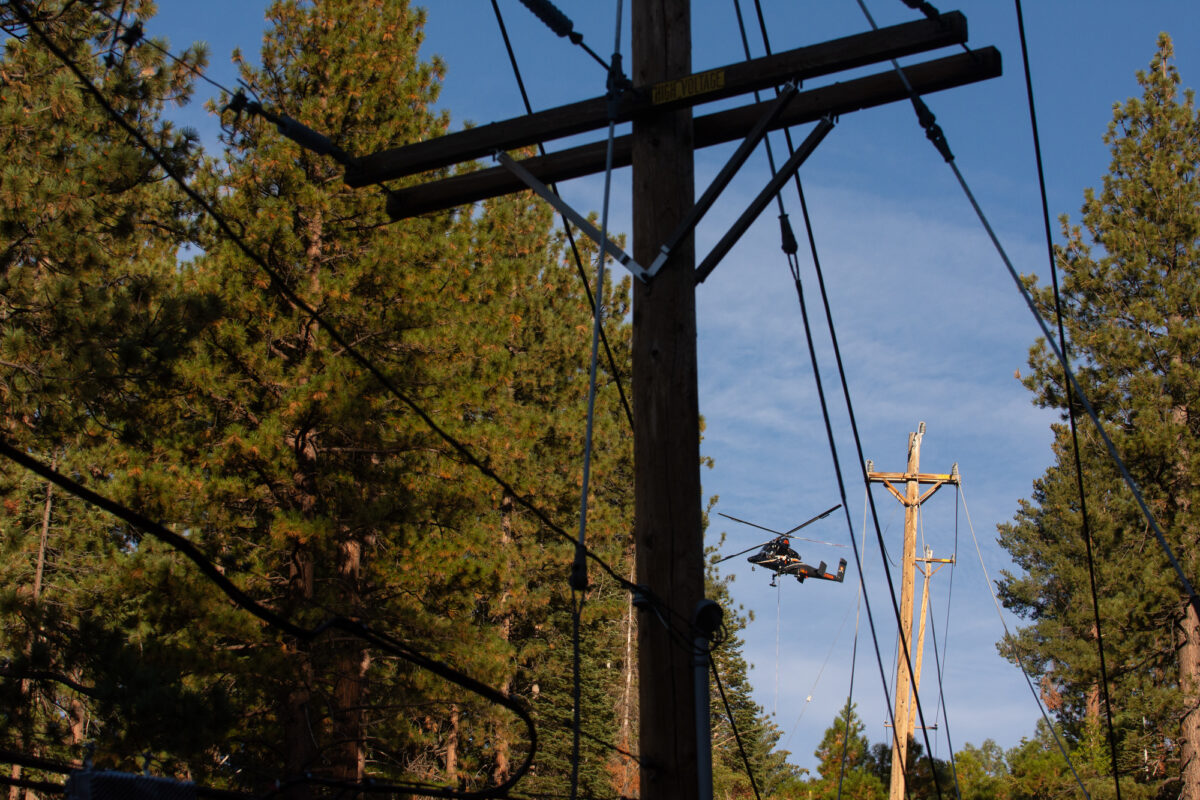 Is disaster preparedness a local or statewide problem?
NV Energy has identified nine zones in Nevada as having extreme and elevated risks of wildfires.
About 80,000 customers live in the wildfire risk areas — about 500 in the Mount Charleston area, with the rest in Northern Nevada, Murray said. Since 2020, NV Energy has been halting power in some of those areas to protect power lines from sparking wildfires, primarily around Mount Charleston. There were several outages during 2021 and 2022, while there was just one shutoff in Northern Nevada in 2022, in Jacks Valley outside Carson City.
This year, Mount Charleston was hit with heavy flooding in the wake of Hurricane Hilary, which dropped record-breaking rain on the region and hundreds of customers lost power.
The NDPP largely focuses on work in and around these zones.
"Natural disasters don't know boundaries … All of us are in this together, and that was the founding premise of 329," said Rich Harvey, chief of the Central Lyon County Protection District.
His agency is one of multiple throughout the state that formed partnerships with NV Energy to complete work — funded by the utility — under the NDPP.
"The most common disaster in Nevada is fire … and it's one of the easiest to mitigate," he said. "It makes sense to focus our efforts where frequency and competency meet."
In Genoa, just south of Carson City, a fire mesh product is being added to power poles so that if a fire breaks out, the mesh will expand to form a protective barrier around the poles. Trees near Mt. Rose Ski Resort and around Incline Village in Lake Tahoe are being removed to protect infrastructure from the risk of wildfires. In the Spring Mountains National Recreation Area, vegetation is being removed around the base of power lines.
"The win for me is there is some fuel reduction work and there is a little more muscle power in Northern Nevada — Southern Nevada too — where, if there is a fire, we can use those resources to reduce everyone's damages and threat," Harvey said. "If we do one good thing and prevent one Camp Fire or Dixie Fire or Lahaina Fire, we have paid 100 times over for everybody."
But the NDPP is not designed to prevent natural disasters, David Chairez, regulatory manager for the BCP, said in June testimony to the PUCN. Its purpose is to ensure public utilities have a plan to provide safe and reliable service by identifying areas of high risk, minimizing the risks of its utilities causing a fire, and efficient restoration of the utility's distribution system in the event of a disaster — but no plan can outright stop natural disasters.
"No amount of NDPP spending is going to prevent a natural disaster that results from a lightning strike igniting a wildfire in a drought-stricken forested area," he said. "No amount of NDPP spending is going to prevent a human-caused disaster that results from a person igniting a wildfire by tossing a cigarette in a drought-stricken forested area. No amount of NDPP spending is going to change the geological science of the causes of earthquakes."
While the bulk NDPP projects are focused on wildfire mitigation in Northern Nevada, natural disasters of any type could still impact the state, according to the state's Joint Information System Center, which forecasts potential natural disasters and their impacts. A magnitude 6.0 earthquake along the Frenchman Mountain Fault in Southern Nevada could result in more than $7 billion in economic loss, according to the center.
The center also forecasts potential wildfires but does not include economic impacts; however, studies show recent wildfires around Nevada have cost millions.
The 2021 Caldor Fire, which threatened South Lake Tahoe, caused $50.3 million in direct and indirect losses in Tahoe's hotel, restaurant and tax receipts — some of that along Tahoe's east shore in Nevada — over just a four-week period, according to a study by Tom Harris, director of UNR's Center for Economic Development.
Harris likens paying for the NDPP to paying for health or car insurance.
"This year, the south had the fires. When things are random, you can't forecast," he said. "When you have randomness, you come up with something like this where everybody pays in.
"Everyone pays their premium. Sometimes Southern Nevada gets their premium back, sometimes Northern Nevada does."
Bradley Mullins, an energy and utilities consultant representing Wynn Resorts, counters that those premiums have been paid, and now the burden of funding needs to shift.
Initial work under the NDPP provides a statewide benefit, he told the PUCN in June. After the initial few years of hardening infrastructure for wildfires, the work becomes routine maintenance, the statewide benefits are reduced, and it is "appropriate for customers in their respective service territories to shoulder the cost of maintaining their own systems at safe and reliable levels."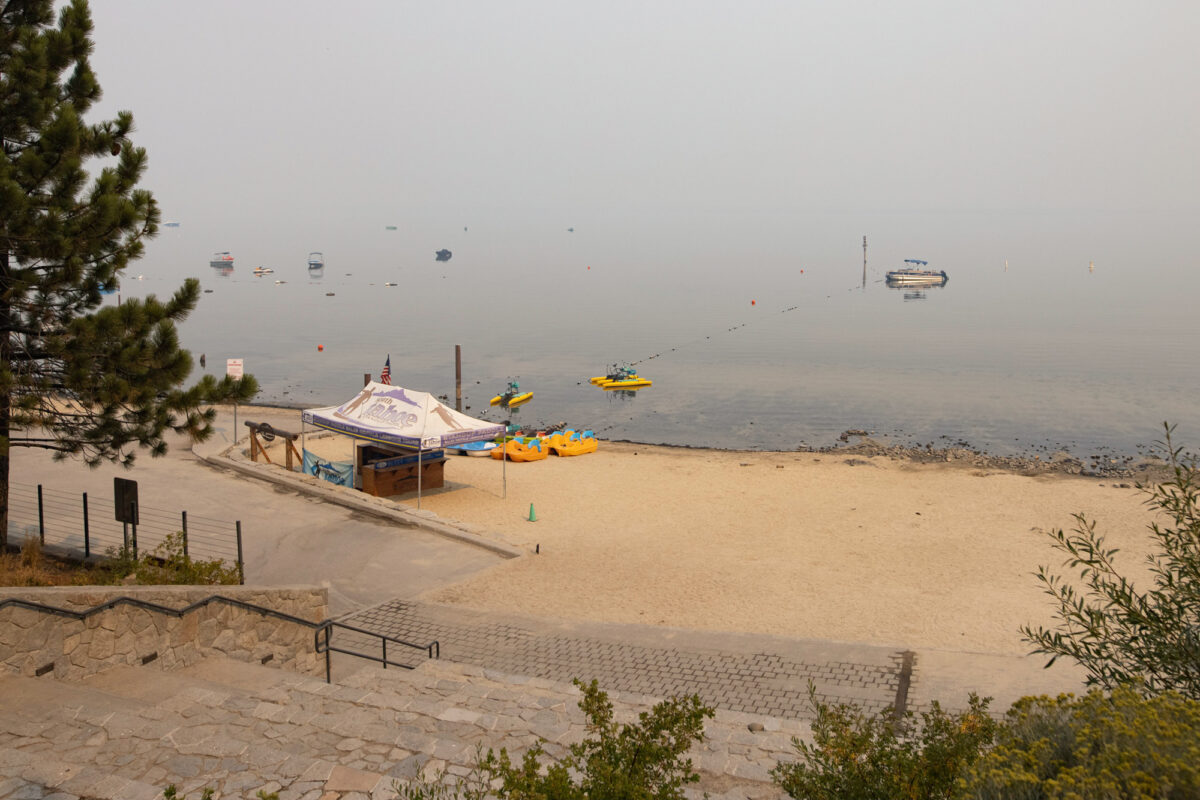 Keeping Nevadans' properties — and NV Energy's pocketbook — a bit safer
In July and August, NV Energy staff watched as the York Fire, which burned through the Mojave National Preserve, crept into Southern Nevada, threatening some of its infrastructure. It was contained before NV Energy's transmission lines were affected, but had the fire burned further north, it would have affected lines that power Searchlight and Laughlin.
Those types of threats were not considered a decade ago, Murray said. But over the past few years, residents and insurance companies affected by wildfires have sought payback from power companies whose equipment have sparked Western wildfires.
In May, the California Public Utilities Commission approved a $150 million settlement between its safety and enforcement division and Pacific Gas and Electric for the utility's involvement in the 2020 Zogg Fire. The blaze killed four people, injured one and destroyed more than 200 structures. Of the $150 million, $10 million was a penalty, with the other $140 million in shareholder funds reinvested for new wildfire mitigation initiatives.
In June, an Oregon jury ordered PacifiCorp, owned by Berkshire Hathway (the same company that owns NV Energy) to pay punitive damages as well as property damage and emotional distress for causing a series of wildfires over Labor Day weekend in 2020 that killed nine people and burned more than 5,000 structures. The property damage and emotional distress fees totaled more than $70 million to 17 plaintiffs, with possible additional damages to a broader class of plaintiffs.
The following month, dozens of insurance companies sued Minneapolis-based Xcel Energy after one of its sparking power lines was found to be a major contributor to the 2021 Marshall Fire, which burned more than 1,000 homes and killed two people.
"NV Energy did not want to become PG&E East," Harvey said. "You have these power distribution company-caused fires that are being called negligent. How do you prevent negligence? You do what SB329 said … and harden our infrastructure and put defensible space around our infrastructure."
The Nevada Independent is raising $200,000 by Dec. 31 to support coverage of the 2024 election.
Tax-deductible donations from readers like you fund this critical work.
If you give today,your donation will be matched dollar-for-dollar.
Give + Get Matched
Featured Videos