With new administration, advocates push for national monument in Clark County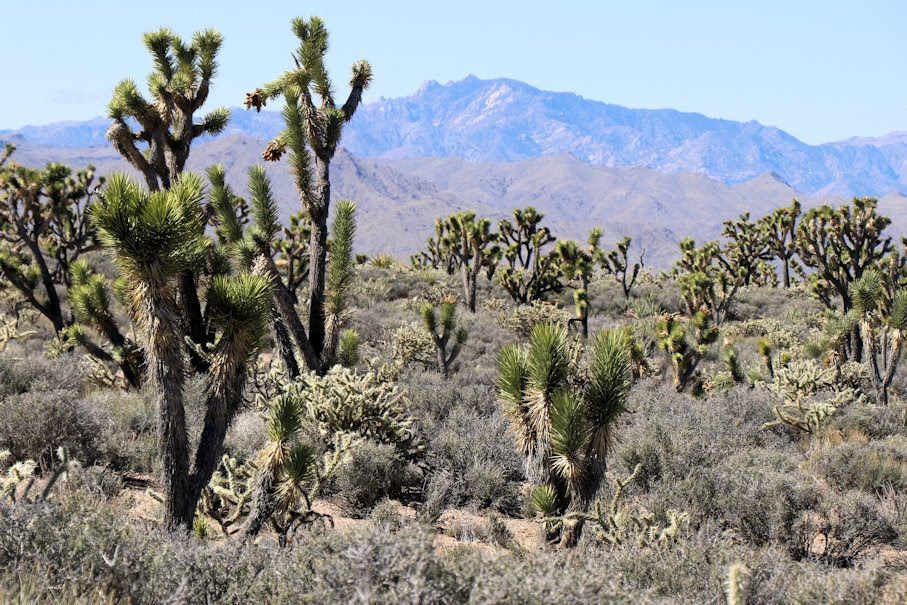 Good morning, and welcome to the Indy Environment newsletter.
As always, we want to hear from readers. Let us know what you're seeing on the ground and how policies are affecting you. Email me with any tips or suggestions at [email protected]
To get this newsletter in your inbox, subscribe here.
---
Last month, President Joe Biden committed to protecting 30 percent of U.S. land and waters by 2030. In Carson City, freshman Assemblywoman Cecelia González (D-Las Vegas) is looking at a resolution that would signal the Legislature's support for such efforts in Nevada.
With those goals in mind, a coalition of environmental groups and local tribes are advocating for the creation of a national monument in Clark County that would span more than 380,000 acres, connecting land designated for conservation and recreation in California and Arizona.
The new monument, stretching from Mojave National Preserve in California to parts of the Lake Mead National Recreation Area would provide protections for Avi Kwa Ame, the Mojave name for "Spirit Mountain," a spiritual center for Yuman-speaking tribes along the Colorado River.
"It is the sacred place for Mojaves and others along the [Colorado River] corridor here," said Linda Otero, who directs the Aha Makav Cultural Society for the Fort Mojave Indian Tribe.
In 1999, the federal government designated Avi Kwa Ame on the National Register of Historic Places, recognizing its importance for ten Yuman-speaking tribes, the Chemehuevi Paiute and the Hopi. But that designation was limited in its full scope. Alan O'Neill, superintendent of the Lake Mead National Recreation Area at the time, said the designation did not include a lot of land that surrounded Avi Kwa Ame, and there was a need, even then, for more protection.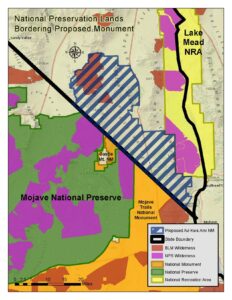 "There was a kind of unspoken commitment that I had to the tribes that we can revisit this issue another time," O'Neill said. "That discussion wasn't completed" with the historic register listing.
The proposal for an Ave Kwa Ame National Monument was floated in a draft of the Clark County Public Lands Bill, prepared by Sen. Catherine Cortez Masto's office. The legislation would seek to allow growth in the Las Vegas area, down the I-15 corridor toward Ivanpah, while conserving land to offset new growth. But it might not take Congress to create a new monument. Biden, as President Obama did with Gold Butte, could designate a monument with the Antiquities Act.
Jocelyn Torres, a senior field director at the Conservation Lands Foundation who is part of the group advocating for the monument, said it could get designated through either process.
"We see this region as the missing piece of the puzzle connecting the California-side [national monument and conservation] designations to Lake Mead and the Colorado River," Torres said.
Advocates of the monument note that it could also protect a sensitive landscape from future energy development. The current proposed boundary for the new monument includes an area targeted for the Crescent Peak wind project, which federal land managers rejected in 2018.
"It would have absolutely destroyed the integrity of that landscape," O'Neill said.
For the Fort Mojave Indian Tribe, protecting the land has never been a choice, especially now. Paul Jackson, who works with the Aha Makav Cultural Society, said that Spirit Mountain and the land around it is not only a spiritual center for the Tribe, it is a source of learning and substance.
"There have been a lot of changes over the last 50 years," he said.
The landscape around the Tribe's lands have changed with more development. The Colorado River, once a free-flowing waterway, was dammed. Aha Makav translates to "people along the river," he noted. With people have come different species of fish. Rock climbers have left gear in mountains near petroglyphs. Development has clouded once dark skies around Spirit Mountain.
González, who supports the monument, requested a resolution in the Legislature urging the federal government "to protect 30 percent of lands and waters in Nevada by 2030."
She said it was important that tribes play a role in how lands are managed.
"Having indigenous folks at the table ensures they are not left out," González said. "But it also ensures that we don't make assumptions about what the community's needs are."
---
Here's what else I'm watching this week:
The water authority's investment: Review-Journal reporter Blake Apgar looks at the Southern Nevada Water Authority's interest in a California water treatment project. Here's more from the story: "A proposed water recycling project in Southern California could result in Nevada getting some of the Golden State's share of water from the Colorado River. The Southern Nevada Water Authority could invest up to $750 million into the water treatment project. In return for the investment, it could get a share of California's water in Lake Mead."
Conservation voters: Colorado College's State of the Rockies Project released its annual poll on voters' opinions about conservation, climate change and energy. Here are the results. 
"How do I become more independent?" Kaleb Roedel, with Northern Nevada Business Weekly, looks at rooftop solar sales in 2020. There's a lot of interesting data in here.
A new dark sky program could come to Nevada: "Despite the neon glare of Reno and Las Vegas, dark skies are an internationally famous asset of Nevada's outdoor recreation economy, an industry that already generates $12.6 billion in consumer spending in Nevada every year, according to the Outdoor Industry Association (OIA)," Scott King writes in the Sierra Nevada Ally. "If made law, Senate Bill 52 would help protect those dark places and create a state-level program to award "dark sky" designations to qualifying locations across Nevada."
Mining company cited: The U.S. Mine Safety and Health Administration (MSHA) cited a gold mine, owned by Kinross Gold Corp., for a fatal accident in November. The Elko Daily Free Press has more: "MSHA said investigators determined there were no barricades or signs to provide a warning of the extreme fall hazard at the edge of the pit high-wall, and mine management 'did not follow their company policy that prohibited work in certain areas while it was dark.'"
The Nevada Independent is raising $200,000 by Dec. 31 to support coverage of the 2024 election.
Tax-deductible donations from readers like you fund this critical work.
If you give today,your donation will be matched dollar-for-dollar.
Give + Get Matched
Featured Videos