1 in 3 families struggle with diaper supply, federal funds expand Nevada resources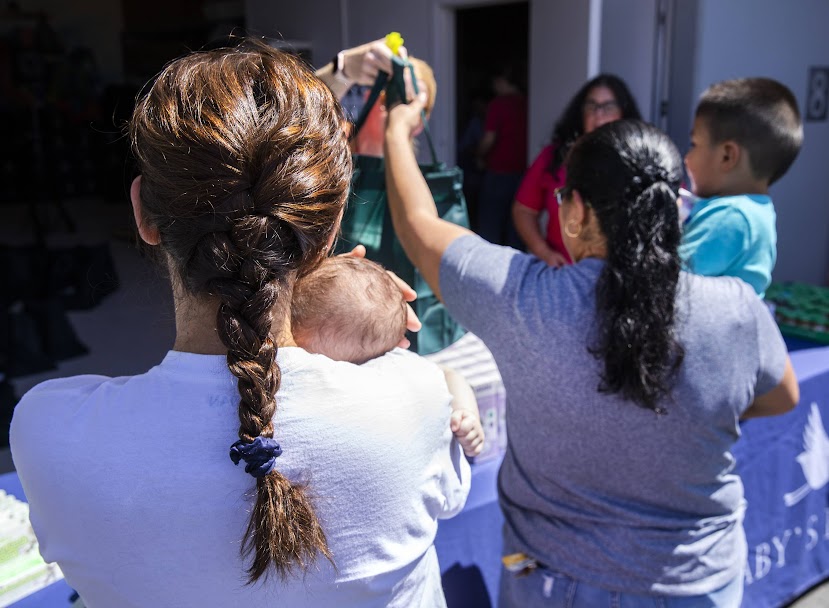 Among the many supply chain challenges, a diaper shortage emerged at one point earlier in the pandemic, worrying caregivers about whether they could change their little ones as frequently as needed and prompting them to turn to a local nonprofit organization for baby supplies. 
After surviving in Nevada since 2008 through private donations and corporate sponsorships, that nonprofit — Baby's Bounty — is expanding by way of a new $202,000 federal grant from the American Rescue Plan (ARP) to deliver diapers to families struggling to make ends meet amid growing inflation.
The organization holds diaper banks monthly on the second Wednesday in North Las Vegas and on the third Wednesday in Las Vegas. They help approximately 500 families at each bank with a week's supply of diapers and wipes, spending roughly $10,000 a month on the initiative.
"I know for us, it's unacceptable that a family would have to leave their child in a soiled diaper because they don't have the money to replace it," said Kelly Maxwell, executive director of Baby's Bounty Las Vegas. "So we are committed to doing our part to solve the diaper need."
Maxwell said diapers are preventative medical supplies and that without fresh diaper changes, babies are susceptible to all kinds of health problems, including dermatitis, diaper rash and viral meningitis. She also said parents cannot take their children to daycare without a day's supply of diapers.
Nevada had taken steps to help caregivers with "diaper need" before the pandemic. In 2017, state lawmakers unanimously passed a bill that required the Department of Health and Human Services to create a diaper resource committee that would research and keep track of "diaper need" in Nevada. The bill was introduced by leaders from Baby's Bounty and carried by then-Assemblywoman Olivia Diaz (D-North Las Vegas).
"Mothers are extremely distressed by diaper rash and may have feelings of embarrassment, guilt, or frustration," Kim Amato, founder and board president of Baby's Bounty, said at a 2017 Assembly Health and Human Services Committee hearing.
Amato was adamant about helping mothers and caregivers, especially from low-income families who she said sometimes reuse diapers by ridding them of excrement. She said babies, particularly newborns, use as many as eight to 12 diapers a day because they drink fluids constantly. At the hearing, Amato said the Department of Health and Human Services should have a research team that focuses on how to direct more funding to the problem.
During the COVID-19 shutdown, Baby's Bounty saw an increased demand for diapers, including from state entities, and the organization started distributing as many as 60 emergency diaper packs a week during the pandemic.
"Not only could they not find them on the shelves, because people were hoarding diapers the exact same way they were hoarding toilet paper, but also a lot of our clients were financially challenged to begin with," Maxwell said.
According to a 2017 study by the National Diaper Bank Network, 1 in 3 families could not afford a regular supply of diapers. Families spend more than $80 a month per child on diapers and the shortage revealed a lack of diaper resources in Nevada.
Baby's Bounty was one of the first round awardees for the state's $30 million Community Recovery Grant program backed by American Rescue Plan dollars, along with the Food Bank of Northern Nevada, Family Support Center and Goodwill of Southern Nevada. There were 330 nonprofit organizations that applied for the Community Recovery Grant — $445 million in funding requests total — in hopes of landing money from the state's share of unrestricted federal pandemic relief funds.
"That $200,000 will allow us to have a diaper warehouse dedicated to purchasing, storage and distributing all of those diapers, and will continue to fund both that program and our other programs," Maxwell said. "I'm not concerned about being able to fund this now."
Besides holding bi-monthly diaper banks, Maxwell said Baby's Bounty supplies clients with all of the necessities for a baby's first six months of life, which includes car seats, bathtubs, cribs and a critical infant education course for parents.
Along with ARP funding, Baby's Bounty will receive a $137,000 grant from Temporary Assistance for Needy Families or TANF — also known as welfare — and it planned to distribute diapers to about 1,500 clients at the end of May, right after their second diaper bank anniversary. Each client will receive a baby bundle that includes four packs of wipes, two packs of diaper rash cream and 200 diapers.
There is no income verification process to corroborate recipients' financial need, but clients are referred to Baby's Bounty through Anthem Medicaid, TANF and other social services or organizations geared toward low-income households. Although the diaper distribution is a prime example of how the community is served through government and nonprofit relationships, Maxwell argues Nevada has struggled to maintain infrastructure for such resources for years for two reasons.
"I think [Las Vegas] lags behind in some social services partially because we're a newer city. We're growing faster than I think our social services can keep up with," Maxwell said. "And historically, Nevada does not receive all of the federal funds that we are allotted."
Missing grant infrastructure
Nationwide, only a small percentage of families living below the federal poverty line, such as a family of four earning $27,750 a year or less, receive benefits through TANF that could be used to purchase diapers. But larger programs, such as SNAP and WIC, do not allow beneficiaries to buy diapers using the benefits.
This prompted ​​Rep. Barbara Lee (D-CA) and Rep. Rosa DeLauro (D-CT) to sponsor the End Diaper Need Act of 2019 which would have created $100 million in grant funding for low-income families in need of diapers.
"These families should not have to choose between purchasing basic household needs and buying diapers," said Lee in a press release at the time. "It is past time for our government to provide this basic need for millions of children."
The bill did not make it into law, but even if it had, Nevada has a subpar record of taking advantage of the billions of dollars in grants the federal government distributes each year to serve communities.
Nevada ranks 45th in federal grant dollars per capita, according to a 2021 report by the Guinn Center, a nonprofit research and policy think tank. Miles Dickson at Nevada Grant Lab said Nevadans are missing out on $800 per person every year in federal investment dollars compared to the national average because of a weak grant infrastructure.
He said Nevadans are paying their fair share of taxes but because of inadequate grant distribution, the state has historically underperformed at receiving its per capita fair share.
"Collectively, it just means that we're all paying into a federal system and getting a disproportionately low value in return," Dickson said.
Dickson warned that the infrastructure for grant services in Nevada is fragile and that new funding, including ARP dollars, can actually put further strain on the state.
Suggesting an all-hands-on-deck approach to increase the federal funding in Nevada to meet the state's needs, Dickson said more training and professional development is required to help organizations successfully apply for grants.
"I mean grant applications," he said. "You're talking about 100 plus-page documents that are really technical that we have to train for, and we really don't do that in a meaningful way [in Nevada]."
Dickson said the application process can be problematic, as well as the grant formulas, but he argued that the state's underfunding from federal dollars is a Nevada issue, not one created by the federal system.
On top of a personnel shortage, he said there is a lack of coordination and communication between entities seeking grants, which he said requires a full-time position rather than email chains. Dickson said Nevada needs grant management software and that other states have been using it to keep track of grant funding. He said federal grants are often premised on need and because of Nevada's nationally low rankings in education, mental health and other social services, the state's federal grant funding should reflect that.
"We're the outlier," Dickson said. "In that we lead this country in need – and we trail it in the very funding that should meet that need."
The Nevada Independent is raising $200,000 by Dec. 31 to support coverage of the 2024 election.
Tax-deductible donations from readers like you fund this critical work.
If you give today,your donation will be matched dollar-for-dollar.
Give + Get Matched
Featured Videos