Groups help children enjoy play time, hugs and a shared meal with incarcerated parents
It was a dream come true for many: After years apart, 50 Nevada inmates had the chance to see and hear their children laughing, play with them, hug them.
Earlier this month, community groups and local authorities organized the fourth annual 50 Christmases for Children with Incarcerated Parents, a reunion where — for a few hours — steel bars were out of sight and sad memories were exchanged for Christmas cheer.
Representatives from a number of groups including the Nevada Department of Corrections, prisoner re-entry program Hope for Prisoners, The Crossing church in southwest Las Vegas and the Christian radio station SOS 90.5 FM spent six months planning to bring prisoners and their families together. They feasted on turkey with mashed potatoes and cranberry sauce and sat in front of fragrant pine trees, just as they would on a traditional Christmas morning.
"We are human and sometimes things happen to us that we can't change. I'm happy and grateful to these people, because I was locked up in prison and now I'm with my family," said Patricia Gonzalez, who hadn't seen her loved ones in two years and was one of 50 participants who was granted a few hours of release. "Sometimes you need this to go on, because if you're locked up, you feel like it's the end of the world."
Inmates who participated in the Christmas program had committed offenses ranging from minor drug infractions to crimes against private property. To be a part of the reunion, they needed to meet criteria from the Nevada Department of Corrections that includes having good behavior, maintaining a job and studying.
The participants were a small fraction of those who are incarcerated and will be spending the holidays away from their families. An estimated 23,000 people are in jails, prisons and juvenile detention centers in Nevada, and the number is climbing — the state prison population is 7 percent higher than it was a decade ago.
Across the U.S., an estimated 2.7 million children have parents who are behind bars, according to the National Conference of State Legislatures. Research has shown that inmates who maintain close contact with family members while incarcerated have a reduced risk of returning to prison after their release, because family ties serve as both a support system and a suppressant of bad behavior.
"Today we can celebrate all these families, celebrate their loved ones who are working so they may recover," Elizabeth Dixon-Coleman, who is the state re-entry manager of the Nevada Department of Corrections. "Reuniting people and making our communities safer and to give them time to recover are the reasons why this program is important."
Dixon-Coleman said the participants in 50 Christmases had spent anywhere from one to 30 years in prison.
"There is a family that hadn't seen each other in 10 years, they hadn't even communicated," she said. "During the last 6 months they were given the perfect opportunity to get in touch again and today they're here celebrating."
A dream come true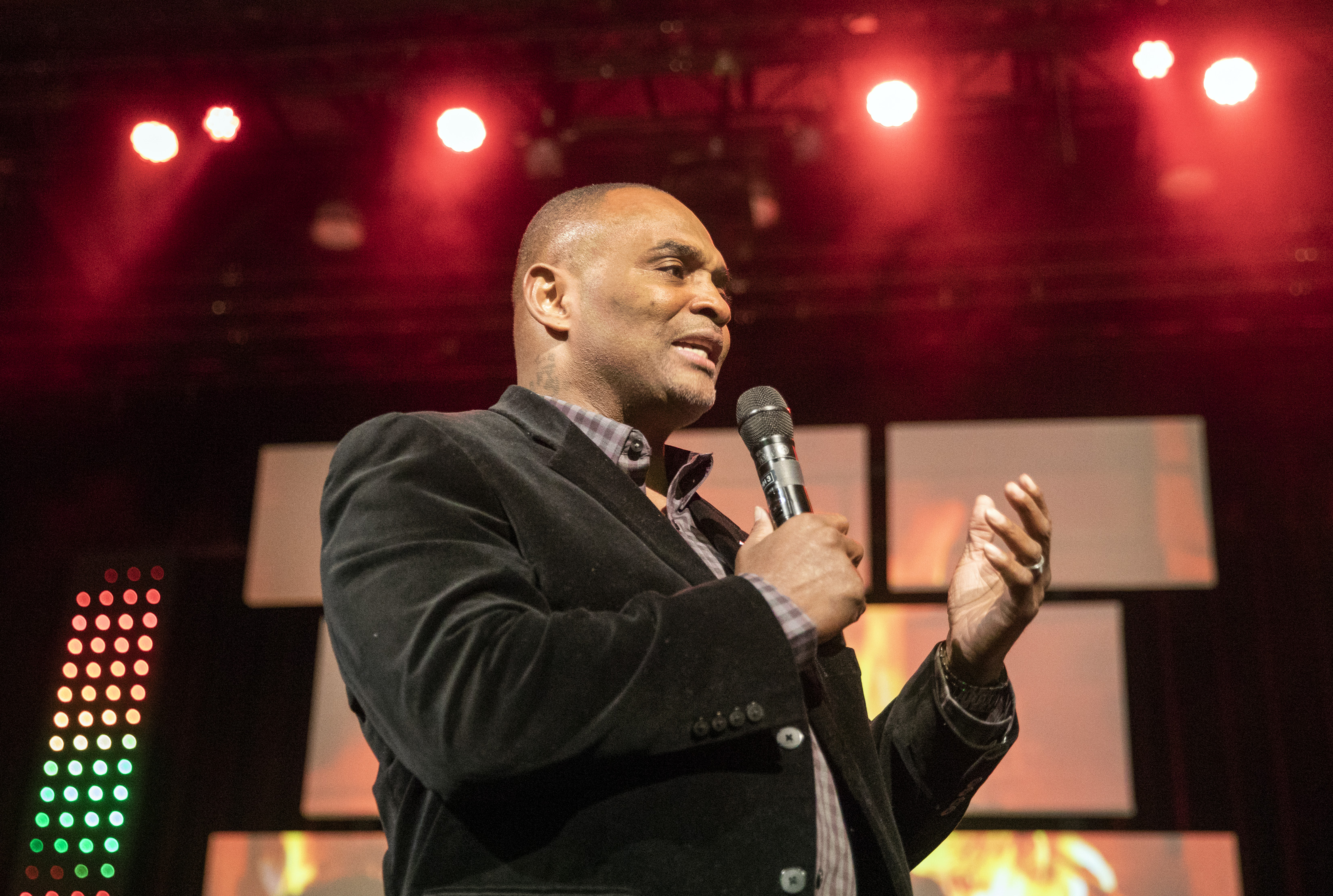 Hope for Prisoners founder Jon Ponder said he was motivated to organize the event by both his personal experience and a desire to help prisoners stay away from crime upon their release. The tradition started out with nine families in the first year and has been growing ever since.
"I spent a lot of time in prison. There were several times where I would wake up Christmas morning without my family. But I think what affected me most was knowing they woke up without me," said Ponder, whose non-profit organization helps women and men return to the workforce, the community and family life.
Ponder had run-ins with the law beginning when he was 12 years old, and spent time in prisons in both New York and Nevada.
"I thought, if we can create something that can have enough impact on them, something they can channel internally, I know they will never do anything to put themselves at risk of being separated from their families again," Ponder said.
Scott Herrold, who has hosted a morning talk show on SOS Radio for 11 years, said most of the participants were from the Casa Grande transitional housing complex, which houses prisoners during the last two years of their sentence, allowing many to hold jobs.
"The family reunification is a big part of this," Herrold said. "But also, that they want to fight for a second chance. They've expressed 'I want to do things right, and when I get out, I don't want to go back into the cycle.'"  
Reunion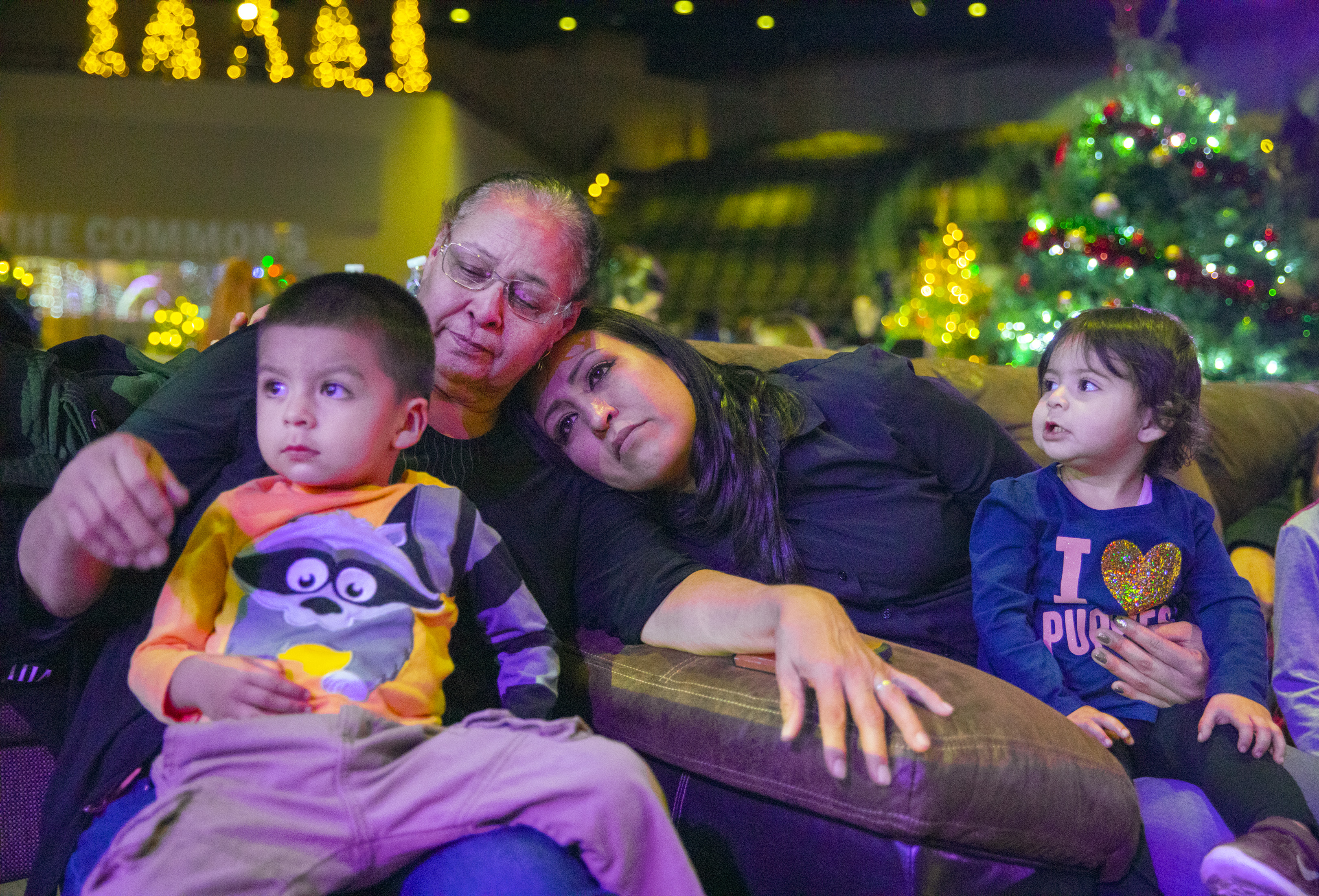 On that cold Thursday night, the 50 inmates whose predominant landscape is drab prison walls walked through the entrance of The Crossing church and were met by colored lights, green Christmas trees and brightly wrapped gifts in 50 makeshift living rooms decked with furniture that stores from around the valley had loaned for the occasion.
Gonzalez, 34, sat on gray sofa that smelled like new, surrounded by her seven children — ranging in ages from one and a half to 17— along with her mother and her brother.
For a few hours, she was no longer defined by an amphetamine addiction that drove her to sell drugs and end up in prison in Northern Nevada, where the family lives. Their trip down to Las Vegas was made possible by the organizers of 50 Christmases.
The first time Gonzalez was locked up was 12 years ago, when she spent nine months behind bars for selling drugs. The second time, when she was arrested for the same offense, it was even more painful — she was two months pregnant at the time.
Gonzalez was sentenced to two to five years in prison, plus another 16-72 months of jail time for possessing a gun. She gave birth to the girl in prison, spending only three days with her baby before the state took the child away and later placed her with her extended family.
"This is the first time I have ever seen her since she was born," she said while she held the baby. "It feels really nice ... because she doesn't even know me, and it's like I feel she does know I'm her mom."
Gonzalez started to cry as the strains of "Silent Night" sounded from the stage. Her brother Juan, who is 37 and does construction work, took in the scene from the couch.
"I'm happy to see her, and also the kids," Juan said, his voice breaking with emotion while people dressed up as Big Bird, Elmo and Abby Cadabby made their rounds inside the church and police officers handed the children stuffed animals. "We hadn't seen her in a long while."
The reunion touched Rosalinda, Gonzalez's mother, who said she has never lost faith in her daughter and she wants her to have a better life with her children.
"I'm very optimistic and I don't lose hope. And I want the time to pass so she can be released," she said. "I just tell my daughter to think about the children, because someday I won't be around anymore."
What motivates Gonzalez is knowing that she's missed many birthdays, and that her mother and older children want her to turn her life around and take care of her little ones. She wants to continue working as a dishwasher in a restaurant, and study for and obtain a GED as soon as the holidays are over.
"Right now I feel good and I see my family is beautiful. I don't want to go back [to prison]. I don't want to use drugs," said Gonzalez, who is scheduled for release in February of 2020. "I want to change my life, for my children, my brother who helps me a lot with my kids, and my parents, who are already getting older."
A new hope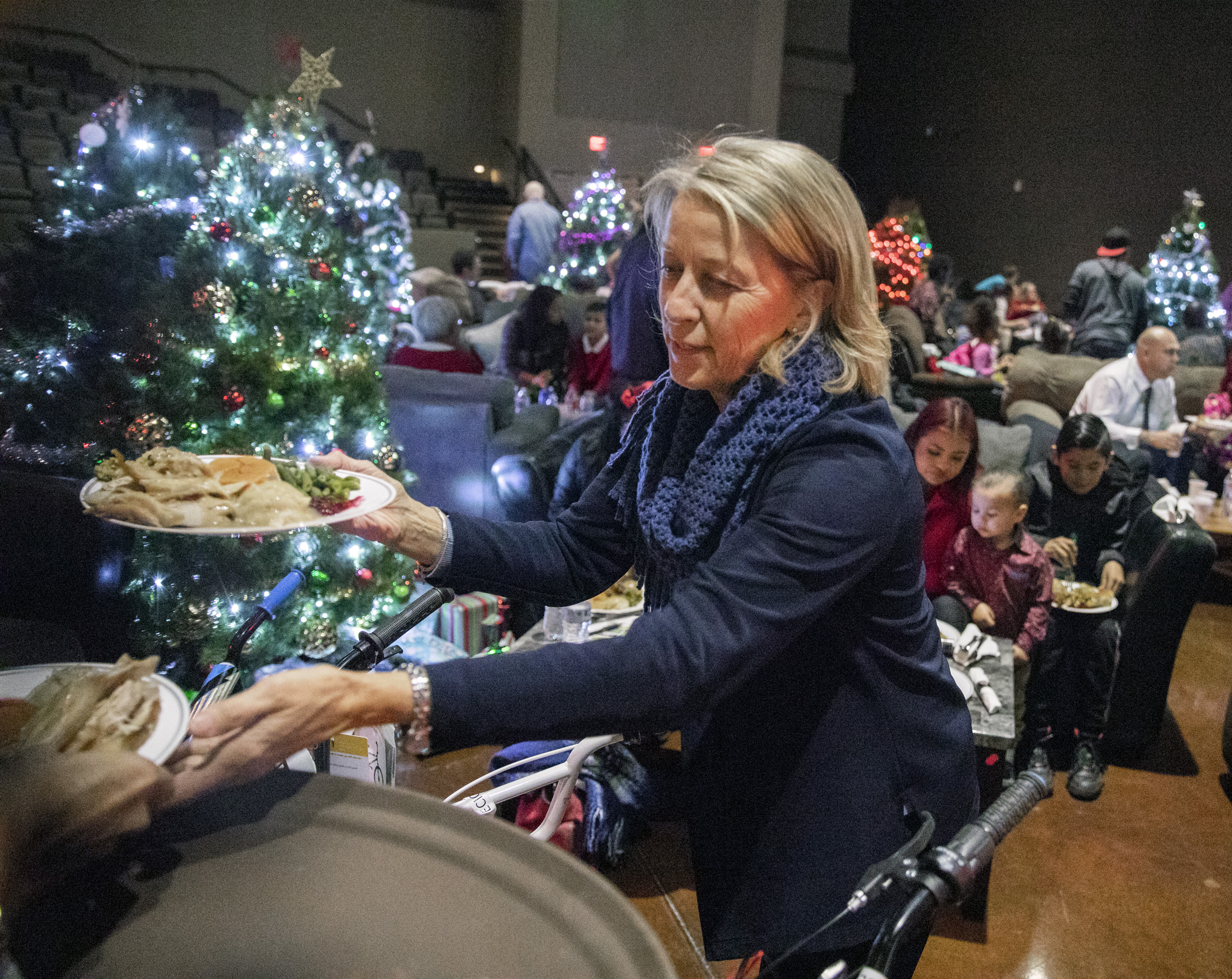 Juan Bernal sat in a room surrounded by unwrapped gifts, bicycles, and six children who smiled and waited eagerly for the moment they could tear into the presents.
"I hadn't seen my kids in a year. It feels wonderful to be here. It feels like a great achievement," said Bernal, 28. "This group of people is wonderful and the things they are doing for those who are in the same situation as me, it's a wonderful thing. I feel very blessed."
Nevada Secretary of State Barbara Cegavske was in the room with the Bernal family helping the children get ready for dinner.
"It's devastating for me, and it breaks my heart to see a father being kept away from his children," said Cegavske, who sponsored the Bernal family and contributed funds from her campaign to buy gifts. "Seeing them gathered here, to see Juan's father with his son, with his grandchildren, that's something that fills me up with happiness to see this whole family enjoying this special day."
Bernal said the three children, three nephews and sister who sat with him have been his biggest support, as well as his father, who hasn't abandoned him during the three years he has spent behind bars.
"I was doing the wrong things. I was dealing drugs on the streets," he said. "I know things can be even better. You don't have to wait a year to see your father and have fun with your family. It's horrible being away from your children and those you love the most."
Bernal was sentenced to three to 10 years in prison. He appeared before the parole board on Dec. 3 and is awaiting the results of the hearing.
"If all goes well, I'll be home on March 25, 2019," Bernal said with a smile on his face. "If things don't go the way I hope I'll get another chance in April 2020."
New beginnings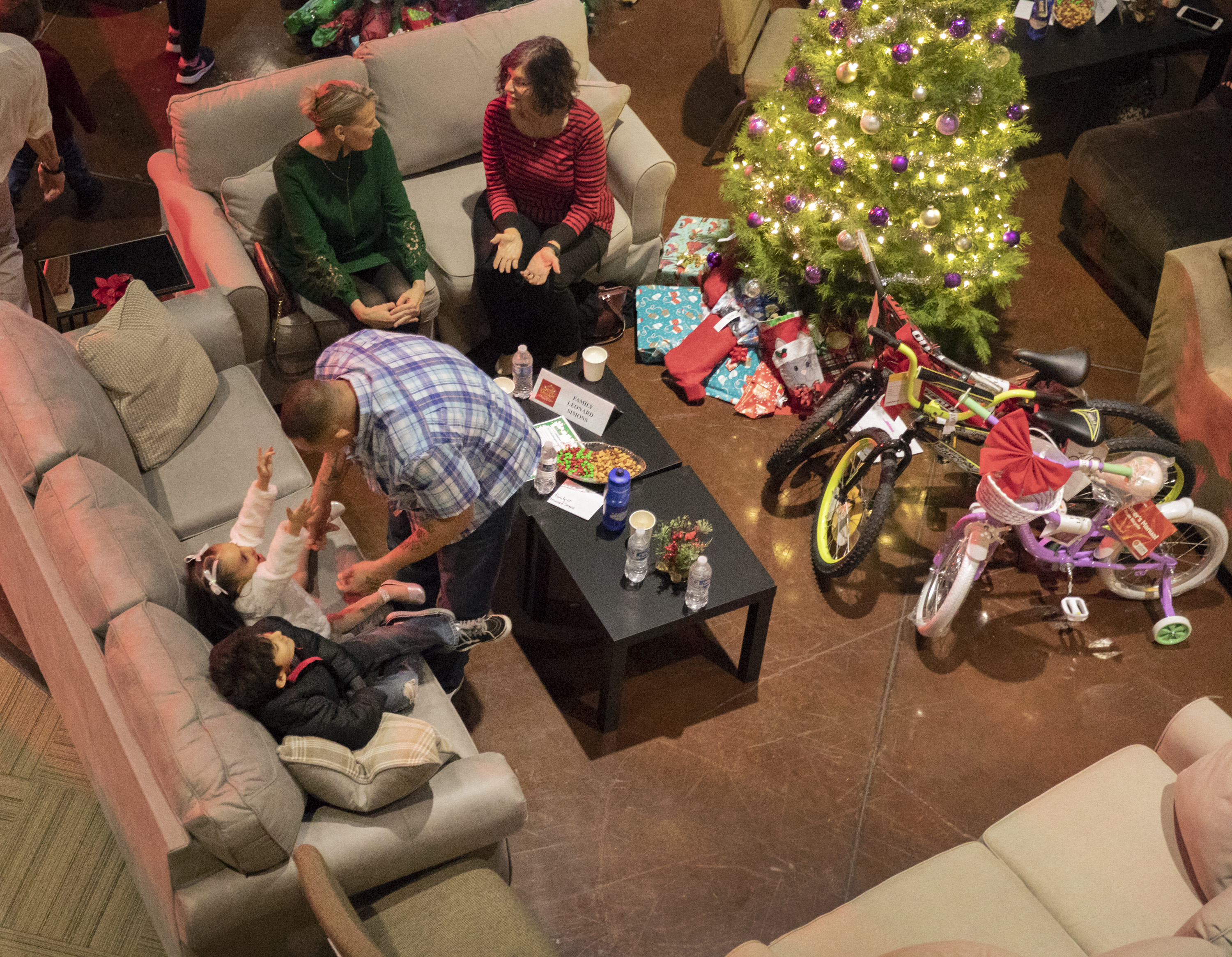 Sitting near one of the dozens of lit trees in The Crossing's auditorium was Leonard Simons, a prisoner who for a few hours was able to hug his 4-year-old daughter Taylor.
"I feel very nervous," said Simons, 35. "Being here is even better than I can explain. It's a wonderful thing."
A father of three children aged 10, 7 and 4, Simons has been in prison for 30 months and spent a year without seeing them at all.
Taylor shook Simons' arm to get his attention and asked for water. He responded with a sweet, fatherly tone, knowing that in just a few hours he would go back to the routine of being behind bars.
"When you're locked up, you don't think about things like what I'm experiencing right now," he said. "But being here, seeing them and sharing with them completely changes my outlook on life."
Simons was imprisoned for stealing and selling drugs, but he said that being away from his children has made him reflect on the important things in his life.
"After the first 6 months, I began to see the seriousness of it all," Simons said as he held Taylor. "Seeing my kids' pictures and seeing they were growing up made me feel horrible, like a loser."
Simons said he was eager to be with his family again and that he doesn't want to face the same situation that put him behind bars.
"This opportunity makes me feel like I can now try again," he said. "It gives me a lot of hope."