A gambler at heart: Derek Stevens opening first all-new resort in four decades in downtown Las Vegas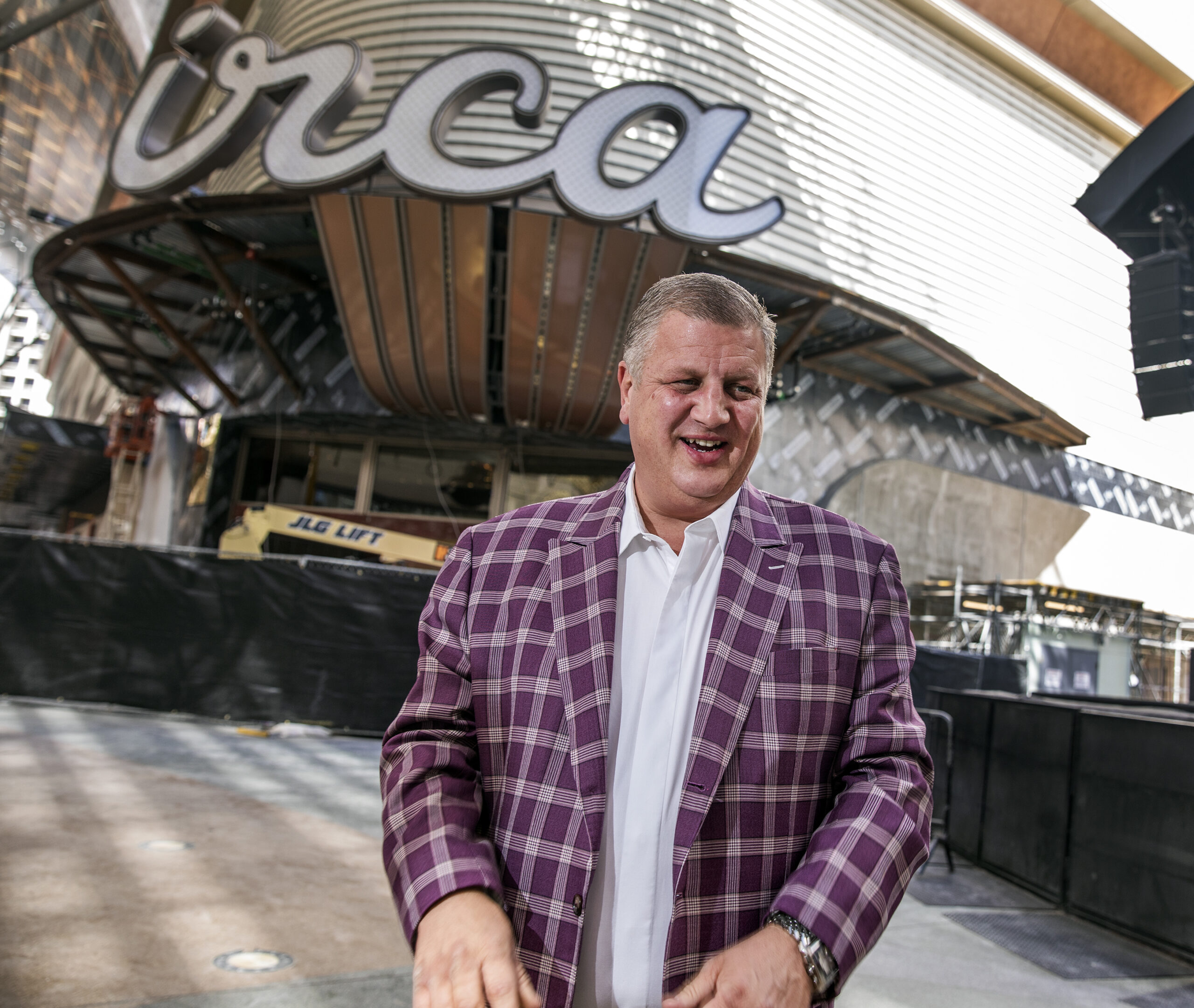 Las Vegas casino owner Derek Stevens gained a reputation for high-stakes sports wagers and a hands-on operating style that evokes memories of the Glitter Gulch gambling proprietors of a bygone era.
But Stevens credited his father, a retired architect from Michigan who is conservative by nature, with planting the seed for the biggest bet taken on downtown Las Vegas in 40 years.
On Wednesday, Stevens opens Circa Resort Casino at the corner of Main Street and the Fremont Street Experience. The project, the first all-new built-from-the-ground-up hotel-casino in downtown since 1980, will be unveiled more than two months ahead of schedule.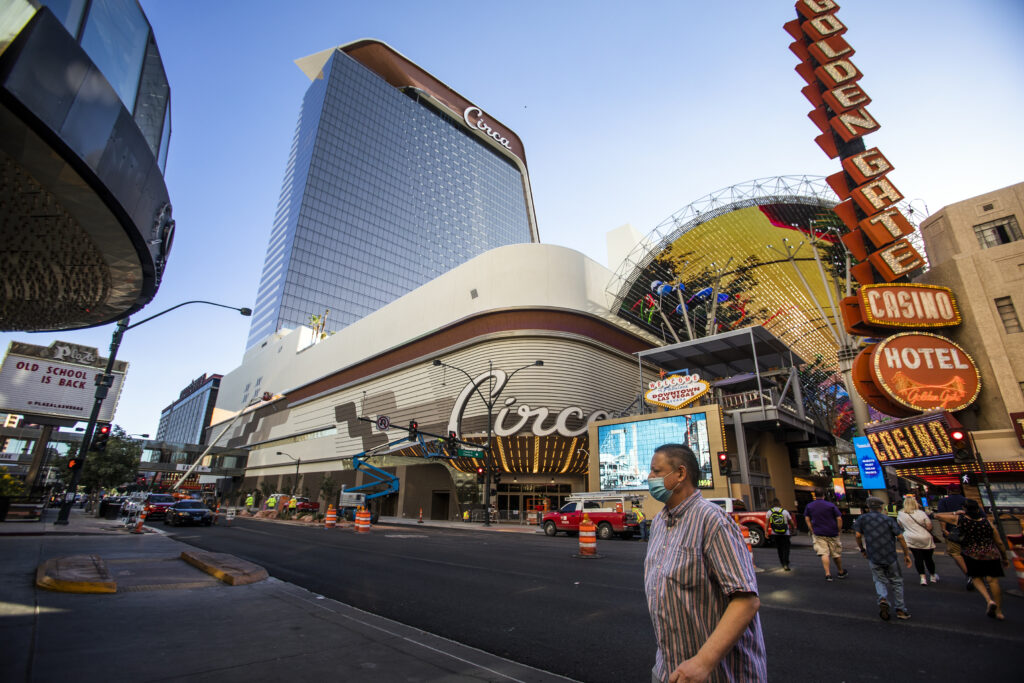 Circa encompasses a full city block – 2.78 acres – with a striking 44-story hotel structure that is second only to the Strat Tower in height among downtown buildings.
Stevens is opening the casino and its three-level sportsbook, restaurants, massive roof-top swimming pool attraction and other public portions just after midnight. He's holding back on the initial 512 hotel rooms until late December.
In true gambler's style, he's wagering that interest in Circa will be a welcome relief in the face of a global pandemic that has diminished visitation to Las Vegas and led many analysts to predict a lengthy financial recovery that could leave scars until 2024.
Circa is the first Las Vegas resort that requires guests to be age 21 and over, a move Stevens said will enhance the guest experience.
A Detroit native, Stevens, 53, has been enamored with Las Vegas since the 1980s when he first visited the Rat Pack-era Dunes on the Strip while on a break from his studies as a University of Michigan student.
He has been active in downtown Las Vegas since 2006. Stevens, in partnership with his brother Greg, owns the Golden Gate and the D Las Vegas. Coincidentally, the D was the last all-new downtown casino when it opened in 1980 as the Sundance.
In 2013, Stevens acquired the shuttered Clark County Courthouse for $10 million and converted the nearly 3-acre site into an outdoor events venue. He also owned the Las Vegas 51s (now Las Vegas Aviators) for four years, selling the minor league baseball team to Howard Hughes Corp. for $20 million in 2013.
Stevens' Circa Sports operates sports betting at all his casinos and will take over the sportsbook at the off-Strip Tuscany early next year. Circa Sports launched its first location outside Nevada this summer in Colorado.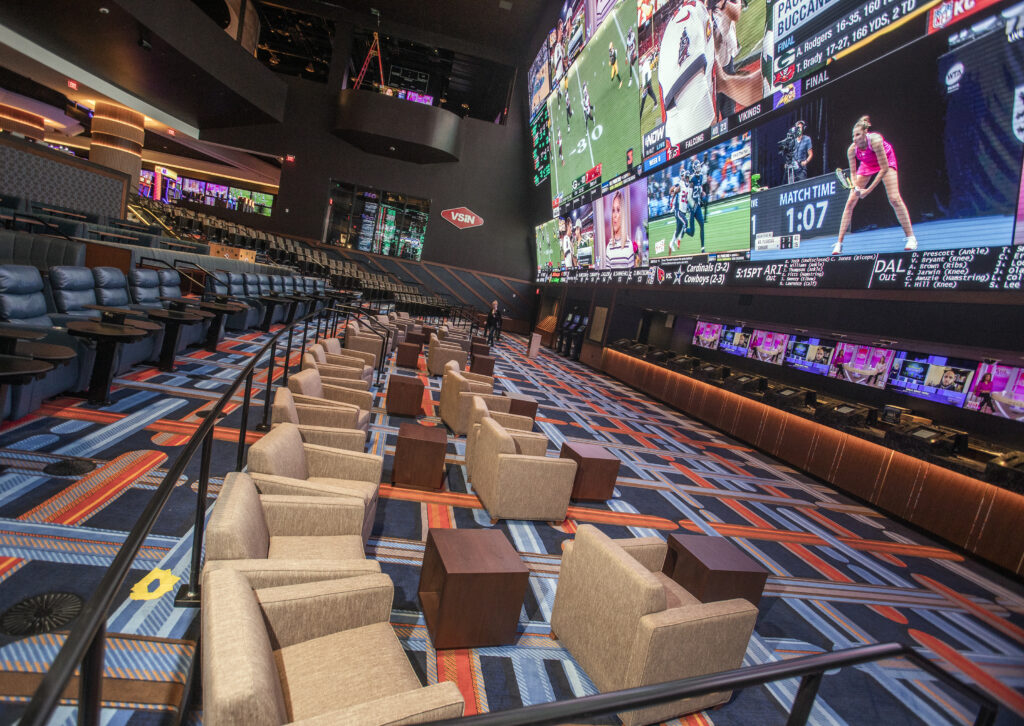 Stevens views Circa name and theme as the "accumulation" of his personal Las Vegas moments: winning his first $20 wager at the Dunes, his initial impression of the Las Vegas Hilton Superbook and the first time he walked through The Mirage atrium.
It was early in Circa's development process that his father John Stevens suggested his son not hold back on the design when conceptualizing plans for the site. He told Derek to go big on the parcel, calling the site "the most valuable piece of real estate outside Times Square."
Derek Stevens said he took his father's advice to heart.
"He saw the city block as one of the most important pieces of land in Las Vegas," Stevens recalled during an hour-long interview with The Nevada Independent. "He told me to think about how many people alone will be walking in front of one side of this property."
The name Circa, which Stevens announced in January 2019 to a packed audience at his Downtown Events Center following Mayor Carolyn Goodman's State of the City address, symbolizes the history of the Las Vegas casino business leading up to the 21st century gaming industry.
The focal points in the 1.25 million square foot resort include the race and sportsbook with a three-story multiple screen television and a studio for VSiN, a Las Vegas-based sports betting network. Stadium Swim is the fifth-floor pool deck that will operate year-round with six temperature-controlled pools and two spas. The space includes a 14-million-pixel television screen to show live sports and special events. Stevens expects upward of 4,000 customers a day paying the entrance fee to the attraction.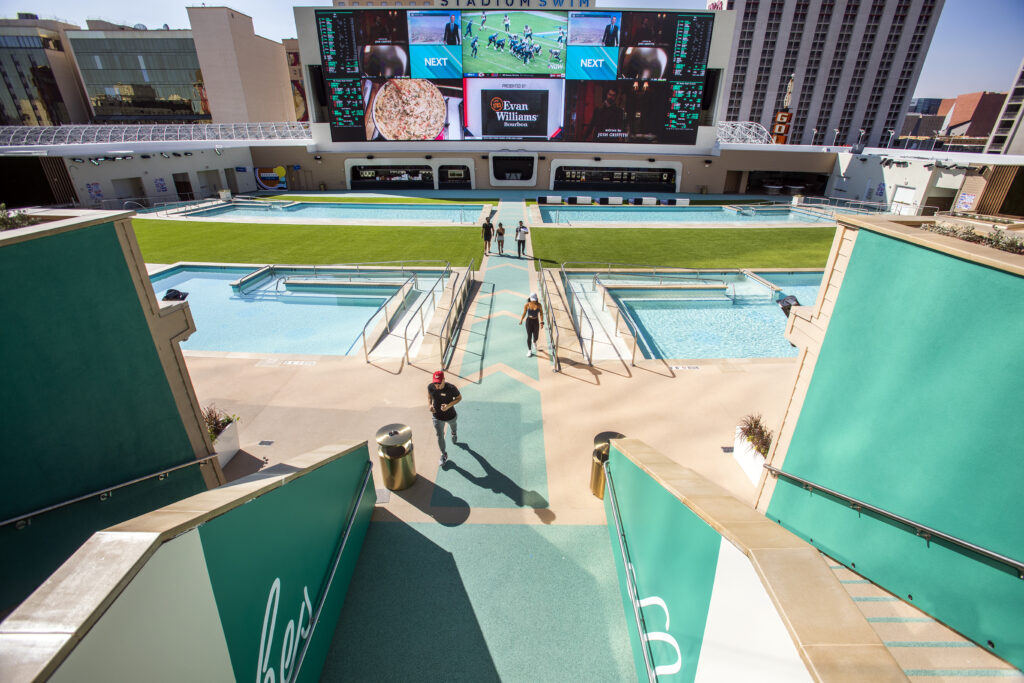 Taking dad's advice into account, Circa has an outdoor bar area spanning much of the frontage along the Fremont Street Experience.
"In a crazy year like 2020, this is a positive," Stevens said. "We want to make sure when people visit, from anywhere in the world, that they have that 'wow' moment." Circa's rooftop Legacy Club offers guests "the opportunity to see the city of Las Vegas, downtown, and the Strip light up before your eyes."
Last month, Stevens launched a nationwide television campaign for Circa during the Major League Baseball playoffs. He narrated the 30-second advertisement and appears at the end, gazing up toward Circa's tower from his car window. The message was both an introduction of the resort and a tribute to the allure and mystique of Las Vegas.
A welcome addition
His downtown neighbors don't view Circa as competition, but an attraction that will bring more visitors to the market. Downtown casinos reported their highest 12-month gaming figures in 26 years in 2019 before the pandemic crushed their businesses.
As part of the development, Stevens acquired a vacant parcel on Main Street from Boyd Gaming, directly across from the Circa site. It is now home to Garage Mahal, a 982-space parking facility and will also serve as a rideshare hub for downtown. The garage is connected to the resort via an above-ground pedestrian bridge.
"From our viewpoint, any long-term investment in downtown benefits the city, other operators, and by default, Boyd," said Steve Thompson, who oversees Boyd's three downtown casinos and has worked in the market since 1985. "One of the benefits is that our properties are only 60 to 90 feet from your neighbors. It gives guests a variety of options."
Plaza CEO Jonathan Jossel has watched Circa rise across Main Street since the Las Vegas Club was demolished a few years ago. He said the new resort is a "downtown game changer" that will help the area's economic recovery.
Las Vegas Convention and Visitors Authority CEO Steve Hill said the opening is a positive declaration for a market still dealing with COVID-19 business restrictions. Hill said Circa is good for downtown and will present upbeat messages for Las Vegas and the tourism industry's recovery.
"This kind of event is important during this environment and makes a great statement about Las Vegas," Hill said.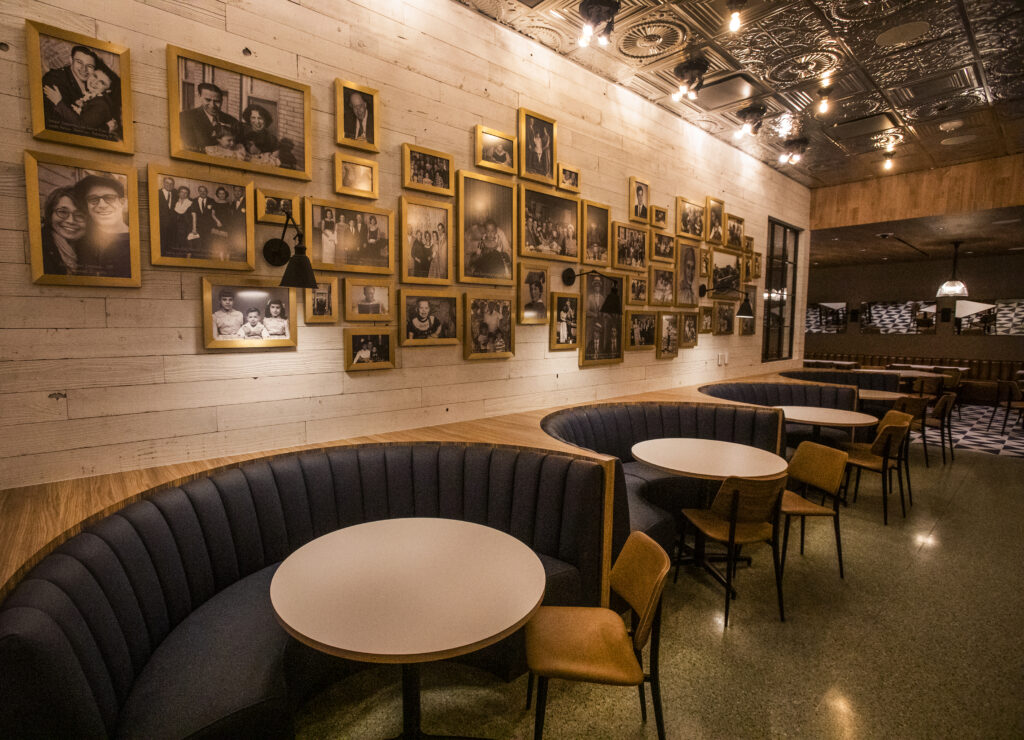 Circa financing
Stevens, who operates privately held businesses, has never revealed a price for Circa.
The land acquisitions were completed with other privately held entities. The acquisition of the Garage Mahal land from Boyd – a public company – was not material enough for Boyd to report the transaction, said a company spokesman.
During his Nevada licensing proceedings, the cost was revealed to regulators, but remained confidential.
Stevens' chief financial officer, Susan Hitch, said Circa, D Las Vegas, and Golden Gate are all part of the collateral package for the construction loans and will help service the debt. A six-month cushion has been built into the company's reserves.
"We will outperform the numbers projected for our lending proposal," Stevens told the Gaming Control Board on Sept. 9. "We will significantly outperform the numbers in our loan agreement."
To be on the safe side, Stevens is holding back seven floors in Circa's planned 777-room hotel tower for at least a year in order to determine the best use for the space.
The challenge for Stevens in obtaining the financing was convincing analysts that downtown Las Vegas was a good bet. Financial comparisons on the Strip were easy because of the multiple developments by public companies. In downtown, Golden Nugget owner Tilman Fertitta built a hotel tower addition with his own money while the Downtown Grand expansions were privately financed.
"Because there is not a lot of public debt downtown, none of the analysts really paid attention," Stevens said.
But the proof was in the numbers – $684.9 million in pre-tax gaming win in 2019 – and visitors statistics reported by the LVCVA, especially the figure showing 54 percent of all Las Vegas visitors spend part of their trip downtown.
Stevens also had another ace up his sleeve: A database of active customers for D Las Vegas and Golden Gate that is pushing 6 million.
"We spent a long time educating (the analysts) on what we were doing and how we bring people down here," Stevens said. "Nowadays, it's tough to open anything without a database."
The value in the land
Stevens, who is still CEO of his privately held Michigan-based auto parts company, began investing in gaming in the 1990s. His initial purchases included stock in slot machine maker International Game Technology (IGT) and an investment in the privately held Rio Casino Resort, long before its purchase by Caesars Entertainment.
"Some of the investments were small companies people hadn't heard of," he said.
Stevens became a stockholder in the Riviera in the early 2000s, but with the aging resort languishing, he acquired some of the company's debt. He viewed the Riviera's 26-acre Strip location as the most valuable piece of the business.
"We always thought the land would hold its value," Stevens said. "At the time, the price per acre on the Strip was something like $5 million, so I thought the 26 acres was a pretty good backstop."
Following Riviera's bankruptcy reorganization, Stevens became one of the resort's four non operating owners. In 2015, the LVCVA paid $191 million for the Riviera, which was demolished to make way for the current convention center expansion.
Meanwhile, Stevens carved out his space downtown.
He acquired a 50 percent stake in the Golden Gate in 2006, eventually buying out former owner Mark Brandenburg in 2010. At the time, he explored acquiring the aging Las Vegas Club across the Fremont Street Experience from the Golden Gate. But he couldn't come to an agreement with the Tamares Group, owner of several downtown buildings including the Plaza.
Instead, Stevens turned to Fitzgerald's, which he purchased in 2011. The property was remodeled into the D Las Vegas, paying homage to Stevens' Detroit roots.
But the Las Vegas Club, which had closed, was never far from his mind.
He bought the property in 2015 with the idea of remodeling the building whose low-rise exterior resembled a baseball stadium. He spent nine months working with structural engineers to see if it could be done.
During that time, Stevens struck a deal to acquire the adjacent acreage from owner Steve Burnstine. The site included a small office building, a surface parking lot, Mermaid's casino, and a strip club. The deal also included La Bayou Casino which was renovated into an expansion for the Golden Gate.
The transactions changed the scope of the project, then referred to as 18 Fremont. Instead of renovating the Las Vegas Club, which had "great bones," Stevens said it made more sense to demolish the entire site and start from scratch.
"It got to a point where piecemealing everything together causes you a lot more long-term problems," Stevens said. "There were certain elements of the Las Vegas Club I liked, but I didn't want to spend the money to fix."
He took his father's advice to heart.
"My dad said a city block like that was begging for a major investment," Stevens said.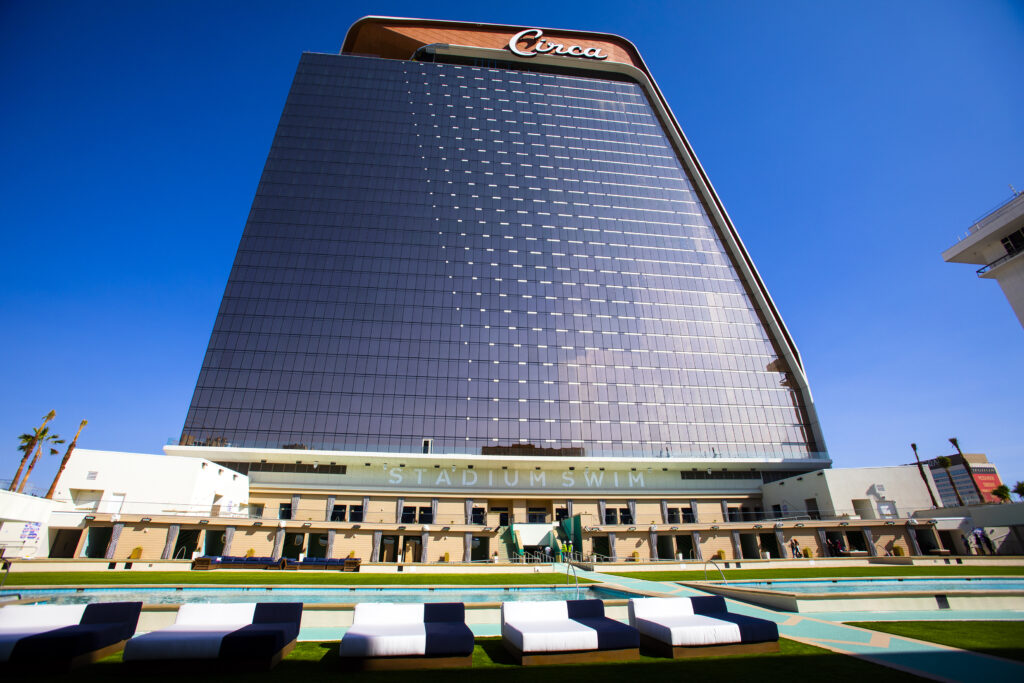 A hands-on operator
Derek's brother Greg Stevens shuns the limelight. He lives in Michigan and is an engineer by trade. He visits Las Vegas a few times a month and has been key in helping turn the two aging downtown casinos into entertainment attractions.
Derek Stevens is proud that his operating team is small and oversees all elements of the casinos and sports betting. They have been together for several years.
He also knows his customers because he spends time with them. When casinos reopened after the 78-day shutdown, Stevens was at the D's Long Bar, wearing a mask and sitting among his guests. His corporate office is now at Circa, but he loves to walk Fremont Street between his three properties, stopping to talk with downtown visitors.
He also speaks regularly to his more than 21,500 followers on Twitter. Think of legendary downtown operators Benny Binion and Jack Binion, Sam Boyd and Bill Boyd, and Jackie Gaughan, all in the social media era.
Stevens' outside-the-box promotions draw attention.
In 2018, he stood to win $1 million on a $25,000 wager he made on Michigan winning the NCAA basketball championship. He fell a game short.
When he brought a replica of Belgium's Manneken Pis statue to the D's entrance off Third Street in 2015, he teased the announcement with a two-minute YouTube video of a pseudo board meeting that included scantily clad Party Pit dealers and juggling bartenders.
Ahead of June's casino reopenings, Stevens paid for 2,000 one-way flights to Las Vegas from more than three dozen U.S. destinations on five airline carriers between June 3 and June 5. Visitors were responsible for their return flights and hotel rooms.
He estimated fewer than a quarter of the guests stayed at either the D or Golden Gate.
"Whether people decide to visit my casinos or explore other parts of the city, this is a strong indicator of how Las Vegas can quickly be restored to its former glory," Stevens said. "I just wanted to jump in and support Las Vegas."
Howard Stutz is a freelance gaming reporter for The Nevada Independent and the executive editor of CDC Gaming Reports. He has been a Nevada journalist for 30 years. He can be reached at [email protected]. On Twitter: @howardstutz
The Nevada Independent is raising $200,000 by Dec. 31 to support coverage of the 2024 election.
Tax-deductible donations from readers like you fund this critical work.
If you give today,your donation will be matched dollar-for-dollar.
Give + Get Matched
Featured Videos