A vegetarian coffee shop on the Walker River reservation seeks to spread health in a food desert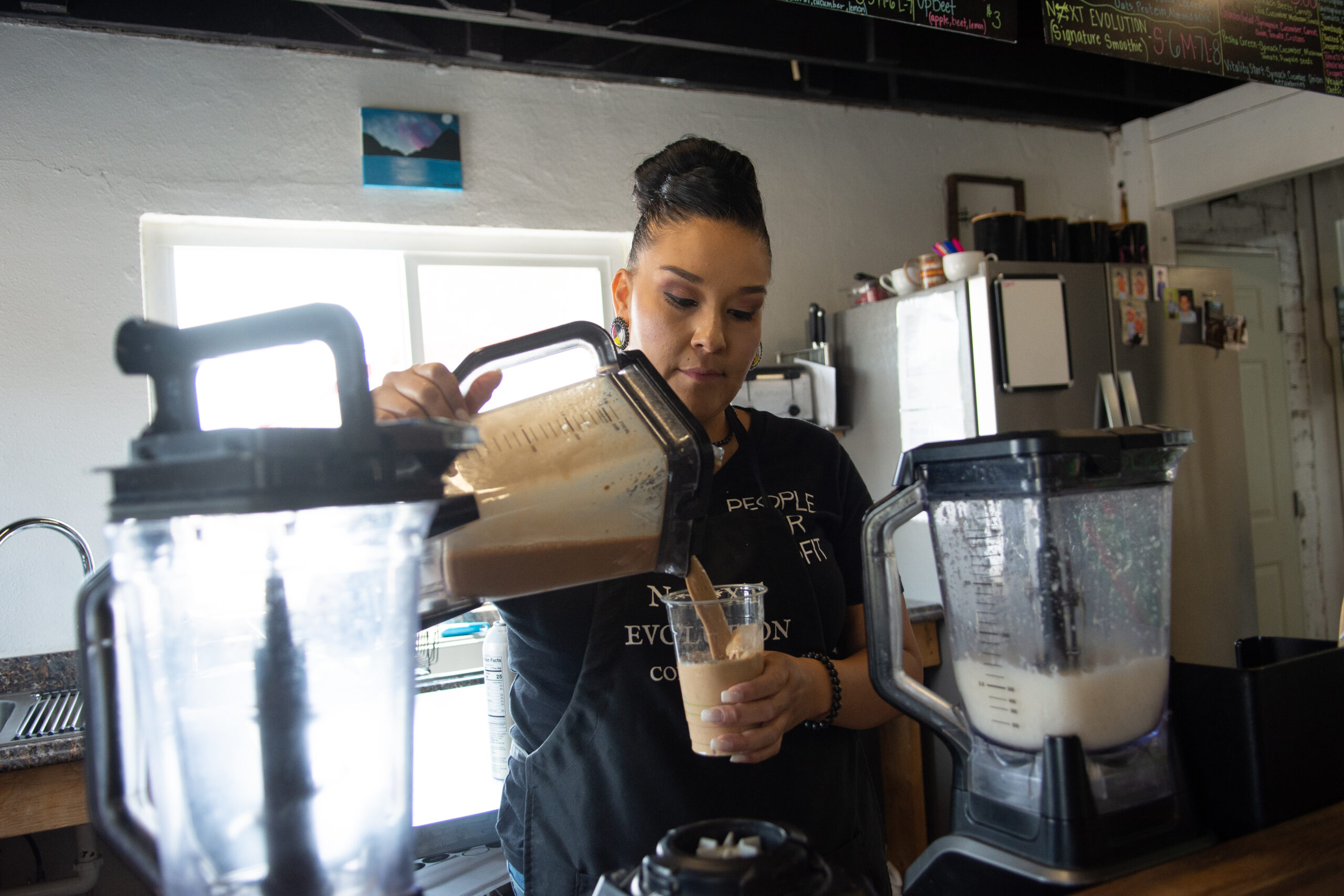 Next Evolution coffee shop, located inside an unassuming brick building on U.S. Route 95 in Schurz welcomes tired desert travelers and the more than 1,000 residents of the reservation, which sits approximately 90 miles east of Reno.
Few other buildings share the stretch of two-lane highway where trailers and other vehicles zoom by. Inside, business owner Andrea Martinez, 33, and her younger sister, Maria, are often behind the counter preparing acai bowls, kombucha or lattes made with grounds from Star Village coffee, a Native American-owned roasting company based in the Reno-Sparks Indian Colony.
Andrea Martinez said she designed the interior to make guests feel comfortable and welcome. Pop music plays over speakers as an espresso machine whirs and steams, and the sleeves for drinks include hand-written motivational messages — "If not now, when?" and "Go the extra mile, it's never crowded!"
The shop's wide variety of vegetarian and plant-based food and drink options are a novelty in the remote Nevada desert, said Martinez, an enrolled member of the Walker River Paiute Tribe. She aims to provide healthier options for her community, which is approximately 23 miles from the nearest grocery store in Yerington, and faces historical health disparities.
The coffee shop was born of her own journey to overcome unhealthy patterns in her life.
"[My family] had diabetes; they had heart disease; there was alcoholism, drug addiction," Martinez said during an interview with The Nevada Independent. "So I kind of started off on a rough path. And I was a single mom living on food stamps and [in] a really small apartment. Then I had two kids, and I just knew I didn't want to be that person."
She changed her diet, mostly cutting out meat and exploring recipes free from animal products, which inspired the meat- and dairy-free menu at the coffee shop. She added exercise and a yoga and meditation practice to her routine. Through those practices, Martinez said, she realized she had deeper healing to do, leading her to discover purpose along the way.
"Our culture talks about being one with the Earth and living in balance," she said. "Loving people, giving back, being grateful. Serving people and living to serve — I found out that was my purpose in life."
Now, Martinez is part of a growing share of Native American-owned businesses across the country. In 2018, more than 24,000 businesses were owned by American Indians or Alaskan Natives, according to the U.S. Census.
Despite the growth in women- and minority- owned businesses during the last few years, white women still comprise the majority of female business owners in the U.S. at 80 percent. The rate of business owners who are women of color, like Martinez, still lags.
"Honestly, I think about that on a daily basis," Martinez said, "because somebody like me wasn't meant to make it. The history of our people, we were never meant to make it. Being where I am at right now, as a Native American woman, business owner on a reservation, I feel really blessed and really lucky. It's my hope that this just creates ripples across not only our community, but our world."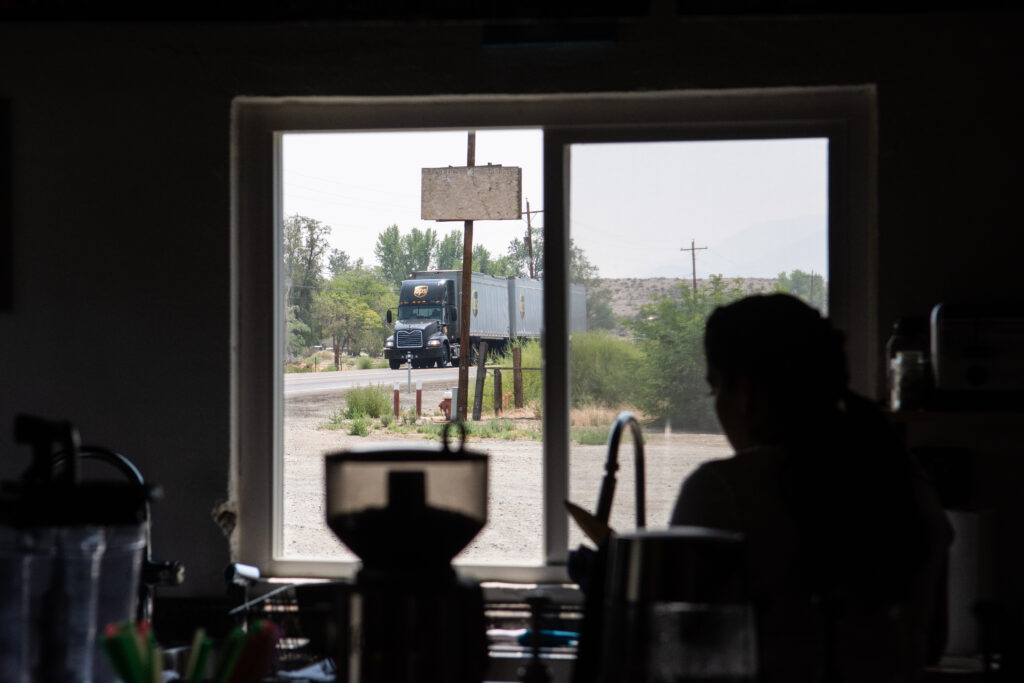 Meeting a need and fostering sovereignty
Opening Next Evolution wasn't easy for Martinez.
Banks denied her business loan application and her planned opening date was pushed back by six months when sweeping statewide pandemic-related business closures took effect last March.
She knew it was a risk to open during the uncertainty of the public health emergency, especially because the Walker River reservation was still closed to nonresidents at the time, but Martinez followed her intuition.
"I guess all the odds were against us," she said. "We're in the middle of a pandemic, we're Native, we're on a reservation, [the tribe] had red signs saying we were closed and I said, 'No, we're going to open anyway.' Knowing inside yourself what's right, and then following that, you can never go wrong."
Pivoting to an impromptu drive-thru format made necessary by COVID-related tribe rules, Martinez opened Next Evolution in a renovated building with past stints as a gas station, a burger joint and a fireworks stand. She set out to share what she had learned about health and well-being in her community, which is identified as a food desert by the U.S. Department of Agriculture.
In addition to the lack of access to food sources, Native American people experience health disparities compared to their white counterparts, including higher rates of diabetes and high cholesterol, among other chronic conditions.
"People actually found out that eating healthy can taste good, and that it will make them feel better," Martinez said. "It was like a ball just kept rolling downhill and it got faster and faster and faster. I think they're actually starting to realize that they're lucky because there's no place like this."
Introducing meatless options also gets to the roots of Indigenous cultures, whose diets depended on the seasons.
"A lot of our diets were plants and veggies, and fish was a huge staple, but the harvest isn't as rich during the winter, [so] we would go to meat," she said. "That's the part where we live in balance, because we have what we needed from the Earth, when it was available to us."
Food sovereignty, or having options in and control of food sources, has become a growing priority for tribes. Researchers argue that federal programs, such as the Food Distribution Program on Indian Reservations, actually limit access to healthy, sustainable and culturally-relevant meals and increase the presence of processed foods with little nutritional value. All 27 of Nevada's reservations and colonies participate in the federal commodity program.
Indigenous people have been leading food sovereignty efforts in Nevada during the last few years, planting community gardens and leading workshops to teach tribal members how to grow their own vegetables and herbs.
"We started a tribal food sovereignty program last year, which I was a part of, and we planted trees and zucchinis," Martinez said. "I think our business helps people realize that you can incorporate your Indigenous foods into your recipe … I think our culture is coming back. People are realizing that we can't really rely on anybody else to bring our culture back. It has to be us."
She also travels to Indigenous communities outside of Nevada to incorporate their foods, such as huckleberries from Oregon and Idaho, into muffin recipes or jam for toast at Next Evolution.
Asked what the best days in the coffee shop look like, Martinez said it's busy and chaotic — in a good way.
"There's a lot of laughter and a lot of smiles and a lot of positivity," she said. "People, they actually say, 'I accidentally turned the wrong way but I found your shop,' or they see a phrase in our business or a book that they were just thinking about — synchronicities for people."
A successful beginning in her coffee shop proved to her "anything is possible."
"Because I've come from a place where, if I looked back from where I was then to where I am now, I would never think I was here," Martinez said. "But I think if you put your mind to it, if you work really hard … you can accomplish anything. And we've shown people that in this community and that continues to drive us forward every day."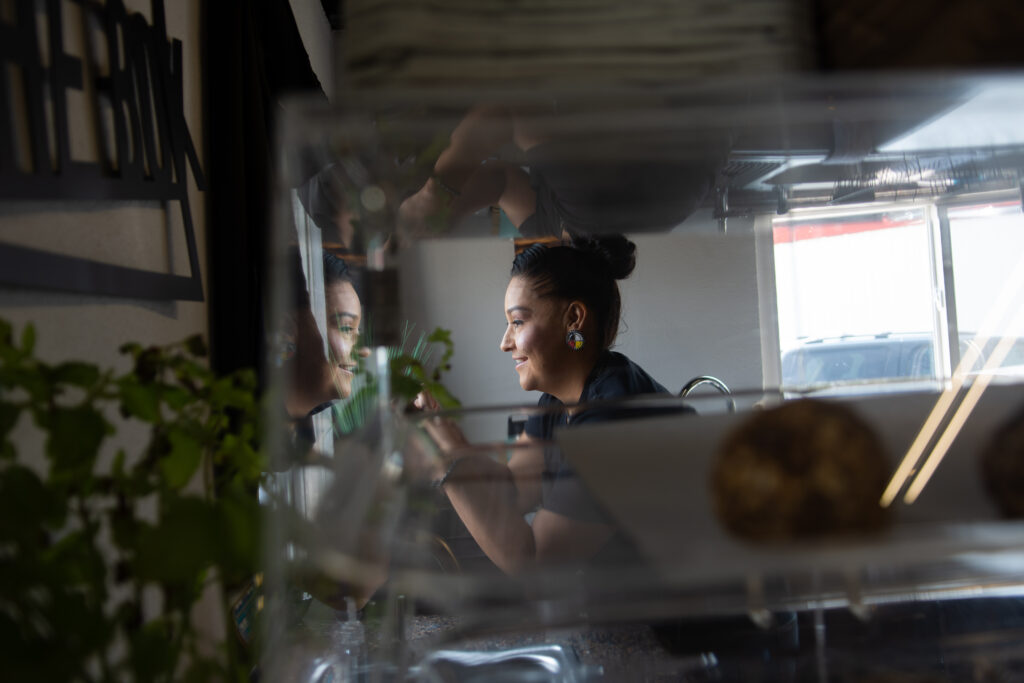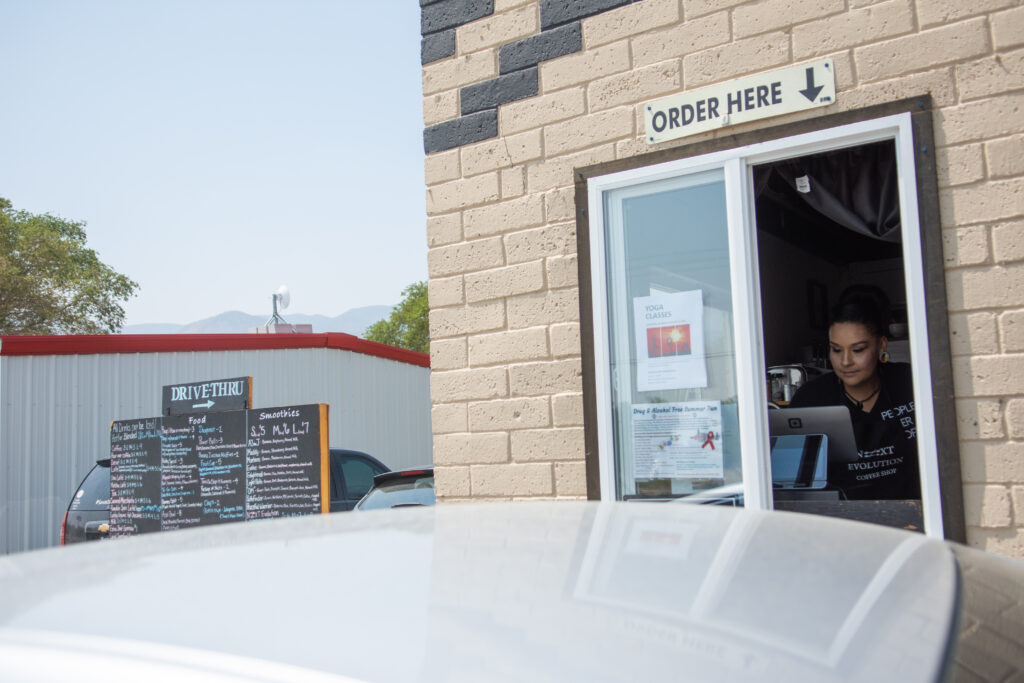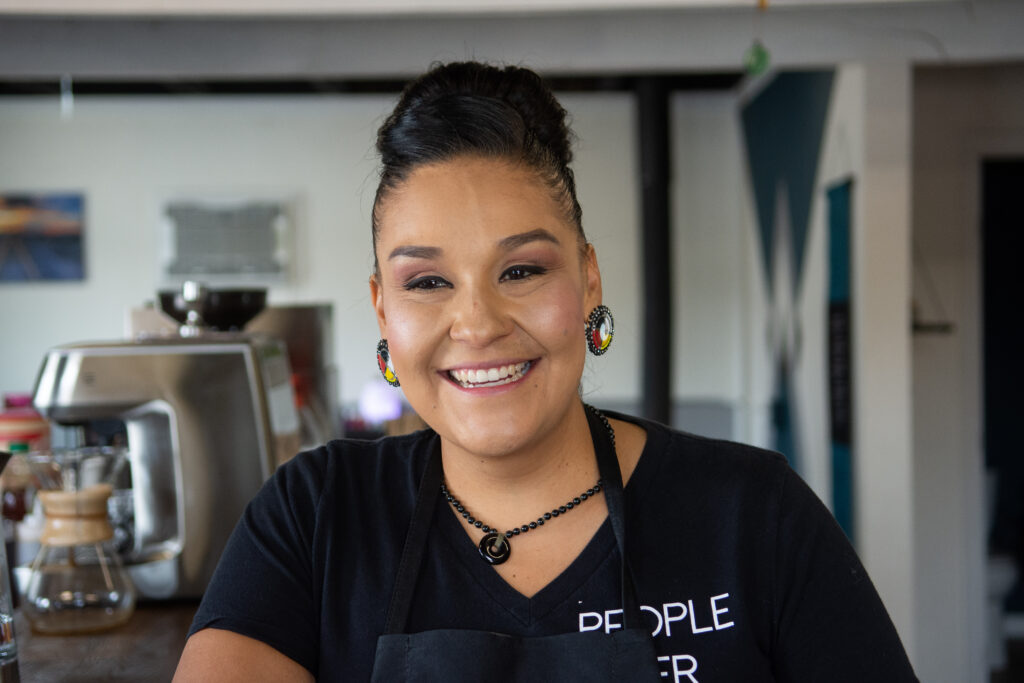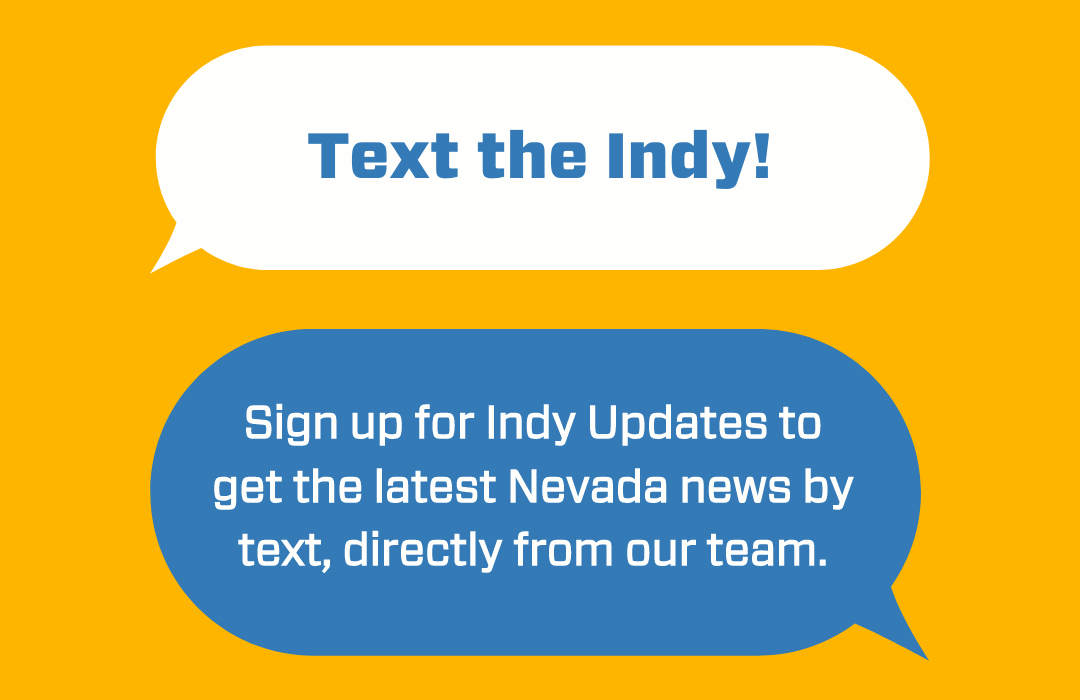 Featured Videos