Henderson City Hall as seen on Thursday, March, 16, 2017. Photo by Jeff Scheid.
Editor's note: Seven days. Never enough hours.

Stacks of paperwork at the office and piles of laundry at home. It's a never-ending cycle, which makes it difficult to stay on top of the endless news nuggets flowing from the White House, state capital, local government, and business community. We get it — and we're in the news business.

Enter "About Last Week." This is our way of bringing news-hungry but time-strapped readers up to speed on happenings that may have flown under the radar. Our promise: We'll keep it brief. Our hope: You'll read (or skim) and keep checking back every Monday.

So, without further ado, here are some noteworthy things that happened in Nevada last week.
UNR obtains permission to sell rare Stradivarius violin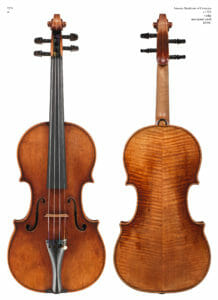 In 1974, philanthropist and prominent donor Edwin L. Wiegand gifted the University of Nevada, Reno a violin crafted by Antonio Stradivari, one of only a few hundred surviving instruments crafted by the legendary Italian luthier.
Forty-three years later, the university wants to sell it.
UNR officials were granted permission to put the rare instrument up for sale by members of the Nevada System of Higher Education's Board of Regents during their meeting on Friday. In a briefing paper on the request, UNR said the violin had primarily been used by graduate students studying violin over the last four decades. It said it's employed an "experienced consultant" to help broker the sale, and would set a minimum price of $3 million for the instrument.
University spokeswoman Kerri Garcia said the school's Art Department had suggested auctioning off the violin, which is not currently being used in concerts and is actually being stored in Chicago for repair and reconditioning.
Proceeds from the sale of the violin would go to the purchase of musical instruments and construction of an arts building on the university campus. Not selling the violin would result in ongoing costs for "insurance and security for the violin, as well as possible additional maintenance and restoration expense."
Any final sale would need to again obtain permission from NSHE before proceeding.
— Riley Snyder
Coming soon to Henderson: recreational marijuana
A split Henderson City Council voted 3-2 Tuesday in favor of allowing recreational marijuana businesses within city limits.
Mayor Debra March and Council members Gerri Schroder and Dan Shaw cast supporting votes for the ordinance, while Councilmen John Marz and Dan Stewart opposed it.
Recreational marijuana sales won't happen immediately, though. The vote triggers the application process for businesses hoping to be licensed for cultivation, production, retail sales or some combination, city spokesman David Cherry said.
Henderson officials expect retail sales of marijuana to begin in October or November. The city's moratorium on recreational marijuana sales expired Thursday.
— Jackie Valley
FAA clears Russell Road site for stadium project
The proposed NFL stadium — to be built near Russell Road and Interstate 15 — won't pose a hazard to airport operations, according to the Federal Aviation Administration.
"This aeronautical study revealed that the structure would have no substantial adverse effect on the safe and efficient utilization of the navigable airspace by aircraft or on the operation of air navigation facilities," FAA officials wrote in report released last week.
Aviation officials, however, noted that the determination is subject to review if someone files a petition on or before Oct. 5. If no petitions are filed, the determination becomes final Oct. 17.
The FAA clearance represents another hurdle the Raiders needed to overcome before starting construction on the planned 65,000-seat stadium.
— Jackie Valley
A new lieutenant governor candidate?
Former state treasurer Kate Marshall said Friday that she was "very, very seriously" considering a bid to be Nevada's next lieutenant governor. The Democrat hinted that she may make her decision this week.
A Republican candidate already has entered the race. Senate Minority Leader Michael Roberson announced last month that he is running for lieutenant governor.
— Jackie Valley
CCSD police union asks for more funding
Unions representing Clark County School District employees have soundly criticized the district's handling of a $60 million budget shortfall — and now the employee organization representing school police has entered the fray.
In a letter sent Saturday, Police Officer's Association of Clark County School District president Matt Caldwell said that the district has constantly short-changed school police officers and that the district should be growing, not cutting, the number of police officers covering district schools. Caldwell said proper staffing levels for the district would be 200 officers, compared to the 143 currently employed by the school district, and called on the district to add at least 40 officers to the force.
He noted various crime statistics from the last school year, and said 12 knives, 2 handguns and 129 drug or drug-related items have been recovered on school campuses during the first three weeks of this school year.
"CCSD consistently furthers the perception of overall student safety while failing to properly address real issues," he wrote.
Caldwell also complained that the union had completed paperwork for federal grants allocating funding to hire more officers, but the district refused to sign off on the process because the funding sources wouldn't be permanent.
Superintendent Pat Skorkowsky, who announced plans to retire last week, has said that the cuts won't include teachers and that the district hoped to minimize layoffs for support staff and school administrators.
— Riley Snyder
Updated at 9:14 a.m. to include additional information about the sale of a Stradivarius violin by the University of Nevada, Reno.