Addressing climate change, sprawl, lawmakers advance proposal expanding fuel taxes to cover 'transportation infrastructure'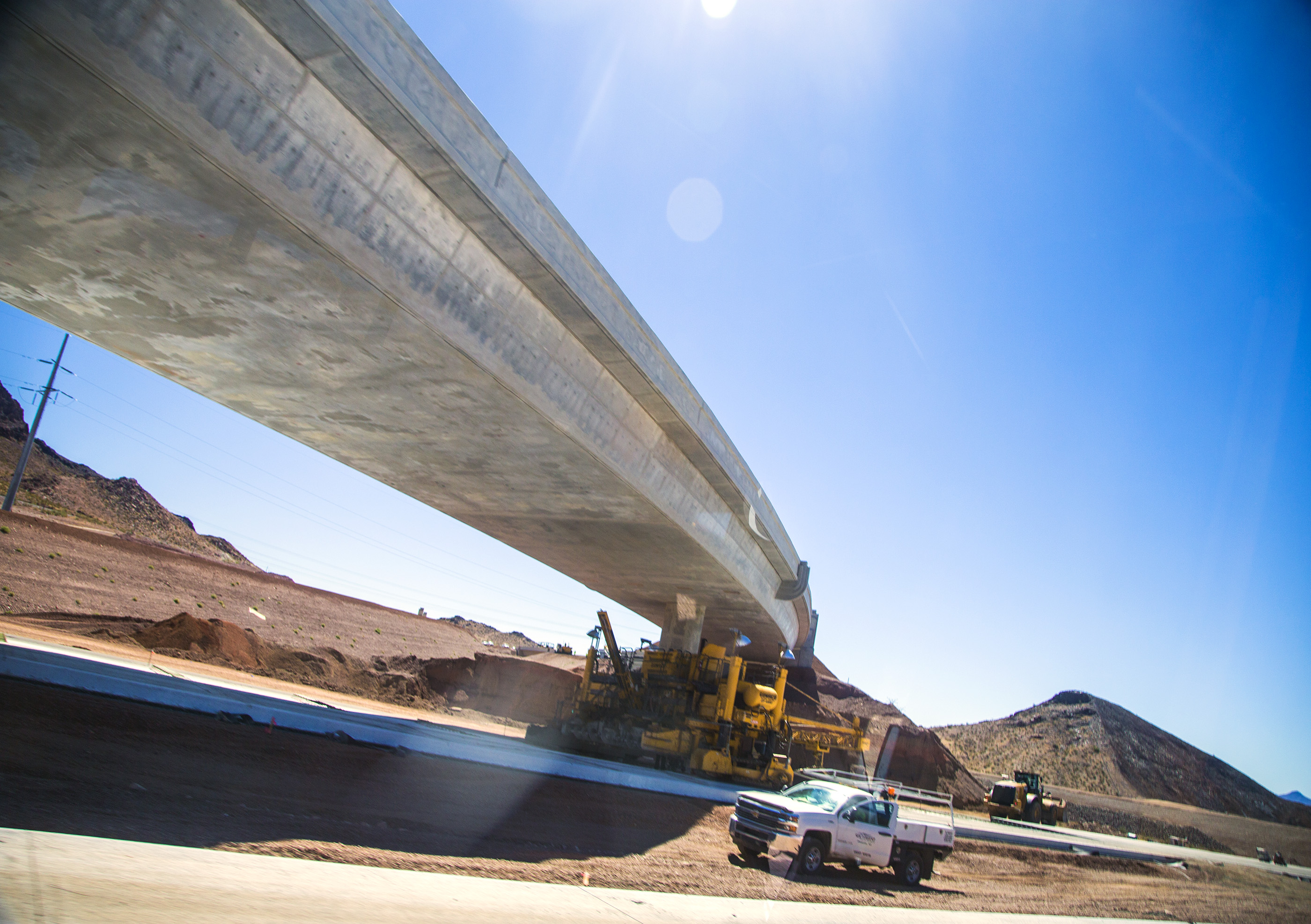 Since 1940, Nevada has followed a straightforward rule: any tax or fee on gasoline, car registration or driver licenses has to be allocated toward the "construction, maintenance, and repair" of the state's more than 5,000 miles of public highways.
But between desires to limit urban sprawl and address root causes of climate change, Nevada lawmakers are considering moving forward with a proposed constitutional amendment that would open up use of gas taxes and other automobile-related fees to more than just road construction and repair.
Members of the Interim Legislative Committee on Energy voted Wednesday to move forward with a potential constitutional amendment broadening existing, narrow provisions on fuel taxes to instead allow for those tax dollars to fund the broader category of "transportation infrastructure."
The two Republican members of the committee, Sen. Scott Hammond and Assemblywoman Jill Tolles, voted against the recommendation.
Although labor unions and construction associations expressed concern with the proposed change — stating that the state's highway funding is already inadequate and should be increased, not divided — lawmakers on the committee said it was a necessary piece to modernize the state's transportation funding structure and limit greenhouse gas emissions from the transportation sector.
The vote Wednesday is just the first step in a potential change to the state Constitution. Approval means the committee will submit the proposed change as a bill draft request, but it still would need to pass out of the 2021 and 2023 Legislatures before going on the ballot in the 2024 election for possible approval by voters.
Democratic Sen. Chris Brooks said a change to the constitutional language was "long overdue," adding that lawmakers had a responsibility to update language added to the state's Constitution in 1940 that he said no longer matched the state's transportation priorities in 2020.
"We had conversations with all the different (Regional Transportation Systems) and stakeholders and community groups, and we kept hitting a roadblock," Brooks said. "The roadblock was the very strict and narrow language of the constitution, as it was proposed 83 years ago."
Urban transit funding and development have become increasingly prominent and pressing issues for state leaders in recent years, given expected population growth over the next decade and attempts by lawmakers and Gov. Steve Sisolak to reduce Nevada's share of greenhouse gas emissions that contribute to climate change.
Nevada is on track to continually reduce carbon emissions from electricity production over the next decade, but a state report issued in January 2020 indicated that its share of transportation-related emissions — now the largest single source of emissions from any industry sector — is projected to remain at constant levels.
While some steps have been taken to address transportation emissions — including Gov. Sisolak proposing the state adopt California's standards for low and zero-emission vehicles — lawmakers and transportation leaders said Wednesday that the constitutional language limiting the use of gasoline fuel taxes was a roadblock to enhanced funding of other transportation infrastructure projects, such as urban transit or bike and pedestrian pathways.
"I think the only way, if we wanted to expand use of the funds for urban transit, the only way we would be able to do that is by changing the Constitution," Nevada Department of Transportation Director Kristina Swallow said during the meeting. "I'm not a legal expert, but based on what I've read, and what I've heard from our legal team, that is the only way we would be able to specifically allow for transit infrastructure."
A recent analysis found Nevadans pay about 33.8 cents per gallon in state and local gasoline taxes, the 19th highest rate of any state.
But the initial version of the recommendation attracted a barrage of criticism from construction trade organizations and labor groups, who said they would oppose any attempt to move transportation funding away from road construction.
The Nevada State AFL-CIO went as far as to pass a resolution during its convention last month stating its opposition to any proposed constitutional changes to fuel tax expenditures and revenue, calling it a "primary driver" of highway construction jobs.
"We feel that changing the Constitution to remove the guardrails on the spending of highway construction money is not the right way to go," longtime labor lobbyist Danny Thompson said during the meeting. "We believe that if we want to dedicate money for transit, you'd need to pass something that would be earmarked for transit and take care of those problems.
Swallow suggested that lawmakers could look at adding additional tax revenue sources to help "expand the pie" of transportation funding, especially if lawmakers move forward with the recommended constitutional change.
That issue may come up through another recommendation approved by the committee on Wednesday to create a Department of Transportation-housed working group focused on transportation infrastructure funding. It's set to run between 2021 and 2024 with plans to study the sustainability of current road funds, addressing greenhouse gas emissions and including the needs of all "transportation mode users," including cyclists, pedestrians and transit users.
Republicans on the committee, however, said they were hesitant to agree to the "heavy lift" of a constitutional change without a sufficient plan in place for how to use fuel taxes in an expanded capacity, and would rather have a discussion about ways to increase transportation funding without cutting into the current road maintenance budget.
"I don't like to make too many changes that would jeopardize what we have to continue to maintain the highway funds or the highways the way they are, because you see crumbling infrastructure across the United States that inhibits us from actually maintaining the abilities to move our goods and services," Hammond said. "I don't want to see that happen."
Committee Chair Daniele Monroe-Moreno, a Democrat, said the core issue of trying to diversify the transportation sector beyond road construction and repair would continue to be an issue even if overall transportation funding was increased.
"Even if we came up with those additional revenue sources, we would still be handcuffed to what we could do with those additional revenue sources with the constitution as it's written now," Monroe-Moreno said. "So I believe the simple language change to add in transportation and transit infrastructure would help move us towards the future."
Other recommendations were accepted with less controversy, including:
Drafting a letter to the governor and state agencies including the Public Utilities Commission and NV Energy stating support for an "integrated western energy market."
Encouraging federal agencies to allocate additional funds for statewide light detection and ranging (LiDAR), which is high-resolution topographic data that can help "provide critical information on the distribution of faults and rock layers that host renewable energy resources."
Draft a letter to the Nevada System of Higher Education, the state Department of Education and the Department of Employment, Training and Rehabilitation to promote "education, communication and interest" in the state's mining industry.
All three of those items were approved unanimously by the committee.
The Nevada Independent is raising $200,000 by Dec. 31 to support coverage of the 2024 election.
Tax-deductible donations from readers like you fund this critical work.
If you give today,your donation will be matched dollar-for-dollar.
Give + Get Matched
Featured Videos