Advocates say families providing 'hidden foster care' deserve more guidance, support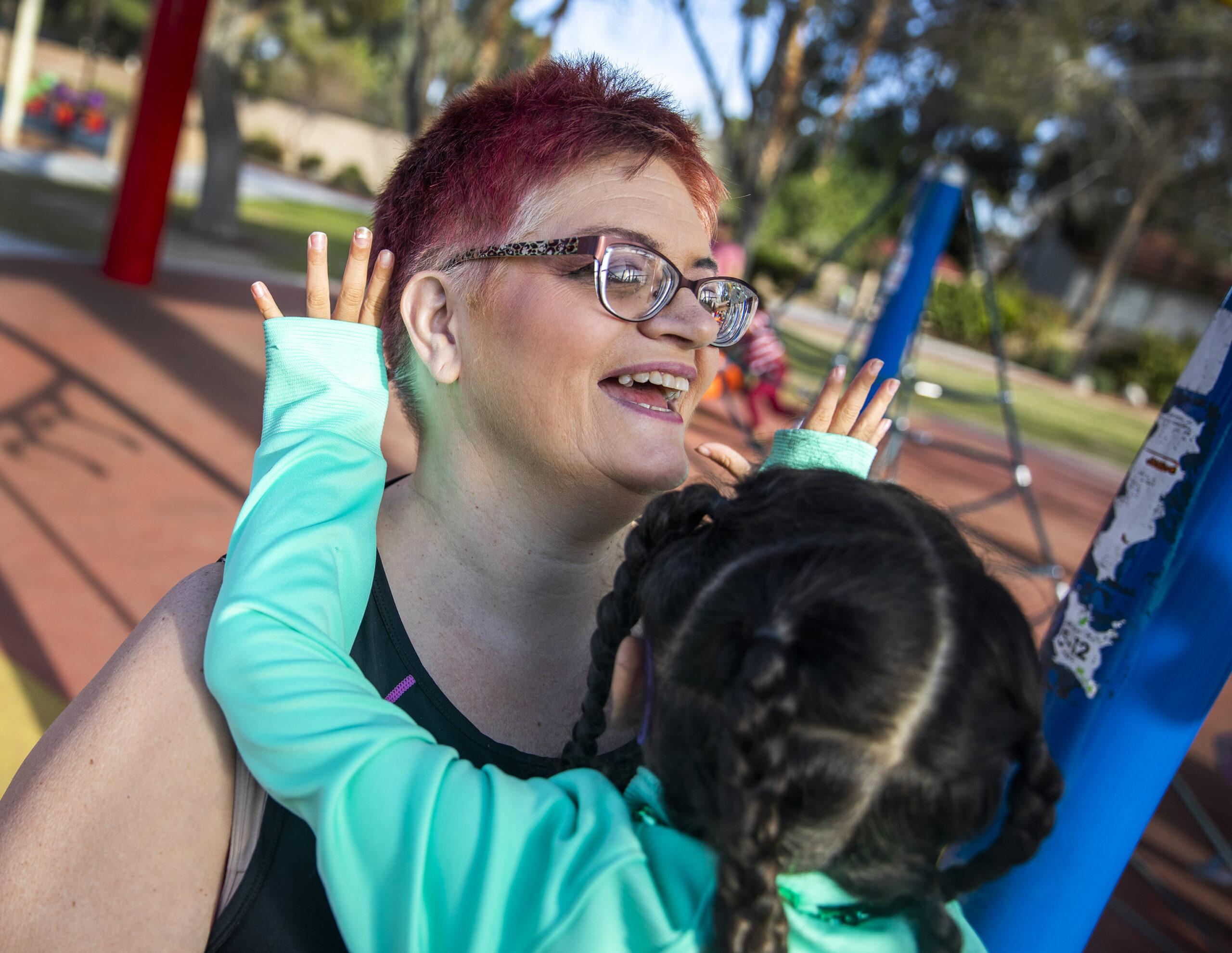 Stacey Galka and Pamela Convertino have never met.
Galka lives east of the Las Vegas Strip in an apartment; Convertino's house lies a half-hour drive south in a suburban neighborhood. But the two women share a common bond because of whom they have welcomed into their homes — their young granddaughters.
For Convertino, it was her son's drug addiction that led to this second phase of parenthood. For Galka, it was her daughter's mental health struggles. Now, Convertino goes by "mom" to her 7-year-old granddaughter, Mariah, while Galka has assumed the title "mom-mom" from her 6-year-old granddaughter, Aaniyah.
Despite the similarities, there's one glaring difference: Galka is a licensed foster parent. Convertino is not. Both have legal custody of their granddaughters, underscoring the broad array of circumstances that fall under the umbrella in the child welfare system of "kinship care."
Statewide, an estimated 28,000 children live with kin, according to the Annie E. Casey Foundation's KIDS COUNT data center. More than a third of Nevada's foster care placements in 2020 involved either relatives or "fictive" kin, such as close family friends and neighbors. The majority of those caregivers were not licensed by the state, which in the Silver State means they are not entitled to payments foster parents receive.
There is another little-known dynamic in child welfare cases in Nevada and many other states. Sometimes referred to as "hidden foster care," it occurs when child protection agencies come to informal, temporary arrangements with parents to avoid opening a case against them in court. In these instances, the physical custody of the child shifts to a willing relative or friend without social workers' supervision, but the legal custody remains with the parent.
Recent data suggests that use of hidden foster care is prevalent in Nevada. Numbers obtained from the state indicate that such arrangements comprise roughly 20 percent of children separated from their parents.
Some child welfare advocates are concerned that while plenty of kin prefer an arrangement with fewer social workers in their lives, the opaque nature of hidden foster care obscures what we know about how many children have been removed from their parents and the justification for those removals, and the conditions of where those children are now living.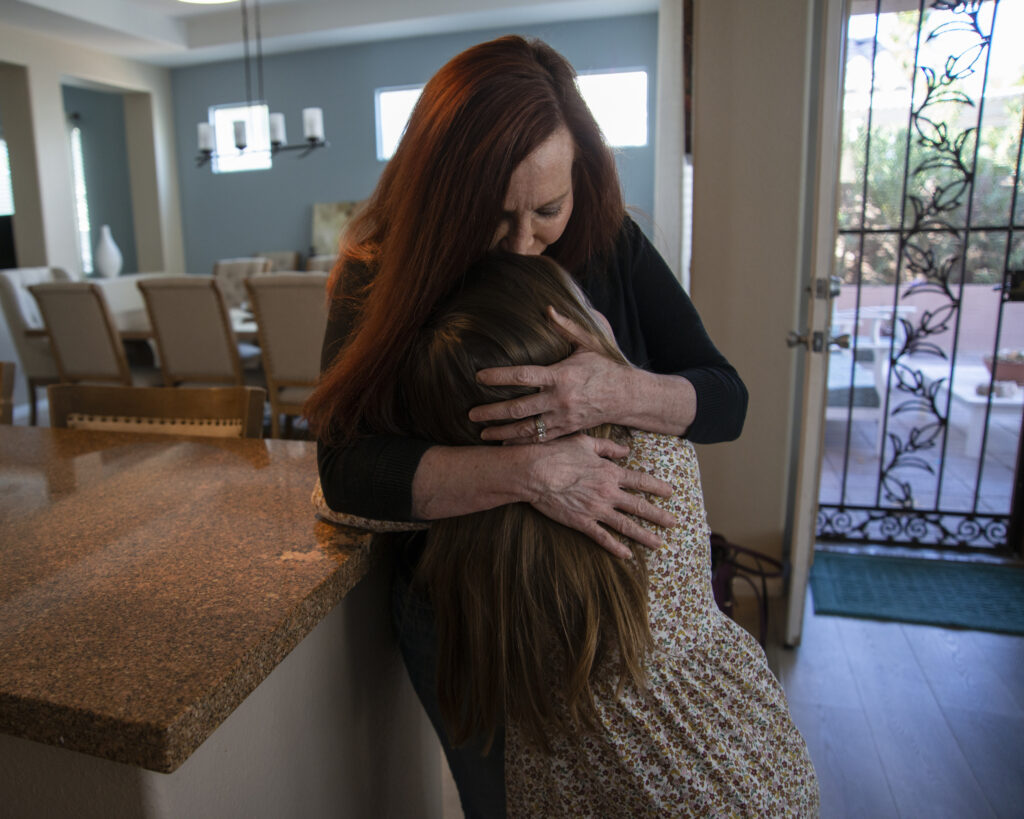 The lack of support and certainty of such an informal arrangement made Galka nervous about taking in her granddaughter; it was only later, when the child welfare agency offered to train and license her as a caregiver that she agreed. But the hidden foster care path worked just fine for Convertino, who didn't want any formal ties to a government agency monitoring her household. She later gained legal guardianship of her granddaughter.
Alison Caliendo is executive director of Foster Kinship, a nonprofit that supports these families in Nevada. She said the complex and confusing nature of kinship care often bewilders caregivers.
"We do a lot of basic information so you understand as the caregivers how the systems in Nevada view you," Caliendo said. "So are you formal? Are you licensed? Are you informal? Are you considered fictive kin, right? We do a lot of just explaining how you can access resources based on your kinship family type."
These days, the pandemic and related economic fallout have created ever-more need among struggling families. Caliendo said over the past year, her organization has served roughly the same number of families, but they have needed three times as many services as they did in 2019.
The current situation, she said, amplifies the need for more awareness about kinship care. Ultimately, more knowledge could drive more resources and support to families who need the help.
"Awareness is really important," Caliendo said. "Right now I can't even ask for more financial support for a lot of our sort of hidden populations because nobody even knows they exist."
---
An act of domestic violence forced Galka's relocation to Las Vegas along with her daughter and baby granddaughter. Her daughter had been severely beaten by the infant's father before they fled Colorado weeks later.
"He almost killed her," Galka said.
Las Vegas would be their fresh start, putting miles between them and the perpetrator, who was sentenced to prison for the crime. Galka chose the desert locale because of its proximity to California, where they have relatives.
What she didn't know but would soon find out is that Nevada has a high prevalence of mental illness and low rates of access to care. That quickly became problematic for her daughter, whose lifelong mental health struggles peaked after the attack by her ex-boyfriend.
Galka said her daughter began lashing out at her, making their one-bedroom apartment a hostile environment. Her daughter sought help at an outpatient mental health clinic with then -16-month-old Aaniyah in tow. At that point, child protective services intervened, Galka said, and deemed the pair homeless.
It was then that social workers asked Galka if she would take in her granddaughter.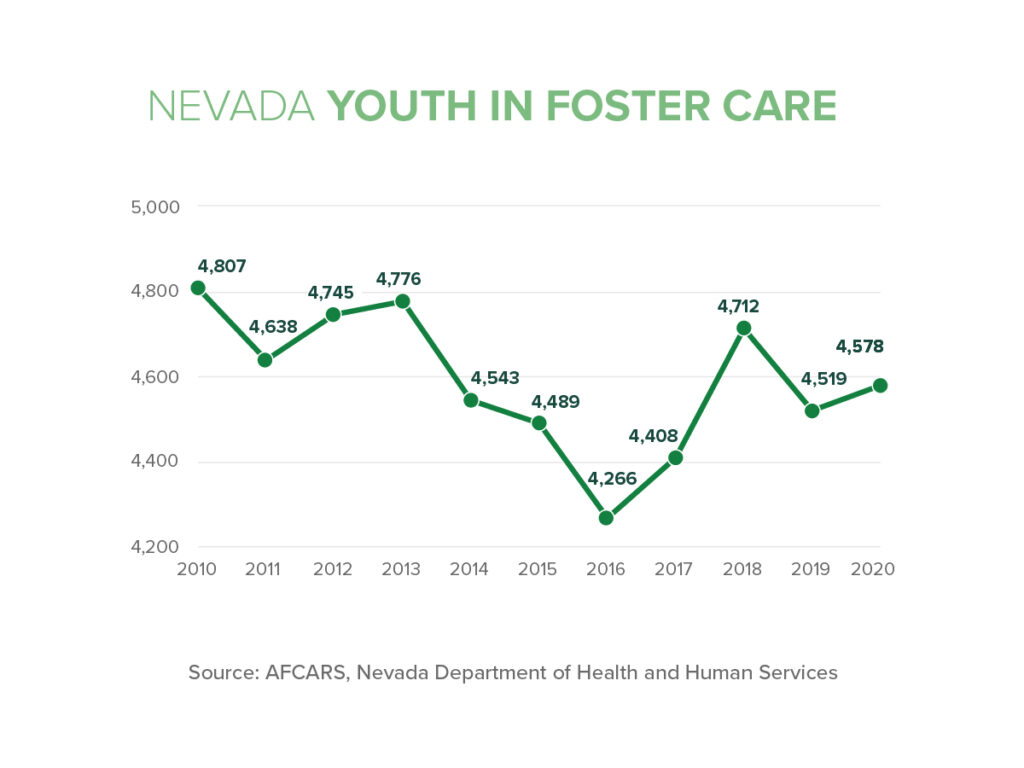 But the question didn't come with any explanation about the possibility of becoming a licensed foster parent, opening up doors for monetary support. So she declined, after the logistical and financial fears of raising a child flashed through her mind.
"How do I do it?" Galka said she wondered. "I was working two jobs. I just moved here. I have no friends here. We didn't know any of the resources."
Still, the current state of her family was not entirely unexpected. Galka had known even before Aaniyah was born that her daughter's schizophrenia and bipolar disorder would make parenthood that much more difficult. The domestic abuse she suffered exacerbated those struggles. Galka said her daughter needed time to stabilize and heal.
So Aainyah was sent to a foster family for six months. Her daughter briefly regained custody, but motherhood quickly overwhelmed her yet again.
"We realized that the mental abuse she had (endured) was so severe that she was not going to be able to take care of this baby and get out of depression," Galka said.
Aaniyah returned to the same foster family but, shortly thereafter, Galka decided that wouldn't do — she belonged at home with "mom-mom."
"I realized someone is not going to love her as much as I am," she said.
By that time, Galka had established a rapport with Aaniyah's case workers and felt more settled in Las Vegas. They told her about the option to become a licensed foster parent, assuaging her financial concerns.
Aaniyah, then 2, moved in with Galka. She received as much as $695 per month from the state as a licensed foster parent. The case workers also connected her with Caliendo's Foster Kinship program, which, over the years, has provided everything from respite care and a support group to parenting classes and first aid training. Galka also received some food boxes during the pandemic-related shutdowns last year.
Over the past year, Galka took on an additional role — a teacher of sorts — as she guided Aaniyah, who has autism, through distance education. The kindergartner attends a neighborhood public school that, up until recently, was fully virtual because of the pandemic.
"They encouraged me," she said, referring to case workers with the county's child welfare system. "They told me the resources I had that were available to me."

Galka, however, said it's difficult to say whether her decision to send Aaniyah to a foster family would have been different had the child welfare workers explained all the options and support when they originally called her. It was a turbulent time given her daughter's mental health issues. Still, Galka said "they did nothing to encourage me to change my mind" during that initial interaction.
Ana Beltran, co-director of Generations United's National Center on Grandfamilies, said Galka's situation mirrors what countless others experience — a lack of information before relatives or kin must make a decision about taking a child into their homes. Her organization encourages child welfare agencies to provide transparent, easy-to-follow guides highlighting a potential caregiver's options, including the financial assistance they would receive by becoming a licensed foster care provider.
"Child welfare agencies know that in a lot of instances families will do it without any kind of ongoing support, but that's not necessarily the best thing for the child or the family," she said.
Last week, a Las Vegas judge signed papers formalizing Galka's adoption of Aaniyah. She considers it the final step in their journey, allowing them to proceed with no more oversight from child welfare workers. As a licensed foster care provider, even a weekend trip required permission from Aaniyah's caseworkers. Because Galka's income is limited to her Social Security benefits, she expects to receive a monthly state or federal subsidy post-adoption, allowing her to continue financially supporting Aaniyah.
Not all kinship caregivers want to go the route of becoming licensed foster care providers, though. Some make the informed calculation that they can afford to care for another child without state support, or the monitoring that comes with it.
Convertino's story starts in New England. That's where her son and his girlfriend — both addicted to opioids — were living when their daughter, Mariah, was born. Convertino knew it wasn't a good situation from the start. From her home in Las Vegas, she was ordering diapers and formula online and shipping it to the apartment where her son and his girlfriend were living in New Hampshire.
"They weren't doing it," she said.
Convertino knew her son had a warrant out for his arrest in Vermont. After several months, she persuaded her son to turn himself in to the police. In turn, she brought his girlfriend and her baby granddaughter to Las Vegas. Their tearful goodbyes inside a Vermont courthouse were captured by a 20/20 film crew documenting the United States' opioid crisis in 2015.
Within a couple months of living in Las Vegas, her son's girlfriend began disappearing for large portions of the day — sometimes with the baby. The explanation of a long walk didn't add up to Convertino, who did some digging and discovered the young woman had fallen into prostitution.
"When I found out, I said, "You are not leaving this house with that baby again, unless one of us (is) with you,'" she said. "So she threw a fit."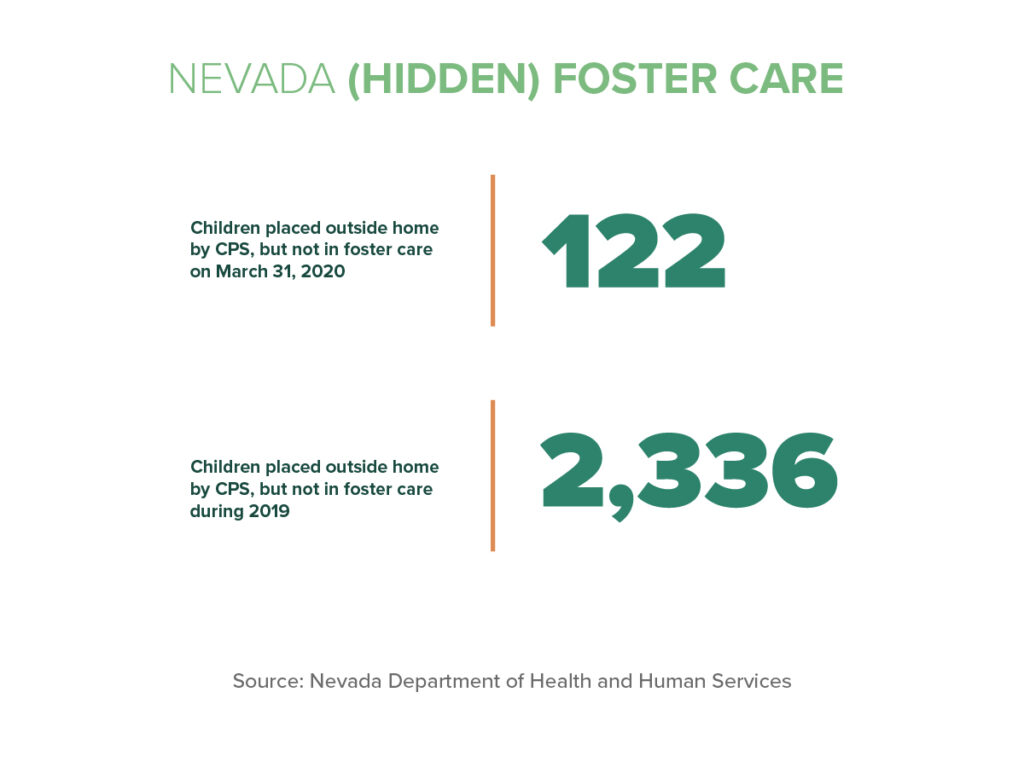 Her son's girlfriend showed up the next day with police at the door, but by that time, Convertino had made contact with Child Protective Services. The authorities granted Convertino temporary custody of the baby, while ordering the mother to take a drug test. She refused.
In the meantime, Convertino's son agreed to sign paperwork giving his mother legal guardianship of Mariah, then 6 months old. The baby's mother eventually fled to the East Coast.
Since then, Convertino has raised Mariah, now a first-grader who attends a private school in Henderson. But as a pediatric nurse who once worked at Positively Kids, a nonprofit that serves medically fragile children in Las Vegas, she had insight into the child welfare system.
She didn't want to enter that system with Mariah, even if it meant forgoing monetary stipends.
"It's sad. There are some really good caseworkers and there are some very terrible ones," she said. "And I just did not want to be caught up in any of that. I knew that financially, we didn't need their assistance, and I am very capable as a pediatric nurse to determine what is best for Mariah."
Convertino also hopes to eventually adopt her granddaughter, a move that would provide peace of mind knowing there would be no looming court battles.
"Permanent (guardianship) means nothing here in Nevada," Convertino said. "I don't want to keep going back to court. And as she is getting older and stuff, she doesn't need that stress in her life."
---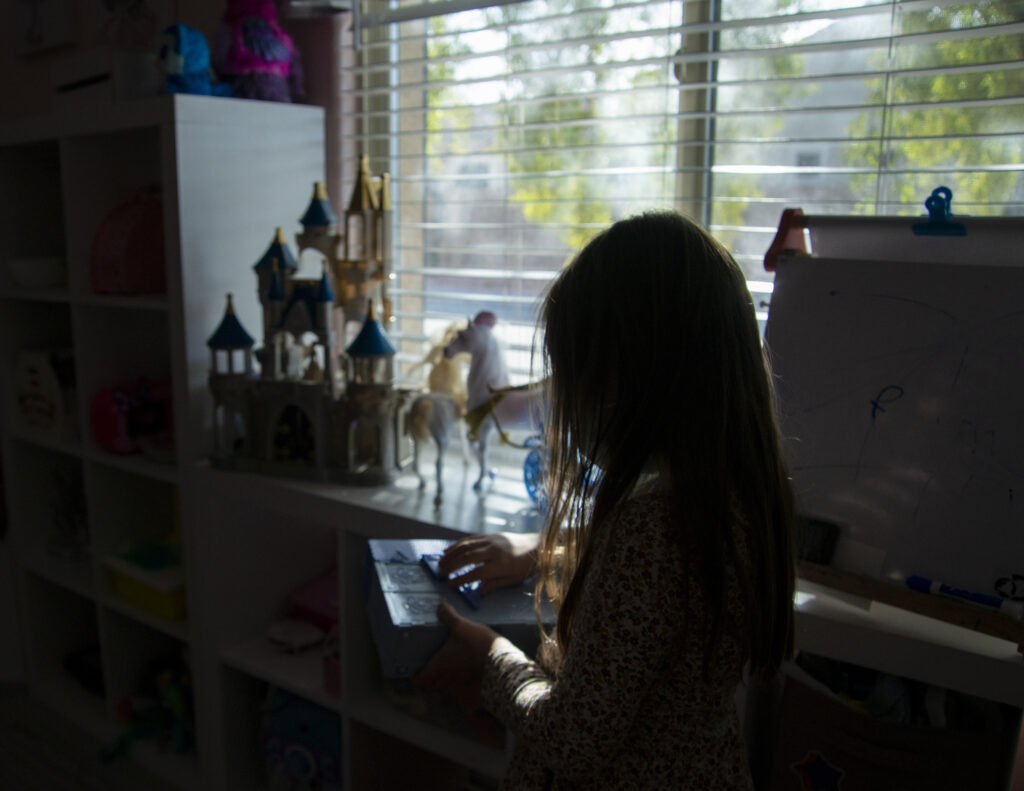 ---
Every so often, Convertino comes across a Facebook post that mentions someone taking in grandchildren or other young relatives. She immediately types out a response listing agencies and organizations, such as Foster Kinship, that can provide resources and other support.
"Formula and diapers are expensive," she said. "I know so many of them that have gone through their savings just to take care of it."
That's why she thinks a stipend should be offered to kinship caregivers, regardless of affiliation with the child welfare system. Galka agrees.
Families who sign up to be traditional foster care parents — meaning they have no association with the child who winds up temporarily in their care — have time to prepare their homes and take classes before being added to the list of potential placements, Galka said. But kinship caregivers typically step up at a moment's notice when something goes awry. They welcome the child into their homes, sometimes without fully grasping all that it entails.
"All of a sudden you're stuck with you wanting to help but not having anything," Galka said.
Caliendo, founder of Foster Kinship, is well aware of these concerns. Proposed legislation (SB158) wending its way through the Legislature would make it easier for kinship foster families to receive federal stipends through the Kinship Guardianship Assistance Program, known as "KinGAP." It would be a positive step forward, Caliendo said, but it would only help kinship caregivers who are licensed foster care providers.
"SB158 is great, but then the number of families that will affect is very, very small compared to the number of families who are really doing this work," she said. "So lots more is needed."
There may be hope for families with the federal stimulus money. Caliendo said she is working with state officials to create a pipeline — complete with case management done by her organization — that could yield direct payments to kinship families. It would essentially be another form of relief funding. "Fingers crossed, we can figure that out," Caliendo said.
In 2012, Foster Kinship made its debut in Clark County and, six years later, the organization opened a second location in Reno. In many ways, it serves as a connector of dots for families involved in kinship care. The organization's resource centers also provide diapers, formula, car seats, bedding and clothing to families in need.
Studies have shown kinship care provides a host of benefits, including more stability for the children and a connection to their families and cultural traditions.
It's something Galka and Convertino know firsthand. They're navigating parenthood again while trying to help their granddaughters understand their family dynamics, too.
Galka's daughter, whose mental health has improved in recent years, regularly visits Aaniyah.
Convertino, meanwhile, has given Mariah a book filled with photos of her mother and father. It's a way to keep those memories alive until they perhaps meet again one day.

This story has been co-published with The Imprint, an independent, nonprofit daily news publication dedicated to covering child welfare, juvenile justice, mental health and educational issues faced by vulnerable children and families.
The Nevada Independent is raising $200,000 by Dec. 31 to support coverage of the 2024 election.
Tax-deductible donations from readers like you fund this critical work.
If you give today,your donation will be matched dollar-for-dollar.
Give + Get Matched
Featured Videos