Airport boss, tourism officials say international travel key to Vegas rebound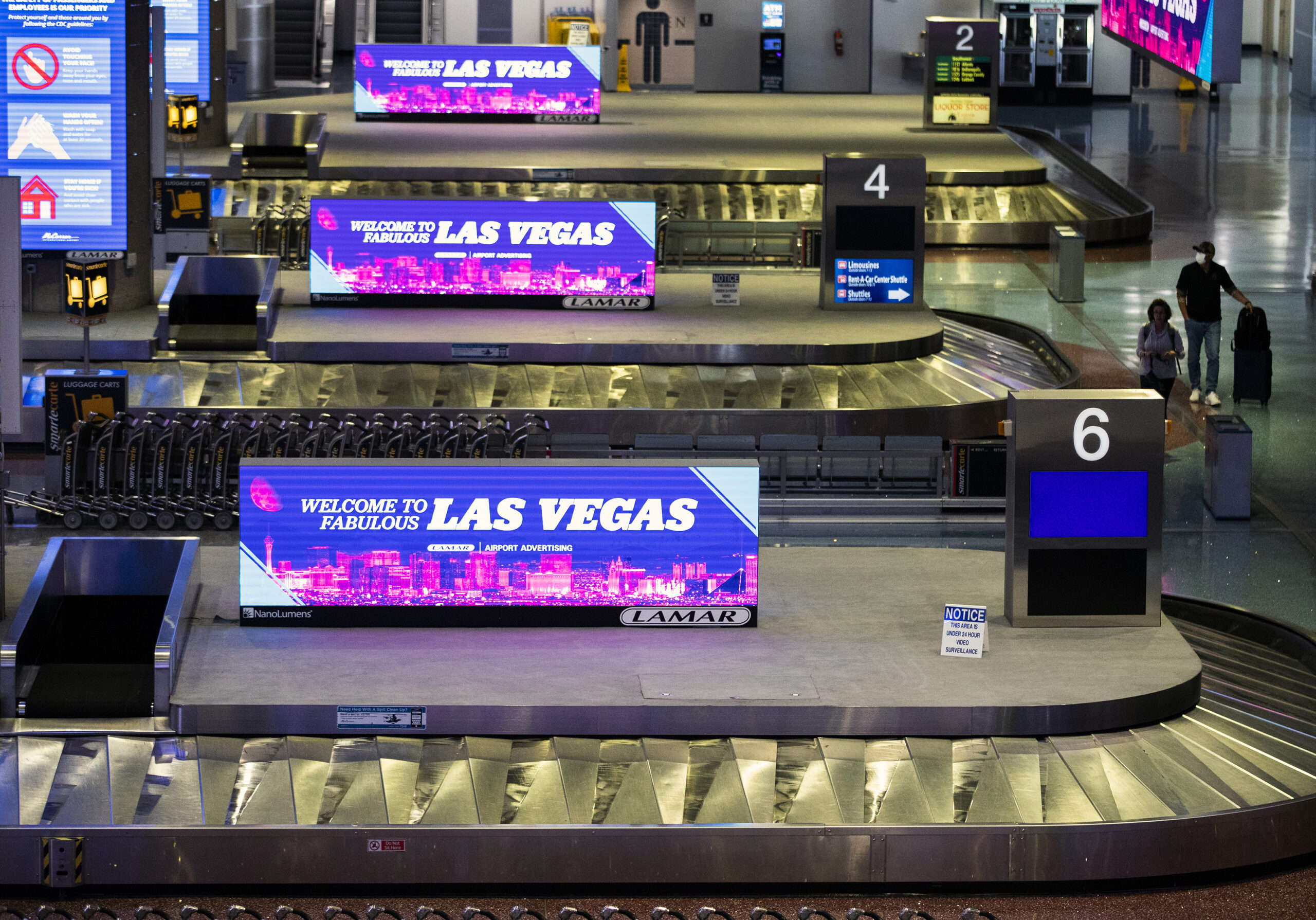 The pandemic-driven absence of international flights to and from Las Vegas has removed one of the gaming industry's most lucrative business segments, leading airport leaders, tourism officials and gaming insiders to push for the U.S. to reopen for travel from key destinations.
Clark County Director of Aviation Rosemary Vassiliadis told members of a Senate subcommittee at a hearing Tuesday that airline operators want to resume flights into McCarran International Airport – the ninth busiest airport in North America – but are thwarted by travel restrictions affecting "nonessential" leisure and convention visitors.
"These airlines ask us point blank, 'What is the U.S. doing to reopen travel? When will our airline be able to resume bringing vacationers and conventioneers to Las Vegas?'" Vassiliadis said in testimony before the Senate Subcommittee on Tourism, Trade, and Export Promotion. The subcommittee is chaired by Sen. Jacky Rosen (D-NV).
"Almost every day, I or members of my team hear from representatives of international air carriers expressing interest in quickly resuming service to Las Vegas," Vassiliadis said.
Gaming industry insiders are asking the same questions.
Truist Securities gaming analyst Barry Jonas said that before COVID-19 disrupted the Strip, 14 percent of Las Vegas' annual visitors came from international destinations.
"The resumption of international travel should be one of the key next legs for the Strip's recovery," Jonas said. "International visitors stay longer (and have) bigger gaming and non-gaming budgets."
Vassiliadis suggested that the U.S. develop "a risk-based roadmap" that allows global travel to return through a more flexible approach, rather than keeping the blanket travel ban that was put into place by the White House in January.
She said the International Civil Aviation Organization, with support from the Federal Aviation Administration, has produced a manual in which global air routes could be restored, but also could be adjusted if COVID-19 surges on either end of the route.
"The EU is gradually deploying methods to reopen its members' borders for vaccinated passengers, and the United Kingdom has embraced an approach similar to ICAO's." Vassiliadis said. "These actions have opened the door for U.K. residents to begin non-essential travel to select countries later this month."
She noted, however, that the U.S. wasn't on the list of cleared destinations, "creating a major hurdle toward reconnecting Las Vegas with its top overseas visitor market."
From 11 down to one
In 2019, McCarran had nonstop service to and from 11 different countries, including the United Kingdom, France, Germany, South Korea, China and Israel.
"Now, that number is down to one, with Mexico representing our lone international market currently in service," Vassiliadis said. "Over the first four months of 2021, our international volume has amounted to less than 80,000 passengers."
In 2020, McCarran had 781,280 incoming and outgoing international passengers, a decline of 79.5 percent compared with more than 3.8 million international customers in 2019. Several Canadian air carriers had maintained routes to Las Vegas for a time, but service was halted when COVID-19 surged in Canada and the government closed its borders.
Las Vegas Convention and Visitors Authority CEO Steve Hill said he supports the roadmap suggested by Vassiliadis. The resort industry is reopening and the first major trade show in more than a year – the World of Concrete – is scheduled for next month.
"We're ready to get back and other countries are ready to get back," Hill said. "Frankly, waiting for the whole world to get back is just not good for anybody involved."
Diminished gaming revenues
The loss of business from Asia has diminished revenue streams for Strip resorts that offer high-end baccarat play. The game can tip the scales along the Las Vegas Strip during Chinese New Year in the January-February timeframe and large-scale events.
Jonas said Asian high-end table game play has historically been a "meaningful contributor" to Strip casinos, estimating it accounted for roughly 5 percent to 10 percent of MGM Resorts International's total cash flow from its Las Vegas properties.
UNLV gaming researcher and historian David G. Schwartz views baccarat as "important" to Nevada gaming and a "proxy for high-end Asian play." Over the past decade, before the pandemic, baccarat averaged more than 10 percent of statewide gaming revenues annually.
Schwartz called the statistic "remarkable, given how small" the number of baccarat tables was compared to other table games, such as blackjack, craps and roulette.
Through March, baccarat revenues are down 45.6 percent compared to 2020, which recorded the game's first sub-$1 billion revenue year since 2009. Revenues from baccarat hit an all-time high of almost $1.6 billion in 2013, a year that saw the state collect more $11.1 billion in gaming revenues.
"Pound for pound, baccarat tables generate far more revenue than other gaming positions," Schwartz said. "For that to return we need to become a destination for international travelers, particularly from Asia."
No to vaccine passports
Vassiliadis told the subcommittee that the U.S. government needs to lead the world in establishing ways to safely admit international travelers. But she stopped short of calling for a Digital Health Credential (DHC), which could be construed as a vaccine passport, for domestic travelers.
"We do need the government to set the parameters and criteria for accepting solutions that are already being implemented in other parts of the world," Vassiliadis said. "To be clear, aviation industry members are not advocating for a DHC mandate."
Hill agreed that "vaccinations are the key," but that a vaccine passport was not the right strategy for domestic travel.
"But it could work with international markets," Hill said.
Vassiliadis said the U.S. should be involved in "worldwide discussions" that would set guidelines or standards for the use of DHC in authenticating testing and vaccination status for international travelers.
"Establishing a harmonized approach for the implementation of these DHCs will allow the traveling public to understand the requirements for international travel and reduce the occurrence of fraudulent documentation," Vassiliadis said.
The Nevada Independent is raising $200,000 by Dec. 31 to support coverage of the 2024 election.
Tax-deductible donations from readers like you fund this critical work.
If you give today,your donation will be matched dollar-for-dollar.
Give + Get Matched
Featured Videos