'All hands on deck:' Nevada Democrats process tens of thousands of early votes, host trainings ahead of Saturday caucus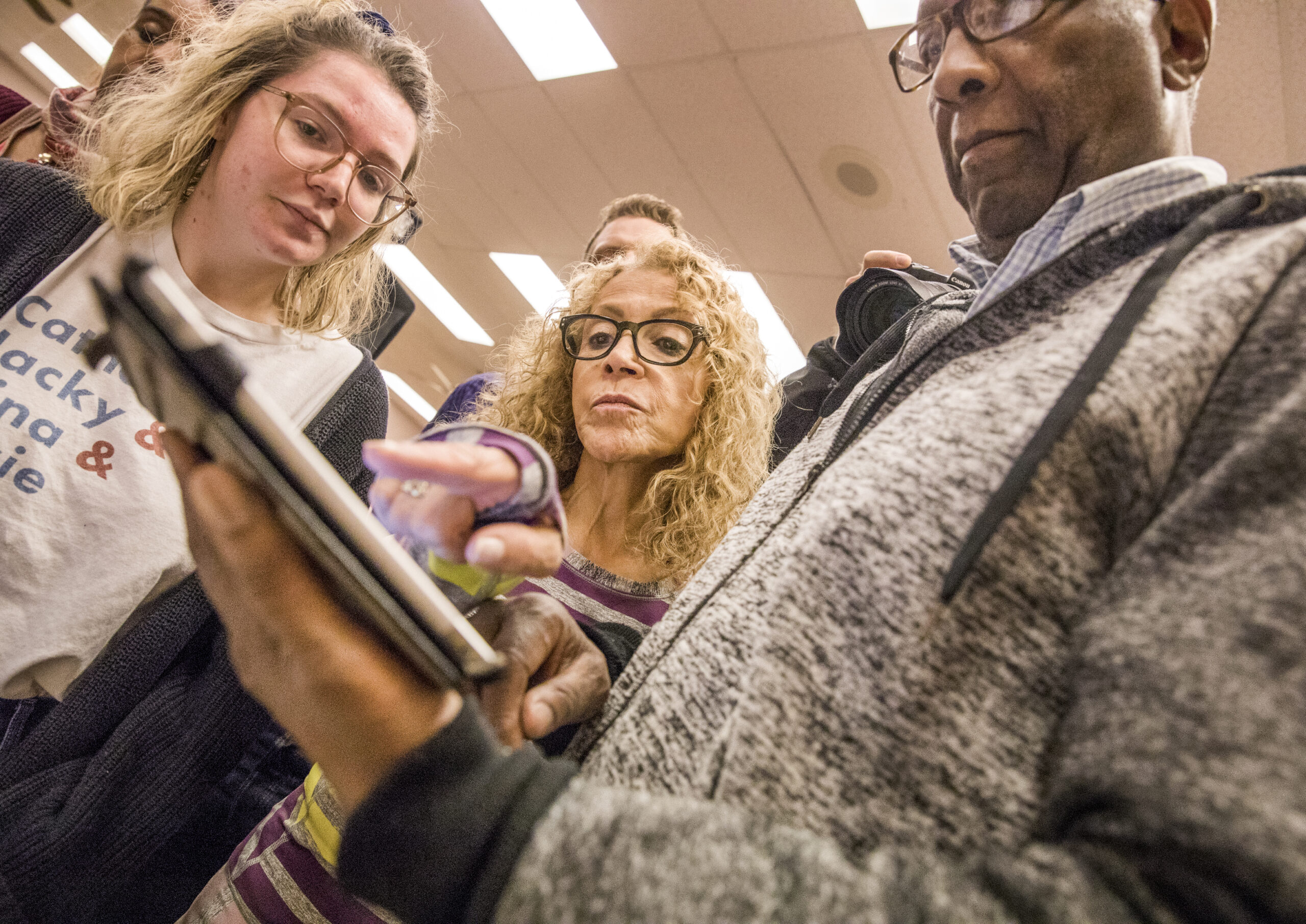 Inside the Nevada State Democratic Party's ballot hubs, a massive data processing operation is working overtime to ensure that the presidential preferences of 75,000 caucusgoers who chose to vote early make it to the right precincts to be counted on Caucus Day.
The party has been under immense pressure in the wake of Iowa's problem-plagued Democratic caucus earlier this month to run a smooth nominating contest on Saturday. Over the last two weeks, Nevada Democrats have scrapped their entire caucus process — which had relied heavily on the use of two apps designed by the company responsible for the fiasco in the Hawkeye State — and designed a new, lean system built around off-the-shelf Google technology.
At its core, the technology is simple and straightforward. The caucus calculator the party plans to use to integrate early voting data into the Caucus Day process is essentially a series of Google Forms linked together by Google Sheets. But it also requires significant human labor to pull off.
Under the old system, caucusgoers who chose to vote early were supposed to cast their presidential preferences through an app on an iPad, with those results seamlessly flowing into a second app downloaded by precinct chairs to use on the day of the caucus.
The new system is much more labor intensive. Early voters cast their presidential preferences on scannable paper ballots, which have to be manually scanned into a system and verified by a human a total of three times.
For each individual early vote, someone must check whether the data entered during the check-in process via Google Form matches a handwritten voter card filled out at the early vote site. In practice, that means having someone pull up a scanned copy of the voter card on one computer monitor and the Google Form-entered data on another. Then, someone has to check the individual's unique secretary of state ID number or address to make sure that their votes are attached to the correct precinct; and finally, someone has to check that the right person is connected to the right ballot through verification of a voter PIN sticker placed on their ballot and voter card at the early vote site.
It's even more laborious for early votes cast at sites that, in consultation with the party, chose to abandon the time-consuming Google Form check-in step to speed up their lines. For those voters, someone has to manually enter their check-in data into a spreadsheet, including their name, address and secretary of state ID number. Then, someone has to double check that all of that information was entered correctly — in addition to all the other verification steps.
"It's all hands on deck," Alana Mounce, the party's executive director, said Thursday.
And she doesn't just mean Nevada State Democratic Party staffers and volunteers either. An army comprised of operatives from former Senate Democratic Leader Harry Reid's orbit, staffers from Nevada's congressional delegation and other Democratic allies are pitching in their spare time to process tens of thousands of ballots before Saturday's caucus, with dozens filtering through to help at two ballot processing hubs in Las Vegas and Reno each day.
"They've got everybody who has ever been tied to this party down there working," one source familiar with the Democratic party's data-processing operation, who asked for anonymity to speak openly about the process, said.
Another source familiar with the operation said some volunteers were "on their feet for 12 hours during early vote shifts, grabbed dinner, and then came out to help with all the scanning and sorting through thousands of pieces of paper."
It's a monumental task — double and triple checking that the data is right — but Democrats here don't really have a choice. At stake is the reputation of the Nevada State Democratic Party, built by Reid and considered one of the best Democratic parties in the nation, and its beloved third-in-the-nation caucus.
"Our number one priority is getting this right and making sure the results that are released are accurate," said party spokeswoman Molly Forgey. "But it's our plan to have results released on Caucus Day."
One Democratic campaign aide expressed frustration late Thursday night that they still had not yet received the final batch of data from the party on the 39,000 people who voted on Tuesday, the last day of early voting. The party has been releasing lists of people who voted early to campaigns to help narrow the scope of their outreach.
With just two days before the state's caucus, some remain skeptical — including Democratic presidential candidates themselves. Former Vice President Joe Biden, asked whether he was worried about the prospects of a brokered convention at a CNN town hall Thursday night, instead cast doubt on Nevada's nominating contest.
"I worry about your caucuses," he said.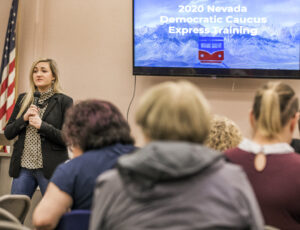 Nevada Democrats are doing all they can to get their 3,000 volunteers up to speed on the new caucus system, hosting 55 webinars and in-person trainings in the three days leading up to Saturday. One of those, hosted at the National Association of Letter Carriers' headquarters in Las Vegas, attracted a couple dozen volunteers Thursday night.
Training director Cheyenne Davis tried her best to make the process seem as straightforward as possible — even when explaining the most complicated portions of the process. In the event that the iPad calculator doesn't work, she said, volunteers will be asked to realign early voters by hand on paper.
"I personally think it's kind of fun," Davis said. "It's like a little puzzle."
But interviews with several site leads and precinct chairs two days before the caucus reveal the varying levels of comfort that volunteers have with running the caucus process.
For instance, some volunteers said they were unaware that the party had begun hosting hands-on trainings with the new caucus calculator on Tuesday and didn't know where to go to access the training slides to review the steps for the caucus process. Others were unsure whether they planned to try to receive any more training — either via webinar or in person — before Saturday's caucus.
Despite their concerns, all of the volunteers interviewed seemed at least somewhat optimistic that the caucus would run smoothly on Saturday.
Take Chris Erbe, a temporary precinct chair at West Career and Technical Academy, for example. He said his emailed requests for additional information from the party have gone unanswered.
"It's like I'm spitting into the wind or something. I might as well be screaming down into the Grand Canyon and I can't even get an echo back," Erbe said. "I don't have any phone number contacts other than my site chair, and he knows as much as I know."
One of the specific concerns that Erbe, a retired middle school principal in the Clark County School District, has is about connecting to 4G or Wi-Fi at his caucus site. He had planned to meet with his site lead and the principal of West Tech on Thursday to secure a guest password to use the school's Wi-Fi over the weekend. (A party official said that they tested each caucus site for 4G and Wi-Fi connectivity, and that the cover sheet for each precinct will have recommendations on how to connect and any Wi-Fi passwords needed.)
Still, Erbe said that he feels "a lot better" than he did a week ago.
"If we have internet connectivity I feel really good that it'll go okay," he said. "If somebody in their particular room doesn't have cell service and doesn't have Wi-Fi, there's about a 50-50 chance some of them are going to screw it up."
Another temporary precinct chair, who asked to remain anonymous to speak frankly about the caucus process, expressed concern that older volunteers might not be familiar with how to operate an iPad or a Google Form. In fact, one training slide is specifically devoted to how to unlock an iPad.
Still, the volunteer expressed optimism about how simple the process is.
"I'm sure I'll be fine. I think it'll just be chill. I'm kind of along for the ride," the volunteer said. "The math is straightforward, the script is straightforward, the reporting tool is straightforward, what you do if the tool breaks is straightforward."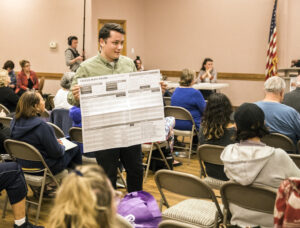 Seth Morrison, who will be a site lead at Legacy High School, voiced some frustration that only two of three iPads were working during a hands-on demonstration of the calculator he attended Tuesday night. But he, too, reported feeling "better" than he was.
"The tool itself looks very good, it looks very intuitive," Morrison said. "I went from being 80 percent sure of failure to about 60 percent chance of failure so we're moving in the right direction. It's a big positive jump."
Susan Wadleigh, a temporary precinct chair at Green Valley, wasn't completely sold on the new caucus process though.
"It's what we have. We're going to do the best we can with it," Wadleigh said. "If there's problems, we'll handle them."
She said she plans to "sleep, rest up" and "go through the documents again" ahead of Saturday's caucus.
"You can prepare all you want — I used to do live things, live television and theatre — and you never know," Wadleigh said. "The equipment will work until you go live and then the equipment never works."
Temporary precinct chair Randy Wilson, who attended the Thursday night training, described the caucus process as "involved" and "kind of a lot for an inexperienced person," but said the training was good. Asked what he was going to do to prepare for Saturday's caucus, Wilson said he planned to attend a separate hands-on iPad training session on Friday.
"And pray," he said.
The Nevada Independent is raising $200,000 by Dec. 31 to support coverage of the 2024 election.
Tax-deductible donations from readers like you fund this critical work.
If you give today,your donation will be matched dollar-for-dollar.
Give + Get Matched
Featured Videos