Amid grad student pay crunch, UNR looks to private sector for housing solutions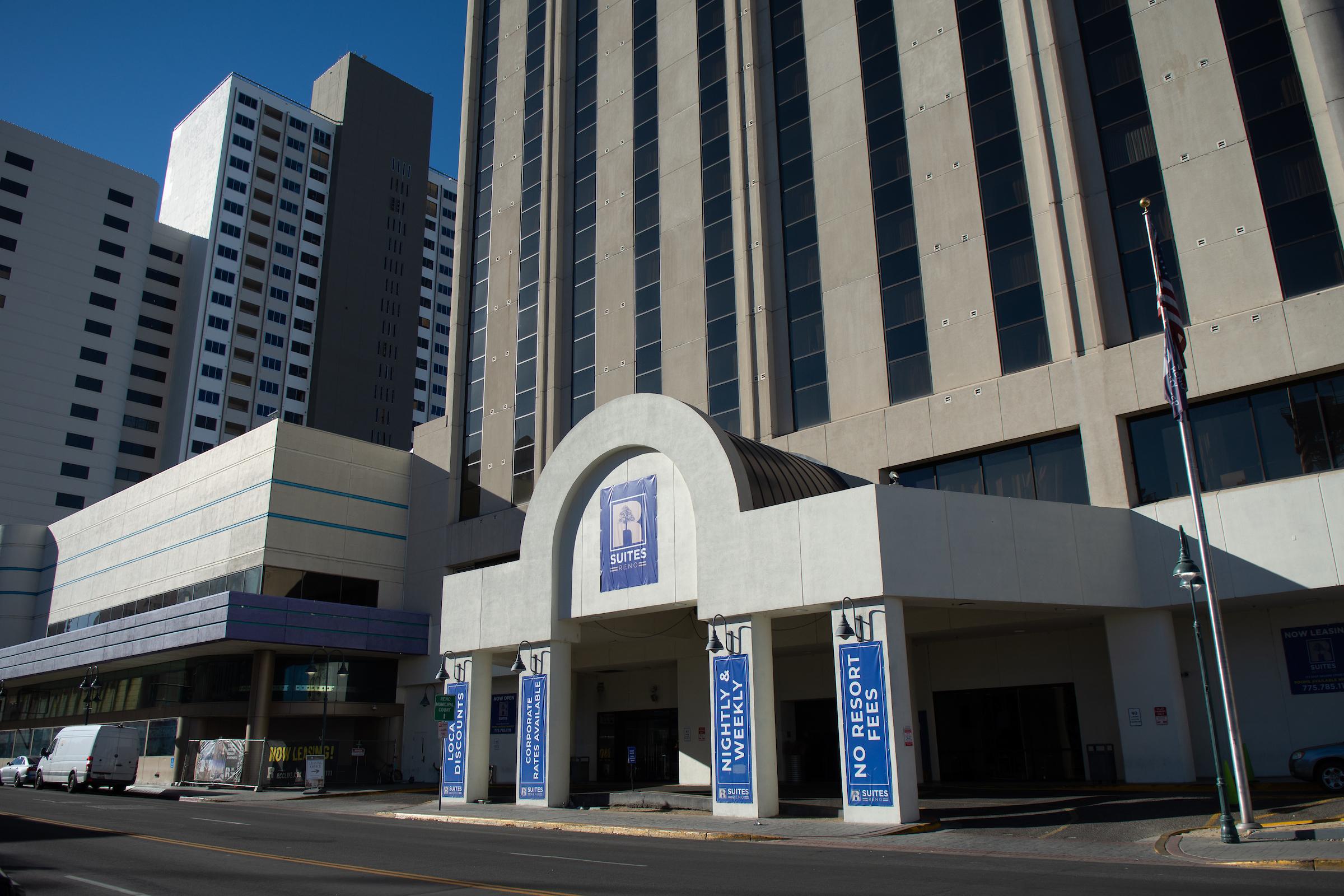 For the graduate students of Nevada, assistantships have long been a means to an end, a modest part-time stipend designed to defray the inability to hold a full-time job while writing a thesis or dissertation.
But the last half-decade's crushing mix of surging housing costs, coupled with soaring prices for food and gas, have stretched thin dollars even thinner — and created a crisis for graduate students often unable to find another job and supplemental income.
"We carried out a few different surveys over the last year, where it showed that the amount of rent that students are paying is somewhere between 45 and 60 percent of their entire income," Matthew Hawn, president of UNR's Graduate Student Association, said in an interview.
Enter a new partnership between UNR and a private developer, approved by the Board of Regents last week, that could pave the way for at least some affordable housing units dedicated to Northern Nevada graduate students.
By the fall of 2023, the old Harrah's tower in Downtown Reno — now Reno City Center — will host as many as 85 graduate students from UNR, part of a new university pilot program aimed at finding affordable housing for students increasingly unable to make ends meet in Northern Nevada.
The new units will cost $995 per month for a studio-sized space, with annual increases of up to 5 percent per year baked into the contract — well below the current median Reno rent of $1,520. Those increases amount to roughly $1,100 per-month rent by the third year of the deal, and as much as $1,269 per month at the end of six years, should the deal be extended.
For UNR, the deal will amount to nearly $3.2 million in annual rent, cumulatively, in three years, and more than $6.9 million in annual rent after six years.
Hawn called the agreement a "huge step forward" in securing stable housing for graduate students, in part because these students are "significantly different" from their undergraduate compatriots. They are older, he said, sometimes have families, are often at school for longer and simply have "completely different priorities."
Regents approved a three-year lease agreement between UNR and Reno City Center in a unanimous vote on Oct. 14 — the end of a near-eight month series of negotiations and a vote that kick-starts the process by which the university can now fill those units ahead of the coming academic year.
But that process is not without its own pitfalls, especially as the university must now decide how the affordable units are allotted with demand for the space expected to go well beyond the new supply.
"I do expect that we will, certainly, not meet demand with these 85 units," UNR Provost Jeff Thompson told The Nevada Independent.
Some of the units will be used to recruit new students, Thompson said, pointing to affordable units as particularly attractive to students fresh out of undergraduate programs who are of "modest means."
The rest, he said, will likely be some combination of needs-based allotments and a lottery — different from the first-come, first-serve allotments at UNR's existing graduate student housing stock — though no decisions have yet been chiseled in stone.
At UNR, that existing housing is confined to Ponderosa Village, an on-campus complex of one- and two-bedroom apartments near many of the university's sports facilities. For the 2022-2023 academic year, just 44 slots at Ponderosa were available — for a pool of 256 applicants, according to documents UNR submitted to regents.
In the south, at UNLV, student housing is in large part buoyed by a partnership with the U District, which operates two apartment complexes near campus serving undergraduate and graduate students. One of those buildings, Legacy LV, offers more traditional apartment-style living arrangements tailored in part to graduate students, though space remains limited.
Still, with incoming student offers set to be made in February, Thompson said university officials will "figure out the process" within the next six weeks.
"If you compare our stipends and housing costs across our competitive universities, that's where we suffered, in the competitive space," Thompson said. "So this helps us a lot."
How we got here
The issue of graduate student stipends has been a thorn in the side of both graduate students and Nevada's university administrations since before the end of last year, as the red-hot, post-pandemic housing market began to put pressure on income-limited masters and doctoral students.
For those students, the amount of work presented both by their education and by the needs of their assistantships — often their only source of income — limited the potential for new income streams even as the cost of living spiked.
The problem has also become especially acute for international students, who are limited by their visas and are legally restricted from taking additional work outside of their graduate assistantships.
As of Spring 2022, there were nearly 5,600 graduate students across Nevada, with the bulk (4,927) at UNLV, where the number is made larger by the number of students at the Boyd School of Law. However, only about one-fifth of all graduate students at both UNR and UNLV receive their income through graduate assistantships.
University officials at both UNR and UNLV have sought to adjust stipend amounts where possible, but many assistantship stipends cap out around $1,600 to $1,800 per month, in large part due to financial constraints created by the state funding of those stipends.
Regents have already approved a budget request for increased stipends heading into the 2023 legislative session, and university officials across the state have signaled that the issue remains atop the long list of funding priorities.
Still, the natural delay caused by the state's two-year cycle of legislative sessions has created an extended gap of inaction, Thomas said, one that has been "demoralizing" even after individual institutions have sought to address cost concerns.
"To students who are suffering right now in terms of not being able to receive adequate support for housing or food, it's very difficult having to explain that and say, "Well, we're kind of waiting on the state,'" Nicole Thomas, UNLV Graduate and Professional Student Association president, said in an interview.
Still, both Thomas, the UNLV grad student president, and Hawn, her UNR counterpart, said they remained optimistic about the likelihood of an increase to graduate student stipends, especially amid better-than-expected revenue conditions and as education, more broadly, has come to the political fore.
One wrinkle to potential housing solutions is that policymakers have so far signaled a willingness to pursue affordable housing projects — but not ones that are limited to a population as small and as specific as the state's graduate students.
"It's not just us being affected," Thomas said, referencing efforts by UNR and UNLV to direct American Rescue Plan dollars toward such projects. "It's the entire community that is being affected by this."
To that end, Thomas said that a Southern Nevada push to pursue a UNR-style public-private affordable housing partnership, while still "definitely a possibility," remains part of a longer discussion.
"People, in general, can't afford to live here," she said.
Amid discussions of increased legislative support or more public-private housing projects aimed at students, Thomas, Thompson and Hawn all pointed to the instrumentality of one person: UNR President Brian Sandoval.
Thompson credited the former governor's connections and "ability to work with local government," something he said amounted to a "great asset" for UNR in securing the housing deal.
But the long reach of Sandoval's influence is felt even down south, where Thomas, the UNLV graduate association president, said — from her perch at UNLV and as a lifelong Las Vegas resident — "we don't necessarily have the type of community support that Reno does."
"Because when you have someone who used to be governor as president, I feel like it is easier to get things done," Thomas said. "I feel like we're almost fighting an uphill battle of getting recognized as a research institution and getting recognized as being valuable to our community."
The Nevada Independent is raising $200,000 by Dec. 31 to support coverage of the 2024 election.
Tax-deductible donations from readers like you fund this critical work.
If you give today,your donation will be matched dollar-for-dollar.
Give + Get Matched
Featured Videos