Patient advisor Sue Chung holds a jar containing a marijuana flower at the+source dispensary in Henderson on Thursday November 9, 2017. (Jeff Scheid/The Nevada Independent)
Amid skepticism, commissioner continues push for 'moratorium' on retail marijuana dispensaries
Clark County Commissioner Susan Brager is still pushing ahead with a de facto moratorium on new recreational marijuana stores, despite the skepticism of most of her fellow commissioners.
Although most commissioners said Tuesday and before the meeting that they would be content to wait and see what action the state takes to dole out remaining recreational licenses, Brager requested county staff draft an ordinance requiring any new marijuana businesses to also serve medical marijuana cardholders — essentially creating a stay on new dispensaries given that the state isn't issuing additional medical marijuana licenses.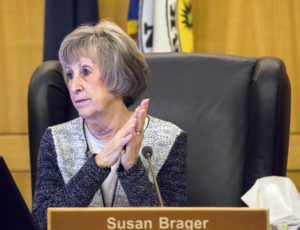 "I did go and drive by many dispensaries over the last few weeks. I did not see lines around the building, I didn't even see a line out the door," she said. "I think we're meeting the needs of everyone."
Under normal procedure, the proposed ordinance will be introduced at the next commission meeting in two weeks, and go up for a vote at the following meeting. Brager, who said the proposed policy would essentially be a "moratorium" on new dispensaries, supported a similar policy that the county decided to drop in December 2017.
Although several dozen recreational stores opened in Southern Nevada last summer as part of the state's "early start" recreational marijuana program, state officials are still allowed to allocate several retail marijuana licenses before hitting the limit set in state law. County officials estimate that they will be alloted 10 additional licenses, given the population of the county and existing licenses that have already been granted.
Commissioner Larry Brown said that while he understood concerns that marijuana industry players had shifted from providing medical products to a much more lucrative retail operation, he didn't want to take action until the state moved to dole out additional recreational licenses.
"I don't see a need, today, to do anything, because nothing is going to happen until at least the state gives us an indication of when they're going to start their application process," he said.
Inyo Fine Cannabis dispensary owner David Goldwater made a similar point to the commission, saying that recently adopted permanent marijuana regulations meant that state officials would determine which businesses receive the extra licenses, while the county and other municipalities would be given latitude in approving zoning and where potential new dispensaries would be located.
"All these questions can be answered after the state picks the 'who,' and you have all these options still available to you," he said. "Why restrict yourselves on the ability to do something after the state licensing program has taken effect? It seems to me you would want to give yourself more options, rather than less."
Nick Spirtos, CEO of the Apothecary Shoppe dispensary, said he supported a prohibition on recreational-only shops because their existence would likely lead existing shops to move away from serving medical marijuana patients, which could result in them having to pay higher prices.
"It's not about anti-competitive ideas, it's about ensuring that the medical marijuana market maintains and retains its presence," he said.
Commissioners mentioned a variety of issues that they wished to tackle with the nascent marijuana industry, from whether taxes on recreational marijuana were contributing to a black market to whether or not marijuana cultivation facilities are too closely grouped together.
Commissioner Chris Giunchigliani said she wasn't sure what issues Brager was trying to fix with her proposal and lamented that the county should focus on more issues than just the medical component.
"I sense that right now, it's solely about whether we keep medical and (recreational) together, and I think that's disappointing at this point," she said.
Fellow Commissioner Marilyn Kirkpatrick agreed, saying that she didn't want the county to form a piecemeal solution and then have to turn to the Legislature to clean up the mess.
"I'm not going to the Legislature and saying, 'I made a mistake, please fix it,'" she said. "I'm going to live with the repercussions. We need to have a real policy discussion on all of this together. I don't know if you can hodge-podge it. I won't be part of hodge-podging an industry that we made be legit."
Disclosure: Inyo Fine Cannabis

 and 

Chris Giunchigliani

 have donated to The Nevada Independent. You can see a full list of donors here.
Stories
Candidate Trackers
Endorsements, Ads, Policies, Visits
& More
visit now
Comment Policy (updated 10/4/19): Please keep your comments civil. We reserve the right to delete comments or ban users who engage in personal attacks, use an excess of profanity, make verifiably false statements or are otherwise nasty.