Amodei sees lack of credibility in impeachment inquiry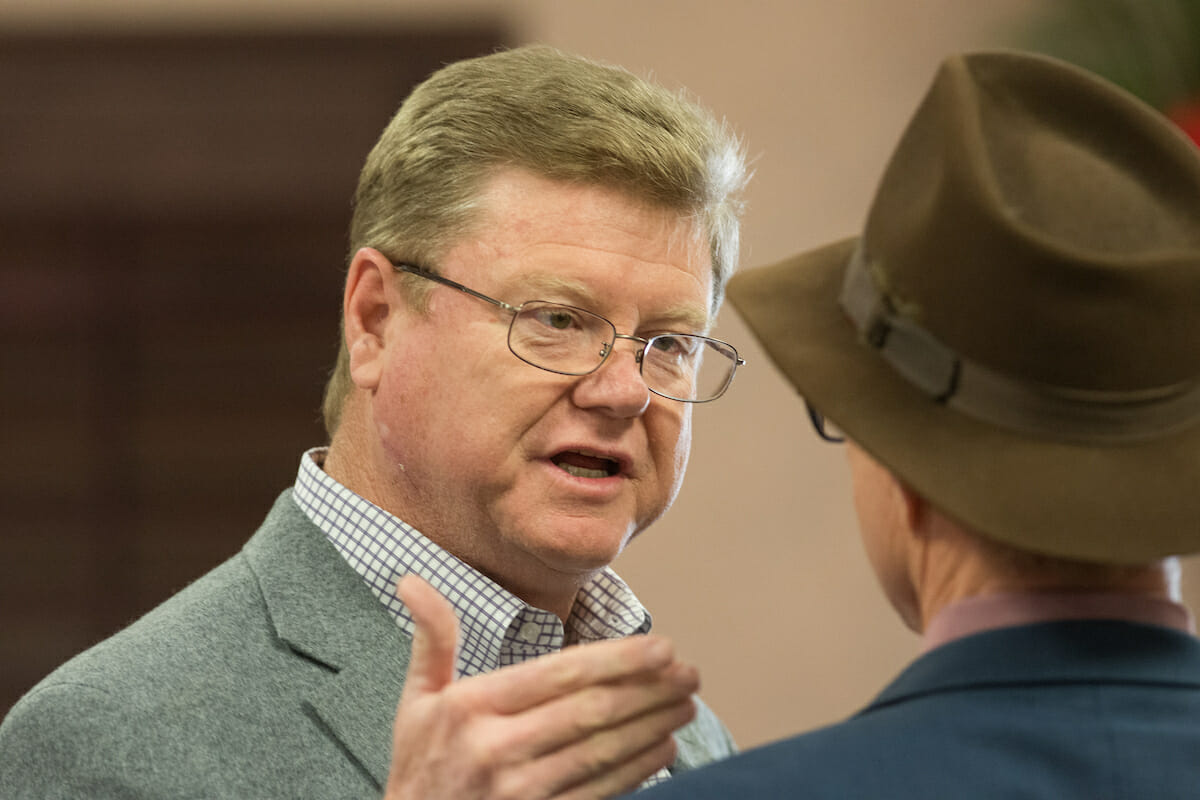 With all of the official House impeachment inquiry hearings so far taking place behind closed doors, Rep. Mark Amodei, the only Republican in the Nevada delegation, believes the process lacks the transparency to build the credibility to be taken more seriously.
"I think the challenge is that regardless of which side is yours, how do you build credibility because that's [when] people are going to go 'I either believe it, or I don't believe it,'" Amodei said Thursday off the House floor.
His comments come as the House Intelligence Committee leads an inquiry into President Donald Trump's efforts to press Ukraine to interfere in the 2020 election against a political rival, his withholding of military aid and a White House meeting to the country and possible efforts to cover up his actions.
Amodei has said that he supports Congress exercising its oversight authority in the matter. Asked for a comment following the statement earlier Thursday by Acting White House Chief of Staff Mick Mulvaney that the president did use military aid to pressure Ukraine to investigate a political opponent, a comment that Mulvaney later retracted. Amodei reiterated his position that he wants to see what the process yields before drawing any conclusions.
"I'm where I was before," Amodei said. "I don't know whether it is or isn't instantly, it's like, let's see what happened with some level of credibility, and then you let the chips fall where they are."
Amodei first laid out his position in September, which was taken by some to be support for impeachment, rather than just an inquiry. He subsequently issued a statement clarifying his position.
The secretive intelligence panel—which conducts much of its business in a Secure Compartmented Information Facility, or SCIF, used to prevent surveillance or spying—along with the House Foreign Affairs Committee and House Oversight and Reform Committee, have been taking testimony from witnesses, starting with former U.S. Special Envoy to Ukraine Kurt Volker, for two weeks. Amodei isn't on any of those panels.
The congressman, who suggested the Intelligence Committee was given the lead in order to limit access to the proceedings, said that he tried to read the transcript of Volker's full testimony, but was turned away. Other members who have tried to enter the room to watch the proceedings or read testimony have also been barred from doing so.
"I'm not the crusader for credibility...but if you're not looking for the credibility which usually comes with transparency it's like, well, you gotta do something that's credible," Amodei said.
His comments echo criticisms other Republicans have made in recent days as the GOP looks to find a winning message in the face of a series of witnesses who have said, according to reports, that they were at least troubled by the president's handling of Ukraine.
Rep. Dina Titus, a member of the Foreign Affairs Committee who attended depositions this week, said Democrats are trying to avoid a spectacle, but plan to hold public hearings in the near future
"I think that you're trying to avoid a circus," Titus said Thursday.
She added that Intelligence Committee Chairman Adam Schiff said in a letter to colleagues Wednesday that he plans to release materials and hold public hearings.
"I think it will be sooner rather than later," Titus continued
In his letter, Schiff said added that secrecy is also needed to prevent witnesses from coordinating testimony to conceal the truth.
"We have placed the importance of conducting a fair and thorough investigation at the forefront of our duties," the letter said.
Schiff said that the special counsels in the impeachments of President Richard Nixon and President Bill Clinton "conducted their investigations in private and we must initially do the same."
The letter also noted that the minority has ample time to ask questions and is treated fairly.
Titus described the proceedings as "very serious," with witnesses testifying about what the president and others have argued at press events was a proper use of his office.
"I think that the witnesses have credibility," Titus said. "They are forthcoming. What they're saying is corroborating what we already knew that the President said on TV."
Titus is helping run an investigation into whether Trump violated the Constitution's Emoluments Clauses with the operation of the Trump Hotel in Washington, D.C., the findings of which could help make the case to impeach the president.
She said a letter Thursday was sent to the General Services Administration, which oversees the federal government's real estate, marking a final request for financial documents before subpoenas will be issued by Transportation and Infrastructure Committee Chairman Peter DeFazio.
"We're giving them one more shot and then the chairman's going to issue the subpoenas," Titus said.
The Nevada Independent is raising $200,000 by Dec. 31 to support coverage of the 2024 election.
Tax-deductible donations from readers like you fund this critical work.
If you give today,your donation will be matched dollar-for-dollar.
Give + Get Matched
Featured Videos