Analysis: Lack of GOP gains among NV Latino voters boosted Cortez Masto in 2022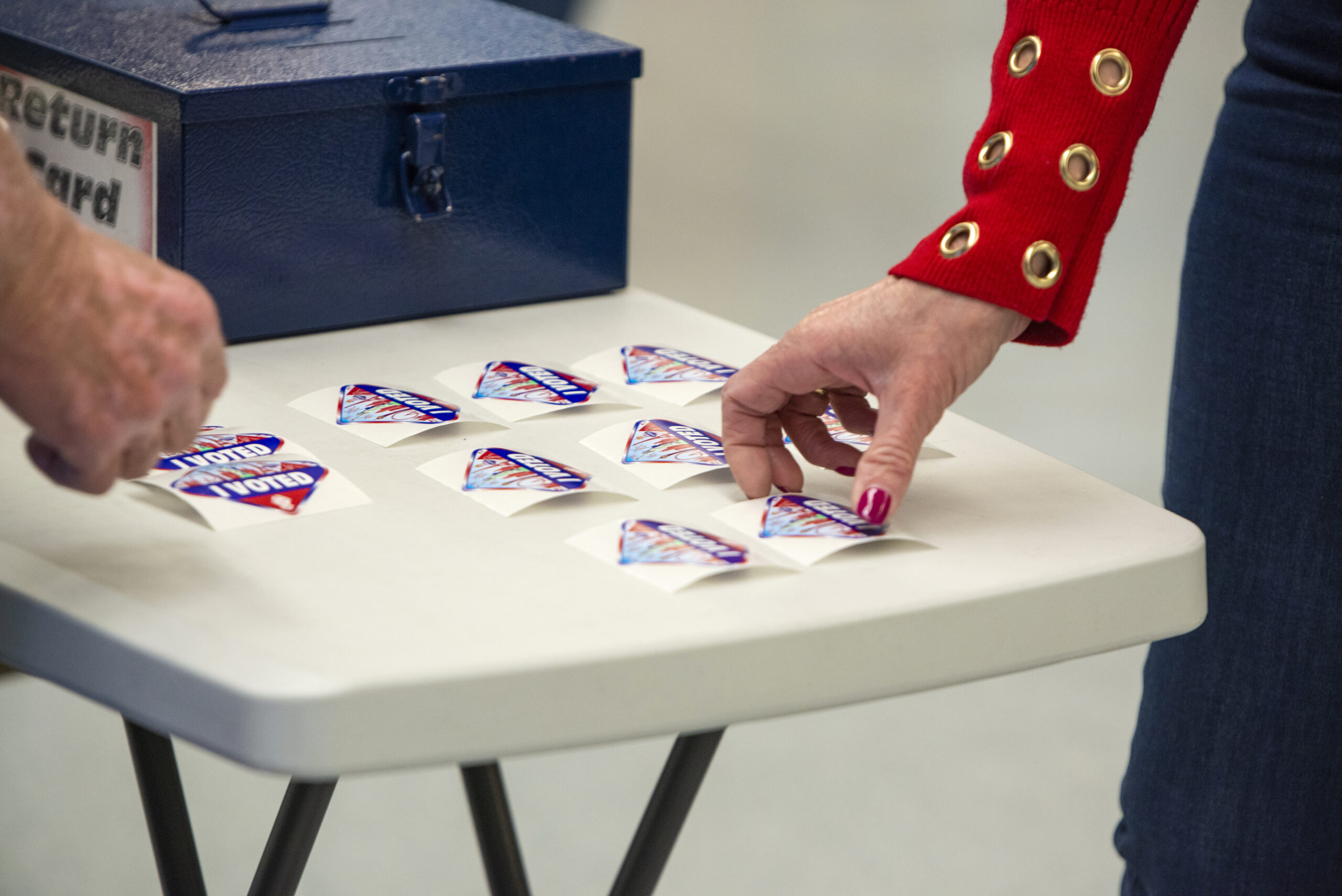 Nevada Latinos in the 2022 election supported Democrats at nearly identical levels as they supported President Joe Biden in 2020, demonstrating the enduring political branding of the Democratic Party in the swing state even in an environment filled with issues that favored Republicans, per a new report from Equis Research, which specializes in polling Latino voters and has principals who have worked for Democrats.
The firm's 2022 midterm election postmortem report, released Thursday, found that Latinos supported Sen. Catherine Cortez Masto (D-NV) and former Gov. Steve Sisolak's re-election campaigns at nearly identical rates to Biden's 2020 race — 60 percent for Biden and Sisolak in 2020 and 61 percent for Cortez Masto — while remaining well below 2016 levels, when Hillary Clinton captured 69 percent of the Latino vote.
And while Adam Laxalt's Senate campaign, in particular, engaged in heavy Spanish-language media spending and successfully boosted his name recognition among Latinos, Cortez Masto was able to maintain an advantage through enormous outreach efforts, ginning up turnout among Latinos concerned about abortion, and winning over conflicted voters who remain convinced that the Democratic Party cares more about them despite having mixed views of both parties.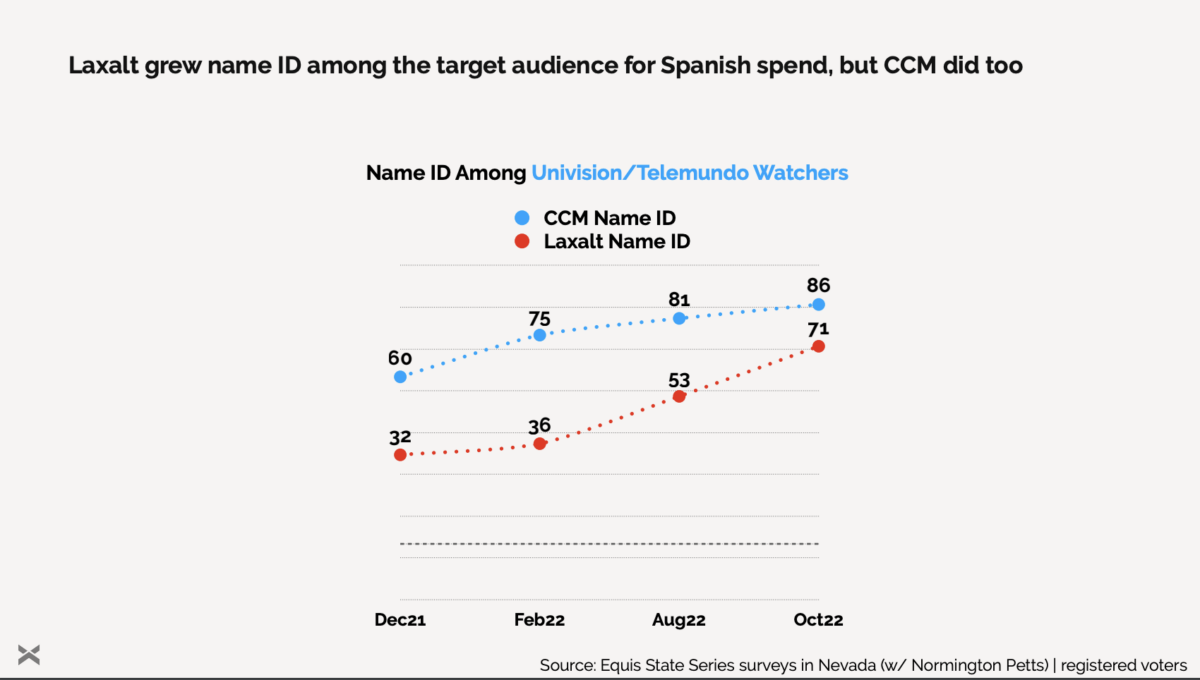 Conflicted voters are often infrequent voters who are not as deeply immersed in politics, said Equis Labs co-founder Carlos Odio in an interview. They typically rely on their existing notions of both parties — which gives Democrats an advantage.
"What ends up being powerful to them is a basic snapshot of the parties and who's looking out for them," he said. "And there's a very basic snapshot about Republicans and Democrats, and an analysis of who tends to be on the side of people like them, that, at the end of the day, ends up being the ceiling for Republicans in a place like Nevada."
While Republicans were able to maintain their 2020 inroads among Latino voters, they were unable to build on them, the report concludes. Several trends were credited for contributing to that stability. Latinos concerned about the economy and inflation were more likely to vote Republican, but turnout among those voters was relatively low. Those motivated by abortion and threats to democracy overperformed in turnout.
While the GOP touted efforts to court Latino voters, battleground Latino voters in all states besides Florida reported seeing more outreach from Democrats than Republicans compared with previous years. Among moderate Latino voters, respondents in a December poll reported a 28-point net increase in effort from the Democratic Party, while the Republican effort was seen as being at the same level as prior elections.
The GOP spent $6.2 million in Spanish-language advertising boosting Laxalt in 2022, though the vast majority of that spending came in October, the month before the election. Democrats dropped a whopping $13.5 million on Cortez Masto's Spanish-language outreach, and consistently outspent Republicans over the summer as both campaigns ramped up.
Laxalt was able to significantly raise his name identification among Univision and Telemundo watchers, growing his recognition by almost 40 points from late 2021 to October 2022. Cortez Masto did the same, ultimately boasting 86 percent recognition by October to Laxalt's 71 percent.
In addition to being higher in quantity, Cortez Masto's Spanish ad spending proved more effective. She attacked Laxalt on abortion and on cost of living concerns such as prescription drug and gas prices, playing to Latinos' top issues, while Laxalt attacked her on crime, which Equis found that only a small portion of Latinos were most concerned about. Odio said of all the states he conducted polls in, the cost of living was most resonant among Latinos in Nevada.
By October 2022, Cortez Masto had a 37-point net favorability rating among Univision and Telemundo viewers, while Laxalt's was negative 13.
"Language spending is not the full story of paid media. Most of the media that's targeting Latino voters actually ends up in English, but Spanish ones give you a good indication of how campaigns are prioritizing, or not, Latino voters," Odio said. "The lesson is when you compete, you will do better. But to actually beat the other side, you're also going to have to have messaging that resonates with them, and that shows that you're on their side."
Cortez Masto ultimately won her race by less than a percentage point.
And while issues closely tied to Hispanic identity, such as immigration, have decreased in salience after years of legislative inaction, identity remains an important motivator, which gives Democrats a structural advantage.
Among "highly conflicted" Latino voters, or those with a mixed view of the parties depending on the issue, 68 percent voted Democrat in 2022 in battleground states excluding Florida, demonstrating the continued strength of the Democratic brand among these swing voters.
But those conflicted Latinos were also the most likely to stay home in 2022, representing a potential untapped voter base for both parties come 2024.
"The swingiest Latinos still largely default to Democrats due to enduring party associations, but they remain willing to vote for Republicans on a case-by-case basis," the report found.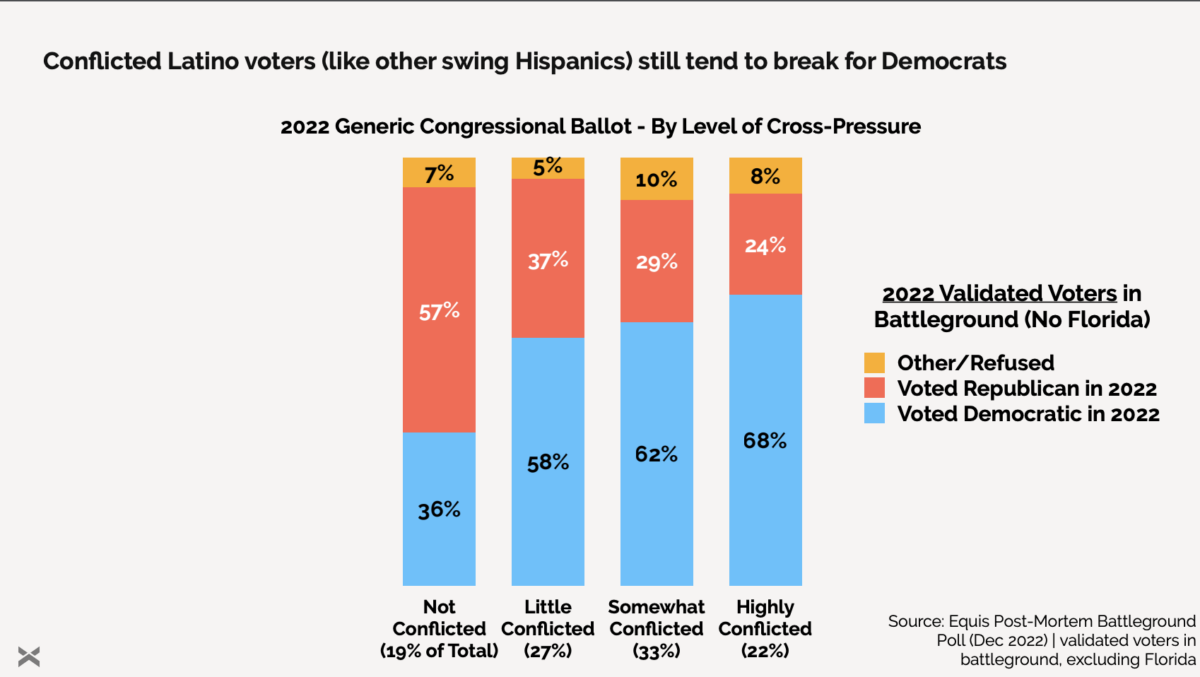 On the issues
The report found that shifts in priorities and identity concerns play roles in determining when swing Latinos vote for Republicans.
When it comes to immigration reform, the issue is not about immigration entirely, but about the treatment of immigrants, and how Latinos vote depends whether a party is welcoming to people like them. While Latinos are not monolithic, the report found that identifying as Latino is still at the center of their decision making, especially when those voters don't have fixed party or ideological loyalties to hang on to.
Odio explained that people generally inherit their political ideologies from their parents, but many Latinos who are immigrants or whose parents are immigrants did not grow up attached to a political party.
"Conflicted voters tend to be younger, they don't pay as much attention to politics. Partisanship isn't part of their identity," Odio said. "If you didn't grow up in this country, your parents didn't grow up in this country to have that same experience … They tend to not live and breathe politics, and only vote when they feel like there's a really compelling reason and a really compelling choice."
Although the report found that these voters "look like Democrats" and they often respond in surveys like Democrats, they can change course and support Republicans in the right circumstances.
In 2016, more than half of Nevada's Latino voters said immigration was their top issue, but that percentage has dramatically declined. According to the report, about 13 percent of Nevada Latino voters said immigration was their top concern now.
But Democrats are far more trusted on abortion and prioritizing working people — topics on which Latino voters heavily favored Democrats, but that nonvoters also felt strongly about. The report found 69 percent of those nonvoters opposed the Dobbs decision that overturned the Roe v. Wade decision protecting abortion rights and 60 percent felt that Republicans favor the rich over working people.
Overall, respondents who chose the economy as their top issue voted overwhelmingly for Republicans but voted at lower than expected rates, while those who chose abortion as their top issue voted predominantly for Democrats and turned out above predicted rates.
Yet the report found a divide among Latinos surveyed who said Democrats are better for the group. About 44 percent said Democrats don't keep their promises on immigration reform and 45 percent said the party takes Hispanics and Latinos for granted.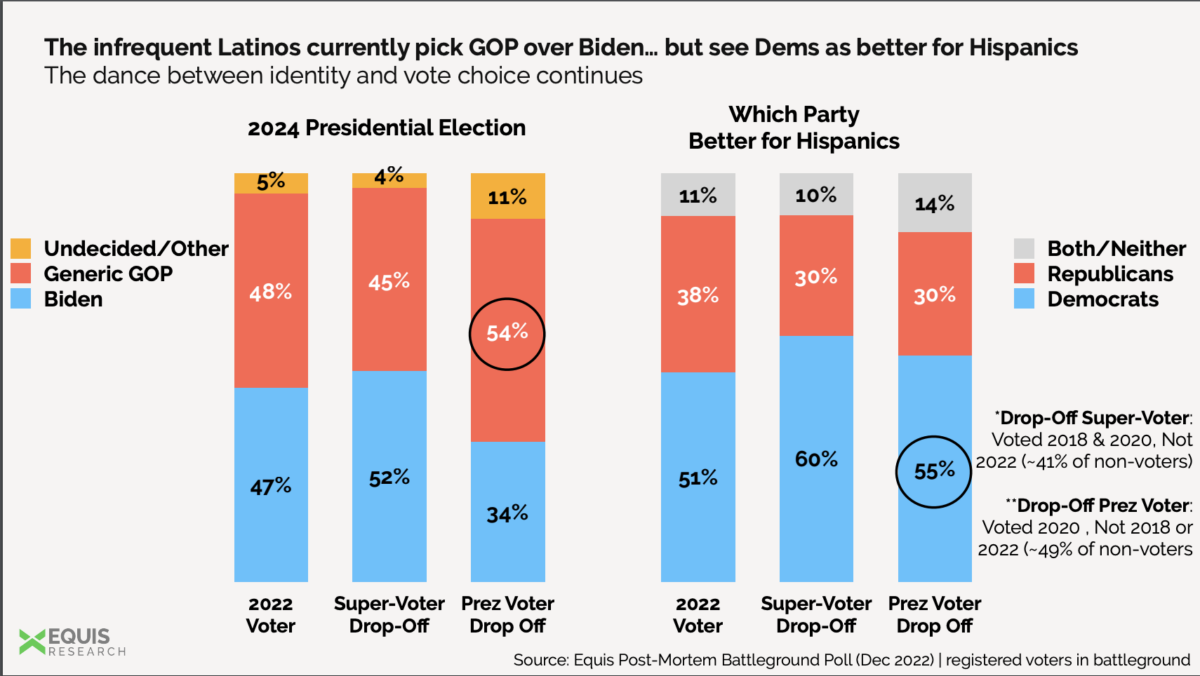 Looking ahead
The salience of Hispanic identity — whether or not the "volume" is turned up, as the report's authors describe — has become an important portent of Latino voting trends, the report found. Latinos backed Hillary Clinton in Nevada and across the country in 2016 in such strong numbers because immigration was a key issue in the campaign. In 2020, with COVID and the economy being the focal points of the election, the GOP was able to peel off some Latino support.
Immigration is not the only issue tied to voters' Latino identities. But if inaction continues, the perception that Democrats care more about Latino voters may be less top of mind for voters. Republicans could capitalize on that by messaging effectively on issues that Latinos trust them on, such as inflation, Odio said — though he added they were unable to do so in 2022.
Looking ahead to 2024, both parties would do well to focus on the issues that infrequent or nonvoters trust them to handle. When comparing Latinos who voted in 2022 against those who did not, the GOP had a 13-point advantage on inflation compared to a 1-point advantage among voters.
Of course, candidate quality matters as well, just as it did in the 2022 midterms. In a poll among registered Latinos, Equis found that Biden held an 8-point advantage over Trump, but that a generic Republican ran much closer, holding a 1-point lead over the sitting president.
There are positive indications for Republicans to expand their margins among demographic groups they have struggled with in recent elections — young people, and young women specifically. While only 24 percent of Latinas younger than 40 who voted in 2022 would support a generic Republican for president, 37 percent of nonvoters would.
The figure is even higher for Latino men younger than 40 who skipped the 2022 election — nearly two-thirds of them would rather have a generic Republican than Biden, as opposed to 50 percent of those who voted.
Ultimately, the report's authors found that Latinos remain a wild card going forward, with reason for both parties to believe they can improve their margins in Nevada and other battleground states.
For Republicans, it may come down to finding an issue that functions the way fears of socialism successfully did in Florida, where Latinos did bring a red wave to bear. But in Nevada thus far, GOP campaigns based on crime and anti-LGBTQ+ sentiment have not stuck, Odio said.
"They look and they see [that] I don't think that either party is quite delivering for me," Odio said. "But again, I do think Democrats care more for me. So, all things being equal,
I'm going to usually vote for the Democrats — except for individual circumstances, where there's a really compelling reason to vote on the Republican side."
The Nevada Independent is raising $200,000 by Dec. 31 to support coverage of the 2024 election.
Tax-deductible donations from readers like you fund this critical work.
If you give today,your donation will be matched dollar-for-dollar.
Give + Get Matched
Featured Videos