On the campaign trail, Catherine Cortez Masto leaned into the economy. It may have won her a second term.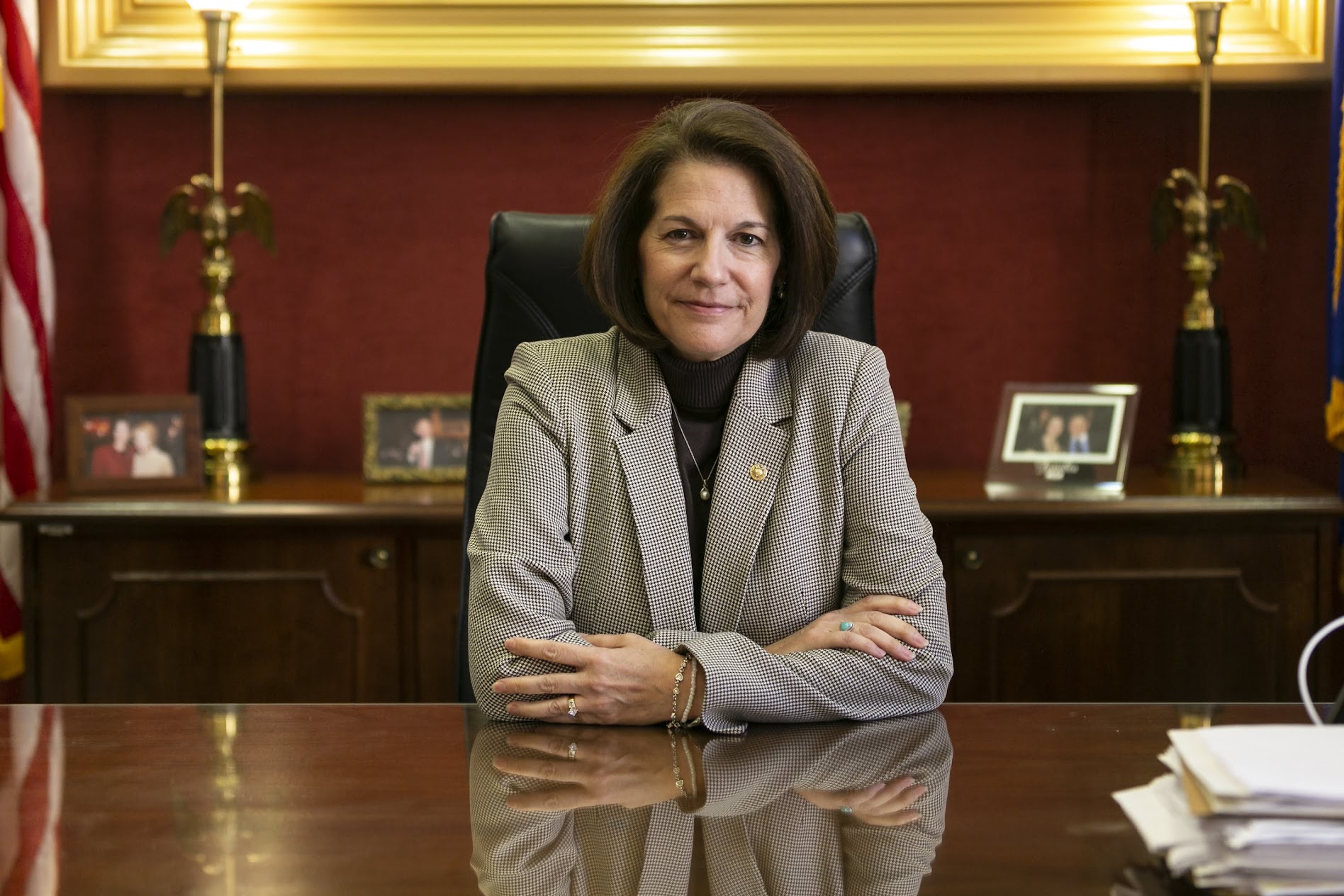 When Sen. Catherine Cortez Masto (D-NV) arrived back in Washington in January to begin her second term, her first act was to re-introduce the Fair and Transparent Gas Prices Act.
Fresh off of a grueling campaign defending a seat Senate Republicans considered their best pickup opportunity, Cortez Masto wanted to begin her new term by following up on a campaign theme —taking on Big Oil.
The legislation, which would empower the Federal Trade Commission to investigate and prevent price gouging among oil conglomerates, fits squarely within the senator's profile. As a former state attorney general, the bill involves prosecuting a case against large companies on behalf of consumers. It targets an industry she tied to 2022 opponent, former Attorney General Adam Laxalt, in a parade of campaign ads and stump speeches. And it touches an issue more potent in Nevada than nearly anywhere else – gas prices.
Pursuing legislation to tackle high gas prices is "not only what I feel [is right]," Cortez Masto said in an interview, "it's what I was told. I know after talking with Nevadans – it's still high costs. We've got to lower these costs."
Shortly after, she continued pursuing the theme of corporate malfeasance, calling on the Federal Trade Commission to investigate price gouging among egg distributors in response to rising prices.
Cortez Masto won by less than 1 percent of the vote in a state where the price of gas spiked to $5.67 per gallon in the middle of the campaign. In pre-election polling, Nevada voters picked "jobs and the economy" as their top issue, dwarfing the next closest issue by a factor of more than 3-to-1. In a purple state with high costs, massive job loss due to the pandemic, and a Democrat in the White House whom Laxalt and other Republicans could blame for economic malaise, Nevada should have been a Republican strategist's dream.
Instead, Cortez Masto hung on. Conversations with her campaign team and allies, and her immediate legislative action indicate a belief that her victory came from running toward, and not away from, inflation and rising costs.
"A big part of her campaign was basically played on economics," Sen. Gary Peters (D-MI), who chaired the Democratic Senatorial Campaign Committee, said in an interview. "She fully understood the challenges that everybody faces with rising prices. And she was actively involved in trying to bring those prices down."
---
Cortez Masto's economic platform started with acknowledging the problem – something other Democrats struggled with on the campaign trail and party leadership identified as a messaging weakness. In Wisconsin, for example, Sen. Ron Johnson (R-WI) slammed his Democratic opponent, Lt. Gov. Mandela Barnes, on rising costs and Biden administration spending, while Barnes prioritized abortion access. Similar themes emerged in North Carolina and Florida.
Cortez Masto, on the other hand, leaned into the economy. Campaign staff said she mentioned pocketbook issues such as drug prices, housing costs and the price of gas at nearly every campaign event. And she would link those issues with stories about her family — a nod to her Nevada roots and an implicit dig at Laxalt, whom the campaign painted as opportunistic carpetbagger.
In an interview with The Nevada Independent, Cortez Masto recalled hearing from her mother about high grocery prices ("When she wants to go make her meatballs, I hear about a pound of ground meat being $8"), helping her grandmother use Social Security and Medicare to cover costs as a child in Las Vegas ("I remember sitting around the table with her as we went through those bills"), and how she learned to best discuss painful economic conditions from her father, who spent decades in public service in Clark County ("He said the only thing you can do is just be honest with people").
Kevin Liao, who ran communications for Joe Biden's 2020 campaign in Nevada, said Cortez Masto's focus on Democratic accomplishments, such as cutting health care costs, favorably contrasted her with Laxalt, who he said lacked a concrete plan on inflation. And he said her family ties lended her campaign an authenticity factor.
"She had a real personal story, a working class story, about her family being union members [and] relating to those experiences," Liao said. "That matters too, because voters want someone … they believe is out there genuinely fighting for them."
After establishing relatability, Cortez Masto sought to reframe the politics of inflation and costs to lay the blame at the feet of corporations, rather than Democratic spending. She spoke about how corporations were posting record profits, and pledged to use her perch in the Senate to fight against corporate interests. She used Laxalt as a foil, highlighting his support from the oil industry and his blocking of an investigation into Exxon-Mobil as Nevada's attorney general.
From there, she would tout Democratic efforts to take on high costs and job loss, such as capping the price of insulin at $35 per month and incentivizing the creation of union-protected clean energy jobs through the Inflation Reduction Act. And then she would talk about what she planned to do if re-elected to continue to bring costs down – particularly on housing, where rents have risen sharply in Las Vegas.
"[She would] say, 'yeah, I don't like the gas prices either,' instead of just trying to sweep it under the rug," said Frank Hawk, the president of the Southwest Regional Council of Carpenters. "And then [she] really pointed out what's a little more true, [which] is that you have oil companies and pharmaceutical companies and Big Corporate America making record profits on a daily basis, and we as the middle class are struggling to fill our gas tanks. And that should make us angry. And I think her passion came through, along with her sincerity."
While voters typically trust Republicans more on economic issues, Culinary Union Secretary-Treasurer Ted Pappageorge said reframing the issue to corporate greed changes the script — particularly among the working class.
"Voters actually trust Democrats more on taking on big corporations and taking on price gouging," he said. "And Sen. Cortez Masto was clear – that, working with the Culinary Union, we're going to take this on."
Pappageorge's thesis bore out in exit polling from CNN. While Laxalt overwhelmingly carried voters who described the economy as "poor", Cortez Masto carried not only the vast majority of voters who described the economy as "good," but a sizable 62 percent of those who said the economy's condition was "not so good".
Republicans, for their part, blamed a multitude of factors for their loss. Laxalt noted the extraordinary fundraising difference between his campaign and Cortez Masto's in his since-deleted concession statement. Cortez Masto outraised him by a factor of more than three-to-one. Other Republicans blamed the loss on the state's 2021 election law making expanded vote-by-mail permanent – a view Laxalt echoed in his concession, saying Republicans "need to better adjust to our new election laws or we need to work to fix them."
Jeremy Hughes, a Republican strategist who was a regional director on Donald Trump's 2020 campaign in the state, said in an election as tight as the 2022 Senate race, it is difficult to identify what specific factor put a candidate over the edge. Leaning into inflation, he said, was just one of dozens of strategies the Cortez Masto campaign deployed – throwing some cold water on the campaign's theory.
"Did it maybe earn her an extra 200 votes from Republicans that would have otherwise wanted to vote against her? Maybe," Hughes said. "Was it rural outreach that helped her? Probably some. Was it name [recognition]?
"I'm sure there's 100-plus things she did in the election that all played a small role."
Mike Noble, the chief researcher at OH Predictive Insights, said he agrees with the campaign's analysis. Cortez Masto's campaign strategy was a case of "right message, right time," he said. Per his polling, over a third of Nevadans listed "jobs and the economy" as their top issue in the months leading up to the election, ranking far above issues friendlier to Democrats, such as health care or education.
When broken down by party, jobs and the economy was most important to Republicans, and then to independents. Leaning in on inflation allowed her to persuade just enough voters — particularly split-ticket voters who voted against Democratic Gov. Steve Sisolak but stuck with her — to pull off the narrow win in a political environment that should have benefitted the GOP.
"It absolutely did [matter], because she lean[ed] in on gas and inflation, which was hands down the biggest pain point for Nevada voters," Noble said.
---
As the daughter of a Teamster and an ally of former Sen. Harry Reid (D-NV), Cortez Masto benefited from the dollar and manpower investment of the state's unions, who have a massive organizing presence on the ground.
She gave her victory speech at the Carpenters International Training Center, flanked by union members from a variety of trades and introduced by Hawk.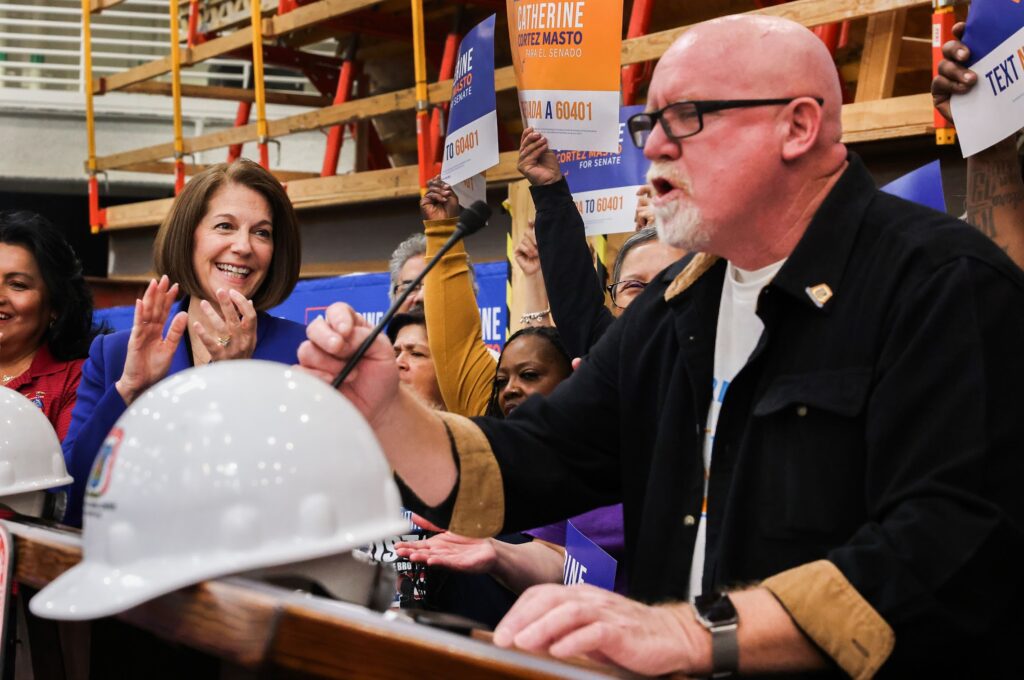 As part of the vaunted Reid Machine, the path to Democratic victories in Nevada runs through organized labor. For Cortez Masto, who grew up going to union picnics and is comfortable going "back of the house" to speak to members in addition to leadership, it's an easy alliance.
While Democrats and organized labor are true partners in Nevada, other states differ. Hawk, who works on campaigns across the Southwest region, said having a politician like Cortez Masto who is unafraid to "say the U-word" makes an enormous difference among members, who themselves encompass all races, genders, trades and cultural ideologies.
As union membership has steadily declined since the 1980s, Democrats – the traditional party of labor — have bled working-class support over the last four federal elections. The issue came to a head in 2016, when Democrats lost Pennsylvania, Wisconsin, and Michigan.
But they held Nevada that year and in every statewide federal election since, both because the Reid Machine runs a massive ground game investing in working-class voters every cycle, and because so-called economic "kitchen table issues" have remained a part of every successful candidate's campaign playbook, union reps and Cortez Masto campaign staff said.
If Democrats can return to their economic roots of addressing working class issues, the differences that exist even among members — particularly of the culture war variety — can be more effectively bridged, Hawk said. Cortez Masto, he noted, embraced this model — one he said other Democrats across the country should follow in 2024.
"I hope Democrats saw that this [campaign] really rallied up the troops – them focusing on middle class issues and work, in jobs, in the economy," Hawk said. "And when there were so many other side-tracking issues that could have been talked about, she zeroed in on it. And she did good."